20 Years of Charcoal-grilled Yakitori and Wine in Ogibashi
Published: August 26, 2020
The Yakitori Hana restaurants have been serving top quality charcoal-grilled bamboo skewers to the lucky residents of Koto-ku for many years now. In recent years the group has grown to include restaurants in Toyocho, Minamisuna, Kameido, and Kikukawa in Sumida-ku. On a recent afternoon, we dropped in to the original shop in Ogibashi to see where it all started.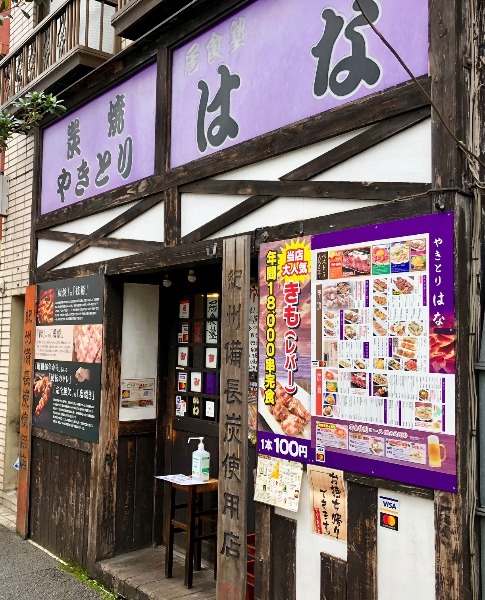 Located on Yotsume Street some six minutes' walk south of Sumiyoshi station and over the Onagi River bridge, the purple signage and wooden front of Yakitori Hana is eminently visible. You can't miss it, really.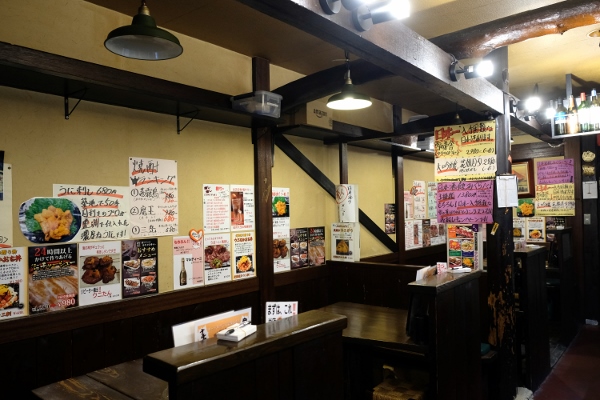 The interior is the very essence of a Japanese yakitori shop: dark wood, long bar counter, diffused lighting and cozy nooks in which to sit.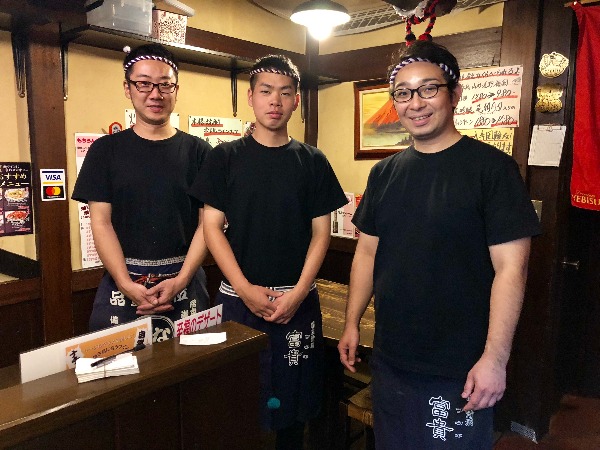 "It's like a festival every night," explained acting manager Mr.Tomoaki Ishida (right), pinch-hitting for owner Nobuo Takahashi who was away on business. "There's a bustling and lively atmosphere, and it's packed at weekends." Mr. Masashi Wakatsuki (left) and new face Mr. Takahiro Yamada bring great service and dynamic energy to their work.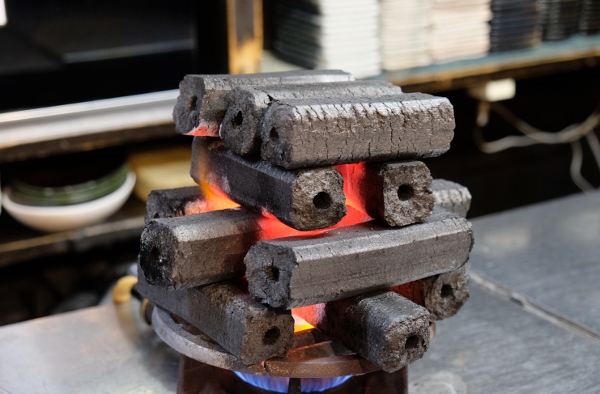 Yakitori Hana uses only the finest charcoal for its yakitori. Mr. Ishida fires up the grill for the 6pm opening time, first heating the briquettes on the gas range before transferring them to the grill pan.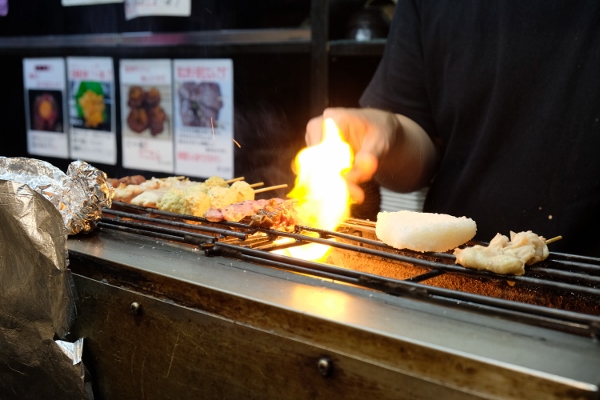 Hana is open from 6pm until 1am or so, with last orders for charcoal grilling at 11pm, and total last orders at midnight.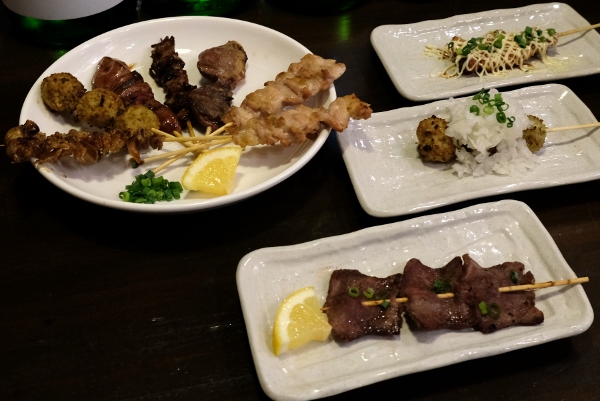 All the usual yakitori favourites are available: thigh and negi onion (negima), chicken breast (sasami), skin (kawa), minced chicken balls (tsukune), heart (kokoro) and so on. Most skewers are priced between 100 and 300 yen.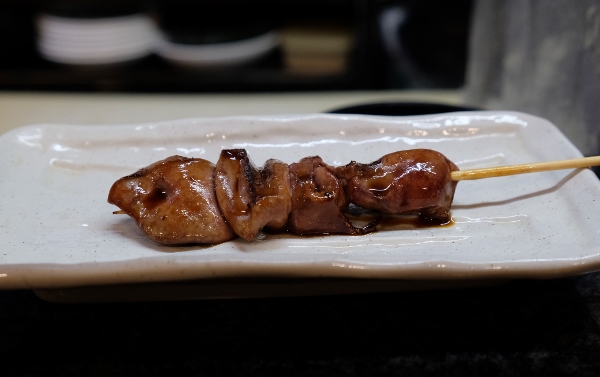 The top seller though is liver; the Hana group estimates they sell around 18,000 skewers of liver a year. Incredible! And the price is incredible as well: two skewers for just 100 yen.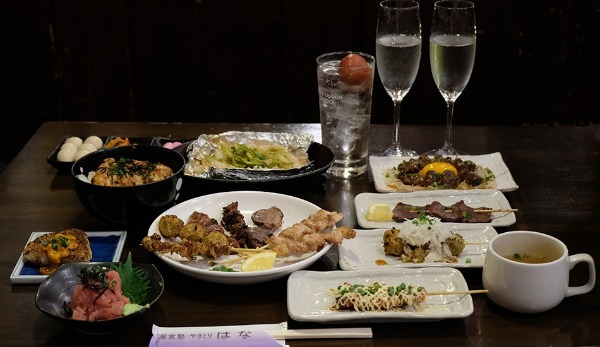 Besides the many varieties of chicken yakitori and the famously juicy liver, there are a host of other charcoal grilled treats. Beef tongue (gyutan) and chuck steak (rosu) also feature, as does a range of vegetables such as garlic, shiitake mushrooms, shishito green peppers, ginkgo nuts, cream cheese asparagus, and stuffed green peppers.
The yakitori on rice (hanadon) is a popular item at 750 yen. On the left is another great favourite, the Hana original "unigiri," which combines the eternally popular sea urchin (uni) with a charcoal grilled rice ball (onigiri). The "unigiri" features sea urchin sourced from the seas off Hokkaido and is a bargain at just 680 yen.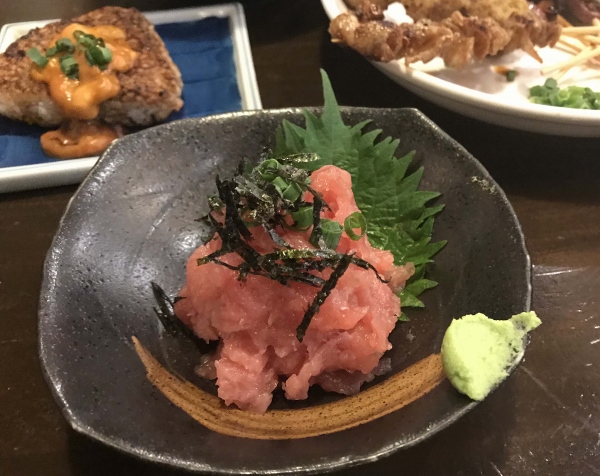 This tuna nakaochi, taken from the bones of the fish, is highly prized for its soft texture and superb taste. At only 580 yen per serving, it's another top value dish at Yakitori Hana Ogibashi.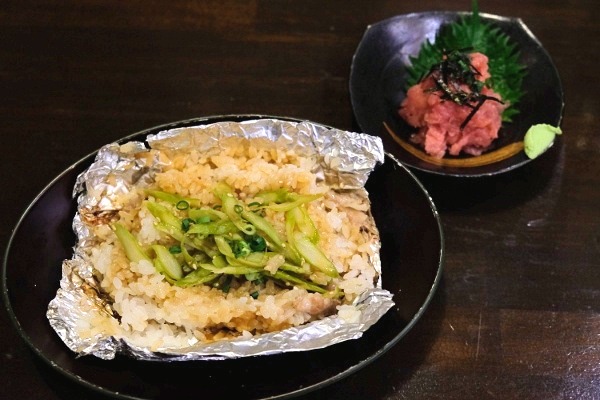 This asparagus and pork affair is another signature dish of Yakitori Hana. It consists of pork and asparagus on rice topped with butter and flavoured with raiyu hot chili oil. It's wrapped in special heat-resistant foil and quickly cooked over the incandescent charcoal briquettes. The savoury waft of buttery cooked rice, pork, asparagus, and spicy oil when the foil is opened and the ingredients are deftly mixed by the chef is well worth the 780 yen it costs.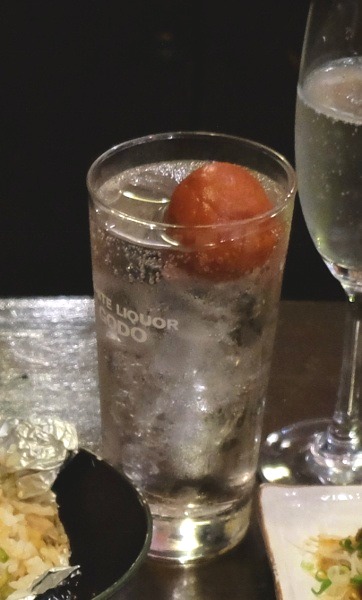 Yakitori Hana Ogibashi is well supplied with beverages of all kinds: wine, beer, sake, shochu, highballs, cocktails, sours, and a parade of soft drinks, all at reasonable prices. The most popular drink is this plum sour, made with enormous plums from the Shinshu area, modern day Nagano. Very refreshing in the heat and humidity of the Japanese summer and a snip at just 480 yen apiece.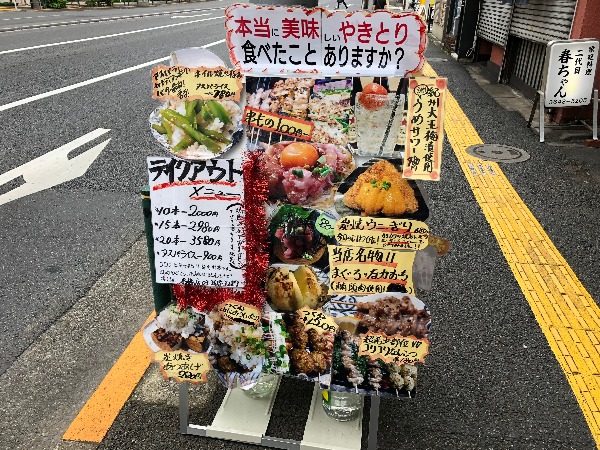 Yakitori Hana also has a takeout service for those who prefer to eat at home: ten sticks for 2,000 yen, 15 for 2,980 yen and 20 for 3,580 yen, with the asparagus rice at 900 yen. What better way is there to enjoy the big match than from the comfort of your own sofa with a plate of yakitori and drinks from the fridge?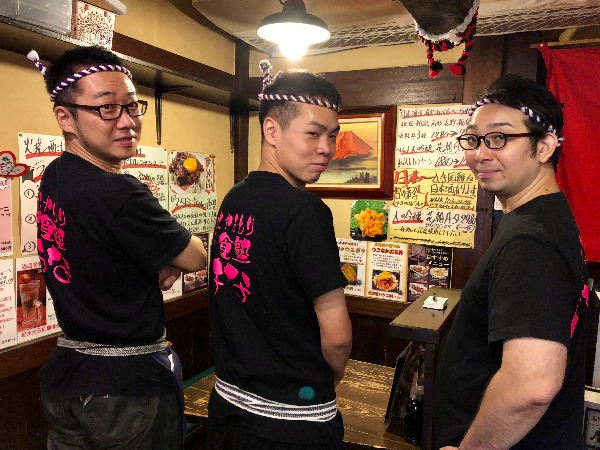 "Everyone's welcome at Yakitori Hana," say Mr. Ishida and his energetic staff. "We serve the real, authentic taste of Japanese yakitori, loads of other tasty dishes and great drinks all at decent prices in a friendly and lively atmosphere. We've got wifi and customers can use Paypay, credit cards, or cash. We're busy on weekends so try to come early to beat the rush. Come on down, it's fun." Sounds great!
Story and photographs by Stephen Spencer