50 Years of Japanese and Chinese!
Published: May 19, 2021
Taro is a well-known restaurant near Monzen-nakacho Station that has been serving top-quality Japanese and Chinese cuisine for over 50 years now. On a recent afternoon, we dropped in for a chat with second-generation manager and chef Mr. Futoshi Takase.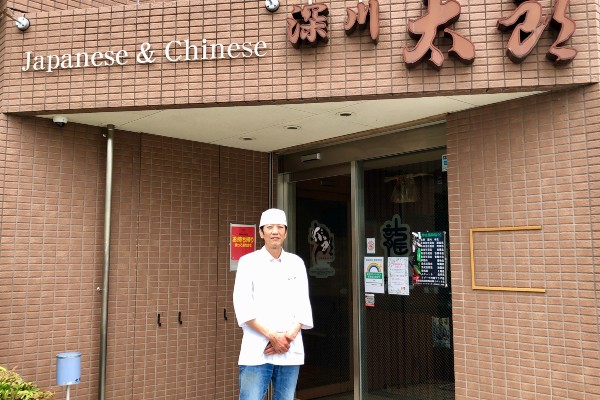 Despite being just a few minutes' walk from the thundering traffic of Eitai Street, Taro's location on the ground floor of a block of flats just behind Fukagawa Fudodo temple gives it a quiet, residential atmosphere. "My father first worked at a renowned Ginza ryotei restaurant established by the artist and epicurean Kitaoji Rosanjin before opening the original Taro restaurant just up the road in Fuyuki, as a sushi restaurant. There were two separate restaurants in the same building: Taro and a Chinese restaurant named Ron. When it was rebuilt the two amalgamated into today's Taro," said Mr. Takase.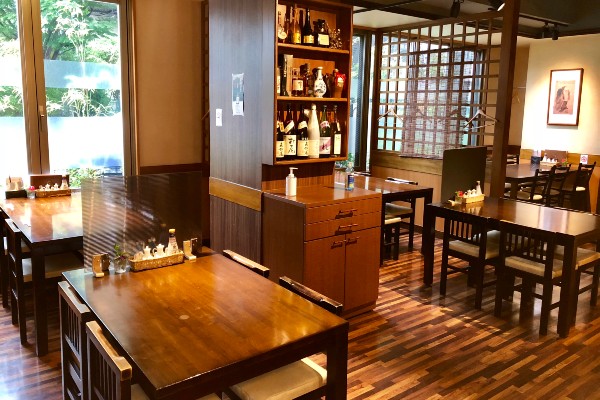 Which neatly explained why one restaurant serves both kinds of cuisine! Taro is deceptively large inside, with a relaxed, comfortable atmosphere and a pleasant woody ambience.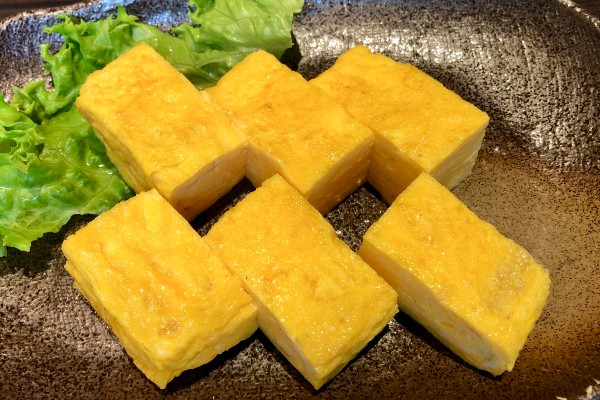 Taro has two strings to its bow: the restaurant and a thriving department store sales business. Taro has shops in seven department stores, five in Tokyo and one each in Chiba and Saitama Prefectures. Perhaps the most famous product sold there is the rolled egg omelette (atsuyaki tamago), made to the same recipe developed in the sushi shop by Mr. Takase's father. "There's only a little broth used in making the thick egg omelette," explained Mr. Takase Senior, "and the key point is that the eggs are highly tensile and good quality." A full serving uses seven eggs, while a half serving is pictured here. It's exceptionally good, lightly seasoned but with a strong egg flavour.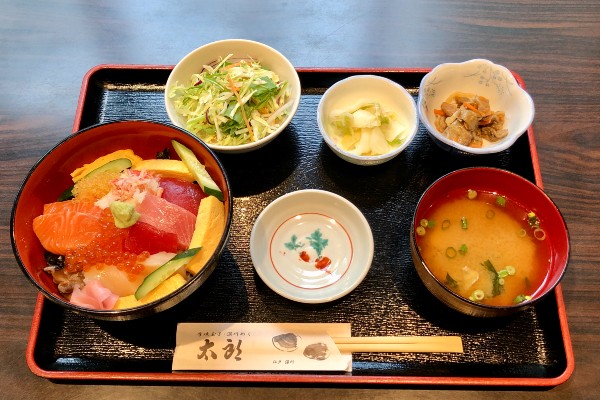 The most popular lunch at Taro is this seafood on rice bowl (kaisen don 850 yen). "I go to the Toyosu Fish Market nearly every day and select the best value fish and seafood," explained Mr. Takase.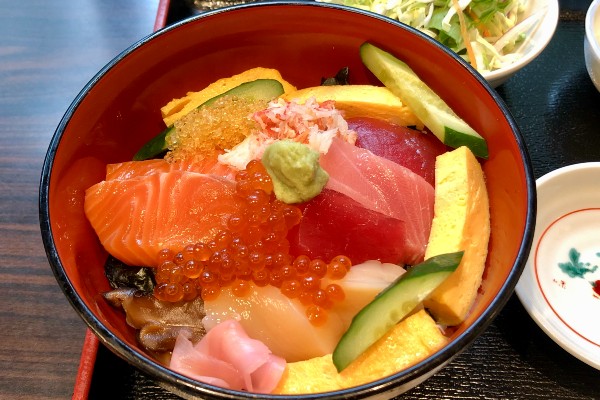 The bowl features seven or eight kinds of fish and seafood, primarily tuna, salmon, salmon roe and squid, with egg and cucumber on vinegared sushi rice. It is served with miso soup, a salad and two small dishes of pickles. The quality was outstanding and quite astonishing at just 850 yen including tax.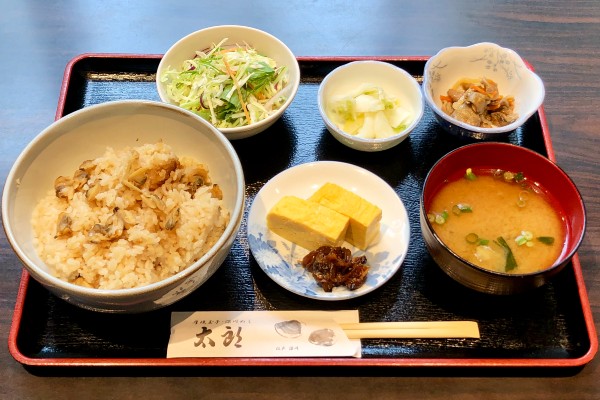 The Fukagawa area of Koto-ku is renowned for Fukagawa meshi (meshi means cooked rice or a meal in Japanese) developed during the Edo Period (1603~1868) as a quick meal eaten onboard fishing boats by Fukagawa-based fishermen. Consisting of locally caught clams simmered with negi onions and served over rice, it was an early kind of fast food. Over time it evolved into the dish known today, of which there are two types: the "bukake type" features short-necked clams in miso (fermented soy bean paste) soup served over rice and the "kakikomi type" in which the clams are cooked together with the rice.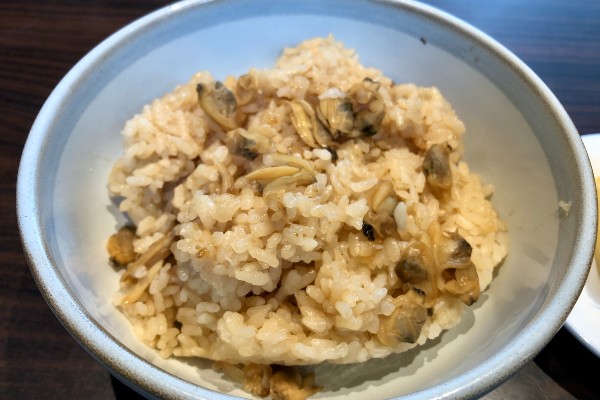 Taro is renowned for its Fukagawa Meshi and serves both types. This is the "kakikomi" type, where the clams and onions are cooked together with the rice. The lunch set is extremely tasty and remarkable value at just 1,000 yen including tax. It also includes two pieces of egg omelette, tsukudani pickled clams, miso soup and two other kinds of pickles.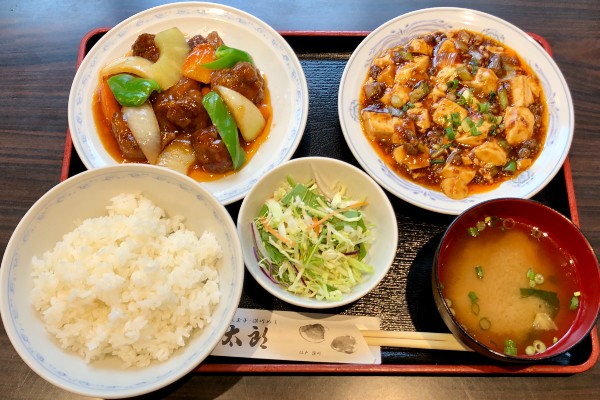 The daily set Chinese lunch contains two main dishes, soup, rice and salad for just 850 yen. "Some people don't like raw fish so having the Chinese menu allows families or groups of workers and friends to eat together in the same place," explained Mr. Takase. On the day we visited the lunch was mabo tofu and sweet and sour pork; other classics available are shrimp in chili sauce, Szechuan twice-cooked pork and steamed chicken.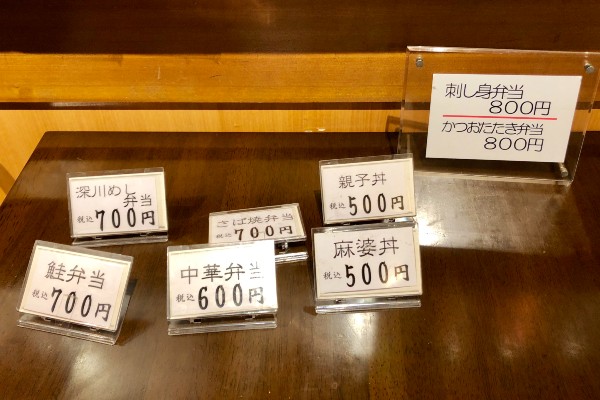 The many business people from large companies in the area who flock to Taro at lunchtime are testament to the quality of the lunches. "We used to have many foreign customers from a large securities company near here," said Mr. Takase. If you're teleworking in the neighborhood, you can still enjoy the great taste of Taro via one of the many lunch boxes on sale: sashimi (800 yen), Fukagawa meshi (700 yen), salmon (700 yen), grilled mackerel 700 yen), Chinese (600 yen), mabo tofu (500 yen) or chicken and egg (500 yen). The lunch boxes go on sale at 11:00 am and were all sold out when we arrived, so customers are advised to go early!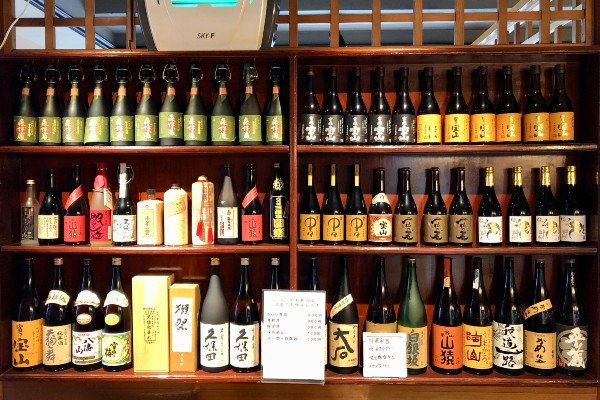 Taro has a wide selection of drinks, while the second floor features a party space with seating for 75. All the current pandemic protocols are in place.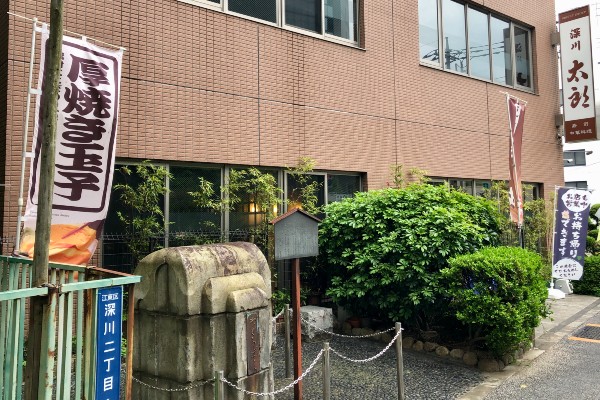 One can easily imagine that Taro was packed to the doors in pre-pandemic days, especially on the many festivals and event days at the local shrines and temples. Let's hope those days return soon. Meanwhile, why not take this opportunity to treat yourself to top-quality Japanese and Chinese food at unbeatable prices. You'd be crazy not to!
Story and Photos by Stephen Spencer