Hip Hop for Health at Studio Entrada
Published: June 24, 2019
Hip hop is now officially the most popular genre of music in the world. From humble beginnings in New York's South Bronx area in the late 1970s, it slowly spread across the globe and displaced rock as the top-selling genre in 2017. In 2018 nearly 25% of all music consumed in the US was hip hop. Back in the 1990s it caught the heart of a young man in Koto-ku, Mr. Kaku Haneda, who was inspired to become a professional dancer and now teaches dance in his own studio near Morishita Station. On a recent steamy hot morning we dropped in to Studio Entrada for a chat.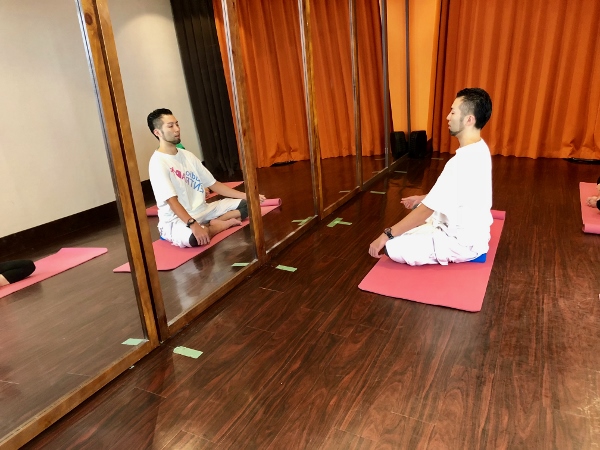 Remarkably, Mr. Haneda (professionally known as KaQ) didn't grow up wanting to be a dancer. "Not at all," he says. "I was actually at university studying something with no connection to dance when the band TRF  became popular and sparked a dance craze. I started dancing purely as a hobby and then became obsessed with it. I was working as a dancer while studying, then turned pro after I graduated. Then I had an audition at a well-known theme park. I passed and became a full-time dancer there." A meteoric rise indeed, from total beginner to professional dancer in just four years.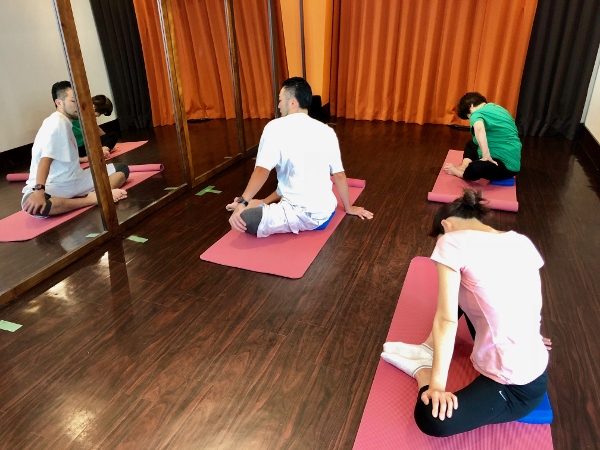 "I'd worked at the theme park for eight years when I decided it was time for a new challenge. I was a freelance dancer for a while and then felt the time was right to open my own studio. I was teaching classes before but in rental spaces here and there. Fukagawa is my home area; I grew up and went to school in Shirakawa so I really wanted to open a dance school around here. I started looking for a suitable space and found this place which used to be an office. The location and budget was just right so I took it and opened up in April 2016."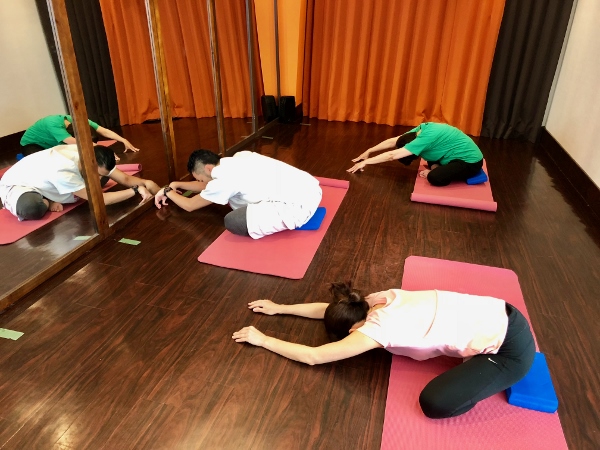 Father-of-three Mr. Haneda teaches hip-hop, jazz dance and tango, with hip-hop classes forming the major part of the schedule. There are classes for adults in the mornings and evenings, with classes for kids in the late afternoons and early evenings. Students are divided into three groups: four to eight year old kids, nine to fifteen year-old juniors and then adults. According to Mr. Haneda many kids who aren't much interested in school sports are really into dance and are encouraged by their parents, who see it as healthy exercise. Prices are very reasonable. An initial registration fee of 5,000 yen plus 6,000 yen a month for kids and 7,000 for juniors. There's also a ticket system which gives a bigger discount the more you buy.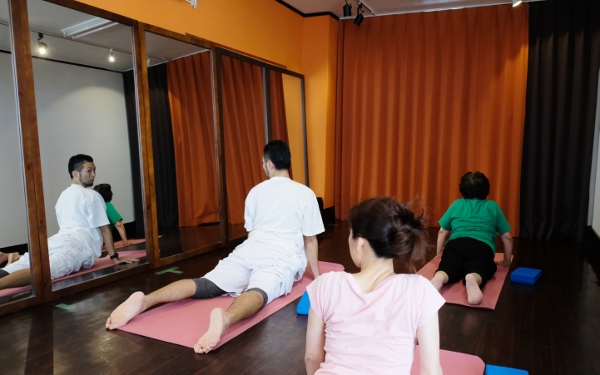 The ladies of the Tuesday morning hip-hop beginners class kindly allowed us to watch and photograph them. The 90 minute morning classes begin with a cup of coffee and a chat, followed by breathing exercises and stretching on yoga mats. Slow tempo hip hop is the soundtrack to the serious stretching session that lasts for 20 to 30 minutes.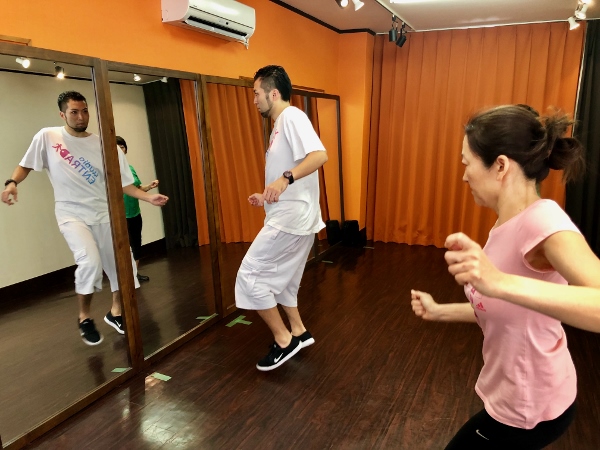 Once Mr. Haneda is satisfied the students have sufficiently limbered up they go straight into a routine for one song. It's dynamic dancing, intense and very impressive. As he explains, "Hip hop is for dancing in small spaces like clubs, whereas jazz dance is designed for the theatre stage. The movements in jazz dance are much bigger but also much more difficult."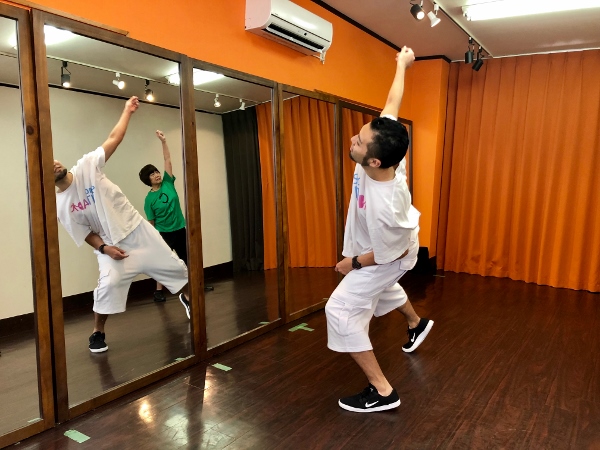 After that strenuous routine Mr. Haneda breaks the dance down into its constituent parts which the students then work on. On the day we visited that was neck and shoulder movements. He's patient and explains simply and clearly, repeating the movements in half speed. It's a really good workout, both for the body and the brain.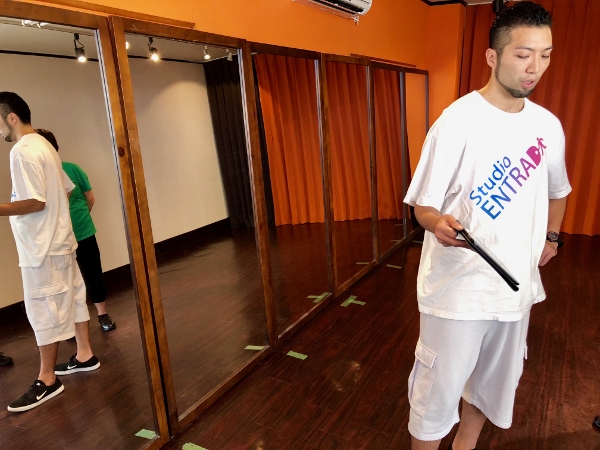 Mr. Haneda uses a tablet to compare the students' movements. Dance is increasingly being cited as a major factor in the delay of diseases such as Parkinson's, Alzheimers and dementia. Many of the senior students at Studio Entrada have either taken up or returned to dancing for this reason.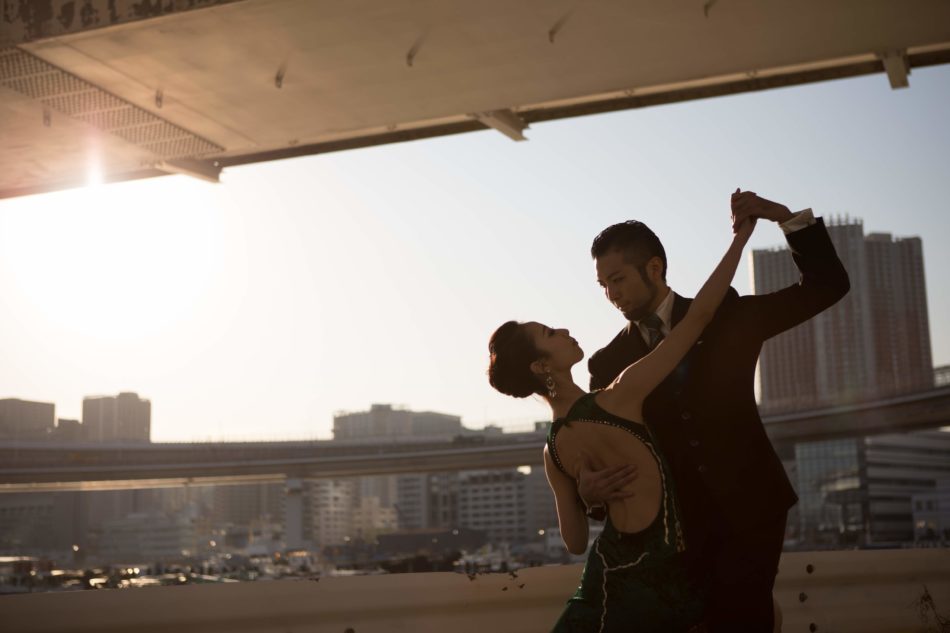 After he became a freelance dancer Mr. Haneda branched out and began studying salsa. "I enjoyed salsa but it was the tango that really grabbed my interest. It's very different from hip hop or jazz dance, of course," he said. "You're dancing with a partner, it's very passionate and a dance for adults." He mastered the dance and now teaches a class on Thursday evenings. He also joined a tango group and frequently dances at events and the like. When pressed for his own favourite dancers he names Broadway star and choreographer Greg Burge along with the World Tango Champion.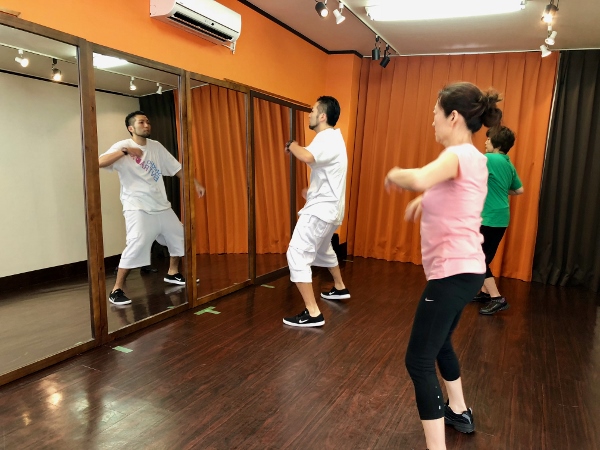 Studio Entrada has a dance event in the studio once every six months with a huge biennial event at the Toyosu Civic Centre. That will be held on August 31st. this year. In addition there are kids disco events held frequently at Morishita Culture Centre. As if that weren't enough Mr. Haneda also teaches classes in his old elementary school, at the request of the PTA. "Not only the numbers of kids wanting to do dance has increased dramatically recently but the number of kids who are good has increased as well," he says. His students are also regular participants in festivals and events in the Fukagawa area.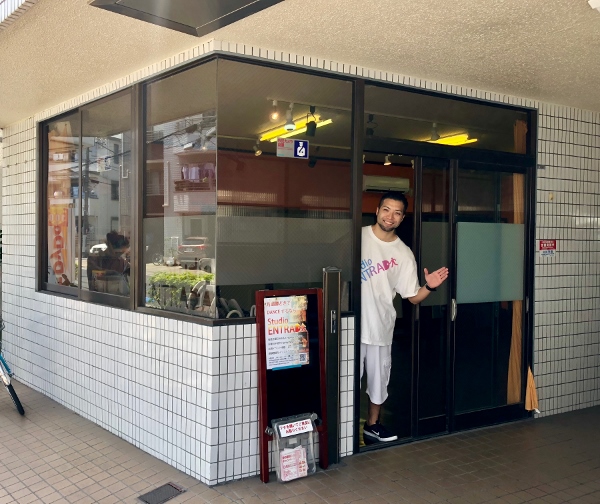 "I want people to experience the joys of dance and to use the health and fitness gained in their everyday lives," he says. Fine words. Whatever your age or ability, dancing is beneficial to your body and soul. If you're in the mood, then why not drop in to observe or even have a trial lesson?
Story and Photos by Stephen Spencer