Karaoke Fun at Casual Snack Iku
Published: June 27, 2019
Located a short walk from Kameido Station in the northernmost reaches of Koto-ku, Snack Iku is a fine example of that classic post war Japanese genre of establishment known as a snack. On a recent hot and humid afternoon we dropped in for a nice chat and a jolly time with the friendly owner, Ms Ikuko Nakai.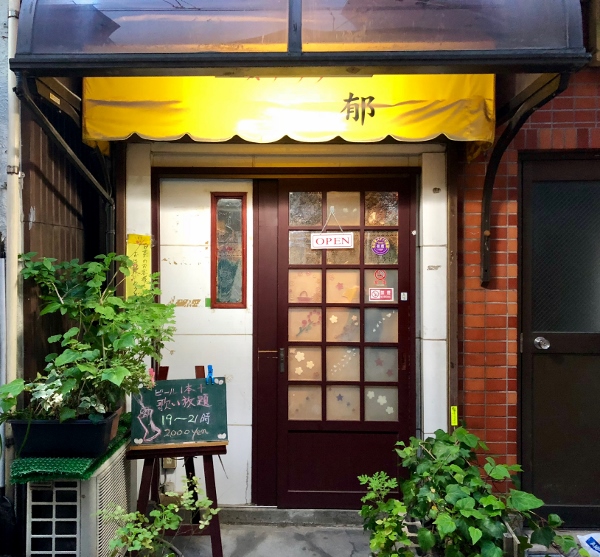 Snacks (sunakku in Japanese) date back to the early 1960s when the laws on night-time entertainment were tightened ahead of the 1964 Tokyo Olympics. The ever-creative owners found a way around the new ordinances by offering light meals or "snacks" along with their regular services. Snacks tend to be small and cozy, with a brief menu, karaoke and drinks, which describes Casual Snack Iku perfectly.
Aomori native Ms. Nakai open her snack in 2013. "It's like a little pocket of a place," she says with a laugh. There are four counter seats and two tables which seat four each, for a total of twelve.  Casual Snack Iku is non-smoking. "I enjoy cooking," she says, "Reading food magazines and creating new recipes. I'd like to attract customers who enjoy singing and discussing a variety of things, including music and history."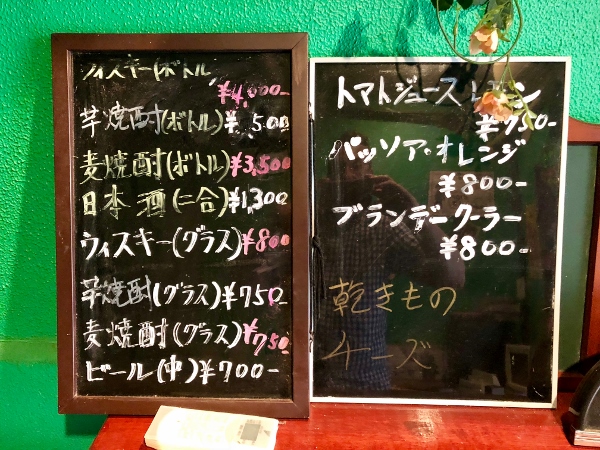 The drinks menu has Asahi or Sapporo beer for 700 yen, whiskey, shochu and a wide range of mixed drinks. The famous "bottle keep" service is also available, where customers buy a bottle of their preferred poison and leave it behind the bar to be consumed whenever they visit. For non-drinkers there is a wide variety of soft drinks. Generally speaking there are two kinds of customers at snacks like Iku: early birds who mainly want a chat, a drink and a couple of songs or larger parties who have already imbibed with their dinner and visit as a way to round off the evening.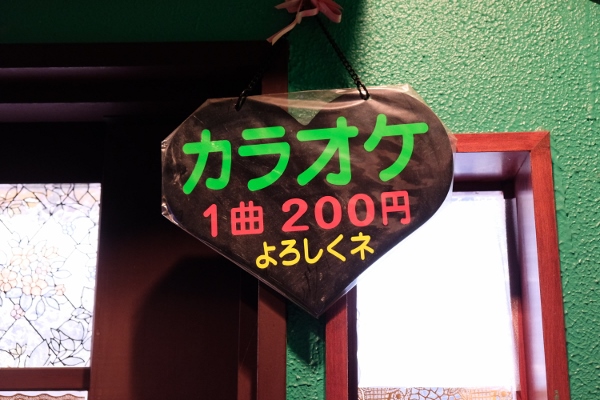 One song is just 200 yen, perfect for those amateur singers keen to practice.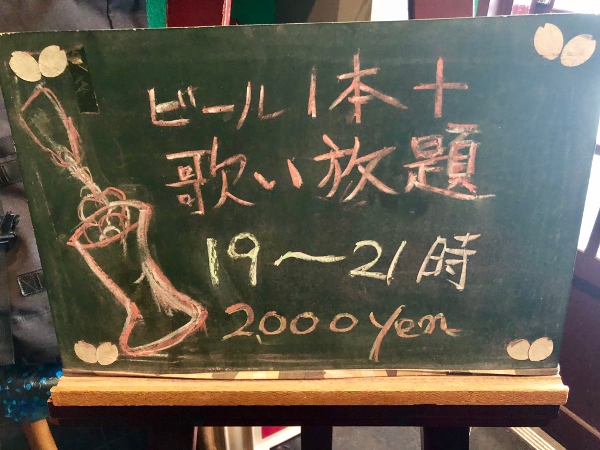 For those who fancy a real session the peak time is from 7:00 to 9:00 pm when a two-hour all-you-can-sing deal costs 2,000 yen and includes a bottle of beer. This represents terrific value as most snacks charge 3,000 yen for the same thing and most people can get through a fair number of songs in two hours.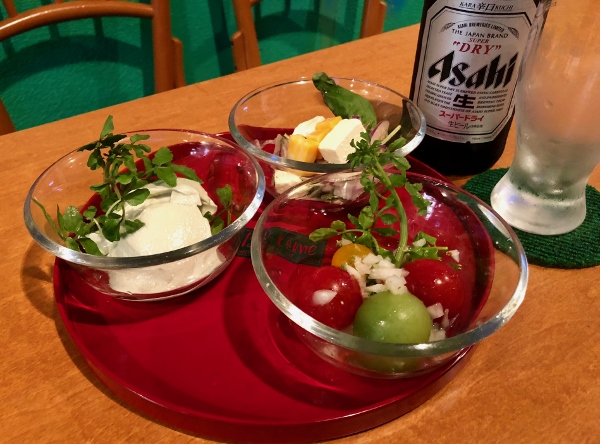 Food is ordered separately and there isn't a menu as such. "If customers are hungry, I'll make them something with what I have," says Ms. Nakai. "I tend to buy seasonal ingredients although I can always make rice balls or more filling items if that's what they want." Ms. Nakai ran a restaurant in Asakusa for several years which explained her deft creation of these snacks in short order. From left we have: edamame tofu, cheese salad, and tomato salad. The snacks cost around 300 to 500 yen apiece. Ms. Nakai says she remembers each customer's individual tastes and tries to avoid serving the same items on repeat visits.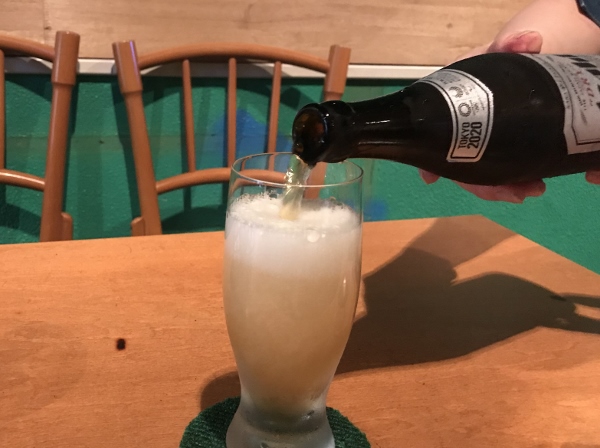 Cheers!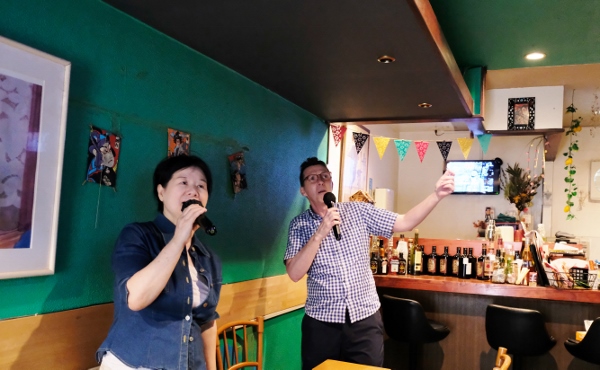 After a thirst-quenching ice-cold beer and a tasty snack there's nothing like a good old sing-song. Ms. Nakai and I duetted on the Paul Anka classic Diana before I murdered the Bee Gees 1977 disco smash Staying Alive.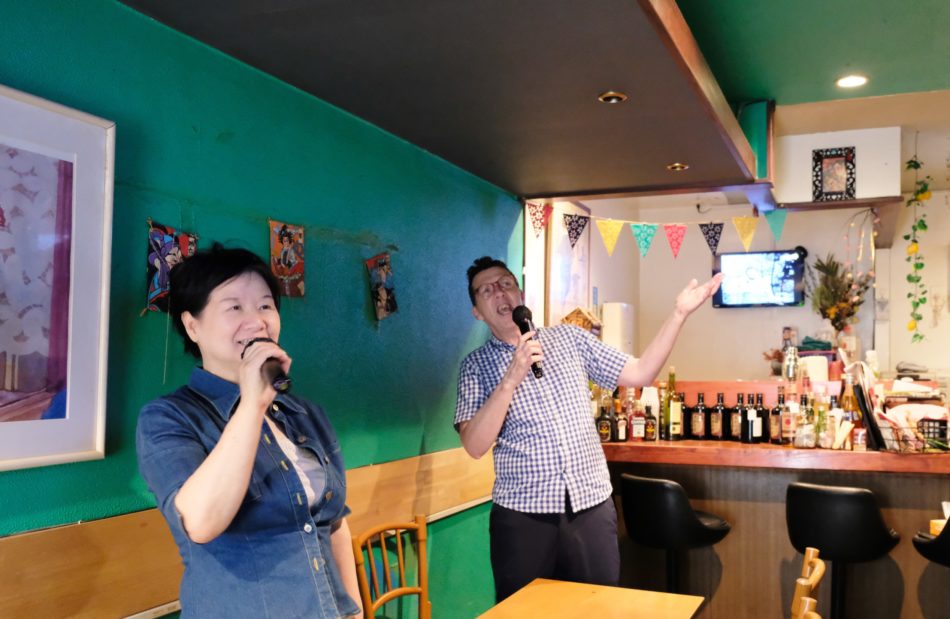 Ms. Nakai has a fine voice. She's a great fan of Ray Charles, Michael Jackson, Lionel Richie, John Lennon, and the like, having seen many of them live multiple times over the years. The three of us attempted We Are the World and then finished off with Hotel California. Phew!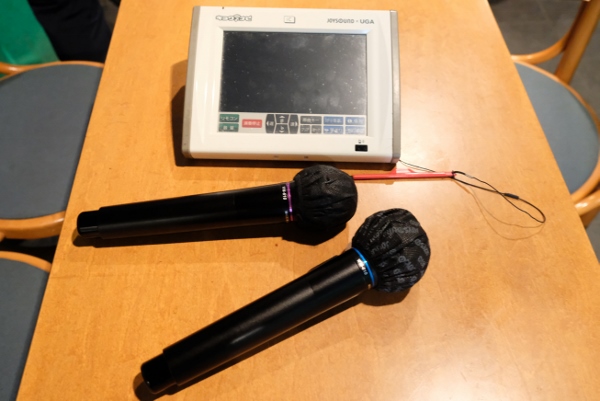 Snacks like Casual Snack Iku are all about socializing and communication. As such, they play a role in the community, bringing local residents and local workers together while harking back to the days of Japan's economic boom. The numbers will surely decline as society changes but for now they are a fun way to pass an enjoyable couple of hours. If you're in the mood for a song and an interesting conversation then Casual Snack Iku is the place for you!
Story and Photos by Stephen Spencer