It's a rare pleasure to find an eatery that's totally unique, especially when it's tucked away in a quiet back street of Koto-ku. However Soupsupa, brainchild of veteran chef Mr. Manabu Motoya, is an original: a restaurant serving soup spaghetti with a Japanese touch. Intrigued? So were we, which is why we dropped in on a recent late afternoon.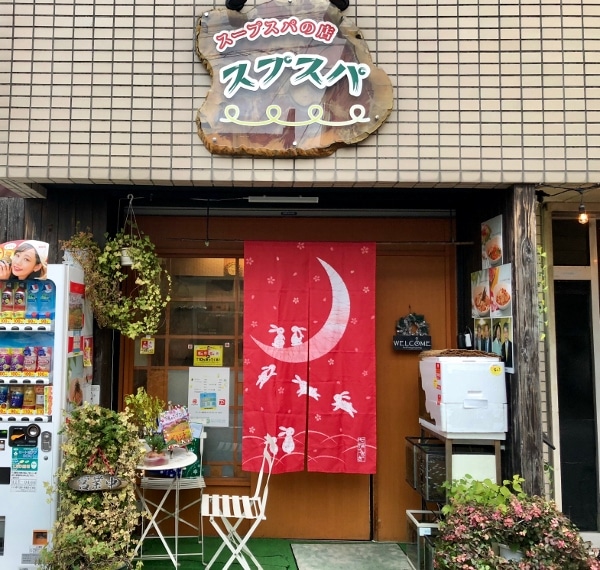 While the nearest station is Sumiyoshi on the Hanzomon Line, Soupsupa is located just a few minutes walk from Kiba Park and the very popular Museum of Contemporary Art Tokyo, with the temples and shrines of Monzen-nakacho and the gardens of Kiyosumi-shirakawa also within easy reach. The slow pace and local atmosphere of the Ishijima area is in marked contrast to the bustle of Kasaibashi and Eitai Streets to the south.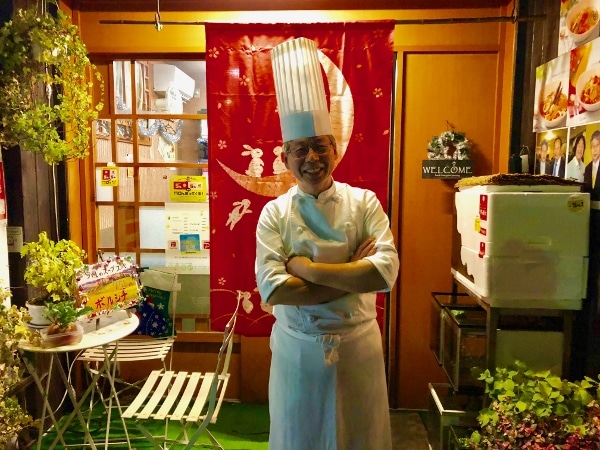 Housed in a former soba restaurant, Soupsupa opened in June 2012. Fukui-born proprietor and chef Mr. Motoya briefly described his career, "I started my working career at a French restaurant in the Tsukishima area of Tokyo, where I met my future wife and where we still live. After that I moved to a famous hotel in Akasaka where I became chief chef a few years later. Then I served as executive chef at various restaurants in central Tokyo before deciding to open my own place. We found this location purely by chance; it's convenient and required no remodeling to the kitchen so we moved in and began."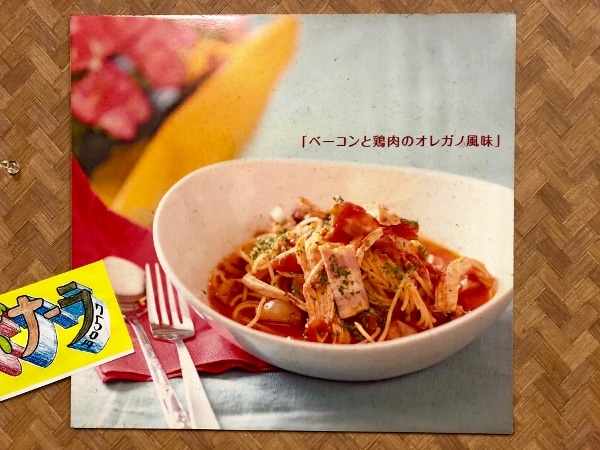 How the idea of soup spaghetti come about? "Well, the chefs in large hotels prepare meals for the staff working there, and one day I whipped up a dish of bacon and chicken with oregano, using what ingredients were at hand. It had more soup than usual and was well received the staff who ate it. It stuck in my mind and became the basis of what I decided to do here. I wanted to create something different, something unique, so I developed these soup spaghetti recipes using a French-style chicken stock with traditional Japanese broth ingredients such as kelp (kombu), finely chopped bonito flakes with soy sauce (okaka) and dried sardines (niboshi)."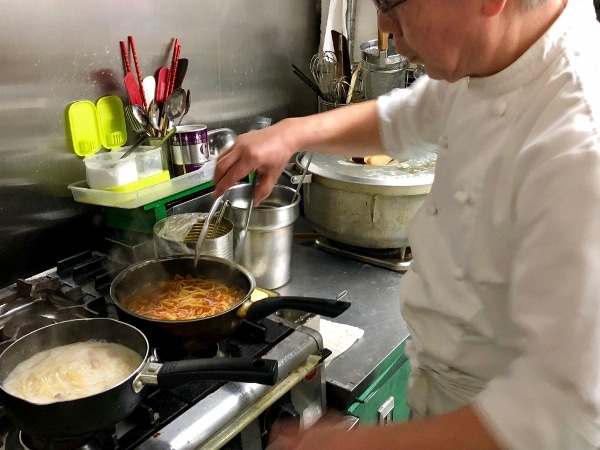 Mr. Motoya dived into the kitchen and with the deft, economical movements of a veteran chef whipped up a bowl of borscht soup spaghetti and a carbonara soup spaghetti in the blink of an eye. "I make everything myself," he explains, "from the stock to the noodles, the garlic oil and all the soups. I don't use olive oil and there's no cream, either."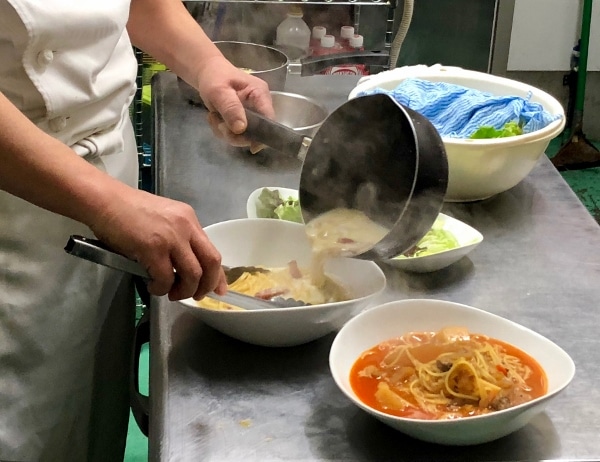 "For the borscht I actually make two soups;  the beets and other vegetables are simmered for hours while the other, with beef tendons, is cooked slowly for even longer, until the meat is soft and tender. I then combine the two together with the spaghetti and the final seasonings," he explained. The carbonara contains no cream but roasted onions with an egg yolk and was topped with some mixed cheese as a final touch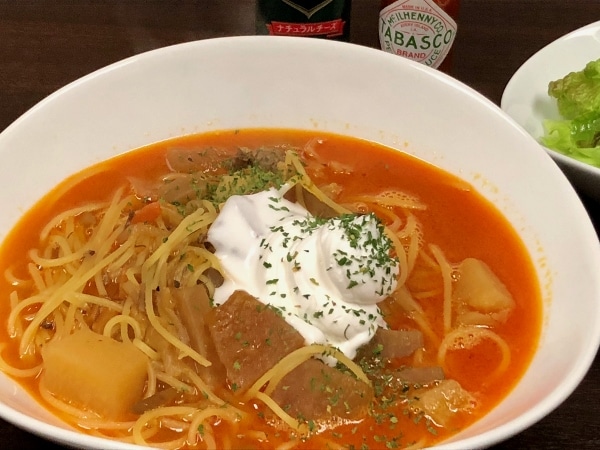 The borscht was fantastic, a rich, beety and meaty sauce with a delicate sweet and sour flavour. It was the special for this particular week. Soupsupa serves a generous 200g of spaghetti in each portion.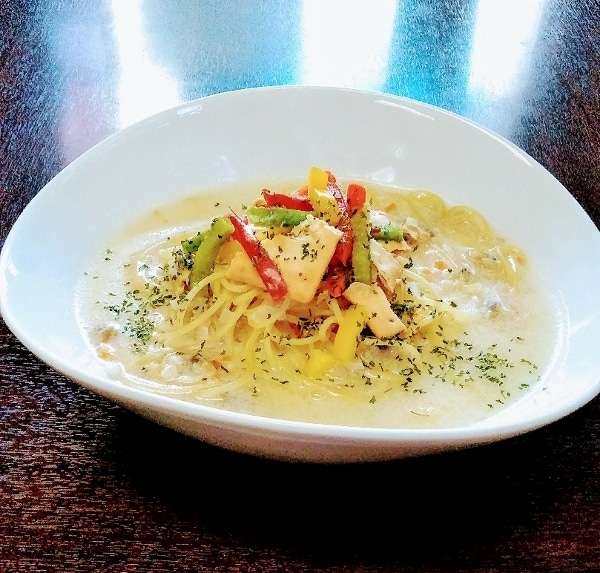 For the week of December 16th. to 21st. the daily special will be this very appealing Fukagawa Soup Spaghetti. The Fukagawa area of Koto-ku is well known for its short-necked clam (asari) dishes, a tradition that dates back hundreds of years to the Edo Period (1603~1868). This is Soupsupa's version, a fusion of the traditional with the ever-popular creamy clam chowder.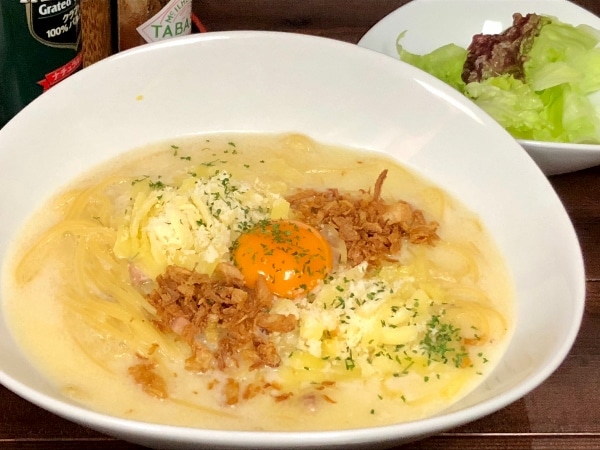 The carbonara was incredibly creamy, which was a major surprise as it contained no cream at all. It was delicious, rich and cheesy with the crispy fried onions adding both flavour and texture.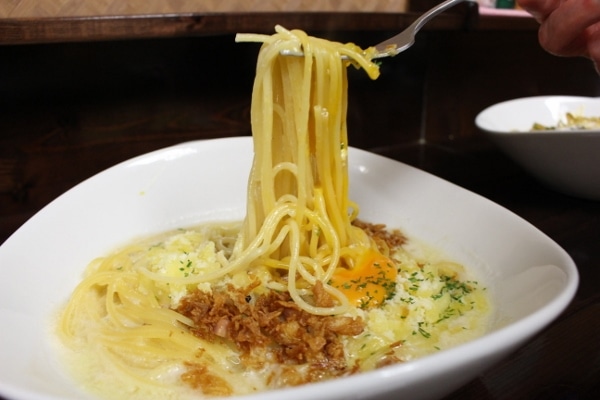 The key to the success of Mr. Motoya's recipes, apart from his skill as a chef, is the noodles. Their exact composition remains a trade secret but they are designed to require minimal boiling and to retain their al dente texture without absorbing all the liquid from the soup. They have a really nice, chewy texture and stayed firm the whole while. I couldn't stop eating it!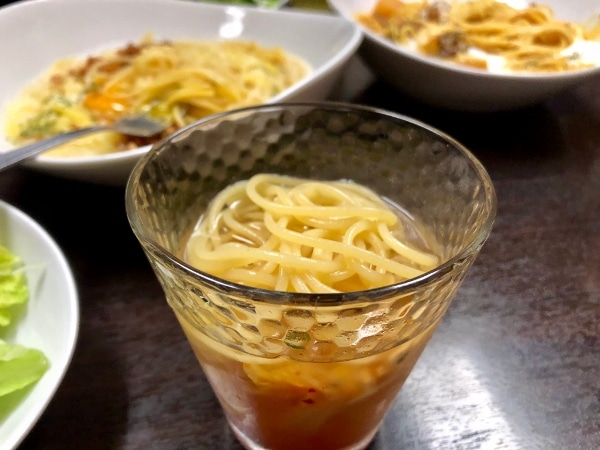 Mr. Motoya created a creamy kimchi soup spaghetti that was a big hit with customers. His original kimchi became so popular that customers demanded he sell it separately; many drop in for a meal and to pick up some of the spicy Korean goodness to eat at home. You now need a reservation for kimchi, such is its popularity. He uses it in a variety of dishes, including kimchi tempura, and served up a little in a glass with cold noodles reimen-style. The kimchi was crisp and crunchy, spicy and a touch sweet. Very nice indeed. When asked about how many varieties of soup spaghetti were on the menu, Mr. Motoya reeled off a list that included Neapolitan, minestrone, coconut curry, kimchi cream, pork bones (tonkotsu) and Hakata-style soup, tomato cream, homemade chashu pork and mushroom cream, mushroom chowder, cod roe cream (tarako), pork and vegetables in miso sauce (tonjiru) and a whole host more.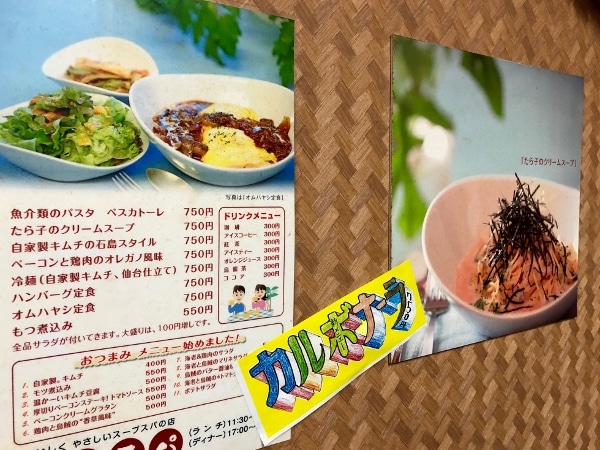 It's not all soup spaghetti at Soupsupa. For those in search of something else there are set meals of hamburg steak or omelette with hashed beef. Stewed beef tripes, tofu and kimchi, and a variety of salads are also available. According to a regular customer there's also a "special menu" but Mr. Motoya can probably make anything you'd like to eat, if he has the ingredients. Customers are mainly working people from local companies at lunch time and it's particularly crowded between 12 and 1pm. In the evening, local residents are the bulk of customers. Some regulars come by bicycle from as far away as Kameido or Ningyocho to sample Mr. Motoya's wares.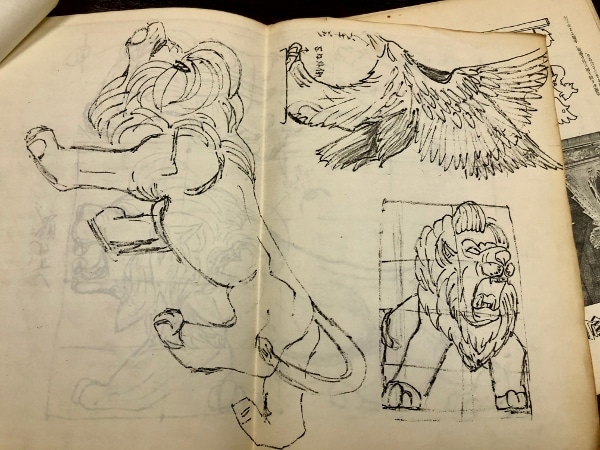 While employed in the restaurants and hotels of central Tokyo Mr. Motoya also designed and created ice sculptures to decorate the tables at banquets. He kindly allowed us a peek at his notebooks from those days.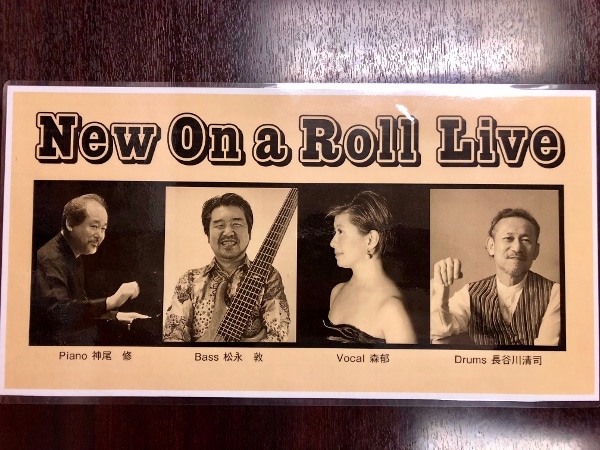 Soupsupa also sponsors an annual jazz event which is held at a local community centre.
Mr. Motoya is both a gentleman chef of the old school and a fine host. The unique soup spaghetti was a marvelous combination of European and Japanese traditions, and is highly recommended, particularly for those who would like to try Akasaka hotel cuisine at Ishijima prices! Bon appetit!
Story and some photographs by Stephen Spencer