Want to know a great way to meet new people whilst enjoying good food and drink? It's called a "tachinomi sushi izakaya" or stand-up sushi and sake bar. There is one such place a few minutes' walk from Kameido station, up an interesting narrow back street lined with bars and eateries. One of these is Umedaya, located in a converted 50-year old house.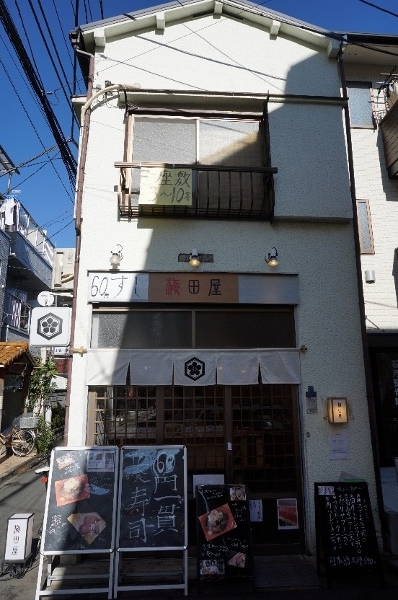 When we slid open the front door and stepped inside Umedaya, we were welcomed by Mr. Yu Kayama, who runs the bar with his colleague, Mr. Yu Suto ("call me Yu-chan"). They have known each other for around 15 years, from their days working in an "izakaya"; Mr. Suto is responsible for preparing Umedaya's seafood dishes, whilst Mr. Kayama claims to be the "o-warai tanto" (entertainment manager). A third member, known colloquially as Nonochin, is responsible for choosing and serving the sake.
Mr. Kayama, who bears a close resemblance to the Japanese sprinter Yoshihide Kiryu, told us that when Umedaya first opened in December 2018 they provided seats at the L-shaped counter, but customers couldn't see above the bar and watch the food being prepared, so they got rid of them. A consequence of this move has been that it is a good way to meet people, as "people standing at the counter tend to strike up a conversation with the person(s) standing next to them", says Mr. Kayama.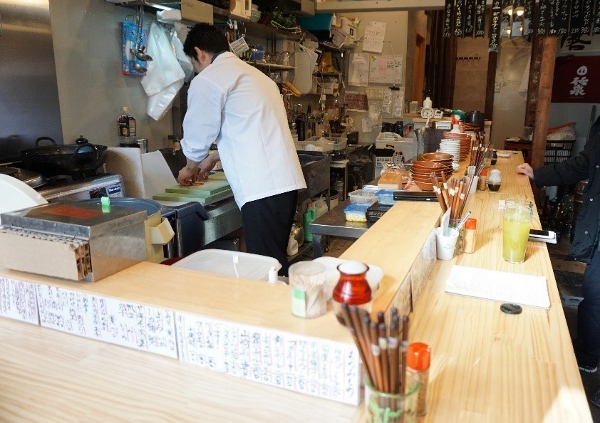 However, if you can't get a place at the counter, with its leaning space for ten customers, or you wish for a bit of seclusion, there is a curtained-off room at the end of the bar with seating for up to six people,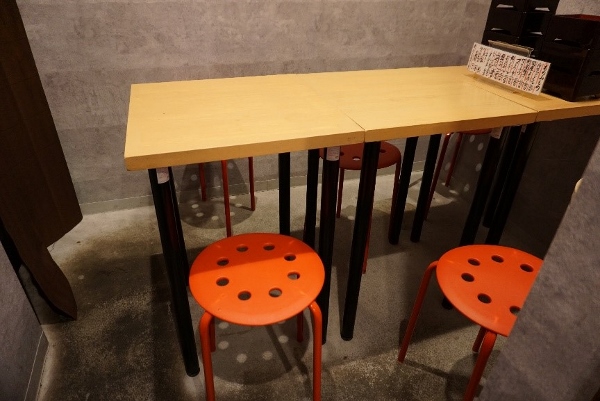 or a tatami room on the second floor up a flight of incredibly steep stairs, with seating for up to 10; just right for a small party.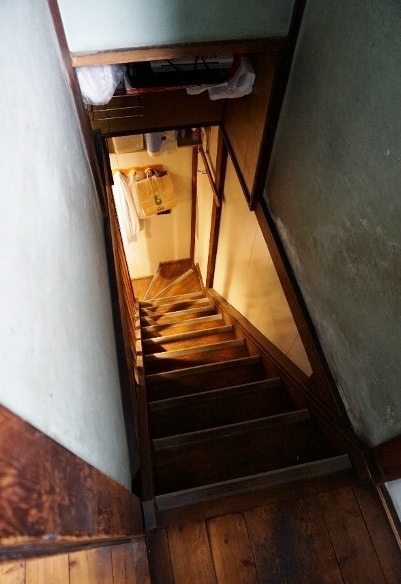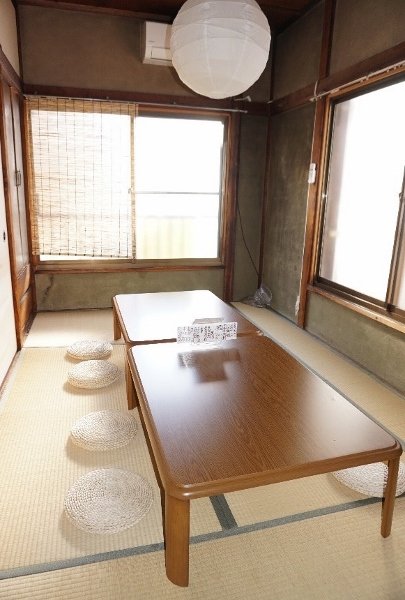 The bar has a relaxed atmosphere with its minimalist décor consisting of faux-concrete walls, which are in fact a wall-paper pattern, but the food and drink are far from simple. Messrs. Kayama and Suto are constantly reviewing and revising what the bar has to offer and are not afraid to introduce new items to the menu; Mr. Kayama confided that they are currently looking at the feasibility of adding some gibier (game) dishes to their repertoire.
Whilst the menu for the "regular" dishes is plastered along the front of the counter, the chef's recommendations and "specials" appear on the wall above the end of the counter, along with the prices for a "tokkuri" bottle of sake.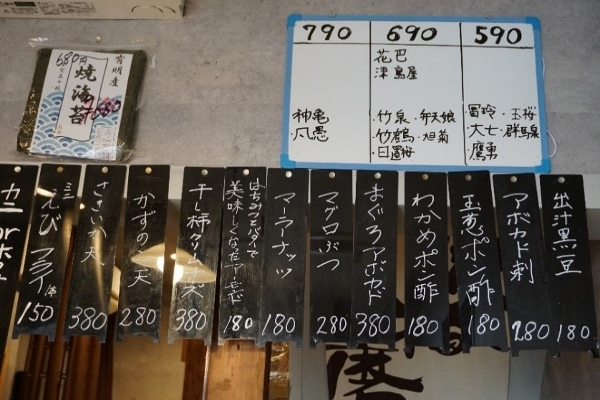 Relying on Mr. Suto's long association with seafood restaurants, the menu focuses on sushi, which starts off at an amazing 60 yen each, and other seafood dishes, with the fish being delivered daily from Toyosu Fish Market.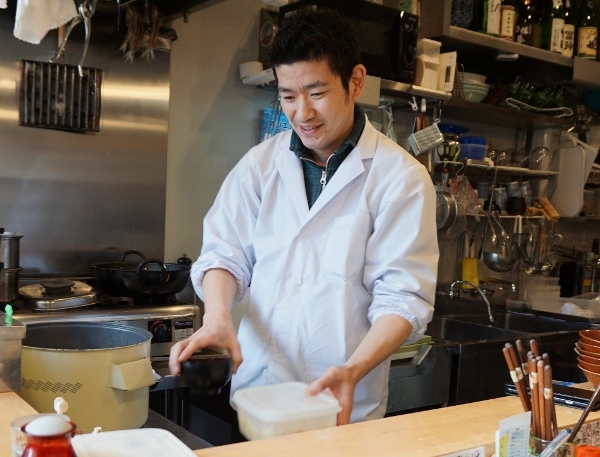 Mr. Suto kindly whipped up some pieces of chutoro maguro (medium-fatty tuna – delicious), buri (yellowtail), aji (horse mackerel), shimesaba (salted and vinegared mackerel) and ika (squid) for us to try; all laid out on a simple but attractive slate plate with a helping of thinly-sliced pickled ginger.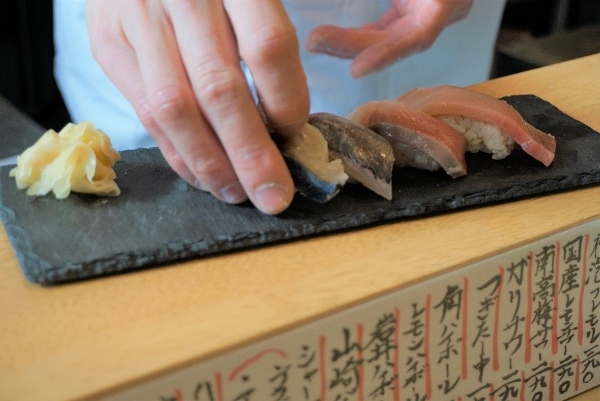 This was served with miso soup, containing tasty tender pieces of fish, and was a tantalising example of what is in store in the evenings at Umedaya, which start from 3:00 p.m. and carry on until midnight.
Umedaya is also open at lunchtime between 11:30 a.m. and 1:30 p.m. when the menu consists of a very appetising-looking "kaisendon teishoku" (seafood bowl set lunch – see photo below) for the very reasonable price of 680 yen.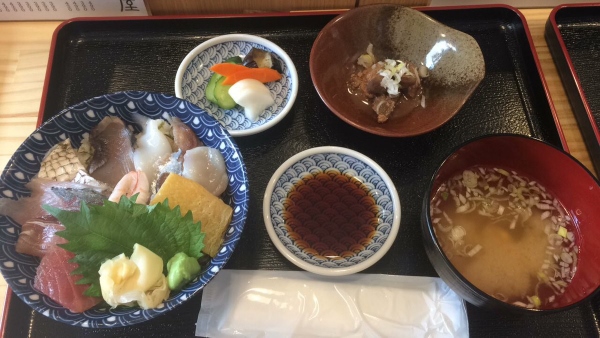 Photograph courtesy of Umedaya
Another of Umedaya's selling points is its range of non-standard brands of sake. According to Mr. Kayama they stock a range of around 20 different brands of sake, such as Benten Musume and Chikusen, mostly sourced from Kansai-based breweries. These are selected by Nonochin, who Mr. Kayama describes as being a "Japanese sake maniac". I am no expert, but it seems this is definitely a place for sake aficionados to visit and try some brands not commonly found in Tokyo.
As well as sake, Umedaya serves beer and lemon sour, a popular shochu drink, this time with a twist: in addition to sliced lemon, Nonochin adds kibitō (cane sugar) to sweeten the drink. Apparently, this goes down very well with customers.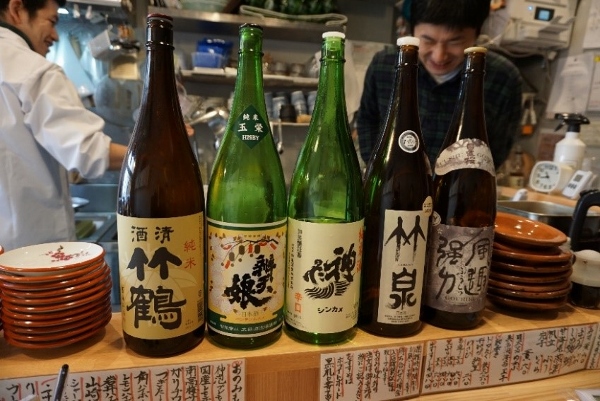 Of a weekday evening a lot of Umedaya's clientele are "repeaters", single men who, as Mr. Kayama puts it, "come for a couple of drinks or for five hours", whilst at weekends the bar is patronised more by couples, and they are seeing more single women customers attracted by the seafood menu and the lure of tasting some alternative brands of sake.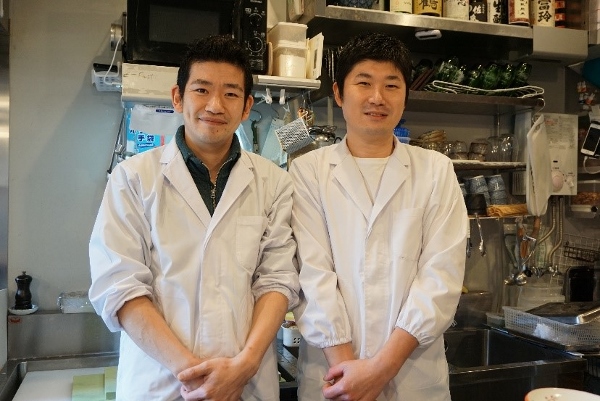 So, if you enjoy the combination of seafood and sake and fancy meeting a few new faces, why not indulge yourself and take a stroll up to Umedaya?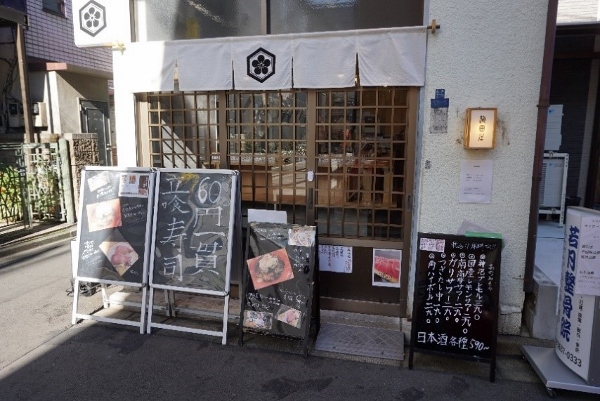 Story and photographs by Jeremy Hutchinson