Choi Nomi Tsutahan: Refined Izakaya with Warm Heart
Published: March 25, 2020
Kotomise staff roam far and wide across Koto-ku in the course of their duties. On a recent warm and sunny spring afternoon I found myself on Maruhachi Street, a few minutes-walk south of Ojima station and just over the Onagi River, looking for the splendidly-monikered izakaya-restaurant Choi Nomi Tsutahan.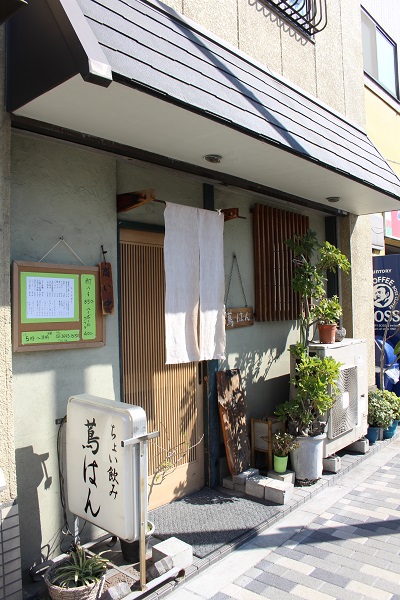 Although the traffic thunders by on the busy Maruhachi Street, it somehow feels like a slightly out-of-the-way location. The neatly unassuming frontage and inability to peek inside lead to a moment's trepidation of the "Is it going to be an expensive and formal place?" variety.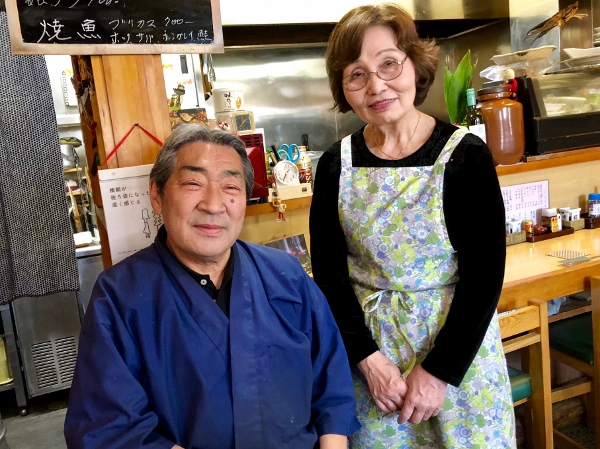 Once through the door however, we received an exceptionally warm welcome from the highly engaging proprietor Mr. Kugyo Yamaguchi, his charming spouse Yaeko, and their daughter Sachi. The atmosphere is as highly convivial and as comfortable as the interior.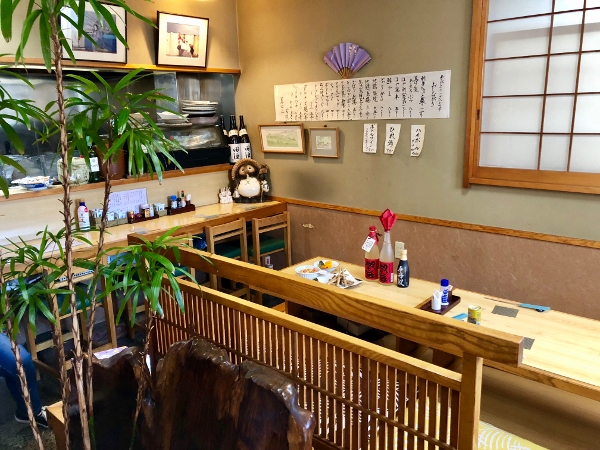 Aomori-born Mr. Yamaguchi learned his trade in well-known restaurants in both Tokyo and the nearby seaside town of Atami, as well as the exclusive, luxurious restaurants known as ryotei.  "We've been here since 2002," explains Ms. Yaeko. "We were looking for a suitable location to open our own place as we live near here and liked the square shape of the building." Choi Nomi Tsutahan resembles another kind of upmarket restaurant, called kappo in Japanese, where customers can sit at a counter and chat as the chef prepares the dishes.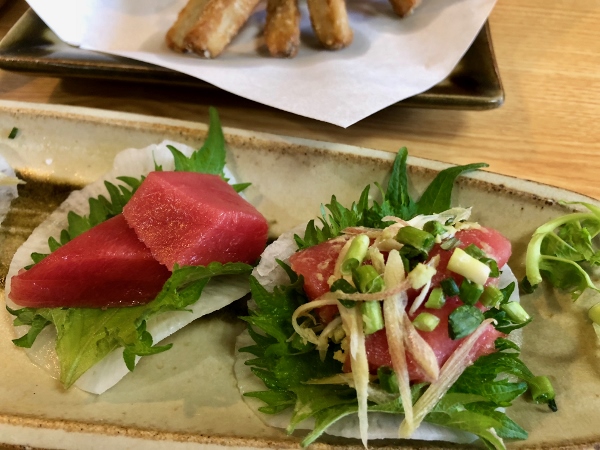 While the atmosphere is a pleasant mix of elegant and cosy, Choi Nomi Tsutahan serves high-quality dishes at very reasonable prices. Perhaps the most popular item on the menu is this northern bluefin tuna (hon maguro) selection priced at 800 yen. Mr. Yamaguchi's long association with a fish market means he's able to source exceptionally fresh, top quality tuna. It's served plain or with wasabi, chopped green spring onions (konegi) and Japanese ginger (myoga). Both are very good indeed and 800 yen represents incredible value.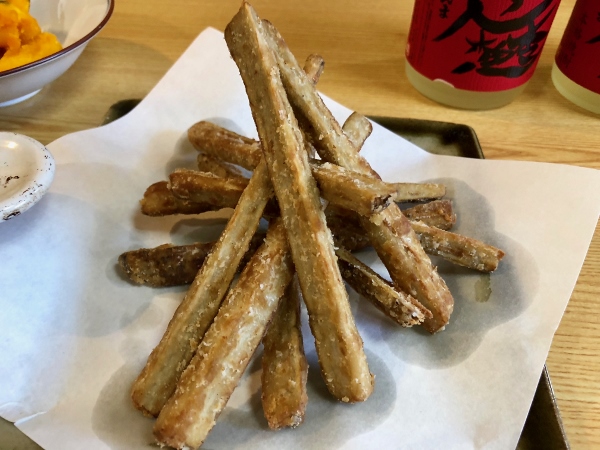 Now here's something you can't make at home. Burdock root (gobo) is widely eaten in Japan, particularly in the dish kinpira gobo, where it's julienned with carrots. Burdock root is an extremely healthful vegetable, bursting with dietary fibre, vitamins, and minerals. It also has a pleasant chewy texture and a unique flavour that's slightly sweet, earthy and vaguely like sesame. Upon ordering by a customer, the muddy burdock roots are washed, cut, seasoned, drenched in potato starch and deep fried. The mouthfeel is terrific, crisp and chewy, and a perfect snack to have with beer. It's both moreish and filling though, so take care to leave room for other dishes.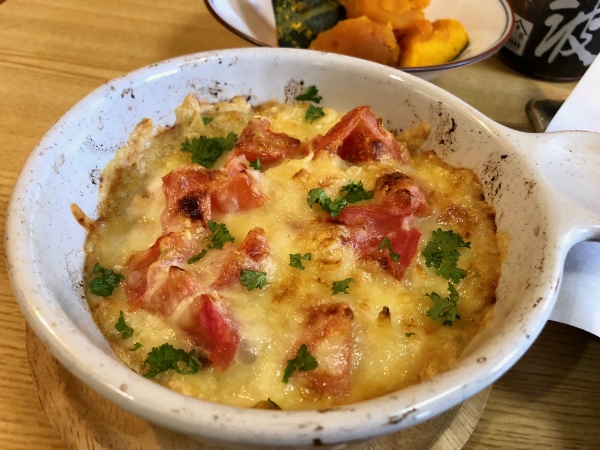 Beloved by all from four to a hundred and four years old, this seafood gratin is another winner. Clocking in at just 550 yen, it's bursting with deep sea delights: scallops, shrimp, squid and other seafood in a buttery homemade béchamel sauce. A little tomato adds further flavour. Also on the menu is a "half and half" which pairs the creamy gratin with a homemade curry sauce. Yum yum!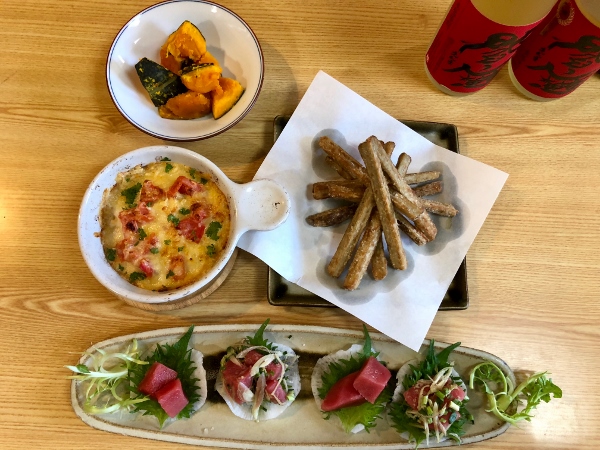 Seasonal vegetables play a major role on the Choi Nomi Tsutahan menu. On the day we visited it was this very toothsome simmered pumpkin. Mr. Yamaguchi's Aomori heritage and connections allow him to offer a variety of local foods from his home area, such as pickled roe, surume squid, and kelp with daikon radish and cucumber (nebutatzuke), diced herring fermented in rice malt (nishin no kirikomi) and the astounding sea squirt (hoya), which comes as sashimi or pickled (shiokara). These are seasonal too and may not always be available.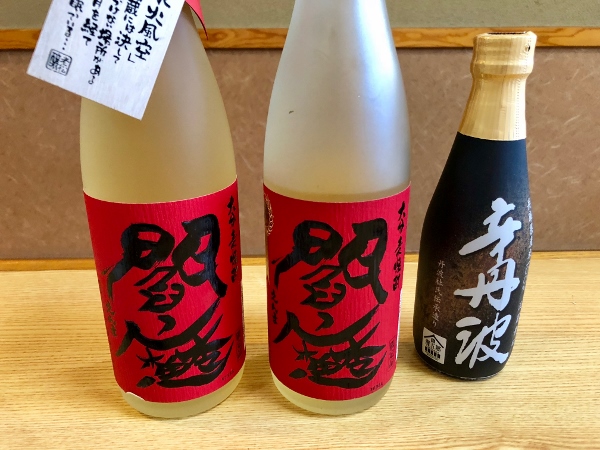 While "choi nomi" means having a few quick ones and a snack at a bar or restaurant, the regular patrons prefer to guzzle, laughs the proprietor. The drinks menu features Aomori prefecture sake and shochu, as well as a very unusual kelp-flavoured sake from Hokkaido.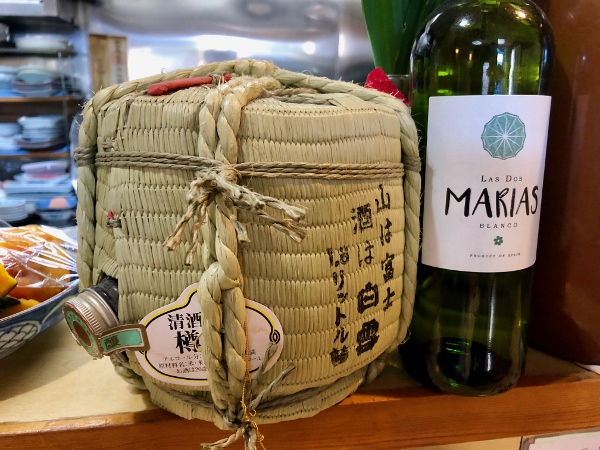 Draft and bottled beer, wine, sours and soft drinks are also available. Choi Nomi Tsutahan attracts a wide range of customers, including many ladies by themselves who enjoy chatting with the extremely affable proprietors.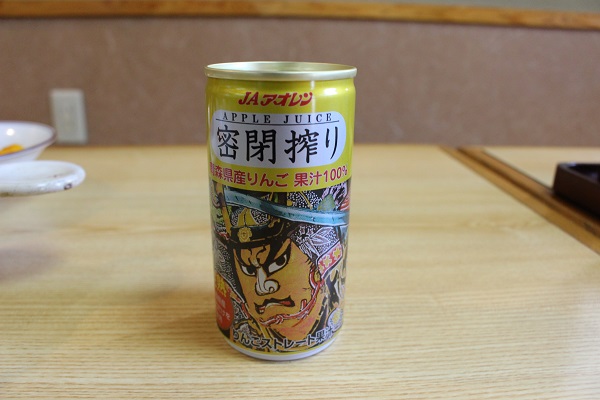 Aomori is renowned for its seafood and apples. Customers at Choi Nomi Tsutahan can enjoy a real taste of the far north with this apple juice. It's crisp, fresh and fruity but not overly sweet or cloying.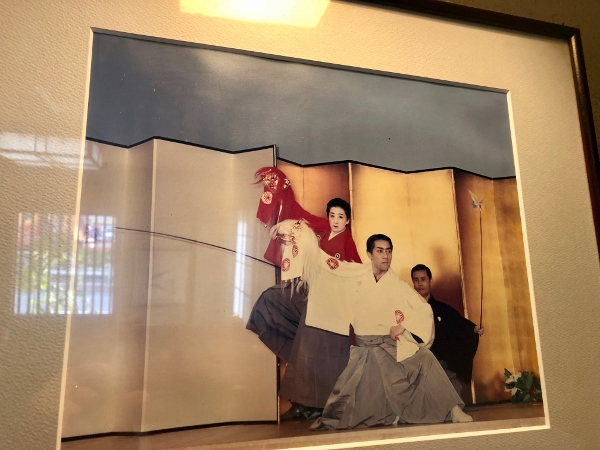 Mr. Yamaguchi's talents stretch far beyond his artistry in the kitchen. He is in fact a master practitioner of the traditional Japanese dance known as Nihon Buyo. A member of the Fujima school, one of the so-called "big five" schools, he performed for years under a stage name, sometimes even in the restaurant on special occasions.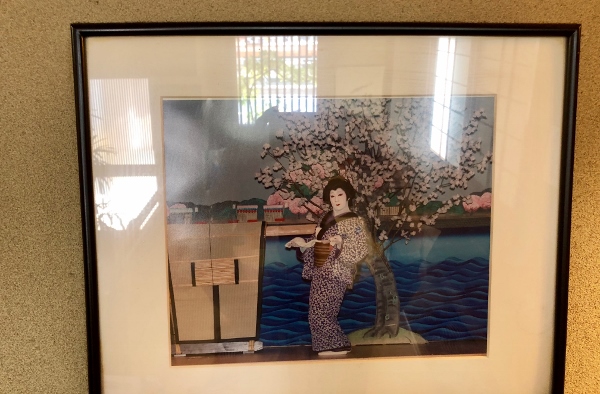 Like Kabuki, Nihon Buyo also has "onnagata," male performers who dance female roles. If you're keen on delicious food and drinks (and why shouldn't you be) in a very comfortable, welcoming environment, then Choi Nomi Tsutahan should be right up your street. As Ms. Yaeko says, "Many people feel reluctant to enter places they don't know by themselves. Once they've visited us here though, they feel comfortable about coming back again." Now, that's a sentiment I can drink to. Cheers!
Story and photographs by Stephen Spencer