70 Years of Health at Harada Pharmacy
Published: September 16, 2020
One of the myriad pleasures of Kotomise is being able to visit family-run, long-established businesses that are deeply embedded in the local community. One such establishment is Harada Pharmacy, located on Inaridori shopping street, between the Onagi River and Sunamachi Ginza. On a recent blazing hot afternoon, we dropped in for a chat with the three generations of the Harada family that run the shop.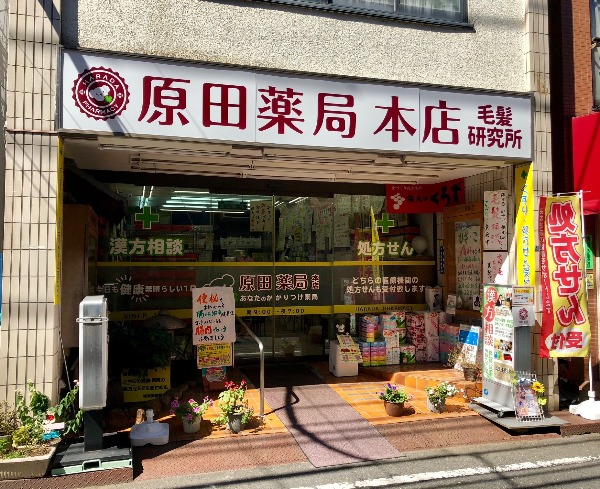 The exterior is spick and span, the entrance decorated with pots of flowers.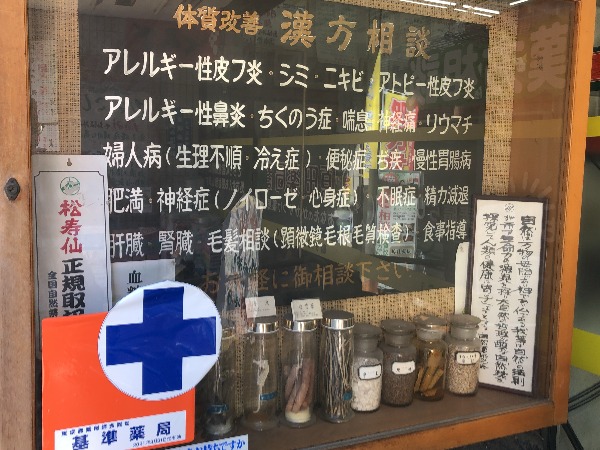 While the original showcase is home to jars of items used in traditional Japanese herbal medicine.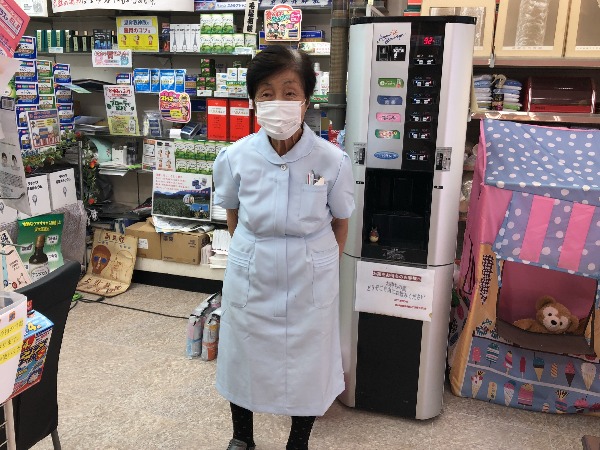 91-year-old Mrs. Ranko Harada is the wife of the founder. "I started the shop with my husband in 1951," explains the vigorous and youthful matriarch of the family. "At that time the area was still recovering from the effects of the war and Inaridori was the main shopping street as Sunamachi Ginza hardly existed then. Many of the streets still had streams running through culverts on the sides. Flooding was common after heavy rain, hence the sloping entrances to the older buildings along here. There was no delivery service and no subway back then so I had to bicycle down to Nihonbashi, pick up the medicine and ride back." Mrs. Harada is a shining advertisement for the quality of healthcare products and medicines she purveys; she works in the shop every day, still has all her own teeth and walks 5,000 to 6,000 steps a day.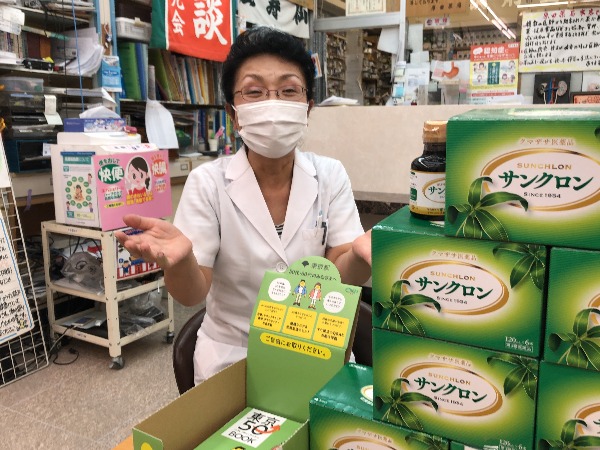 "Just ask Ranko San", is what we always say when anyone has questions," says her daughter, director Mrs. Keiko Hayashi. "Her knowledge is extraordinary. She and my father set out to provide their customers with the best medicine, over the counter products and advice. My husband, who manages our other shop near Nishi-ojima station, and I picked up the baton and now our daughter is manager here. We're a licensed dispensing chemist, first and foremost, with a side line in traditional herbal medicine and hair care."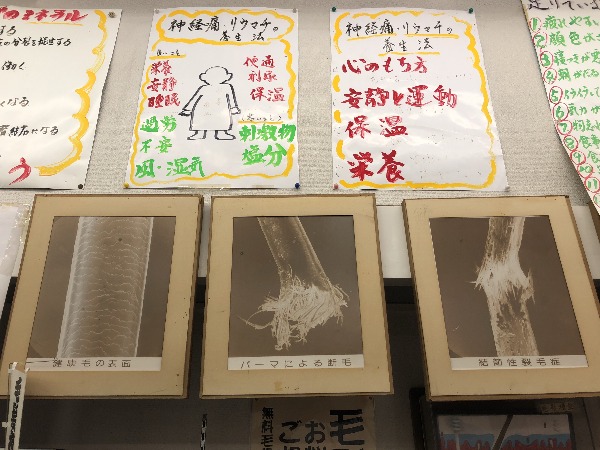 The Haradas are so friendly and welcoming I soon felt as though I'd known them for years. "My father began to lose his hair at quite a young age," explained Mrs. Hayashi. "As a result, he became interested in hair rejuvenation and founded a research group of like-minded pharmacists and laymen. They studied the effects of various medicines, shampoos, treatments, and the like over a period of many years."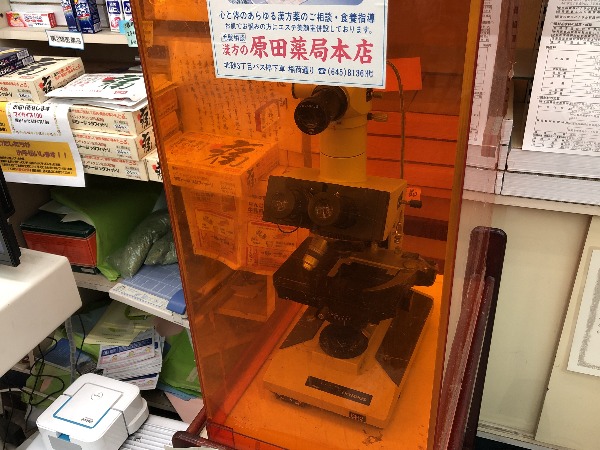 Mr. Harada's microscope, a 1980's vintage Olympus BH2, through which he examined thousands of customers' hairs, is still on display in the shop.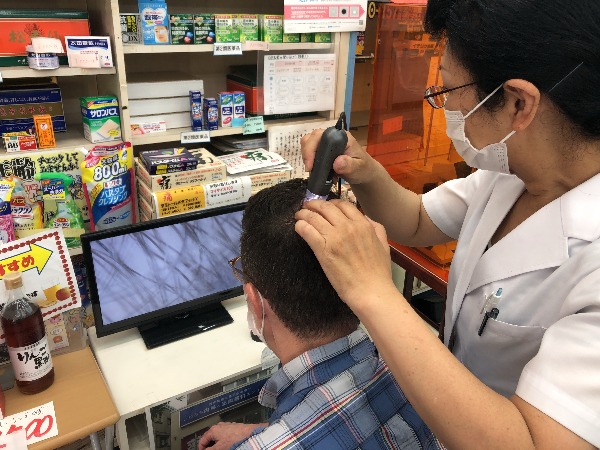 Nowadays though, the technology is far more advanced. Mrs. Hayashi examined my scalp with a hand-held high magnification camera, paying particular attention to the pores and hair follicles. "Usually people have three hairs growing from each follicle but lose them as they grow older, creating an impression of thinning hair. We have to clean the follicles and pores, then when they open the medicine, shampoo or treatment can work effectively. People should gently massage their scalp with their knuckles and rinse for at least three minutes under the shower."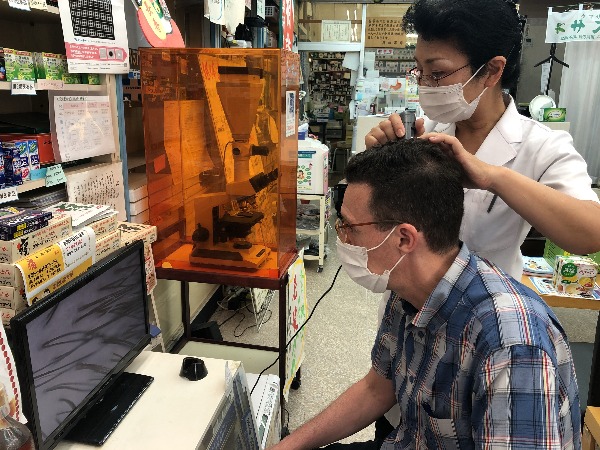 "Stress is the principle cause of baldness," she explains, "so we try to deal with that first. We can combine traditional herbal medicine to reduce stress, pharmaceutical medicine, shampoos and treatments depending on the hair condition. Dry hair, thin hair, thick hair and oily hair all need different treatments. I advise the customers based on each individual condition."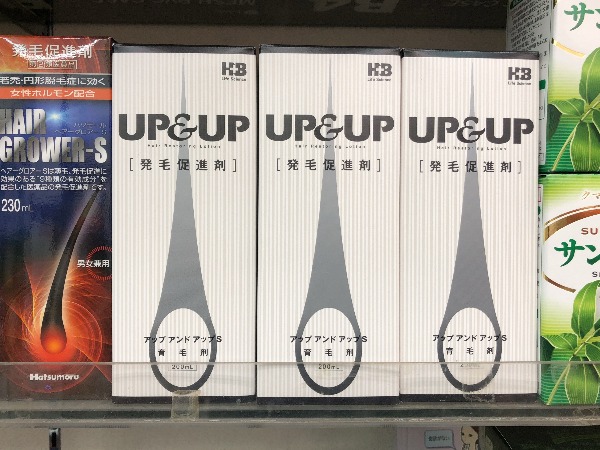 The shelves are stacked with a wide variety of hair rejuvenation products.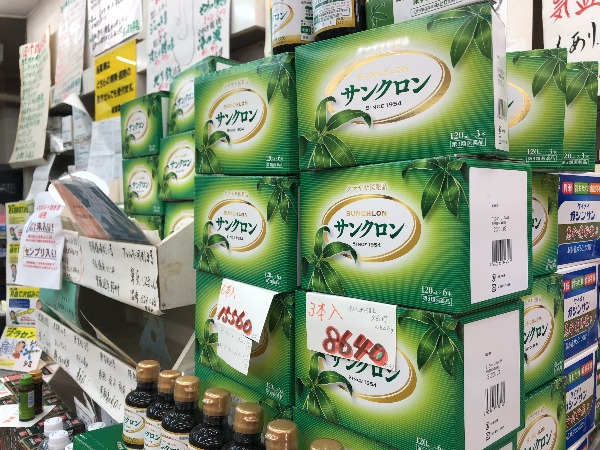 Harada Yakkyoku also offers a variety of what are known as natural medicines (shizen yakuhin in Japanese). For example, this Sunchlon is a natural medicine derived from a species of bamboo native to the upper mountains of Shinshu, roughly equivalent to Nagano Prefecture. Kumazasa bamboo leaves have long been used to preserve food and as folk medications in the area. It's said to be effective for lethargy, loss of appetite, halitosis, bromhidrosis, mouth ulcers and gum inflammation.
Another Sunchlon product is this calcium supplement, 98% of which is made from Hiroshima oyster shells. The other 2% is rice flour made from glutinous Niigata rice.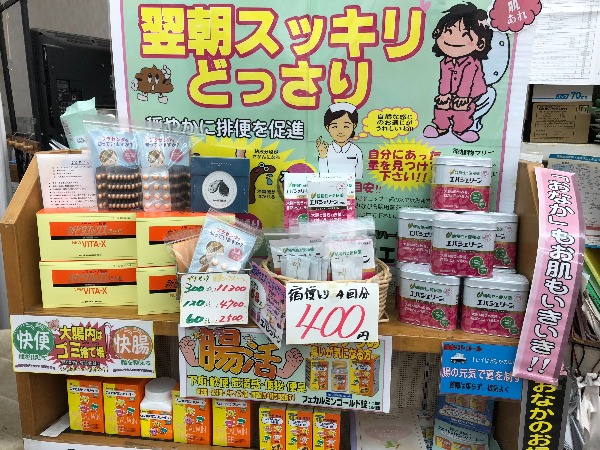 Constipation is a major problem for many women in Japan. Harada Yakkyoku stocks a wide variety of products to ease both your bowels and your mind. Please ask Mrs. Hayashi for her recommendations.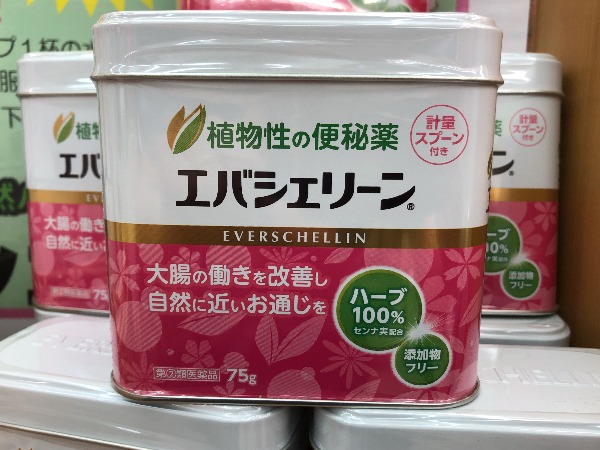 This senna and herb natural medicine is a popular item. It's entirely additive-free.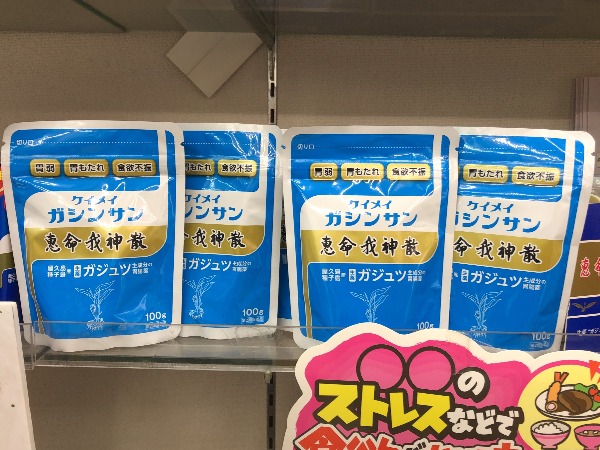 Many of the natural medicines available at Harada Yakkyoku seem to be related to the stomach and below. "People have too much salt in their diet," cautions Mrs. Hayashi. "People feel stress and in response they consume too much salty food and alcoholic drinks, which affects their stomach, causing further stress. It's a vicious circle." This Keimeigashisan is a crude drug made entirely from natural herbs, with Zedoary from Yakushima and Tanegashima as the main ingredient. It also contains lesser amounts of turmeric, ginger and some cellulose and starch. It's recommended for indigestion, dyspepsia, overeating, excessive drinking and heartburn. Sounds perfect for the festive season!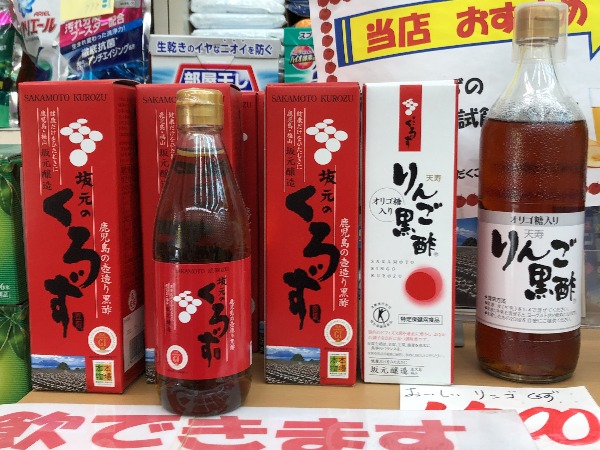 The vinegar boom in Japan shows no sign of abating. The healthful properties of the amino acids and peptides found in vinegar have been well-researched, and this scientific interest has only served to reinforce the traditional Japanese habit of eating vinegared dishes to beat the summer heat and humidity. Sakamoto Black vinegar (kurozu) from the Kagoshima area of Kyushu is the original artisanal "black" vinegar (it's not actually black). On the left is the standard black vinegar (980 yen), aged for one year and suitable for dressings, sauces, seasonings, or drinking neat. On the right is the apple-flavoured version, which contains 100% apple juice and some extra vitamin C (1,500 yen). The vinegar is made from the mold aspergillus oryzae (koji), steamed rice and water only, containing no chemicals, preservatives or additives of any kind.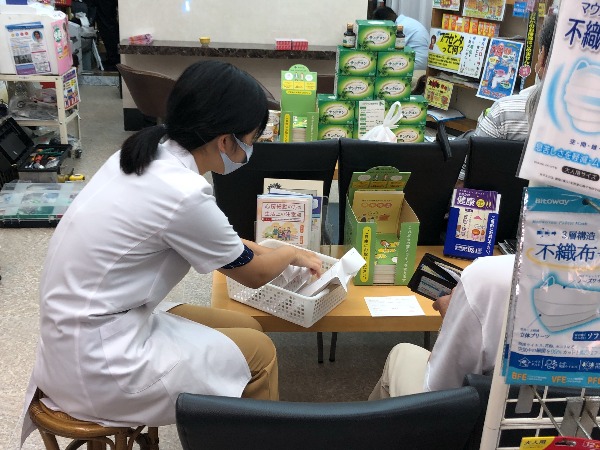 Third generation Ms. Nagisa Tatemata is the shop manager and deals with a steady stream of customers wielding prescriptions from nearby doctors. The three ladies chat to the regulars and the atmosphere is friendly and relaxed. "We don't want to change anything," says her mother Mrs. Hayashi. "We hope to maintain the way we've been doing business for the last 70 years for our customers, many of whom are third generation themselves. Natural medicine, traditional herbal medicine, and regular medicine all aim to preserve health and ensure a long life. That's want we want for our customers" There's actually a fourth generation now, as Ms. Tatemata's young daughter is the latest addition to the family.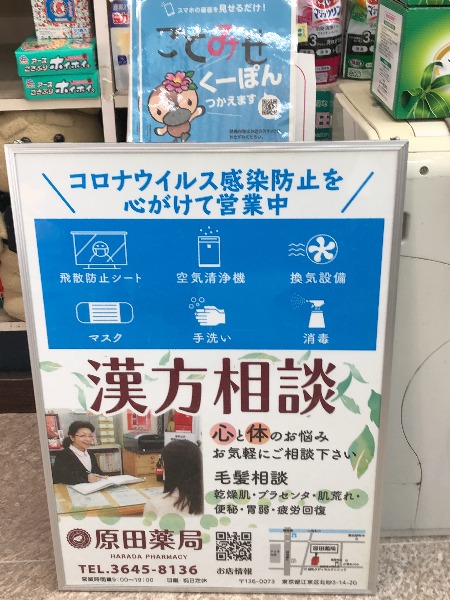 What about the current corona virus situation? "What's revealing is that we saw a marked decline in the number of customers with colds last winter. Sales of cold medicine were right down. This may well be a result of everyone wearing masks, washing their hands frequently, gargling, and taking other precautions. Masks are effective, so please wear them. Equally as important, though less often discussed, is to enjoy life, to keep a positive attitude and to not get depressed." Sound advice from a happy, healthy family. If you're in the Kitasuna area and have any health concerns (or are thinning a bit on top) just drop in for a consultation!
Story and photographs by Stephen Spencer