Funky Korean Style at Chang
Published: July 10, 2020
Korean restaurant Chang is a casual dining hall in the modern Korean style located just one minute's walk from Toyosu station in Koto-ku. It's the brainchild of Mr. Oh Jong Sik, third generation managing director of the restaurant group that includes the celebrated yakiniku restaurant Stamina-en, the oldest such restaurant in Koto-ku. On a recent afternoon, the dynamic Mr. Oh and his friendly staff were our guides to his latest hit eatery.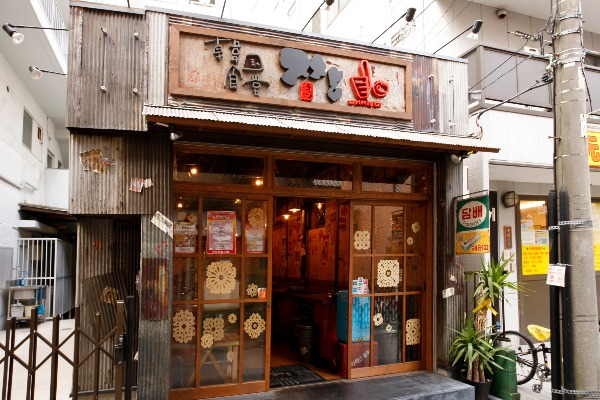 Toyosu has seen great development in the last thirty years or so. Originally an artificial island, it has become a prime residential location along Tokyo Bay and home to many major commercial and business offices. It is also home to Toyosu Market, the massive fish, vegetable and fruit market that supplies the nation's capital with astonishing quantities of fresh seafood every day. Chang is a colourful and funky addition to the area.
As Mr. Oh explained, "There are many fans of K-Pop, Korean dramas, and Korean foods in Japan who cannot travel abroad right now because of the Covid-19 situation. Chang caters mainly to younger people with Korean dramas, music, and authentic Korean food. Since Chang aims to recreate the atmosphere of a modern, casual Korean restaurant the menu contains not only traditional Korean food but what's fashionable among young people in the country right now."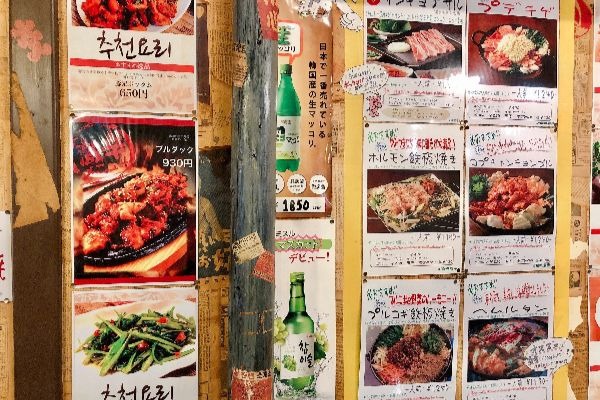 "This means fusion dishes like Korean-style stir fried water spinach, coriander salads, natto, and kimchi fried rice or spicy avocado and tuna alongside classics such as samgyeopsal and samgyetang," adds Mr. Oh. The menu at Chang is lengthy, containing over 80 items, so ordering may take some time. Fortunately ,the walls are decorated with handy visual guides in the shape of posters of the more popular dishes.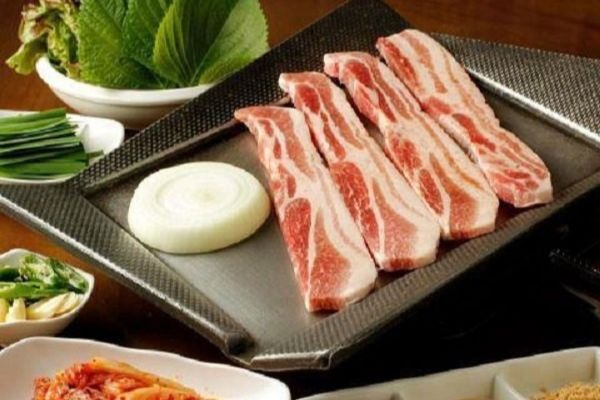 The most popular item at Chang is the samgyeopsal, thick slices of belly pork that are grilled at the table and eaten wrapped in sangchu lettuce leaves. The set comes with kimchi, onion, garlic, perilla leaves (egoma), garlic chives (nira) and a selection of sauces and toppings. Chang serves a brand of pork from Iwate Prefecture known as Yamato no Buta, and uses the longstanding relationships with meat suppliers forged by Mr. Oh's family to offer high quality products at affordable prices. At just 1330 yen per person, it really is a treat.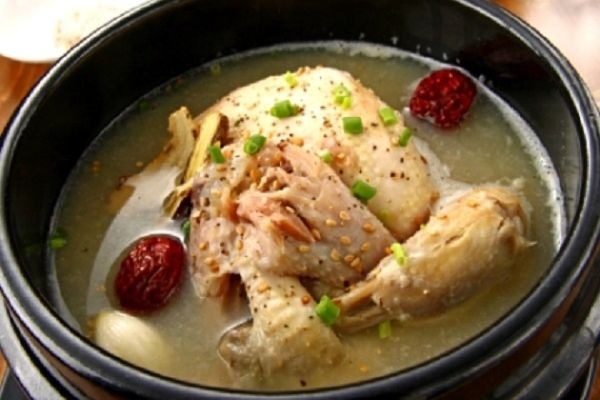 Equally popular is the iconic summer soup samgyetang, made from a small chicken stuffed with glutinous rice and simmered with ginseng and jujubes. Traditionally eaten as a restorative during the dog days of summer, it can be enjoyed all year round now. A pot costs 2010 yen and is more than enough for a few friends to share.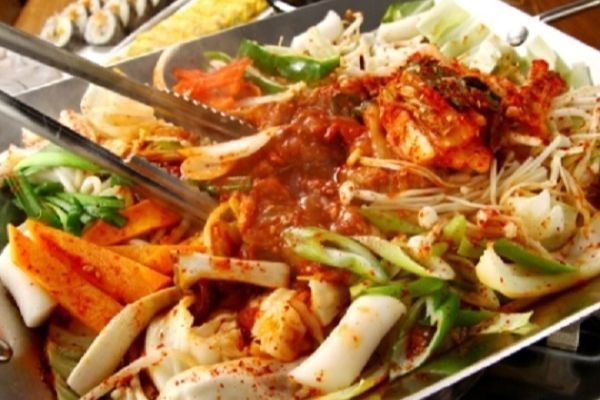 The resurgence in popularity of offal (horumon) continues apace. This Chang hot plate horumon special is great value at 1,190 yen per person and features a variety of offal, topokki (cylindrical rice cakes in spicy chili sauce), kimchi, cabbage, carrots, bean sprouts, and onion. Horumon is particularly popular with ladies for its high collagen content.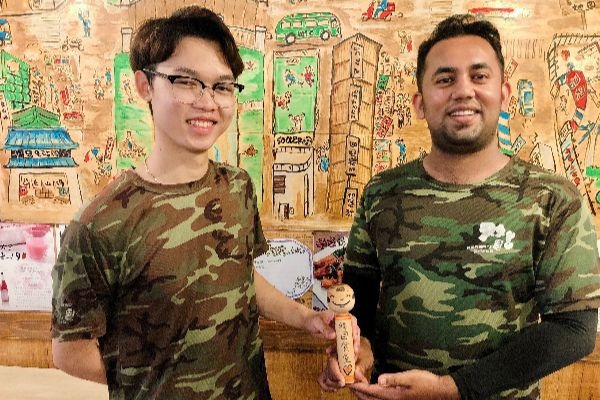 The staff at Chang are far more than your ordinary waiters. "We serve a lot of hot plate food here so we help the customers with the cooking at their tables and enjoy some banter with them," explains Sabbir Mahmud from Dhaka, pictured here with Nguyen Anh Tuan from Da Nang, just two of the multi-national employees who make up the Chang family. "The chef is a very experienced Korean cook while the hall staff are from a variety of places. We're all big fans of Korean food, music, and dramas," he adds.
When asked for a recommendation from the menu he expressed his love for gamjajeon, Korean-style potato cakes. Finely grated potato is mixed with a little salt and fried to a crispy perfection on the outside, while the inside is soft and juicy. Very reasonable at 930 yen a plate.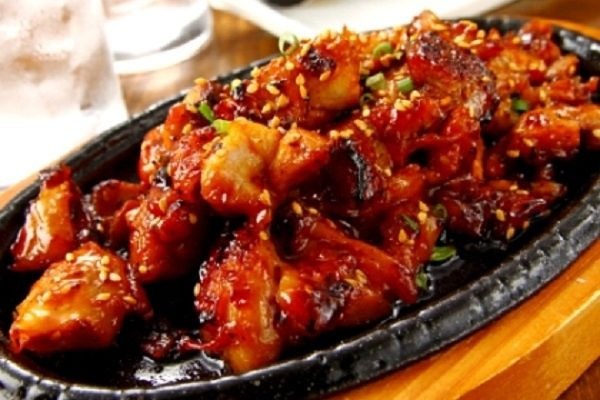 While not all Korean food is spicy hot, puldak is one dish that most certainly is on the fiery side. You're going to need a cold drink with this one!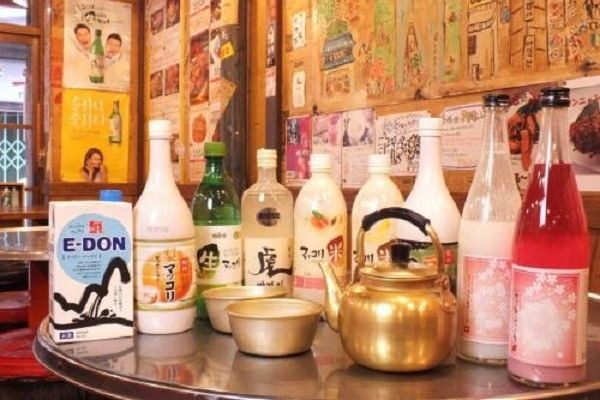 So, it's fortunate that the drinks menu at Chang is extensive too. There's Sapporo, Asahi and Korean beer, as well as a vast array of sours, cocktails and whiskey highballs. A large selection of the Korean rice wine makgeolli (known as makkori in Japan) is also available for aficionados of the cloudy, sweet and tangy brew.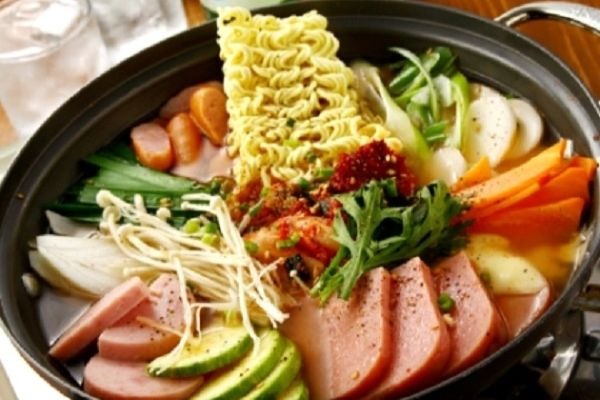 The most popular hotpot dish in Korea is this budae-chigae (army base stew). A post-civil war invention, it contains a variety of ingredients such as pork-luncheon meat, sausages, cheese, instant ramen, and several kinds of vegetables. It's flavoured with red chili paste, so be careful! It's 1270 yen per person. For an additional 470 yen, customers can enjoy an "ojiya set" in which the remaining soup is mixed with cooked rice and egg, then reheated and garnished with seaweed paper. This is highly recommended in winter as it's very tasty and extremely warming!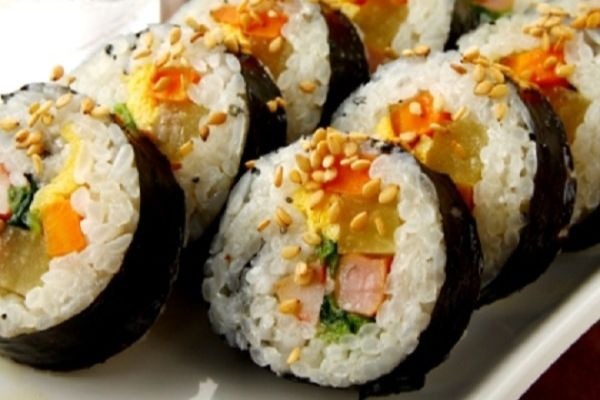 These kimbap seaweed rolls (740 yen) contain luncheon meat, pickled radish and a variety of vegetables.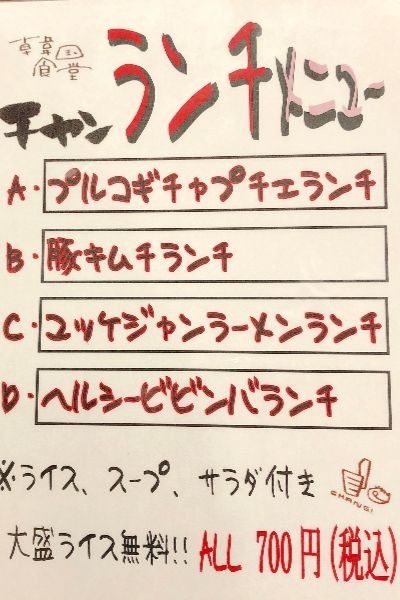 Chang offers four set lunches for a bargain of 700 yen each: barbecued beef and glass noodles (bulgogi japchae), pork and kimchi, fiery beef and vegetable ramen (yukgaejang) and a healthy bibimbap bowl of steamed rice topped with barbecued beef and lashings of vegetables.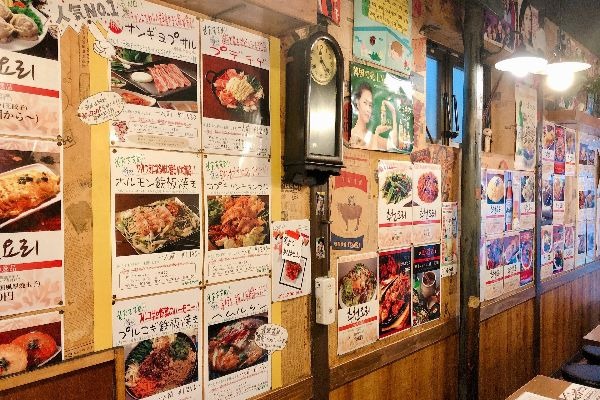 For those who are really hungry, Chang offers two massive course dinners. The first features a hotpot dish of the customer's choice, a salad of choice and five other dishes plus all-you-can-drink for two hours for 4300 yen. The second course features samgyeopsal plus five dishes, including dessert, and all-you-can-drink for 4500 yen.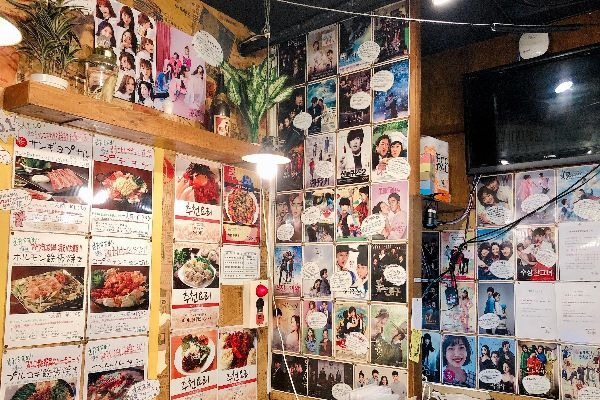 By all accounts Chang is a very popular place, especially at weekends. In fact, sometimes it's so crowded that customers are asked to limit themselves to two hours. Don't worry if your favourite Korean dish isn't mentioned here as the menu is so extensive and so variable that you probably can simply order it from the staff. Chang features Korean television, both live and recorded, music, movies, football, and a whole lot more. If you're interested in a super-friendly, casual restaurant with top quality funky modern Korean food, then head for Chang!
Story and some photographs by Stephen Spencer