Yakitori Hana is a charcoal-grilled bamboo skewer restaurant and Japanese pub with a twist. Located just around the corner from Toyocho station, Hana is one of five restaurants in the Koto Ward-based Bara Corporation group. Each place has its own individual character as the manager, Mr. Tadashi Shinomiya, explained when we dropped in recently.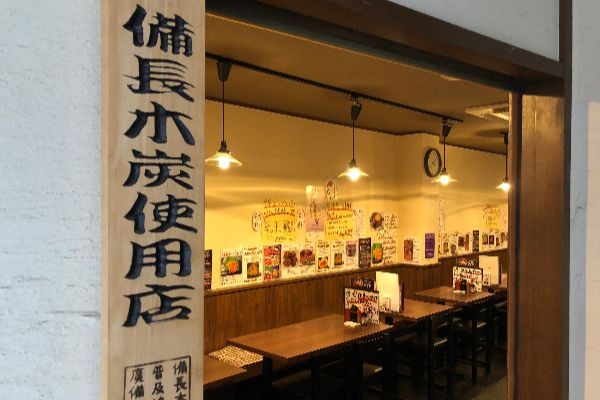 "We're blessed with our location here," he said. "Koto City Hall is just up the road, there are many large corporations with offices around here and it's a busy residential area too. Although we're a yakitori restaurant the atmosphere is more like an izakaya; on weekdays our clientele is close to 50:50 men and women and the atmosphere is always lively."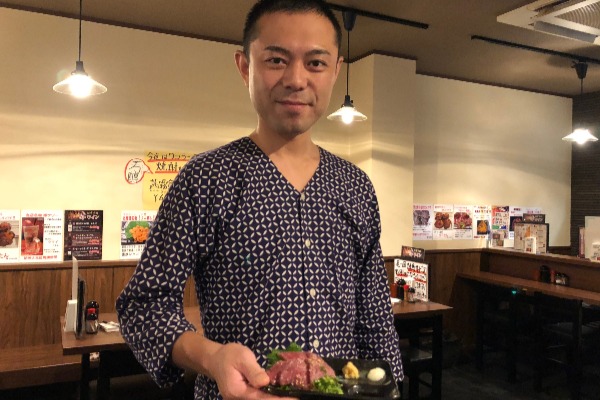 Mr. Shinomiya certainly knows a thing or two about creating a comfortable atmosphere as he has several years of experience working in a Ginza club. "On weekdays we often have customers lining up outside as we open at 6pm," he says. "Our prices are reasonable and everything is cooked to order over top-quality charcoal briquettes. Early evening is very much an office crowd, with local residents dropping in on their way home a little later. At weekends, we have mainly local people, especially families, and kids are most welcome. It's quite unusual to see kids in a yakitori restaurant so they really enjoy it, as do the parents."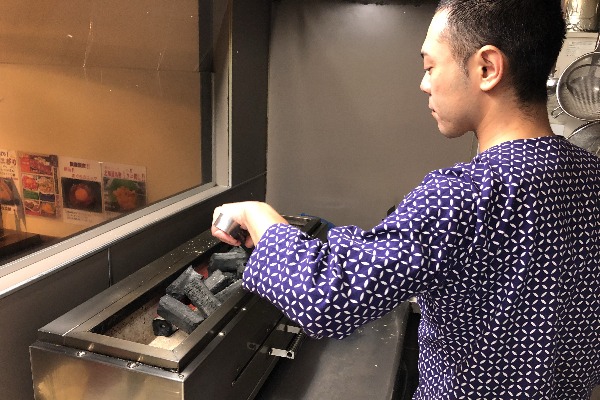 Mr. Shinomiya fires up the charcoal for the evening. "It takes a while to heat up. The variety of charcoal we use varies from season to season as the weather changes from cold and dry in winter to very hot and humid in summer."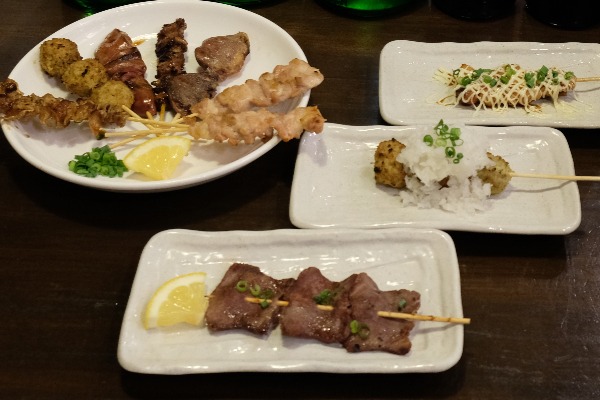 Hana is a yakitori specialist and the most popular item is liver. It's fantastically soft, juicy, and exceptional value at just 100 yen a skewer. The restaurant estimates they sell 18,000 sticks of liver a year, an astonishing number. "Some people order ten skewers, eat them, and then order ten more, they're that good," says Mr. Shinomiya. All the usual yakitori favourites are available here: chicken breast (sasami), skin (kawa), minced chicken balls (tsukune), heart (kokoro) and so on. The skewers cost from 100 to 200 yen apiece with Chef's Selection sets (omakase) at 900 yen for five or 1,200 yen for nine.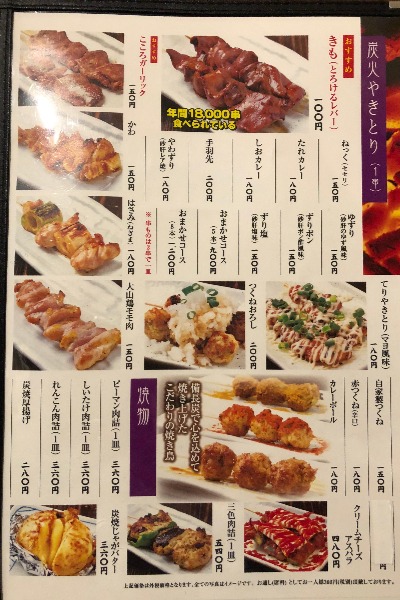 "While liver is our top seller, around 50% of male customers also order beef tongue (gyu tan)," says Mr. Shinomiya. "For female customers the most popular are the very soft gizzard (sunagimo no yawazuri) and the minced chicken balls."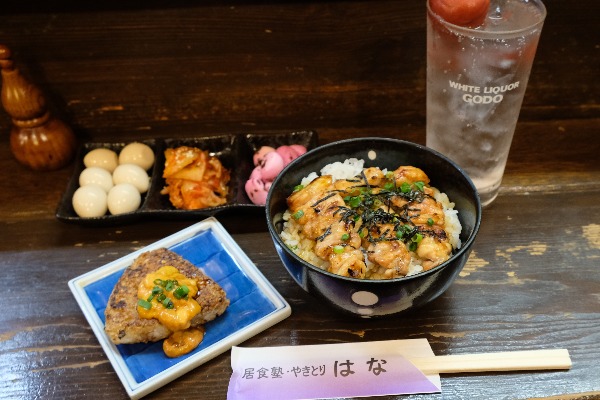 The yakitori on rice (Hana-don), made with chicken thigh meat, is also a great favourite at 650 yen. On the left is another hit item, the Hana original "unigiri," which combines the eternally popular sea urchin (uni) with a charcoal grilled rice ball (onigiri). The "unigiri" features sea urchin sourced from the seas off Hokkaido and is a steal at just 680 yen.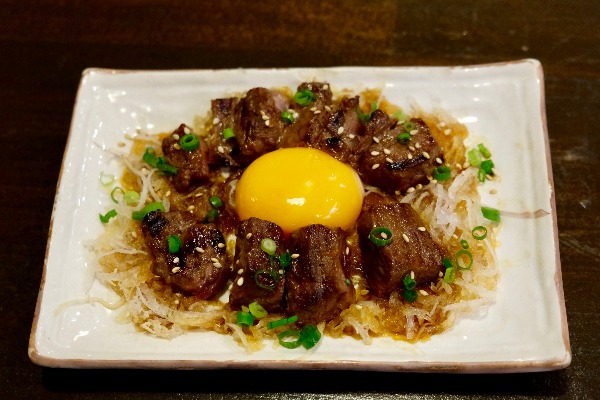 Aside from yakitori and sea urchin, the menu at Hana features a vast array of tasty treats. Among the most-ordered is this cubed chuck (kata rosu), marinated in a 48-year old secret sauce, charcoal-grilled and served with a raw egg. At just 600 yen, it's yet another bargain.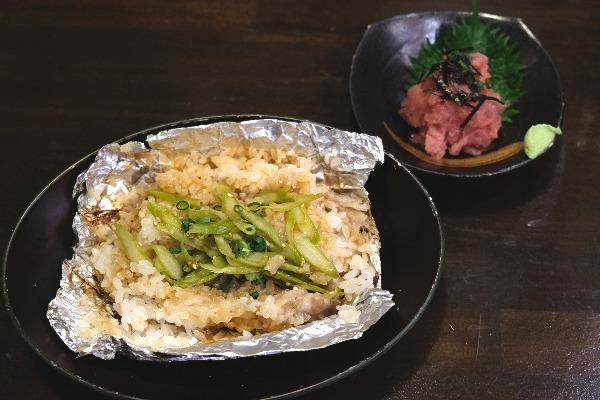 This asparagus and pork affair is another signature dish of Yakitori Hana. It consists of pork and asparagus on rice topped with butter and flavoured with raiyu hot chili oil. It's wrapped in special heat-resistant foil and quickly cooked over the incandescent charcoal briquettes. The savoury waft of buttery cooked rice, pork, asparagus and spicy oil when the foil is opened and the ingredients are deftly mixed by the chef is well worth the 780 yen it costs. The taste is fantastic, too.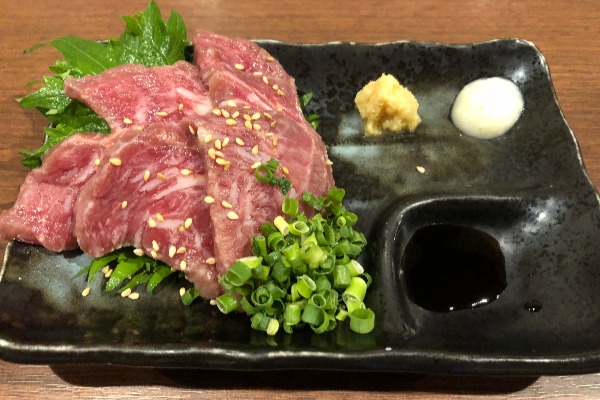 Surprisingly, the most popular non-yakitori item is this horse sashimi (basashi in Japanese). Imported from Europe for high-end French restaurants in Japan, it's a rare item on yakitori or izakaya menus, hence the demand. The meat, which has a firm, chewy texture, goes well with grated ginger or daikon radish. At 880 yen it bests tuna chunks with raw egg (yukke), the asparagus pork, beef tongue yakitori and sea urchin sashimi, the other top five dishes.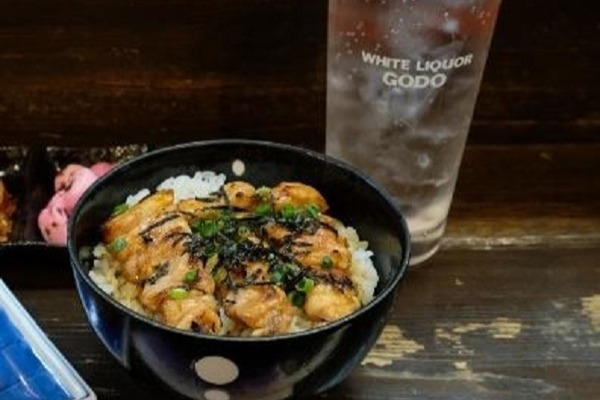 While the drink menu at Yakitori Hana features all the usual favourites, it does have one rather unusual addition in the extremely popular Suntory Super Chuhai. "I'd say around 80% of our customers drink it," says Mr. Shinomiya. Weighing in at a hefty 7% ABV, it's not for the fainthearted. The ume sour featuring a massive Shinshu pickled plum is also a customer favourite at 480 yen.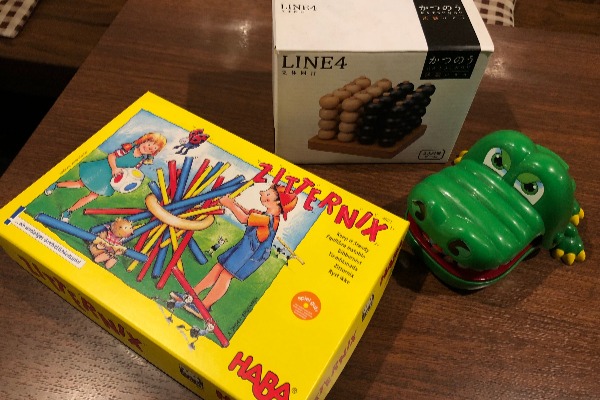 The thoughtful Mr. Shinomiya even provides a range of games for younger customers who may become distracted after eating their fill.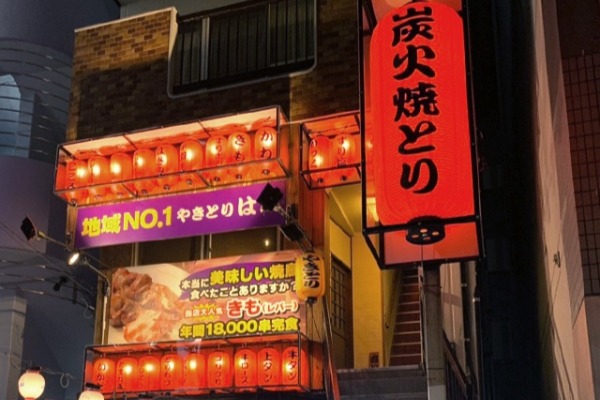 Yakitori Hana is exactly what you'd want in a yakitori restaurant for an after work or weekend outing: top quality yakitori and other delights at reasonable prices, drinks that hit the spot and a friendly, relaxed atmosphere welcoming to all. There's even an ultra-powerful smoke extractor directly above the grill range to whisk the fumes away, so your clothes don't betray what you ate for dinner. Cheers!
Story and some photographs by Stephen Spencer