Mighty Monja and Okonomiyaki!
Published: May 12, 2021
Monjayaki originated in downtown Tokyo in the post-war period as a quick, pancake-like snack that cost pennies and was cooked on hot plates while customers waited. Over the past 20 years or so the once-humble snack has morphed into a full-blown meal with numerous dedicated restaurants appearing, mainly in the Eastern part of the city. On a recent afternoon we dropped into Yajirobe, a long-established monjayaki and okonomiyaki restaurant in Kameido, run by Mr. and Mrs Yashiro Takanobu.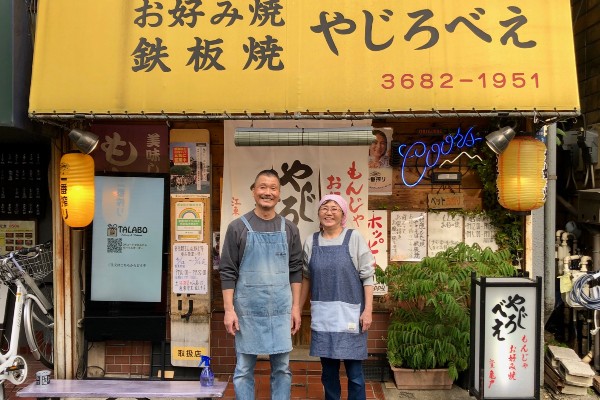 "We opened the restaurant in 1986," explained Fukagawa-born Mr. Takanobu. "I'd been a company employee but decided I wanted to have my own business. We've been in the same location here ever since!"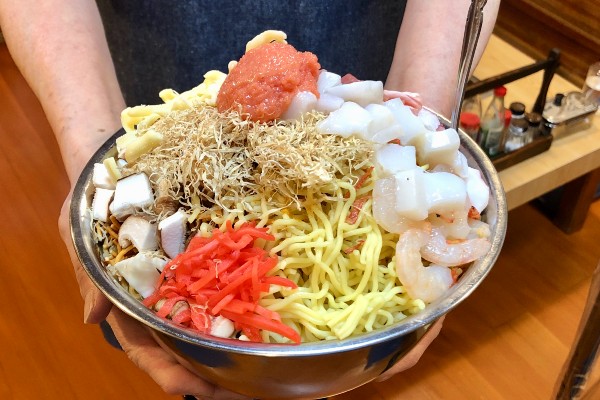 Monja, as it's known to devotees, consists of ingredients cooked on a hot plate before a batter made from low-protein soft flour (hakurikiko in Japanese) and broth is added and the resulting whole is cooked together.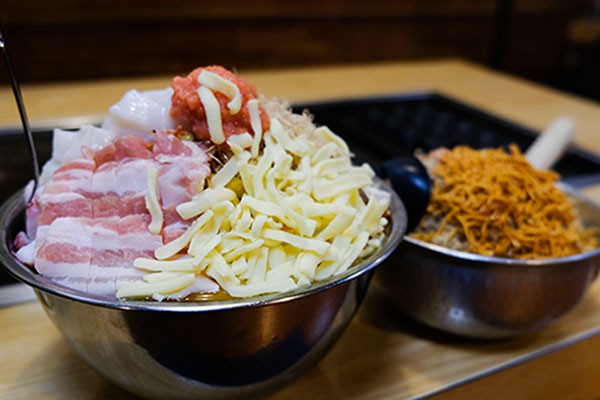 Yajirobe adds another dimension with its Jumbo Monja. "Our regular size is a large portion," explains Mr. Takanobu, "but the Jumbo is three times the size!" It is indeed massive and astonishing value at 1,980 yen for two people.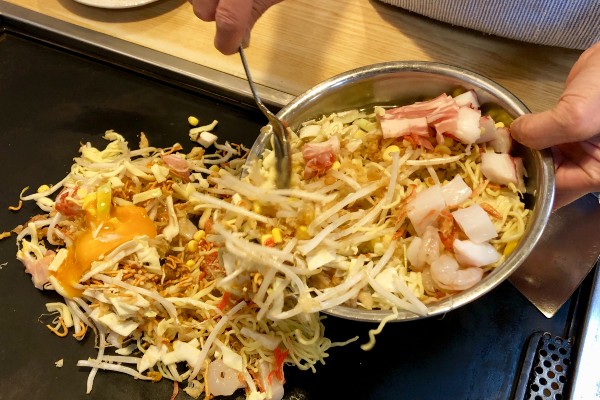 One of monja's many charms is its hands on nature; if you have the confidence you can cook it yourself! Mrs. Takanobu showed us how to do it. First you cook up the ingredients on the hot plate. In the case of the Jumbo monja this consists of: sakura shrimp, shrimp, squid, dried squid, pollack roe (mentaiko), octopus, egg, corn, meat, noodles, shiitake, tempura nubbins, curry powder, cheese, red pickled ginger, Baby Star crispy snack noodles, bean sprouts and cabbage. Yes, that's 18 different ingredients!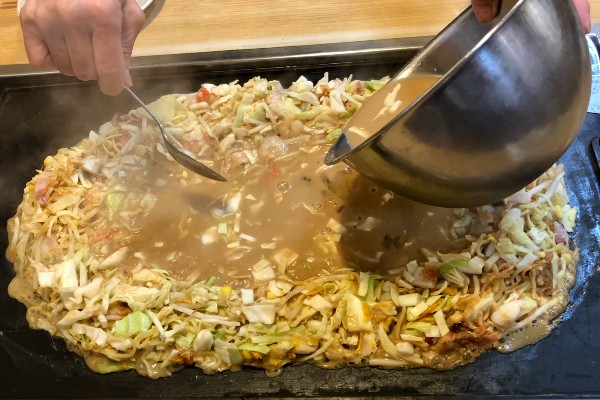 Once the seafood, meat and vegetable mix has been quickly cooked on the hot plate, Mrs Takanobu shapes it into an oval and pours in the remaining batter, creating the signature lagoon effect. This is the Jumbo A for two people, with the Jumbo B for four people at 3,190 yen.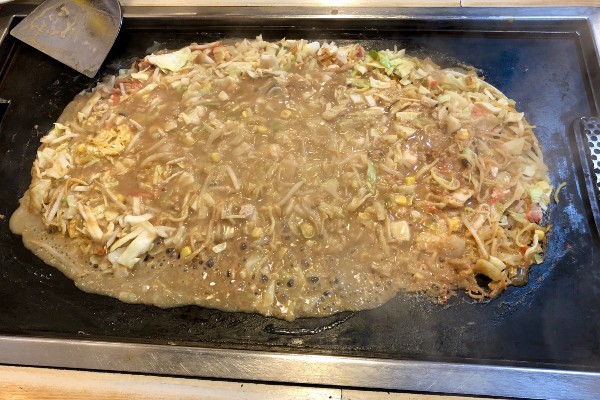 The steam rises bringing a powerful, rich aroma with it. Mrs. Takanobu deftly wields a pair of monja spatulas, chopping and turning to prevent the mixture from burning as it cooks evenly. The excess liquid bubbles away and it's ready to eat! Downtown Tokyo soul food at it's finest.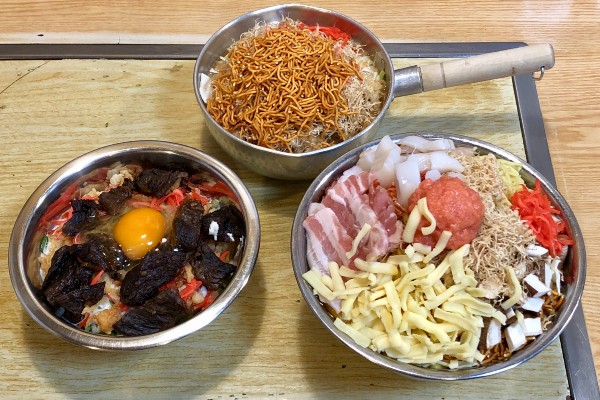 While monja is the number one at Yajirobe, another top seller is a unique take on okonomiyaki, the savoury pancake associated with Western Japan, in particular Osaka and Hiroshima. On the left here is the beef tendon okonomiyaki mix bowl, built around a base of finely chopped negi onions. The beef tendons are slow cooked for 7 or 8 hours in a slightly spicy and sweet sauce that leaves them soft and flavoursome.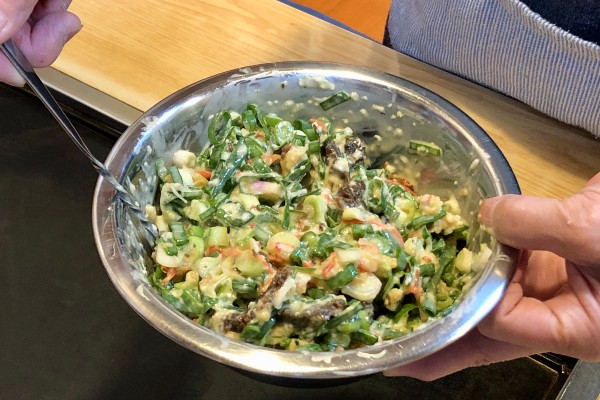 Unlike most okonomiyaki, the beef tendon version at Yajirobe contains no cabbage at all. It's also lighter on the flour and Japanese yam batter mix than other places. Once again Mrs. Takanobu whips up the mixture, showing the high green negi onion content. Unlike the monja, okonomiyaki is mixed more strenuously in order to add as much air as possible, which makes the resulting pancake fluffier.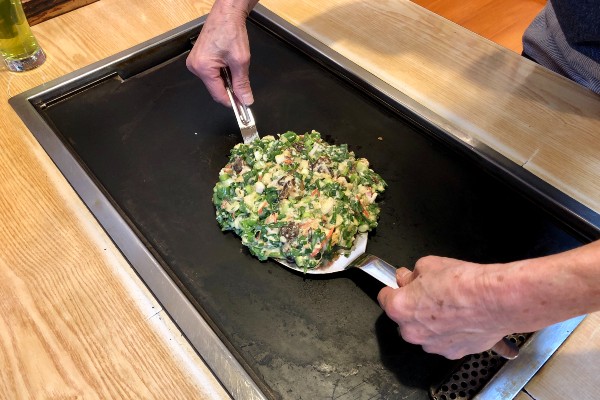 The variety of flour used is different from the monjayaki too. After cooking one side for a few minutes Mrs. Takanobu deftly flips the pancake.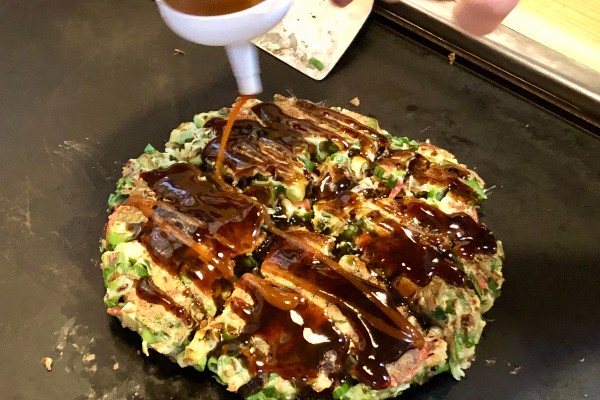 Unlike the monja, okonomiyaki is finished off with toppings and sauces. Yajirobe has its own blend okonomiyaki sauce and a demi glace sauce which combine to add a mild, mellow flavour to the pancake.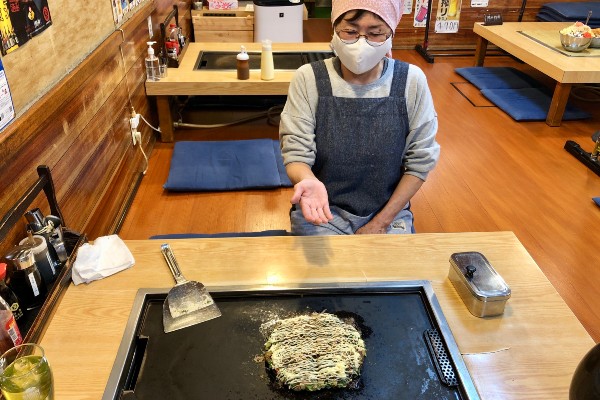 The  finished pancake is topped with shaved bonito flakes and powdered seaweed, decorated with mayonnaise and cut into quarters. "Unlike many places, we prepare our own flour and yam mix for the okonomiyaki batter," explained Mr. Takanobu. "The flour to yam ratio is fifty-fifty, which is exceptionally high. We're always looking to innovate."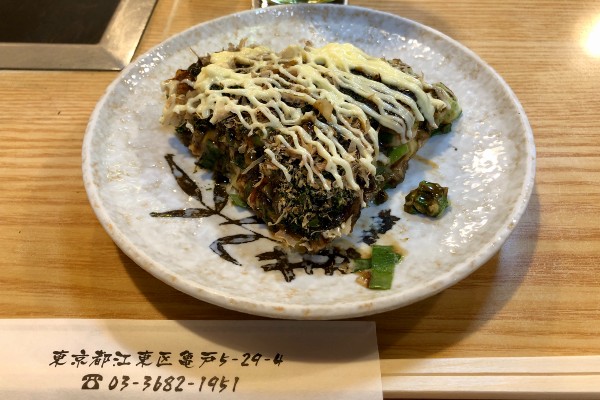 The crispy onion added a crunchy texture and the mild sauce allowed the taste of the many ingredients to shine through. The beef tendons were a unique touch, making the pancake savoury, rich and very filling. Exceptional value at 1,045 yen plus tax.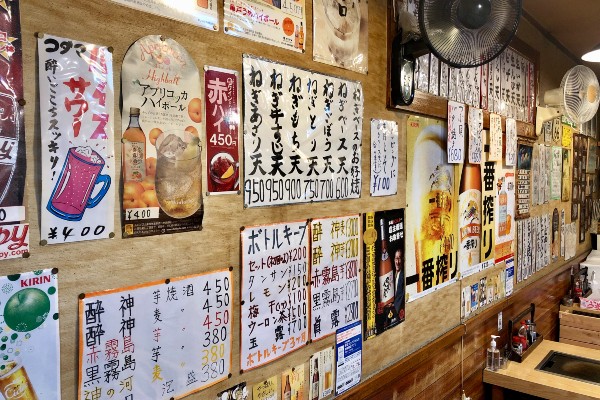 Like many monja restaurants the menu at Yajirobe is enormous, with seemingly endless variations of both monjayaki and okonomiyaki. "One of our oldest customers has been coming here for around 30 years now," explained Mr Takanobu. "Over the years he developed his own combination of ingredients and that's what he orders every time now. Customers are free to choose whatever ingredients they like."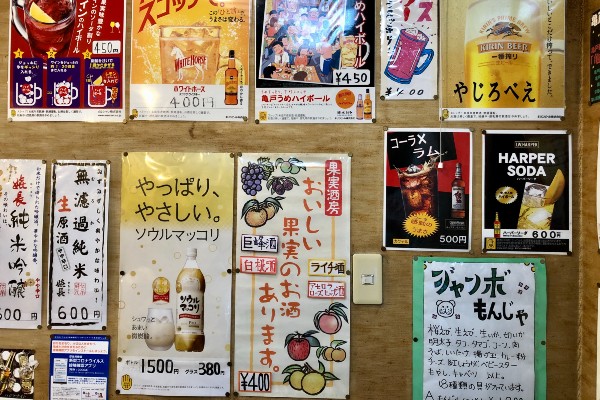 Both monja and okonomiyaki are sociable foods with strong savoury flavours that match many drinks perfectly. The drink menu at Yajirobe is suitably extensive with everything from draft beer, a variety of whiskey highballs, wine, sours, cocktails and even Korean makkoli. Cheers!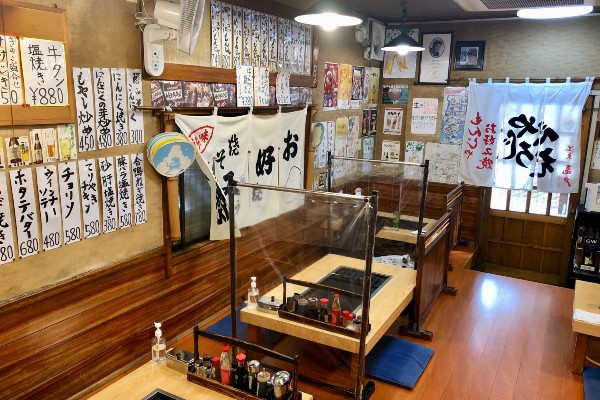 Yajirobe is a comfortable place run by a very friendly, vastly experienced couple. Both the monjayaki and okonomiyaki were fantastic, and the prices are very reasonable, to say the least. If you've ever had a hankering for some real Koto-ku soul food, get on down to Yajirobe. You won't regret it!
Story and Photos by Stephen Spencer