Acupuncture, Moxibustion and Osteopathy
Published: October 28, 2021
Seichiku Shiohama Seikotsuin is an osteopathic clinic located in the Shiohama area of Koto-ku, which offers a wide variety of chiropractic and osteopathic services, together with traditional Japanese and Chinese therapies such as acupuncture and moxibustion. On a recent sunny afternoon we dropped in for an interesting chat with manager and therapist Mr Shunya Sato, therapist Ms. Ariyama and acupuncture specialist Mr. Higashi.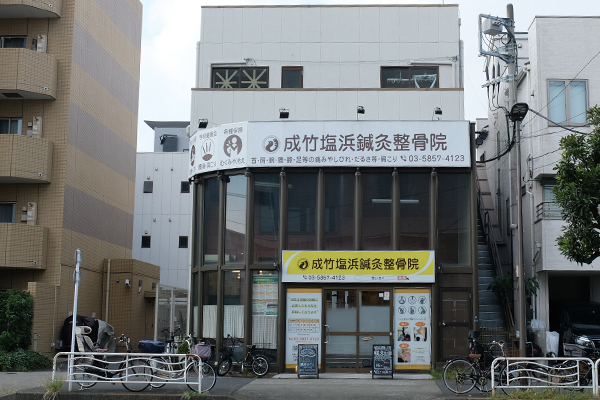 The clinic is located some ten minutes' walk south of Kiba station, just across the Shiohama Canal, in a quiet residential area of older houses and newer apartment buildings. "We opened here in October 2010, and thanks to the support of our local patients we've been able to offer our services for over ten years now," explained Mr. Sato.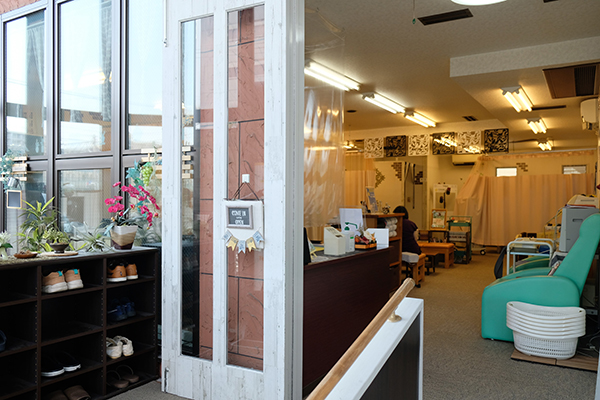 It's a surprisingly spacious building, with a large entrance lobby and waiting area that smelled wonderful. Seichiku Shiohama has a slope for wheelchair access, an important feature for many patients.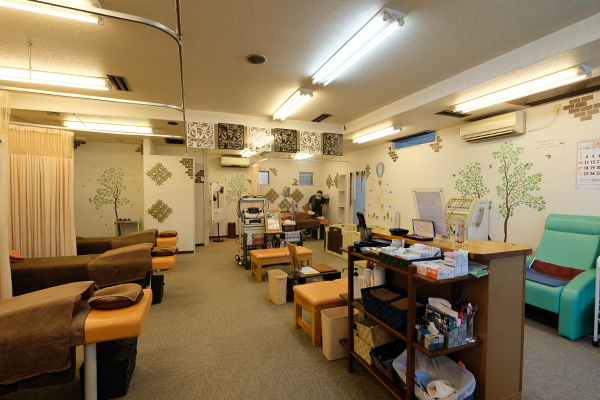 The high ceilinged interior room can accommodate a large number of patients simultaneously. All pandemic protocols are strictly enforced and the room is wide enough to allow wheelchairs and baby carriages free movement.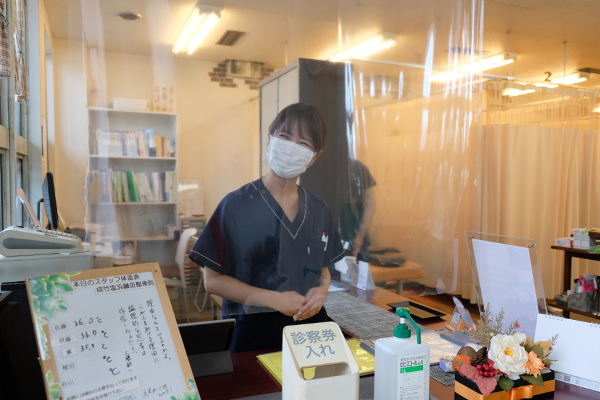 While the clinic offers an array of services, we focused on three of the most popular. Firstly, all new patients undergo thorough counselling to ascertain their health problems and targets.
"We have a wide range of customers, both in age and nationality," explained Ms. Ariyama, "but most are in their thirties or forties. During the recent Olympics several foreign team staff and officials staying locally visited. Many foreign residents of the area are also customers here."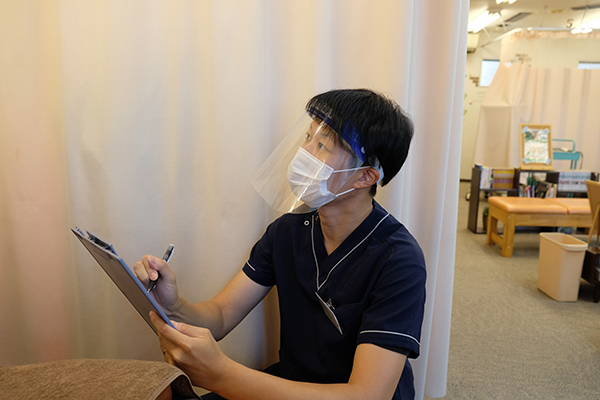 One of the increasingly popular services is pelvic correction. As clinic head Mr. Sato explained, "The pelvis opens during birth, becoming misaligned. Metabolism often drops too, making it appear the patient has become overweight. We have developed a programme of orthopedic manipulation and stretching exercises with the target of realigning the pelvis and reducing the waist to the extent that the customer can fit into pants she wore before pregnancy. That's our aim."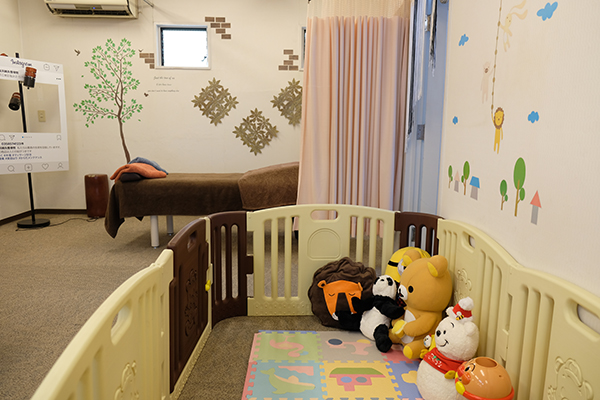 "All new mothers have a complete physical check up one month after giving birth," added Mr. Sato, himself a young father and a qualified judo therapist. "If the doctor gives them the all clear they can begin the programme then. Most begin around the six month mark; we recommend you start within a year after giving birth." There's a comfortable playpen stocked with soft toys to entertain toddlers while their mother is enjoying her treatment.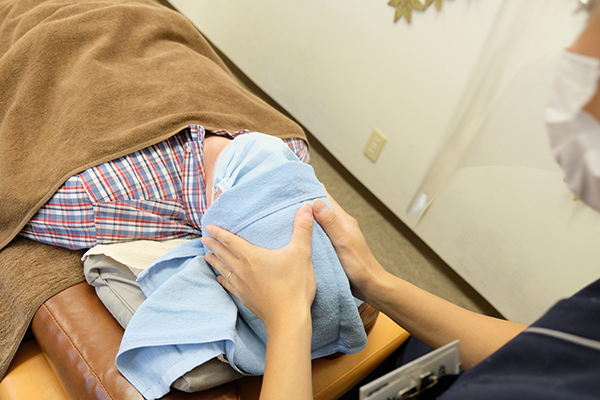 We were surprised to hear that the most popular service offered at Seichiku Shiohama was facial orthopedic massage (kogao kyousei, small face correction in Japanese). As Mr. Sato explained, "It's a gentle, pain-free massage to loosen the scalp and realign the bones of the face. Having a tight scalp isn't good for you; it's a stress indicator, like clenching your teeth, another problem this treatment can deal with." Mr. Sato firmly massaged my scalp, cheekbones and forehead, paying particular attention to the temples where I often suffer seasonal allergy headaches.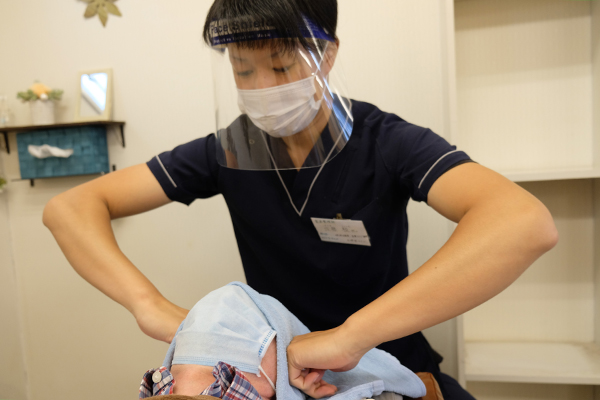 The massage loosens the scalp, reduces swelling, and eases eye strain and headaches. Neck massage also improves the flow of metabolic waste products from the head. This service is very popular with those teleworking from home who spend many hours in front of a computer every day. It has another effect, that of reducing swelling which makes the face appear smaller. Remarkably, it even worked on me! As Ms. Ariyama said, "Many customers have this facial therapy before important life events such as weddings, interviews, entrance ceremonies, starting a new job, coming of age ceremonies, family photographs with grandchildren, and even dates. Many men have it too."
Prices are reasonable: the facial massage (kogao kyousei) is 6,600 yen, which includes the scalp massage (tohi hogushi). The scalp massage is 2,200 yen by itself. I was very impressed by this treatment and would recommend it without hesitation. Afterwards I felt relaxed and refreshed, with a definite spring in my step. My face seemed smaller too!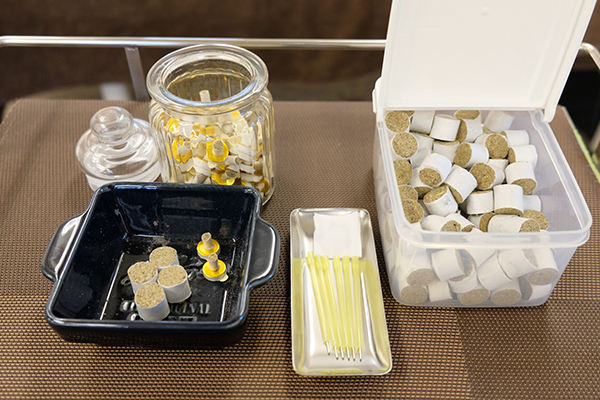 Seichiku Shiohama also offers traditional Chinese and Japanese acupuncture and moxibustion treatments, developed into a unique style. The acupuncture needles (in the centre) can be connected to a pulse machine for electroacupuncture, or have moxa fixed to their tips for moxibustion.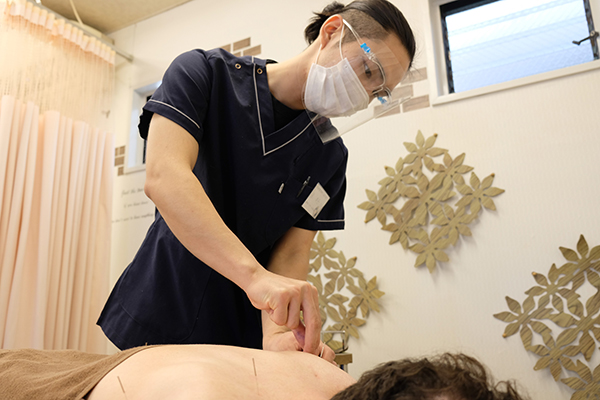 Acupuncture specialist Mr. Higashi inserted several needles across my stiff shoulders, a very common problem in this age of teleworking, he said. The needles pierce the skin about 1cm deep, a painless procedure.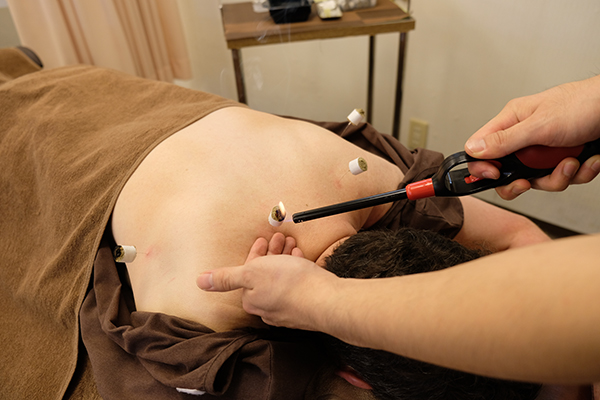 The moxa are made from mugwort (yomogi). After inserting the needles, he attaches the moxa to their ends and lights them. "I became interested in acupuncture as a student," he explains. "I was a kendo practitioner and suffered several injuries, which were treated by acupuncture. I was very impressed and decided to devote myself to studying acupuncture full time."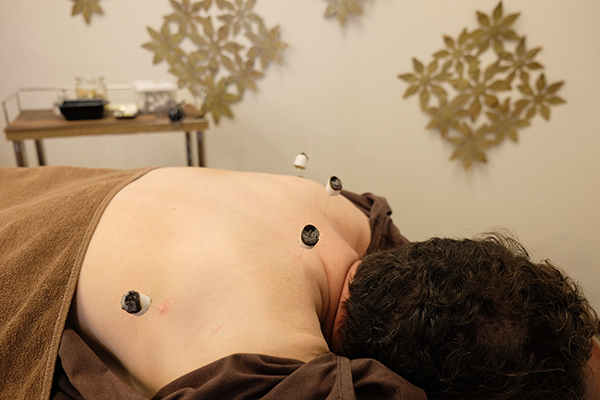 As the moxa burns slowly, a pleasant herb smell drifts across the room while the various points on my back warm up in a line. It's a very comfortable sensation and I become drowsy as the tightness melts away.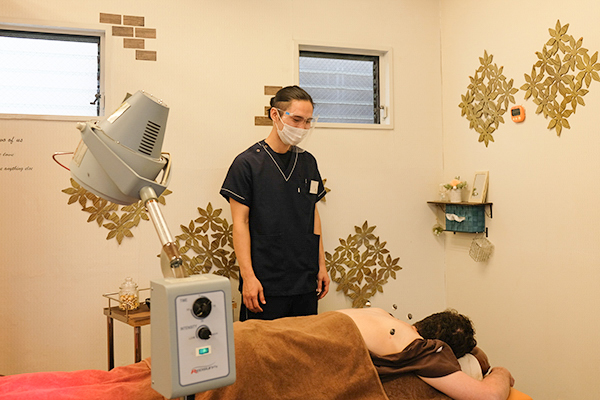 Mr. Higashi also set an infrared lamp on my legs to warm them up and increase metabolism. After the moxa burned out, he removed the needles. I was so relaxed I really didn't want to move at all; it was a real effort to raise myself off the table and get dressed again.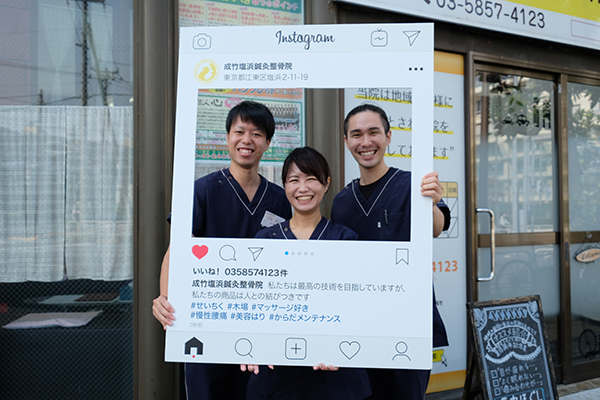 The staff at Seichiku Shiohama Harikyu Seikotsuin are exceptionally friendly and welcoming; they explained the treatments clearly and prices are surprisingly reasonable (the moxibustion course is 4,400 yen for 60 minutes with tax, and includes cupping, electroacupuncture, massage and moxibustion). The place is spacious and very comfortable too. If you're fortunate to live or work in the general area of Shiohama, Kiba or Toyocho and would like a trial, just call up or make a reservation through the home page. Mr. Sato and his staff will have you feeling better and looking good soon!
※All prices are inclusive of tax.
Story by Stephen Spencer