Eat In or Take Out at KITCHEN BIG MAN
Published: June 30, 2022
KITCHEN BIG MAN is a brand new delicatessen in Kameido serving side dishes to be eaten with rice as part of a meal (osozai in Japanese). Unlike many other similar shops which abound in Japan, KITCHEN BIG MAN serves pre-cooked side dishes that can be taken out or consumed on the premises. Customers can even enjoy a tipple with their meal! On a recent sunny afternoon we dropped in for a chat with the manager.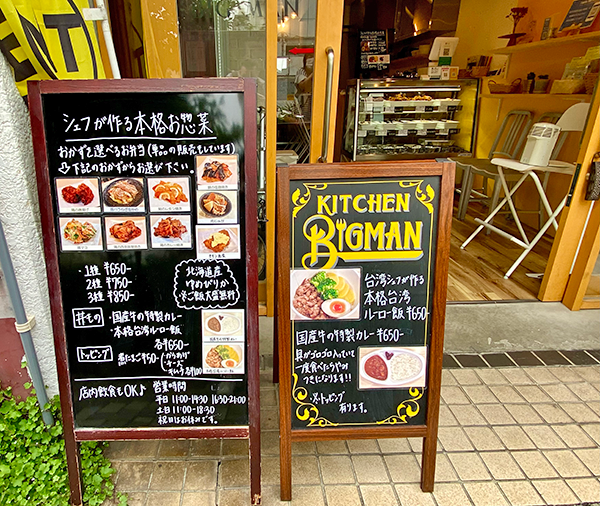 Located just two minutes from the north exit of Kameido station, KITCHEN BIG MAN is in a prime location, and has done a roaring trade since it opened in 2021. With its counter and high stools, it resembles a modern cafe more than a traditional side dish shop.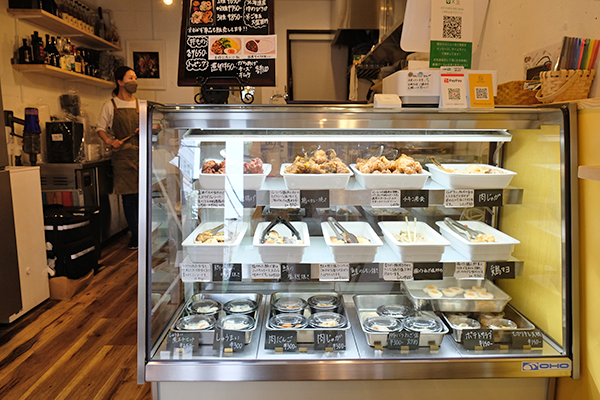 As the friendly and brisk manager explained, the emphasis is on a homemade style of food with chicken and fish as the mainstays. Everyday there are at least eight different main items, which are sold by the piece, not by weight.
One is just 120 yen.
But, three cost 350 yen and five are just 580 yen!!
That's a bargain!
With the KOTOMISE COUPON customers can have one free piece of fried chicken or tea with purchase of 650 yen or more.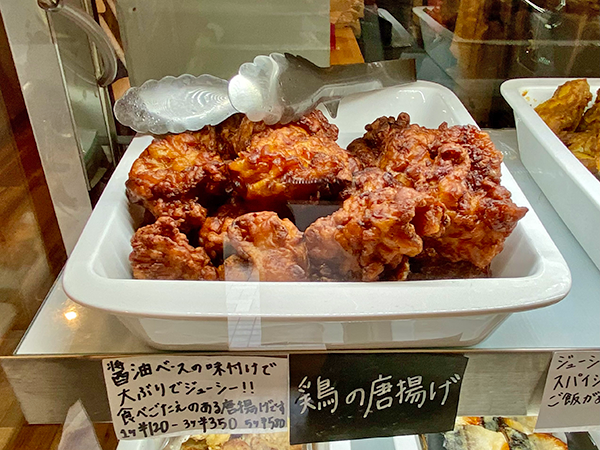 The most popular item is the karaage chicken, large chunks marinated in a soy sauce base and deep fried to perfection. Both my colleague and I bought some to take home and they were great, plump, juicy and very moreish. One is just 120 yen, three cost 350 yen and five are 580 yen; they would go very well indeed with a nice cold beer on a warm summer's night.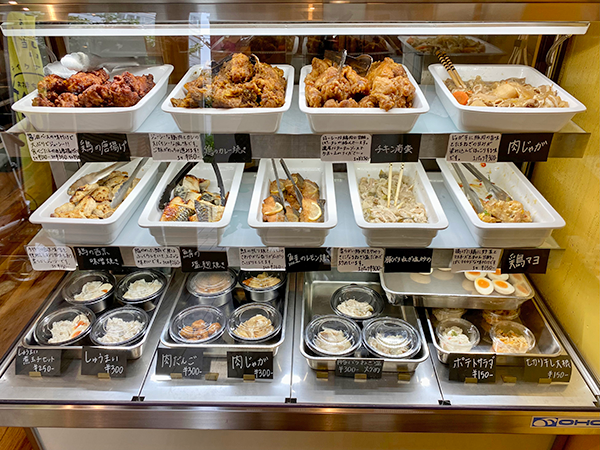 On the day we visited there was a wide variety of popular items, a veritable what's what of osozai: spicy curry-flavoured karaage chicken, sweet and sour chicken nanban with tartare sauce, stewed pork, potatoes and vegetables (nikujaga), chicken cooked in Kyoto-style white miso paste, mackerel grilled with salt koji, salmon with lemon, salted boneless pork rib with negi onions and chicken in mayonnaise. There's something for everyone here!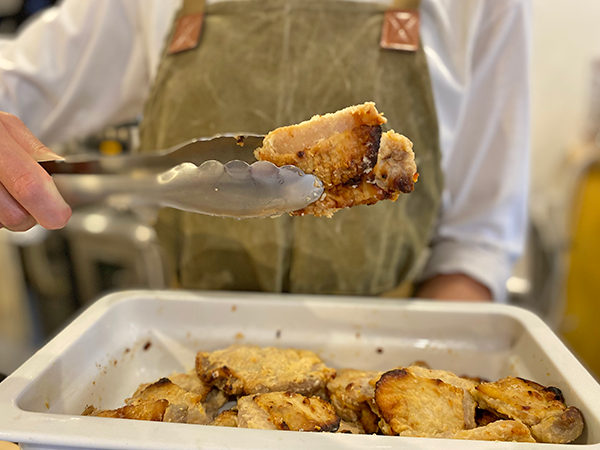 When asked for her personal favourite the manager chose the chicken cooked in Kyoto-style white miso paste (150 yen per piece). The white miso is homemade by the chef and imparts a smooth, mild and less salty flavour than other types of fermented soybean paste. The chicken is roasted on both sides and juicy in the middle, while the miso flavour is simultaneously both a little sweet and savoury. It's excellent but not available every day unfortunately; grab it if you see it!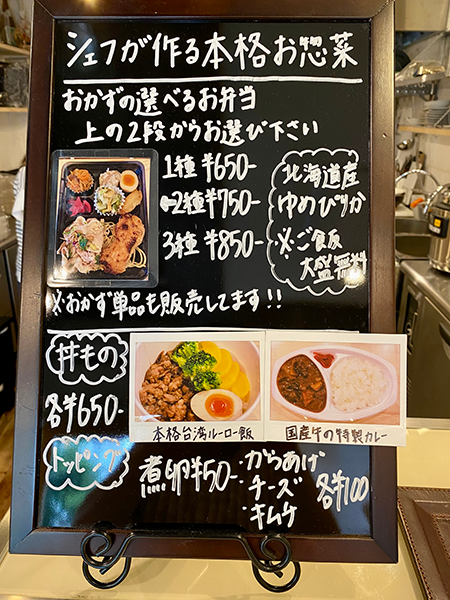 While all the pre-cooked items at KITCHEN BIG MAN can be bought to take away, they can also be purchased as part of a bento lunch box. Kameido is a busy area, and is becoming busier than ever before so a tasty homemade lunch box that takes just moments to prepare is in great demand. Customers can choose any one pre-cooked item as part of the lunch for just 650 yen, two for 750 and three for 850 yen. This represents very good value indeed.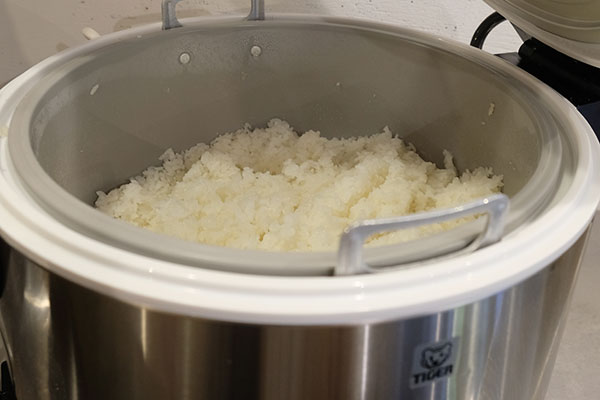 As the shop manager explained, the rice served at KITCHEN BIG MAN is Yumepirika from Hokkaido – hot, white and fluffy. It's prepared in a gas rice cooker, touted as the best way to prepare rice by professionals. Big servings of rice are available at no extra cost.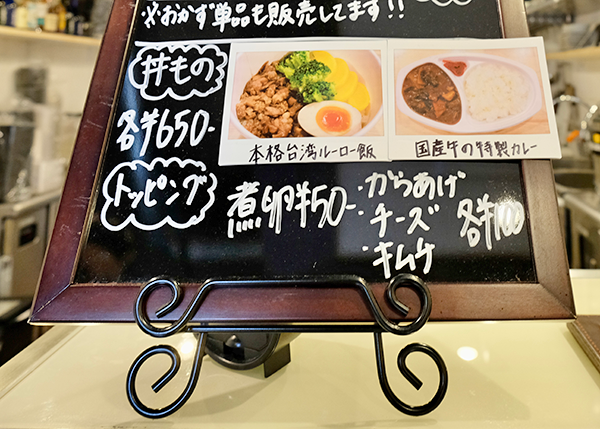 Hot food served on rice (~don in Japanese) is also available, such the currently popular (and totally fantastic) Taiwanese braised pork dish Lu Rou Fan, together with a beef curry made with domestic meat. At just 650 yen each they won't break your wallet.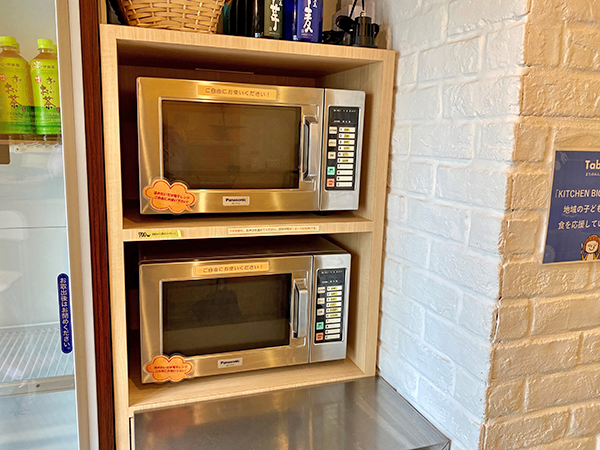 KITCHEN BIG MAN even provides a couple of smart, powerful microwave ovens to heat your side dishes up!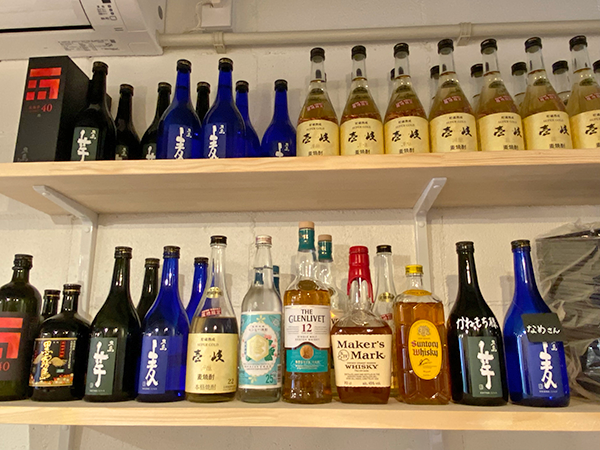 We were very surprised to discover that KITCHEN BIG MAN sells alcoholic drinks. "Many customers pop in for a quick bite and a drink after work," explained the manager. "At weekends too, many local residents enjoy a drink with their lunch."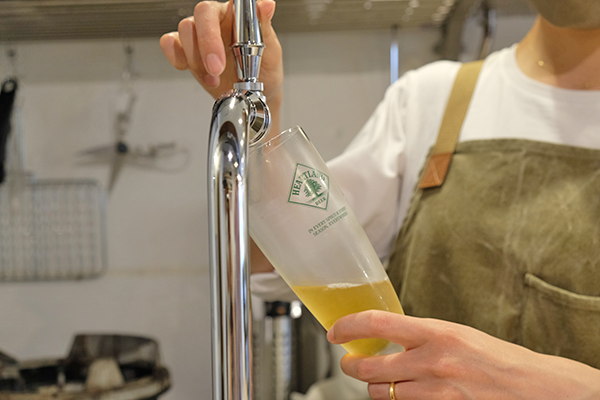 For those who don't fancy whiskey highballs or shochu, Heartland beer is available on draft at 500 yen for a glass. It's a pleasant accompaniment to the home cooked style items, lovingly prepared by the chef. Whether it's to eat in or take out, an in-office lunch box or a working from home dinner, you can't go wrong at KITCHEN BIG MAN!
Story and photos by Stephen Spencer