A Quiet Izakaya in Shin-Kiba
Published: November 25, 2020
If you are sat on a train on your way home from Tokyo Disneyland wondering what to have for an evening meal and changing trains at Shin-Kiba station, why not come out the exit and drop into Wafuu Dining Kiraku?
Wafuu Dining Kiraku is located on the second floor of the Metro Centre Building, a one-minute walk from Shin-Kiba station on the Tokyo Metro Yurakucho, Rinkai, and JR Keiyo lines. Opening in 2005, this izakaya (a Japanese style pub/bar), with its quiet relaxing atmosphere, offers a selection of set meals at lunch time, and in the evening, serves a range of food designed to go with its assortment of sake and shochu drinks.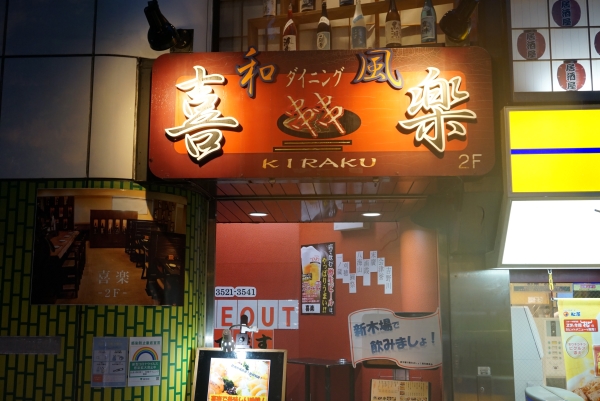 As the manager Mr. Shuji Nishimura puts it, the chef of 32 years, Mr. Sato, likes to produce "o-sake ni au ryori" (cooking which goes well with sake), and is always on the look-out for something a bit different from regular izakaya fare in order to satisfy the appetites of his customers.
One such item, and one of the restaurant's most popular dishes, is Towada Bara Yaki. Originating from Aomori Prefecture in northern Japan, this dish comprises boneless pork rib and finely-chopped onions on a bed of shredded cabbage topped off with an "ontama" (soft-boiled egg). All cooked in a sweet sauce, made according to a ubiquitous "secret recipe", on a low heat for one day, the result is a sweet-tasting and tender dish for 580 yen.
At lunch time, Towada Bara Yaki comes with rice and miso soup, whilst in the evening it is served on its own to accompany a drink from the sake and shochu list.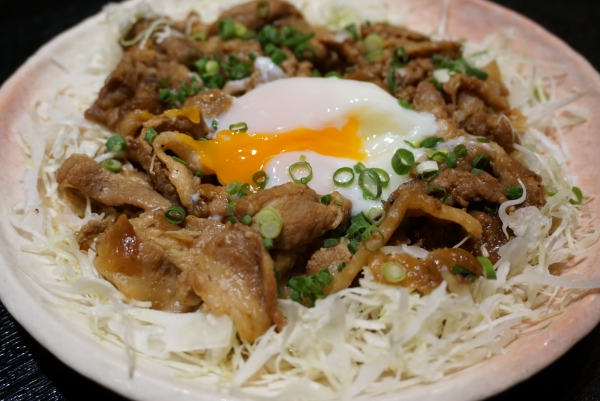 Another popular dish is Kodawari Kushiage. These delicious morsels are deep fried in panko (breadcrumbs) and come served on skewers. The 5 sticks I tried comprised ebi (shrimp), renkon (lotus), frankfurter, camembert cheese, and kisu (whiting), with a squeeze of lemon and dips of Worcester sauce and tartar sauce. Costing 700 yen, they tasted pretty good, too.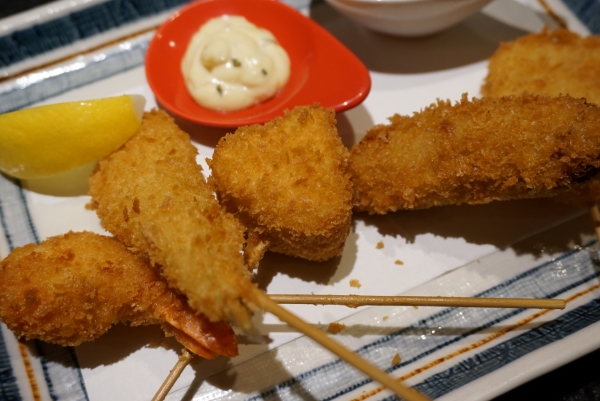 Wafuu Dining Kiraku's menu also includes a selection of sashimi dishes for 600 yen, or a chef's special, which comprises maguro (tuna), kanpachi (yellowtail or amberjack), and madai (sea bream), for 980 yen.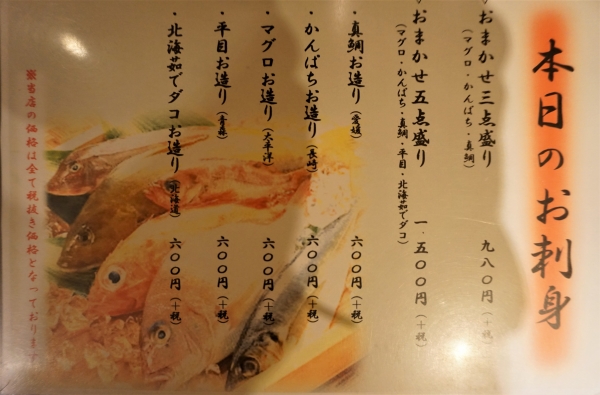 The restaurant's menu also offers courses for up to 4 people for 2,800 yen for a selection of 7 dishes and 3,300 yen for 8 dishes.
For drinkers there are currently ten varieties of sake to choose from, as well as seventeen types of shochu. When I asked Mr. Nishimura who decided which brands to stock and how, he said that they were ones which he had sampled and enjoyed the taste.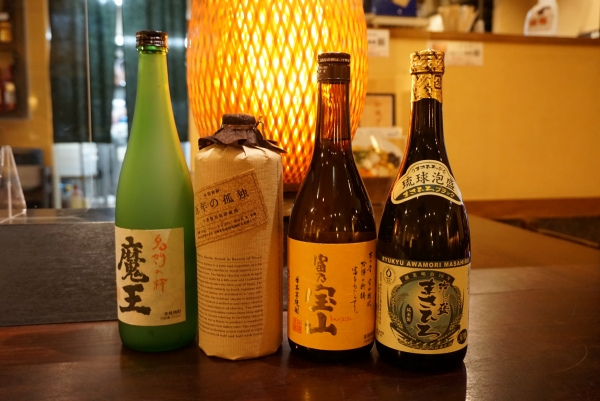 Bottles of sake and shochu are also displayed in back-lit partitions separating parts of the dining area and enhancing the restaurant's ambience.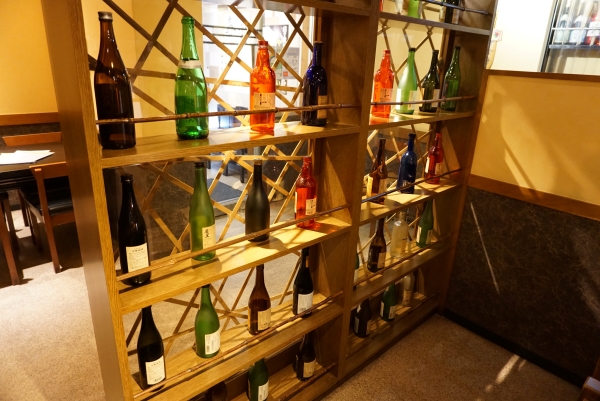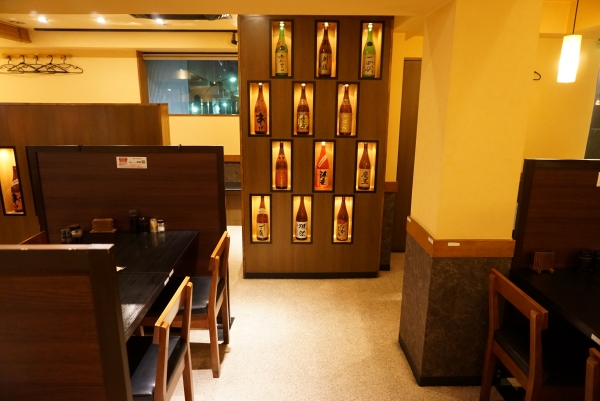 Mr. Nishimura has been in the job for 18 months and during this time he has gradually lightened the diner's décor. As he says, "We used to have lanterns hanging down in front of the windows, and it was pretty dark in here before". He wants to attract not just salarymen looking for a place to relax after work, but also wants Wafuu Dining Kiraku to be the kind of place female customers feel comfortable entering. To this end he wants to project a quieter atmosphere than the boisterous image commonly associated with many izakaya.
In the evening, customers can relax and enjoy themselves at the attractive counter with its subdued lighting or sit at one of the partitioned wooden tables. This all makes for an ideal place where couples can come and dine.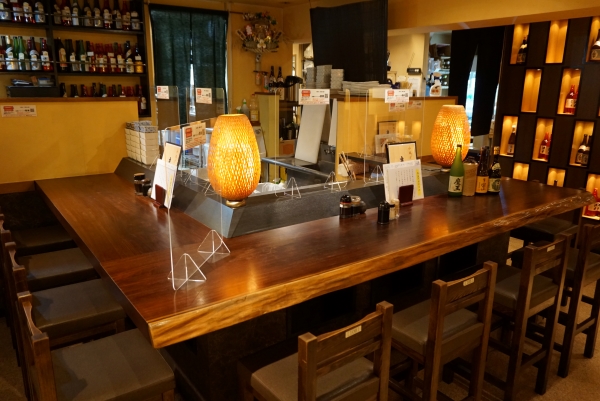 So why not round off that hectic day at theme park with a slow unwind at Wafuu Dining Kiraku, where you can sample some of Chef Sato's culinary specialties at the same time as trying out a few brands of sake or shochu – I am sure Mr. Nishimura will be happy to recommend a few for you to try.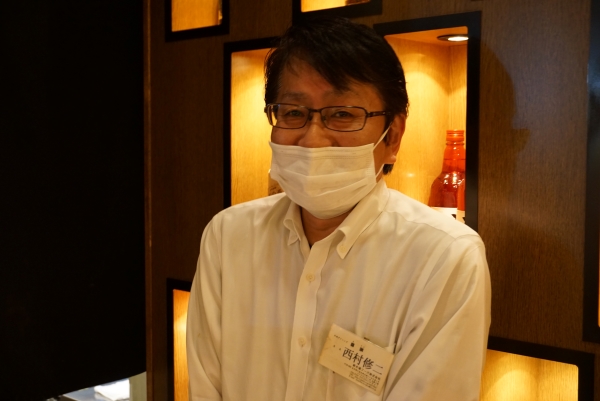 *All prices quoted are excluding tax
Story and photographs by Jeremy Hutchinson