A5 Wagyu Beef at Remarkable Prices
Published: January 29, 2021
The renowned yakiniku restaurant Niku no Tajima has been purveying the finest quality Japanese Black wagyu beef to its customers since opening in the Ogibashi area of Koto-ku in 1951. In August 2018, it opened a second restaurant, Matsusaka Ushi Tajima, just a stone's throw from Toyocho station and the Koto-ku ward office. On a recent early evening, we dropped in for a chat with manager Mr. Hiroyuki Yoshida.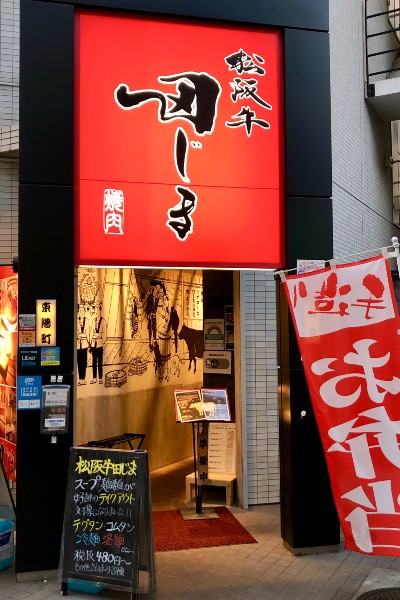 Located two minutes from exit A4 of Toyocho station on a quiet thoroughfare adjacent to Eitai street, Matsusaka Ushi Tajima presents a very different image to the original restaurant. Whereas Niku no Tajima occupies its own four-storey building with a meat and prepared food shop on the ground floor and the restaurant on the second and third floors, Matsusaka Ushi Tajima is reached via an impressive entrance area.
The large mural immediately inside the doorway features scenes from the old Tokyo meat market in the days of yore.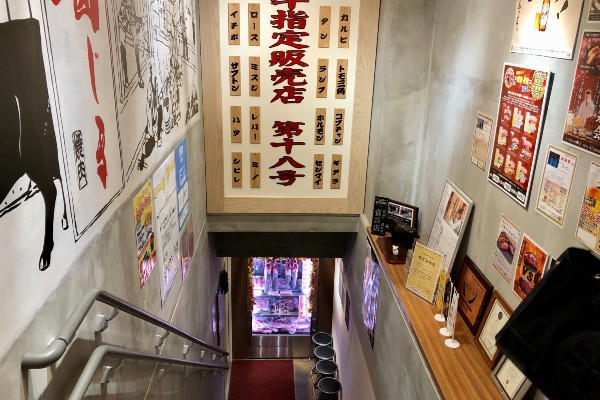 While the brushed concrete stairs down to the glistening stainless-steel display case add a thoroughly modern, stylish ambience.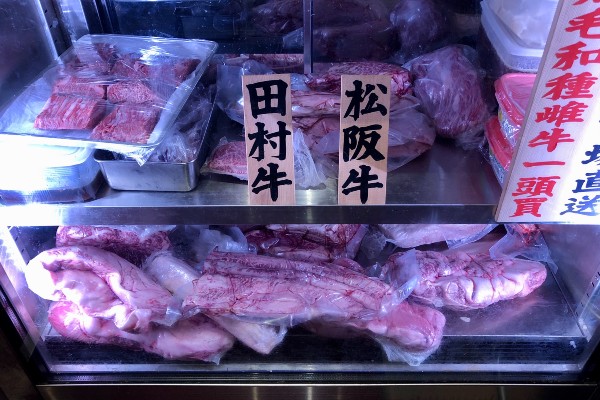 The display case itself contains beef tongues and prime cuts of both Tamura and Matsusaka beef.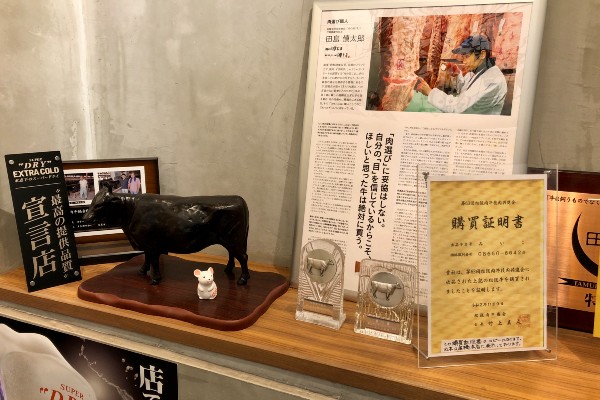 Niku no Tajima is able to buy whole cows directly from a shop in the Tokyo meat market owned by an offal wholesaler. This cuts out the middlemen who bump up costs, allowing both restaurants to offer Japanese Black wagyu and other wagyu beef at reasonable prices. It also enables the restaurant to acquire rare cuts of offal, known as horumon in Japanese. Second generation president Shintaro Tajima personally inspects every single cow before purchase; there's no compromise at all on the quality of beef served.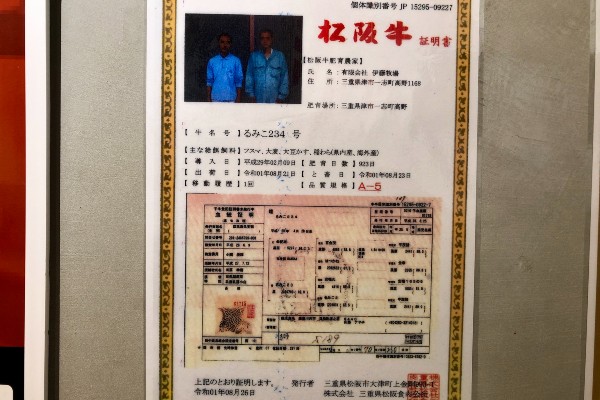 Each cow has a certificate of authenticity and is minutely detailed, with muzzle prints of the cows replacing fingerprints as proof of identity. Individual animals have their own identification number, feed history and family history noted. There are even photographs of the farmers who raised the cattle. Customers can therefore rest assured that the beef served at Matsusaka Ushi Tajima is the genuine article.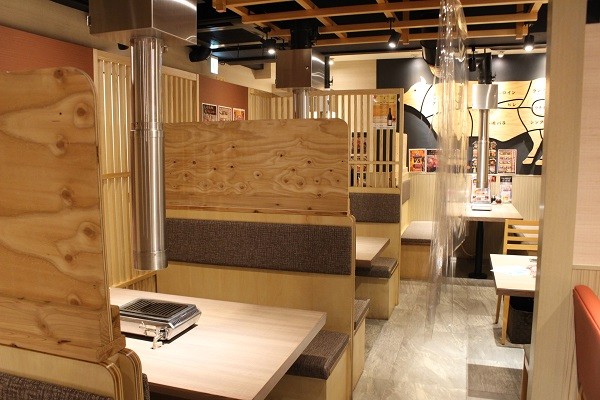 The interior manages to skillfully blend sleek modern design with traditional Japanese motifs, while retaining the atmosphere of a yakiniku restaurant.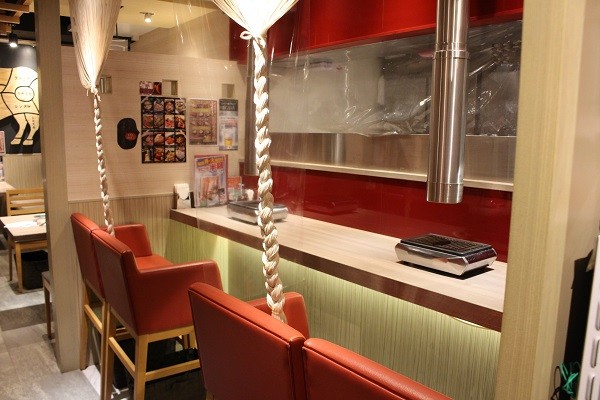 In a nice touch, there are pair seats for couples or close friends. Powerful extractor fans and low ducts whisk away all the smoke from the grills.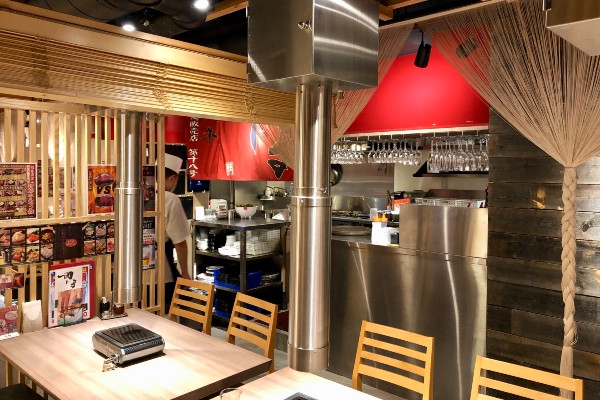 Tables are separated by both blond wooden blinds and the ubiquitous heavy plastic sheets.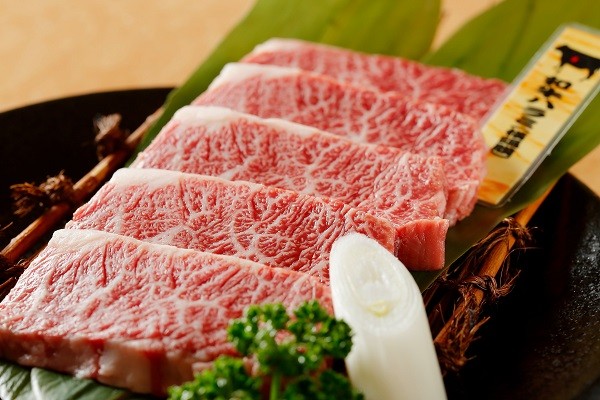 The company's system of buying whole cattle allows Matsusaka Ushi Tajima to offer the finest Japanese Black beef at reasonable prices. For example, skirt steak (harami) begins at 1,050 yen a plate, while both loin (rosu) and short ribs (calbi) begin at 990 yen.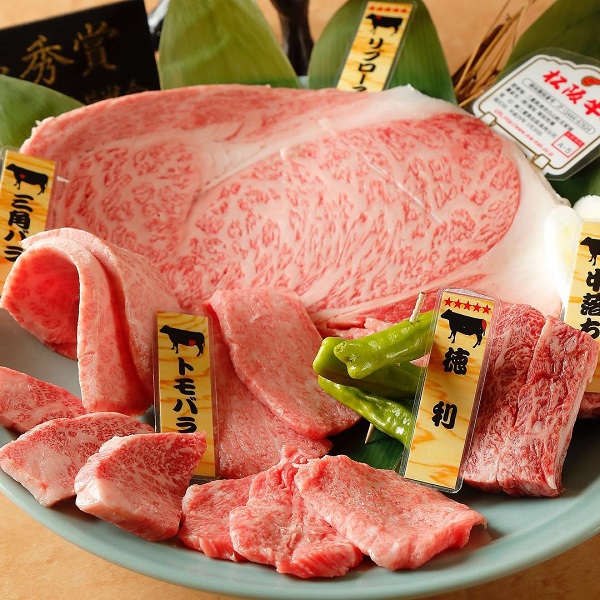 The menu is extensive, featuring a wide variety of cuts. Matsusaka rib finger (naka ochi calbi) is 2,200 yen and the premium loin is 3,000 yen per plate.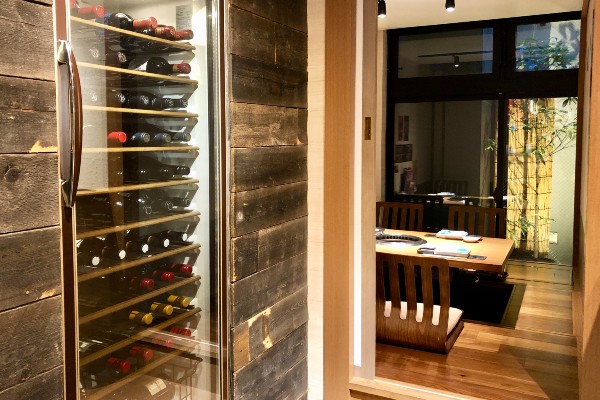 Matsusaka Ushi Tajima has a well-stocked wine cellar featuring good quality, reasonably-priced wines and high-end vintage wines such as Chateau Margaux and Mouton Rothschild for that special occasion.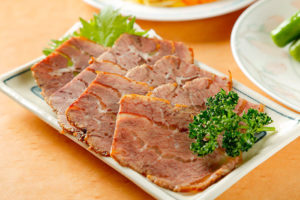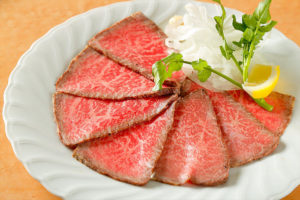 Unlike its sister restaurant, Matsusaka Ushi Tajima also serves a wide selection of hors d'oeuvres such as these wine-marinated beef cheeks (880 yen) and roast beef (990 yen for a half). According to Mr. Yoshida, the customer base at his restaurant is quite wide, from business people on weekdays to locals and families at weekends. Some drop in for a glass of wine (starting at 500 yen) and a quick bite on the way home, while others enjoy the marvelous (and enormous) courses for special celebrations. The stylish interior and comfortable, semi-private seats also attract many couples.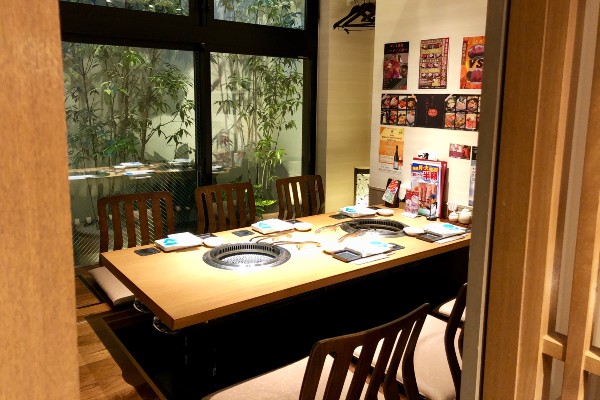 Two private rooms are also available for an extra fee of 2,000 yen.
The hale and hearty Mr. Yoshida, a 30-year veteran of yakiniku restaurants, has worked in six different places during his long career, and unhesitatingly told us that the beef served at Matsusaka Ushi Tajima and Niku no Tajima was far and away the best quality. He and his excellent staff are always ready to serve, whatever the customers' needs may be. In these uncertain times the quality of beef at Matsusaka Ushi Tajima is one thing we can definitely count on.
Story and photographs by  Stephen Spencer