A5 Wagyu Yakiniku for Beefy Eaters!
Published: August 26, 2021
Doukaisan is a long-established and extremely popular yakiniku restaurant in Kameido. Current pandemic restrictions mean it's currently only open for lunch, which is why we met second-generation representative Mr. Taku Kumagai early on a recent rainy Monday morning, for a very interesting chat about charcoal-grilled meat.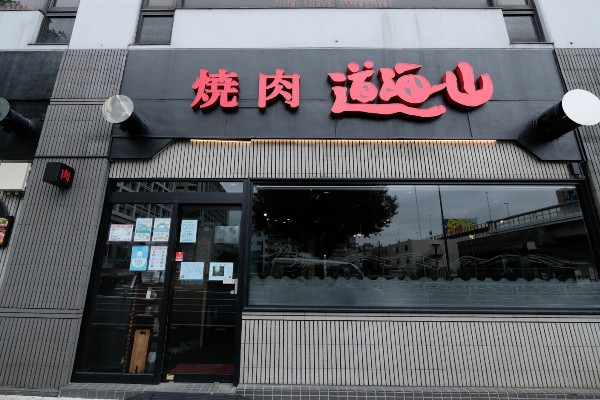 While Doukaisan's address is Kameido, it's roughly equidistant from Kinshicho and Sumiyoshi stations, with Kinshicho the nearest. It fronts onto the Yokojikken River, close to large office buildings occupied by an American computer company and a Japanese housing materials company. It's a quiet, pleasant area, just across the river from Sarue-Onishi Park, famed for its cherry trees.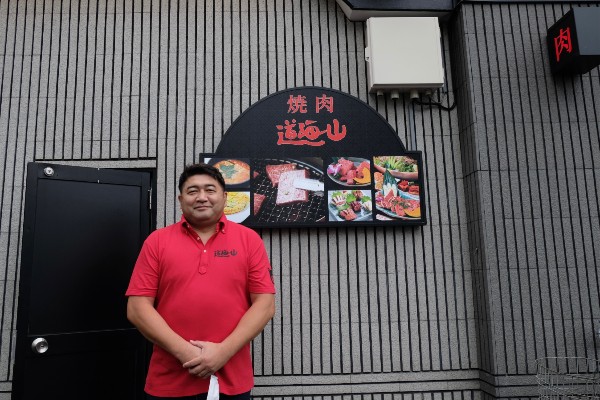 "I was actually born here," explained the hearty Mr. Kumagai, a rugby player and former coach, referring to the location, not the restaurant. "In those days my father ran an iron and steel business and it was his workshop with an office and our living area upstairs. In 1992, he rebuilt the property into a yakiniku restaurant and I took over in 2009 after returning from working overseas. Next year is our 30th. Anniversary."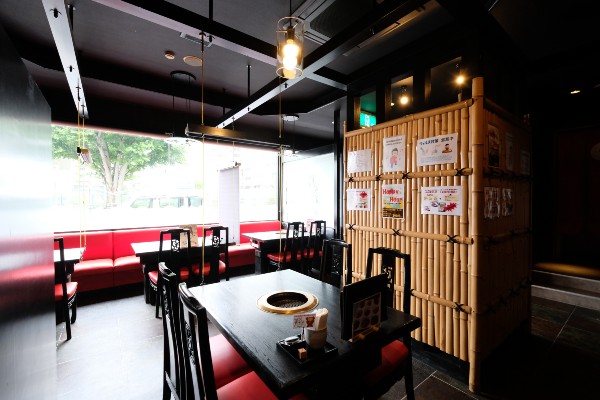 Inside it's stylish and well-appointed, with lots of dark wood furniture, red banquettes, marble and mirrored glass walls. "We serve A5 wagyu beef," said Mr. Kumagai. "We select meat from cows raised in colder areas, such as Miyagi and Yamagata, as the fat melts at lower temperatures in the mouth and delivers that delicious savoury taste. Furthermore, all our sauces and kimchi are handmade too."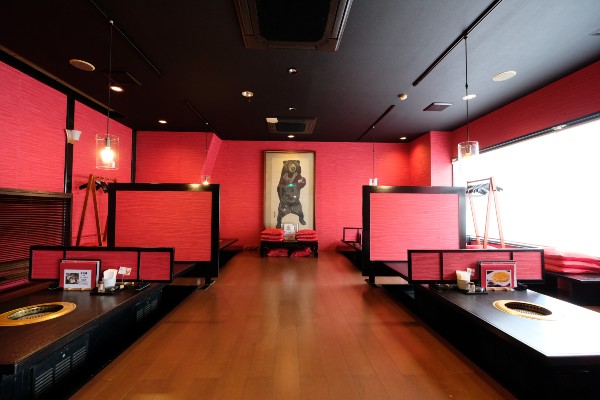 The second room is dominated by this magnificent bear (Kuma, the first character in Kumagai, is bear in Japanese). "Before the pandemic many of our customers came from local offices, particularly at lunchtime. Now it's mainly local residents and those working from home, but we also have many regulars who come from all over for the quality of our meat," explained Mr. Kumagai.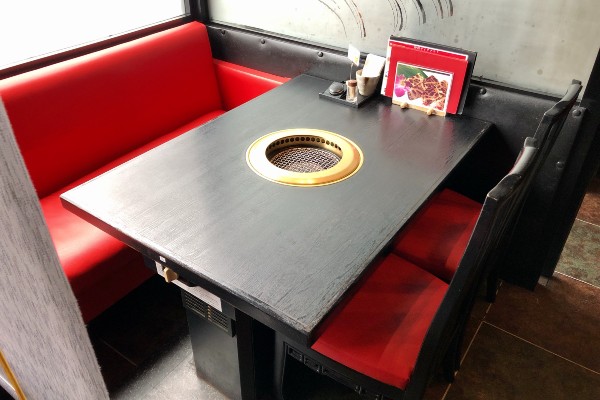 Each table is separated from the next by screens and all health protocols are firmly in place. All employees use smartphone apps to record their physical condition, all food is carefully checked, and the restaurant cleaning is microscopic in detail. "Our staff are fantastic," enthused Mr. Kumagai, "definitely the best feature of our restaurant. They even redecorated parts of the interior last year, during the State of Emergency." All tables feature top-of-the-range smokeless grills connected to a system of underfloor piping that whisks away every last remnant of smoke.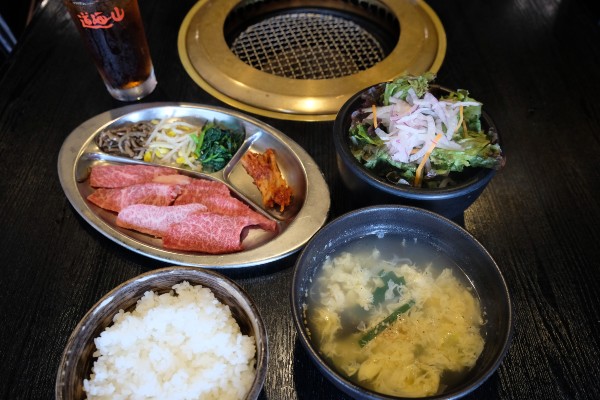 The menu at Doukaisan is predictably massive. The lunch menu offers a variety of yakiniku sets beginning with short rib (calbi), loin (rosu), and special skirt steak (jo harami) at 1500 yen apiece. Pictured here is the short rib lunch set: a hefty serving of short rib, choregi salad, egg soup, namul pickles, kimchi and a huge bowl of rice. All sets come with meat and the same side dishes, including a drink. The portions are very generous indeed, ideal for customers with healthy appetites.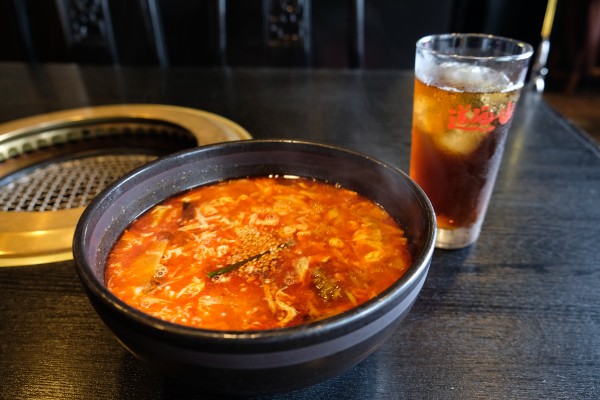 For those who don't fancy a lunch set, the menu offers several alternatives, which are served with salad and a drink. This is the short rib soup with rice (calbi kuupa 1,000 yen), a rich blend of beef broth, tender short rib meat, vegetables, spices, and red chili paste served over hot rice in an earthenware bowl. The soup is simmered for 12 hours, with the meat cooked separately and flavoured with homemade rayu chili oil. This is a great winter warmer! Also available are bibimbap (900 yen), stone bowl-baked bibimbap (1,200 yen), chilled spicy noodles (reimen 1,000 yen), calbi soba or udon noodles (1,000 yen), and kom tang beef and radish soup with soba or udon.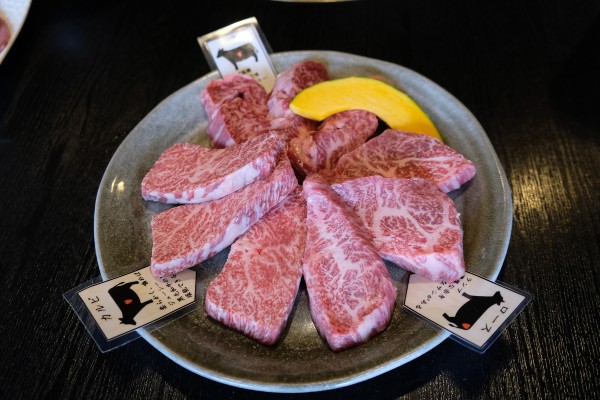 As Mr Kumagai explained, the most popular of the larger sets were the "family set" at 3,990 yen and the "thick cut" (atsugiri set 4,990 yen), which is shown here. The juicy, thick cuts of choice short rib, loin, and skirt steak look very appealing indeed.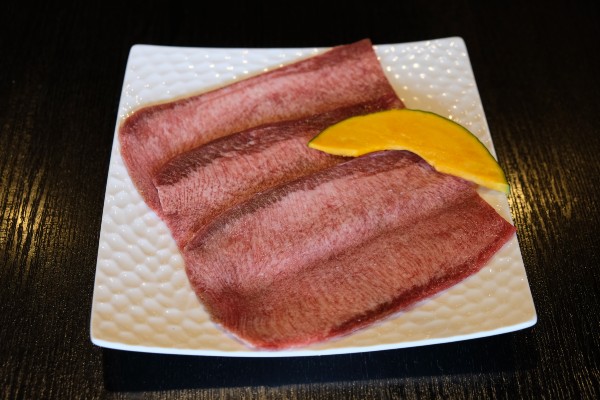 Regular eaters of yakiniku will be aware that the charcoal grilling begins with tongue (gyutan), as the lighter, unseasoned meat leaves few traces on the mesh. Instead of the traditional round tongue slices, these are rectangular because, as Mr. Kumagai explained, "Beef tongue becomes softer and juicier the further back from the tip you go. Cutting the tongue vertically creates slices which are hard, soft, or medium. Slicing horizontally, as we do, creates these rectangular slices which are a balance of all three." Pictured here is the special salted tongue (jo tan shio) at 1,590 yen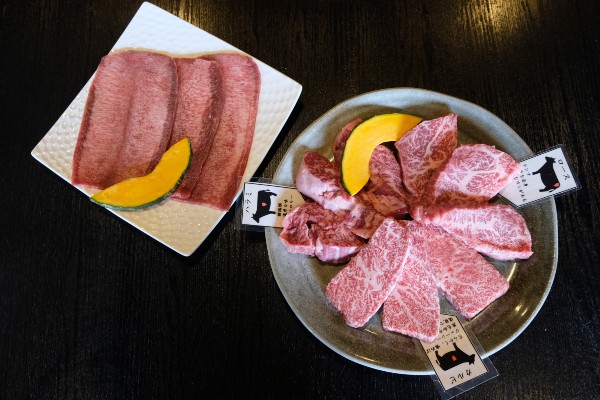 Mr. Kumagai was a fountain of interesting knowledge about the charcoal-grilled barbecue business in Japan. It's safe to say Doukaisan is serving top quality A5 wagyu meat and side dishes at tremendous prices; given the appetites of rugby players there can be no doubt about that! We left Doukaisan just as lunchtime began at 11:30 and were surprised to see a long line of customers entering for an early lunch. You can't say fairer than that!
Story and photographs by Stephen Spencer