Anyone for a Sushi Breakfast?
Published: November 13, 2020
If you are in the mood for an early morning watching the fish auction at Toyosu Fish Wholesale Market, why not round it off with a sushi breakfast at Tsukiji Kagura Sushi – Toyosu Shijo-ten? It's located on the 3rd floor of the Management Facilities Building, which links directly to Block 7 where the fish auction is held.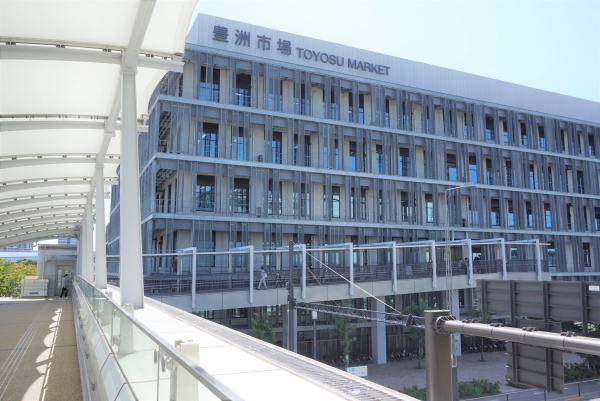 The restaurant opens at 7:00 a.m., by which time the fish auction has finished, and stays open until 3:00 p.m. (last orders 2:30 p.m.), when the fish market closes for the day.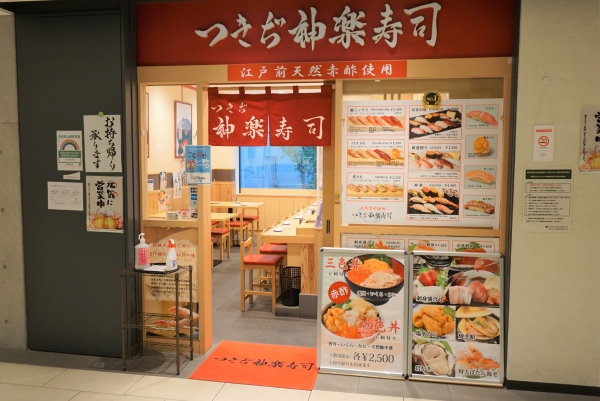 This sushi bar is a bright and welcoming place, with tables seating up to 11 and seats for a further 9 along the counter, where you can watch the sushi chefs in action.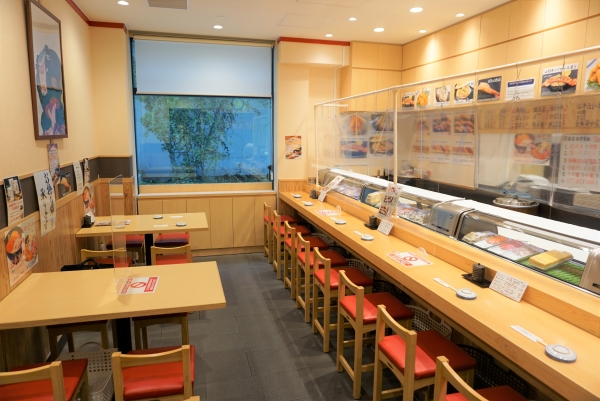 The original Tsukiji Kagura Sushi started out as a sushi stand in the old Tsukiji fish market in 2003. The Toyosu Shijo-ten shop opened in October 2018 at the same time as the fish market transferred to Toyosu, and offers a wide range of traditional Edomae-style sushi using fresh fish from the auction floor.
The afternoon I went to the restaurant, Mr. Atsushi Ishihara, the manager and sushi chef and a 27-year veteran in the business, explained to my colleague and I that one of Tsukiji Kagura Sushi's selling points is its rice. Most sushi restaurants use rice flavoured with regular vinegar, salt, and sugar, but Tsukiji Kagura Sushi uses a traditional form of vinegar called akazu, made from slowly fermented kasu (lees), a by-product of the sake-making process.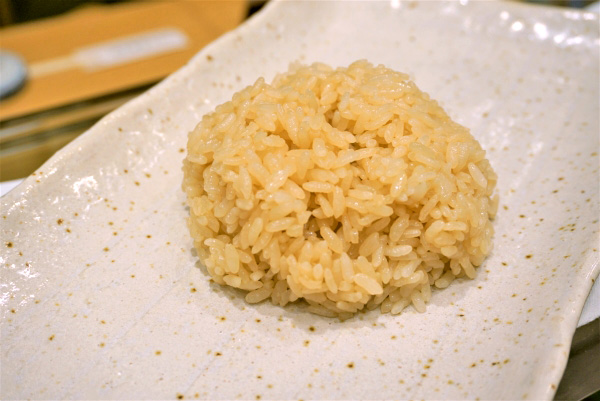 Akazu red vinegar is rich in protein, vitamins, and amino acids, and has traditionally been used as the vinegar to flavour sushi rice, and it is this which gives Tsukiji Kagura Sushi's rice its distinctive tinge and taste.
Toyosu Shijo-ten's menu contains a range of sushi, which varies depending on the season. Sushi can be ordered individually (minimum five pieces) if there are specific types which you really enjoy or would like to try,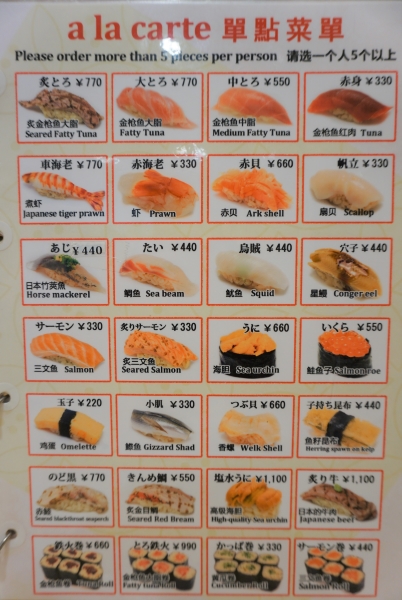 or there is a selection of platters which you can choose from, each containing different amounts and types of sushi.
We watched fascinated as Mr. Ishihara swiftly, but carefully, moulded the rice in the palm of his hand before placing a slice of raw fish on it and transferring it with precision to a serving dish; although the anti-corona virus transparent plastic hangings hampered me peering over the counter for a better view of him at work and at the trays of various ingredients wrapped and lined up under the glass counter window.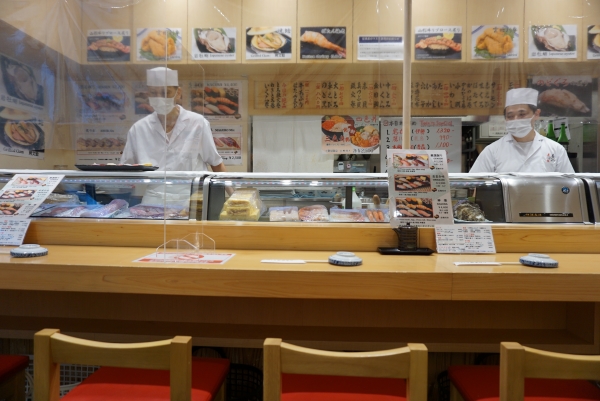 We asked Mr. Ishihara what the shop's most popular dish was. Without hesitation he said, "omakase" or "leave it to the chef". Costing 3,300 yen (including tax), for this he puts together 11 pieces of sushi and a piece of tamagoyaki (sweet egg omelette) on a dish, along with a bowl of miso (soy) soup.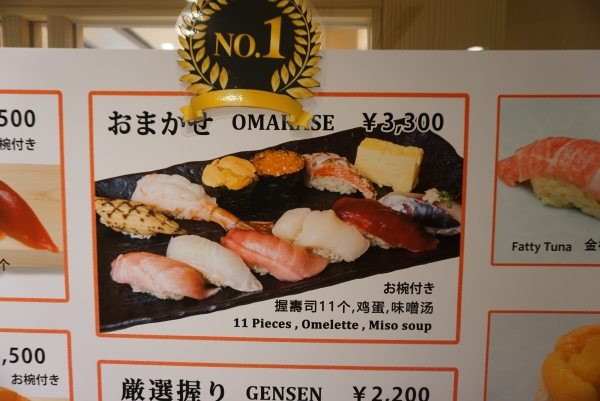 As Mr. Ishihara's fingers swiftly moulded the akazu into a bed for the sushi fish, he described which fish he was using for the "omakase" platter.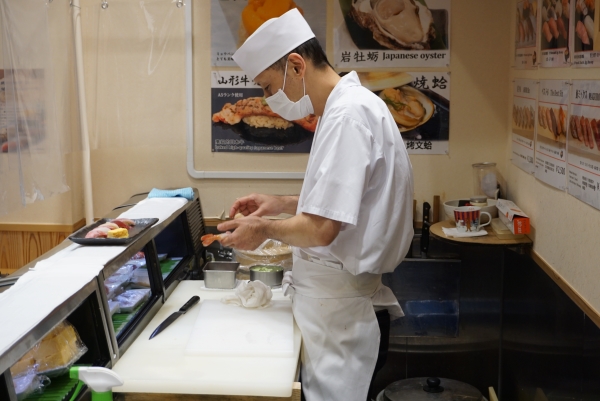 The platter comprised two rows of sushi: on the one side was a piece of deep yellow tamagoyaki, a botanebi (botan shrimp), uni (sea urchin), ikura (salmon roe), aji (horse mackerel), anago (conger eel), and a pile of gari (sweet pickled ginger); the other row consisted of otoro (the fattiest and best-quality part of tuna), shiromi (white meat fish), chutoro (medium fatty tuna), hotate (scallop), akami (red meat fish), and kinmedai (bream).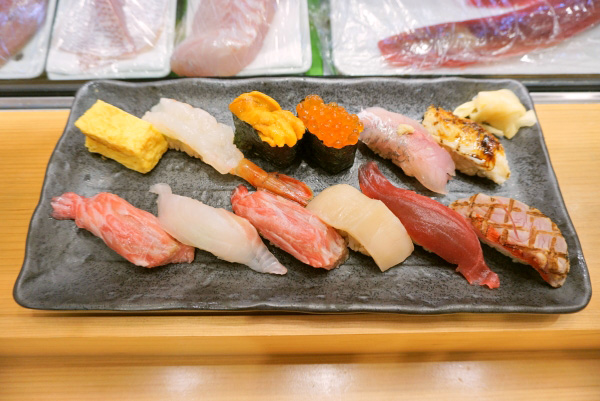 We shared the contents of the platter and the pieces I ate were delicious. The chutoro with its slightly fatty meat was succulent, whilst the red ikura burst in my mouth, flooding it with oil from the roe. Meanwhile my colleague was savouring the otoro, which she proclaimed was "to die for".
Besides the "omakase" dish, depending on the season, Mr. Ishihara's personal recommendations are shiromi, buri (yellowtail), botanebi, aburi (seared fish), and uni.
And if you are worried about communicating with the staff, not to worry, Mr. Ishihara speaks some basic English, whilst the menus and posters dotted around the restaurant contain English descriptions of Toyosu Shijo-ten's fare.
Being a sushi chef is Mr. Ishihara's life and, as he says, his satisfaction comes from "oishiku tabete morau" or "having my customers enjoy the sushi I prepare".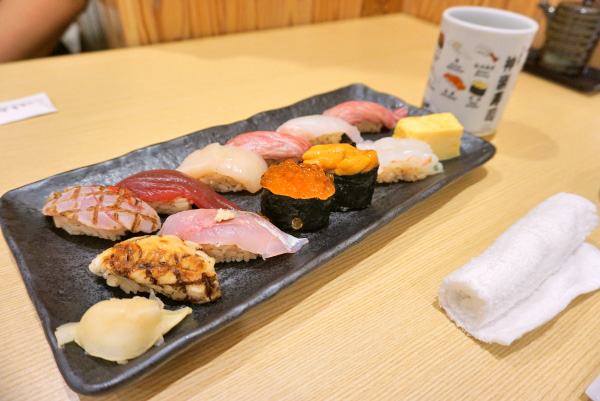 Story and photographs by Jeremy Hutchinson