Arabashiri: Stylish Fish and Sake Restaurant in Kameido
Published: September 19, 2018
The northern Koto-ku area of Kameido is rich in history and tradition, from the 17th. century Kameido Tenjin shrine to venerable Japanese sweets maker Funabashiya, founded in 1805. Closer to the busy station is a vibrant, bustling quarter of restaurants and bars, many with the nostalgic feel of the Showa Period (1926~1989). Just north of the station is a brand-new pub restaurant ("izakaya" in Japanese) that specializes in two staples of Japanese dining, fish and sake. On a recent afternoon, I dropped into Arabashiri for a chat with the owner, Mr. Kotaro Wada.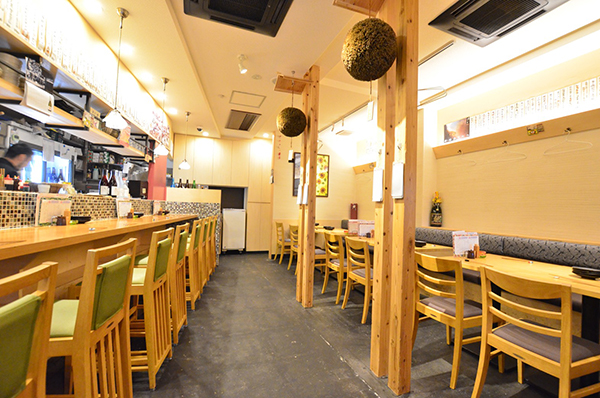 One is immediately struck by the airy and comfortable interior, featuring natural wood grains, daub walls and a sparkling kitchen area. The elegant lighting creates a cafe atmosphere and the food preparation space, visible from all the seats, positively gleams. "We opened up in December last year," says the energetic and charismatic Mr. Wada. "We opened our first restaurant in Ginza in 2006, specializing in Okinawan food. In 2016 we launched the first Arabashiri in Monzen-nakacho and thanks to the continued patronage of our customers were able to develop this location."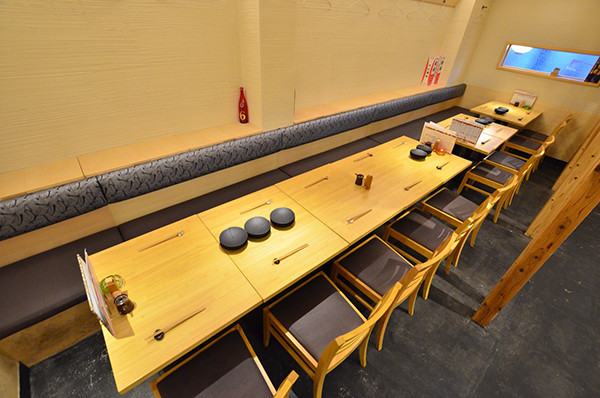 "We aim to bring together the best of Japan's junmaishu sake (sake made from rice, water, yeast and koji mold spores only) and the freshest seafood available. Arabashiri is actually a term used in sake production; it means "rough run" and refers to the first sake that naturally runs out of the mash bags before any pressure is applied to them."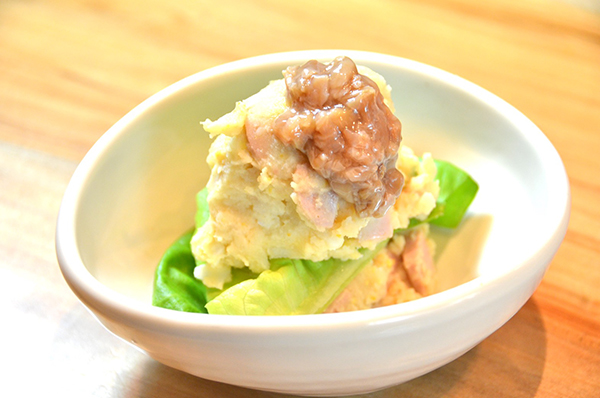 The Hokkaido-born Mr. Wada is a big fan of regional delicacies, known as "chinmi" in Japanese, many of which contain pickled seafood. This very popular item is potato salad with sausage, topped off with "shuto", bonito entrails fermented with sake, honey and mirin rice wine. Reasonably priced at only 590 yen, sake lovers alternate small nibbles of the dish with sips of their favourite tipple.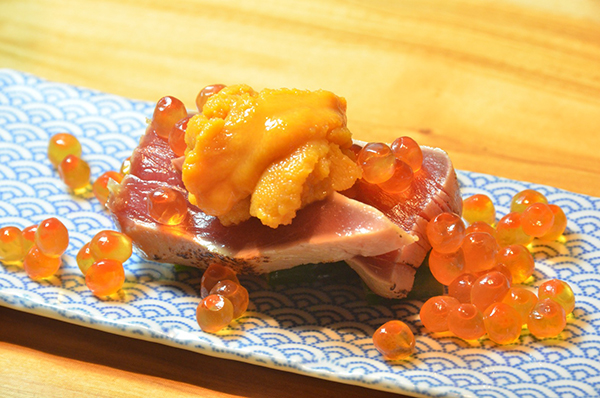 This seared tuna with sea urchin and salmon roe is also 590 yen.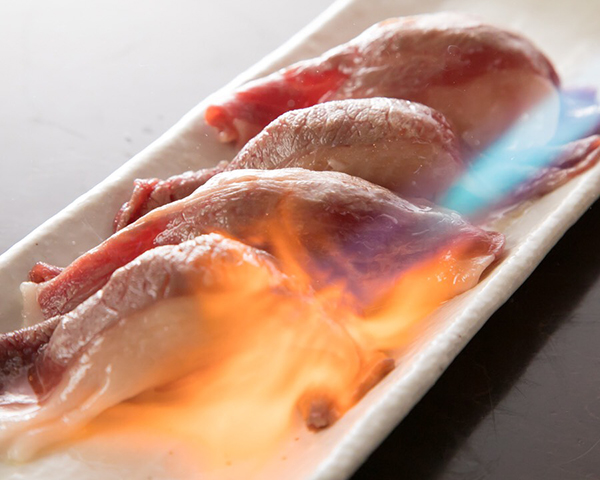 While a plate of four seared beef nigiri costs 800 yen. The dishes are designed to both enhance the flavour of the sake and to be enhanced by it. They are also very reasonably priced.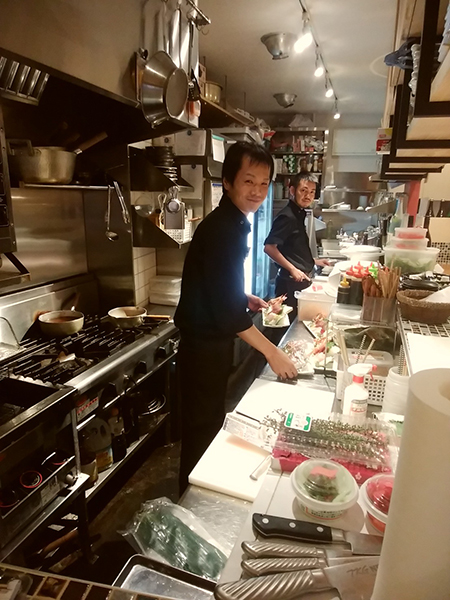 The veteran head chef is also responsible for the menus at Ryoku in Ginza, and the Arabashiri sister restaurant in Monzen-nakacho. "The menus are almost the same, with just a few small differences," says Mr. Wada. It's always service with a smile!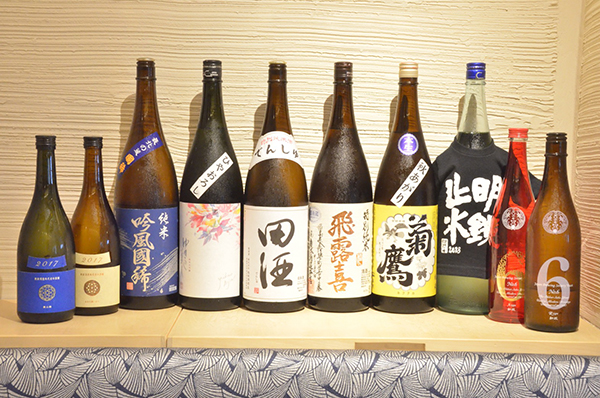 As the seasons change so do the dishes available. "We have two main menus during the year," says Mr. Wada. "One for autumn and winter, together with a spring and summer version. We also have weekly and short-term selections which change frequently, about every ten days or so. The sake we serve changes as the seasons change. That way our customers can always experience new flavours. In autumn, sake made from mature rice suits such dishes as pacific saury ("sanma" in Japanese) and bamboo shoots in olive oil. In the depths of winter full-bodied sake served hot ("atsukan" in Japanese) matches the heavier dishes such as hot pots ("nabe" in Japanese) or stewed beef offal ("gyu-motsu" in Japanese)."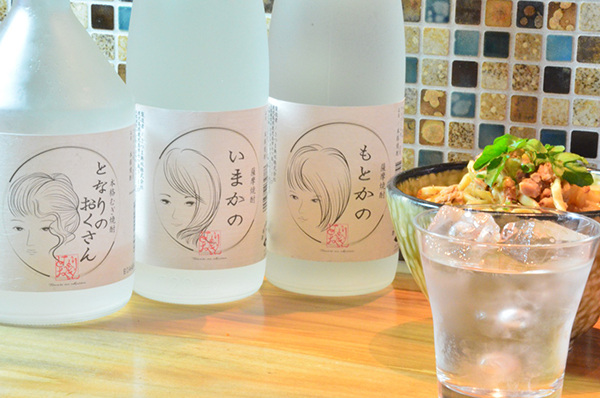 Arabashiri offers around 24 different kinds of sake, many of which change every ten days or so. This is the popular range of shochu from Kagura Shuzo in Miyazaki Prefecture, Kyushu. Very nice at 590 yen a glass.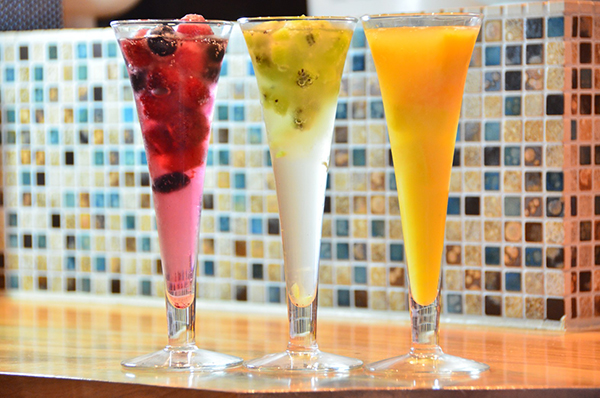 For those who prefer a more colourful beverage, these are both fruity and photogenic.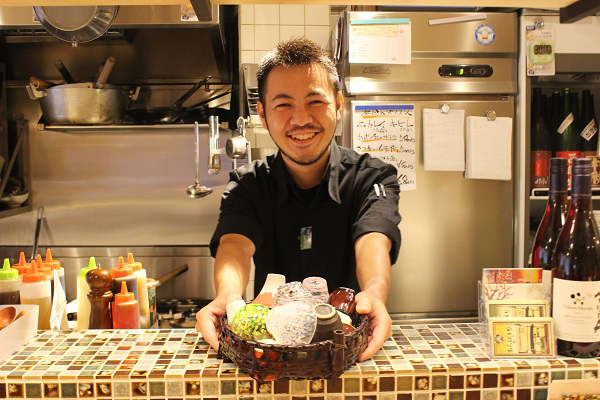 Arabashiri: top quality seasonal Japanese food and sake at reasonable prices, in a comfortable environment with friendly service. What more could you want? You can even book a table for a Year End party. It's another great reason to visit Kameido!
Story and Photos by Stephen Spencer