Walking up Sunamachi Ginza from Meiji-dori Avenue on the right-hand side you will come across a small, sprightly seventy-five-year-old lady sitting at a counter set up in the street outside what looks like a typical small restaurant but is in fact, the kitchen of Asariyasan, famed for its asari (short-necked clams).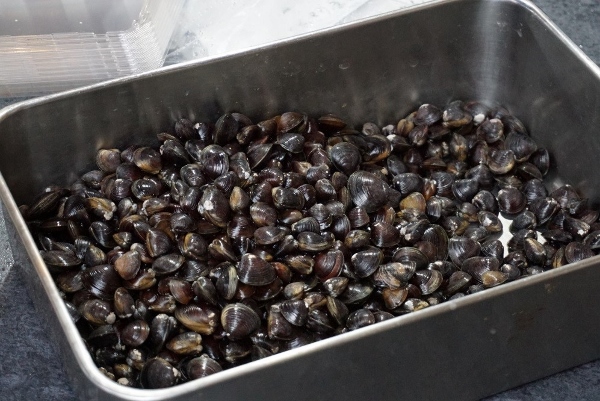 This delightful lady is Mrs. Katsuko Ogawa and she has been selling asari in Sunamachi Ginza for around 48 years. Mrs. Ogawa, whose connection with asari has led her to be featured in magazine articles, television documentaries and even a novel, is kept company by Richie, a beautiful 2-year-old Shetland Sheepdog, who keeps an alert watch for people coming behind the counter into the kitchen area.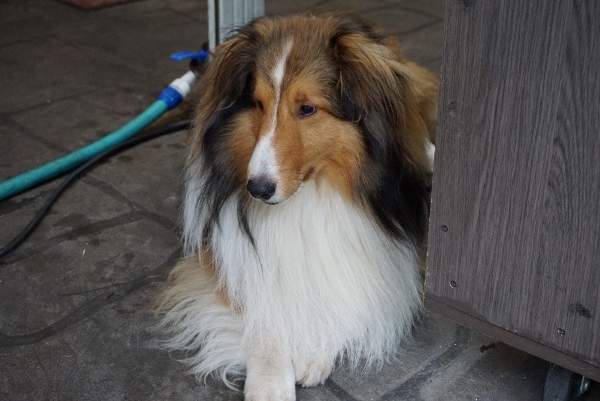 Behind the scenes, Mrs. Ogawa's son, Tetsuo, is responsible for what goes on in the kitchen, and spends his day preparing and cooking the asari and other foods for sale on the street outside.
The Ogawas have occupied their current premises for the past seven years, and customers travel from all over Tokyo and even further afield to buy Asariyasan's products (Mrs. Ogawa told us there are even groups who come from Taiwan after having read about the shop, and stand in the street eating the food bought there). In a clear, gently-spoken voice Mrs. Ogawa politely explained that at the weekends the line of customers can stretch down the street, and even on the wet Monday when we turned up, there was a constant stream of shoppers stopping to buy from her.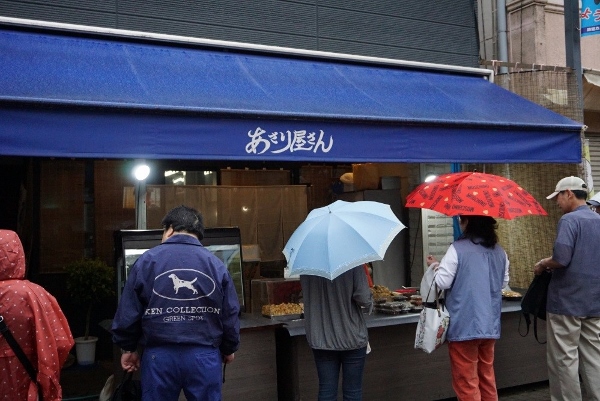 What is set out on the counter on the street is various foods and bento (lunch boxes), mainly using asari. These come from Aichi Prefecture and Urayasu, Chiba Prefecture, where the family commutes from every day, and where Mr. Ogawa used to fish for asari. It is a long day for the Ogawas, particularly as they start preparing the food at 6:00 a.m. each morning, before the shop opens at 10:00 a.m., and don't finish work until 7:30 p.m.
Sitting outside in all weather, in front of a large ohitsu (wooden tub for cooked rice) Mrs. Ogawa chats with her customers, whilst constantly stirring and mixing the asari meshi, the number one selling product, comprising steamed and seasoned rice mixed with asari, abura-age (fried bean curd) and wakame (seaweed).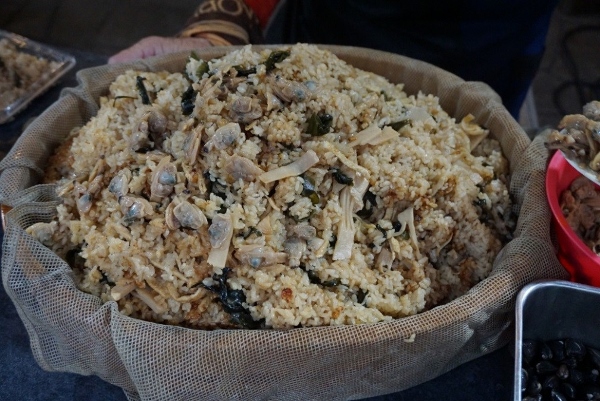 The asari meshi comes in 2 sizes of package, priced at 300 yen and 500 yen respectively, and is extremely filling.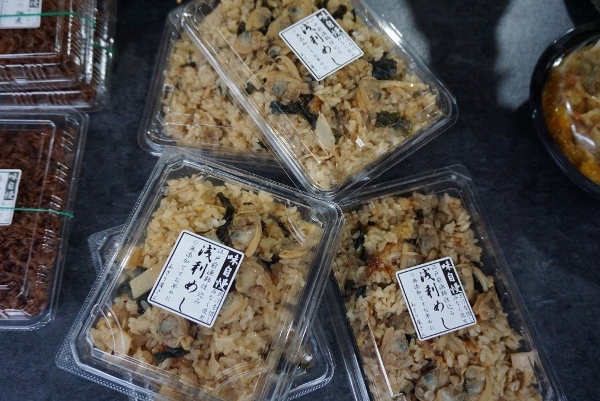 Among other delicacies on offer are yaki asari (asari dipped in a sweet sauce and fried on a skewer), which were a "first" for me, but are apparently famous in the Urayasu area. These are delicious, and at 60 yen a stick they were quickly snapped up by shoppers when Mr. Ogawa brought a fresh batch of them out to the street counter.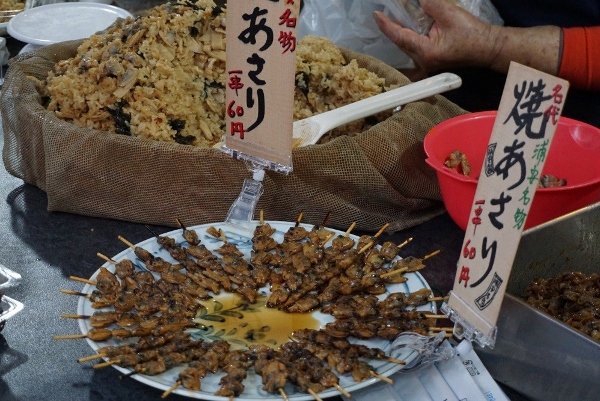 Asariyasan also offers home-made tsukudani (fish and shellfish boiled in sweetened soy sauce). We tried the small, tender, kobuna no tsukudani (small crucian carp), which are eaten whole, and with their sweet and slightly spicy taste are totally "moreish".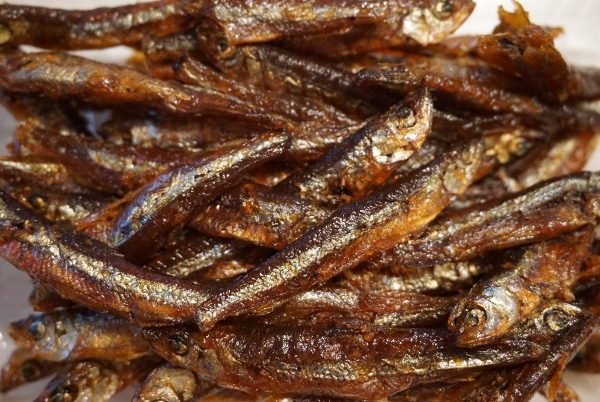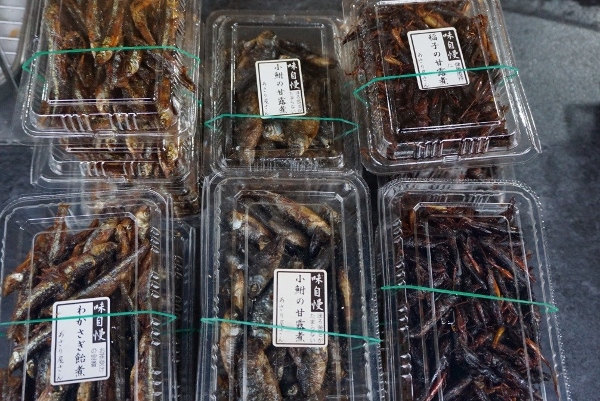 For those wanting a filling lunch, there is kakiage-don, a bento comprising seafood, vegetable tempura, and home-made tempura sauce over rice, costing 450 yen.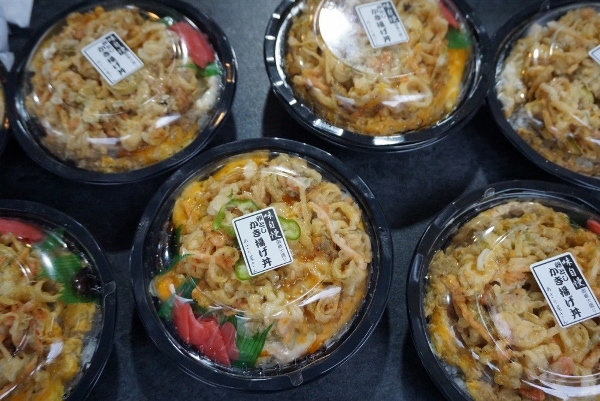 As we were about to leave, Mrs. Ogawa called us back, insisting we try the asari korokke (clam croquette), which her son was just frying. I am a sucker for korokke and so couldn't resist waiting.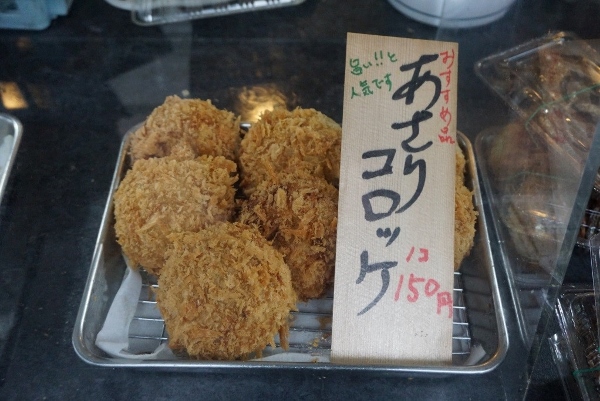 Consisting of ginger-simmered asari in sweetened soy sauce, and potatoes, and with no additives, they were delicious, and we stood there in the street talking with Mrs. Ogawa and biting into the hot, crisp croquette with its tasty inside. And at 150 yen each they are great value.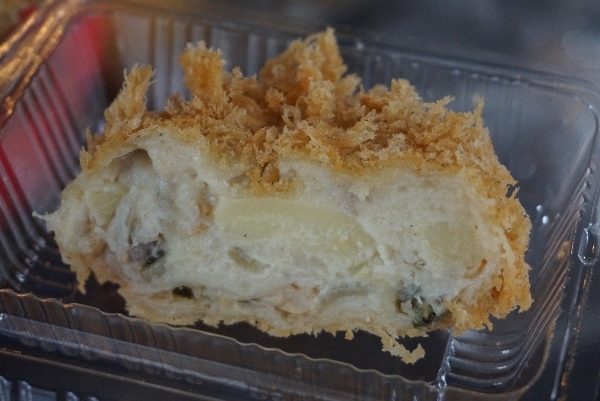 Mr. Ogawa told us that on a busy day he will make up to 300 asari korokke, which will all get eaten.
I can understand the draw of Asariyasan, with its combination of great home-made food and the charming Mrs. Ogawa, and the next time I happen to be near Sunamachi Ginza, I shall certainly be calling in for some more asari.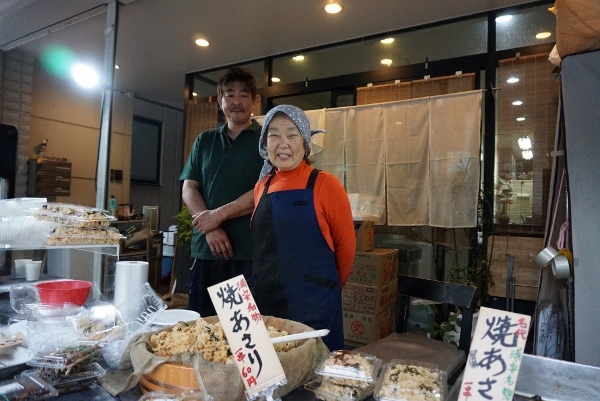 Story and Photos by Jeremy Hutchinson