Authentic Thai and Indian Cuisine Under One Roof!
Published: August 16, 2021
The Kiba restaurant Asian Dining Sunrise is a most unusual place. While it's not rare these days to find excellent Indian or Thai cuisine in Koto-ku, to find both under one roof prepared by entirely different kitchen staff is most out of the ordinary. On a recent sweltering summer afternoon, we dropped in for a chat with manager Mr. Lamichhane Surya and interior coordinator Mr. Hashimoto.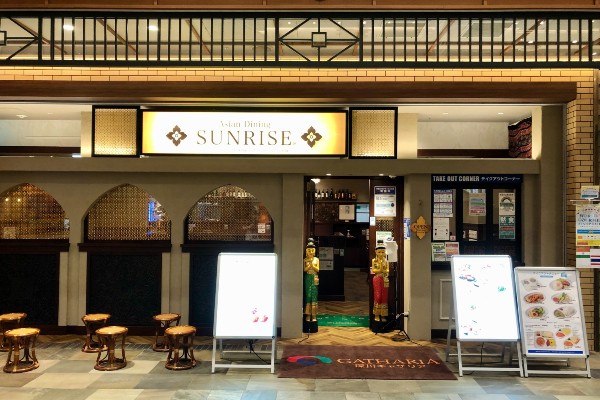 Opened in May 2021, Asian Dining Sunrise is located on the first floor of the Plaza at Fukagawa Gatharia, a large shopping mall and office building centre just a one minute walk from Kiba station.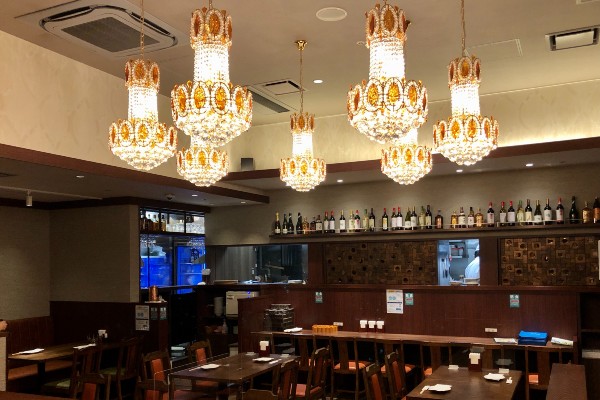 Interestingly, the interior design at Sunrise is very understated, with lots of dark wood. As Mr. Hashimoto explained, "We didn't want an overly strong image. There's plenty of space between the tables, the seats are very comfortable and the banquettes have high backs.
The eyes are drawn to the circle of chandeliers in the ceiling; we contemplated having one large chandelier but Mr. Surya suggested having a lucky circle of seven instead." The high ceiling imparts a spacious feel, while all current health protocols are in place.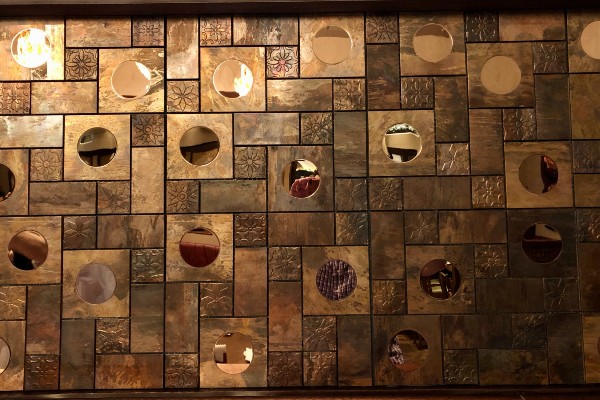 We were particularly taken by the stylish bronze tiles, some mirrored, on the wall in front of the kitchen area.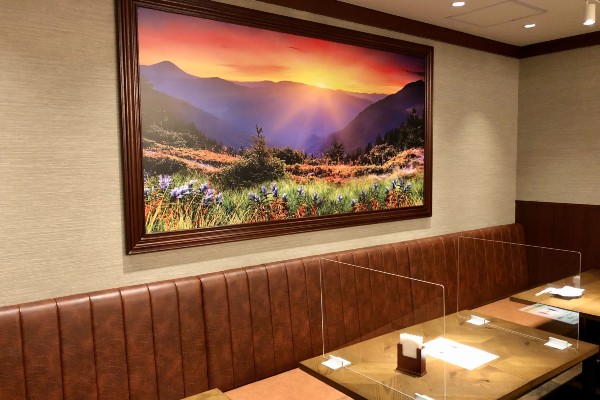 The eponymous sunrise is in evidence though. Apart from some art and photos, the tones are earthy and muted, designed to appeal to adults, although weekend customers tend to be local residents, families or people on dates. Weekday lunches are very popular with workers from the many companies located in the office towers, mainly men, who appreciate the subdued and relaxing atmosphere.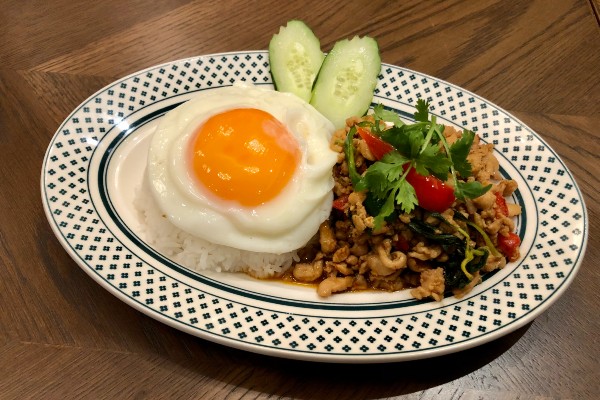 Remarkably, the kitchen is divided into two areas, one for preparing Thai food and the other, with a capacious tandoor, for Indian dishes. Chef Sanechai from Thailand prepared this fabulous pad krapow gai, spicy minced chicken with holy basil and vegetables on rice, topped with a wok-fried egg. Served with a small salad, a bowl of soup and a drink, it's terrific value for lunch at just 1,000 yen including tax.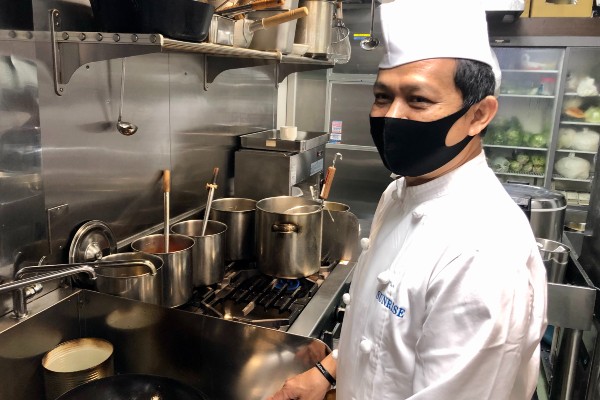 Chef Sanechai and his team were on the left of the spotlessly clean kitchen. All spices are imported fresh and direct from Thailand and India. The Thai menu includes some rarities such as yum pak boong tod krob, a dish of deep fried water spinach and shrimp in a spicy sauce (1,190 yen).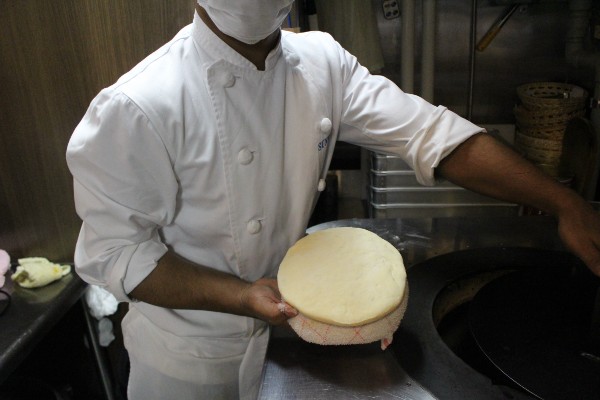 Simultaneously, Indian chef Govinder Singh was on the left preparing butter chicken and cheese naan.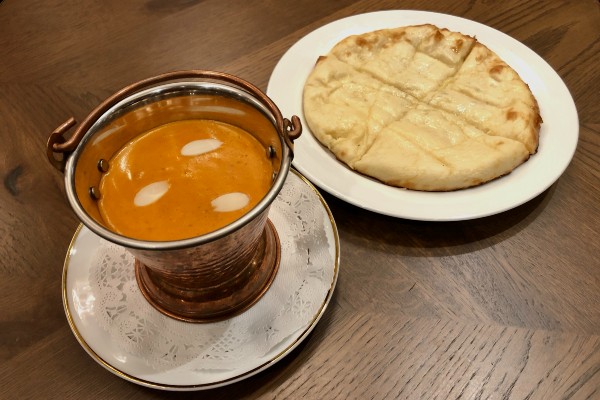 The butter chicken is the pride of the Indian half of the menu, a rich, sweet, and buttery concoction that took years to perfect. As manager Mr. Surya explained, it's rather underpriced on the menu as the ingredients are both extensive and expensive. It's the most-ordered dish at Asian Dining Sunrise, with a mild initial flavour that gradually reveals its spiciness in a lingering aftertaste.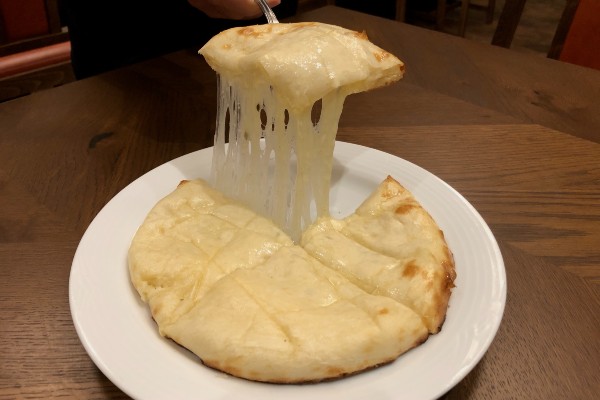 The cheese naan (560 yen including tax) was so beautifully photogenic we actually cheered when Mr. Surya lifted a slice for the cameras! As with the lengthy process that produced the butter chicken, Mr. Surya said the chefs had changed the cheese used several times to find the right combination.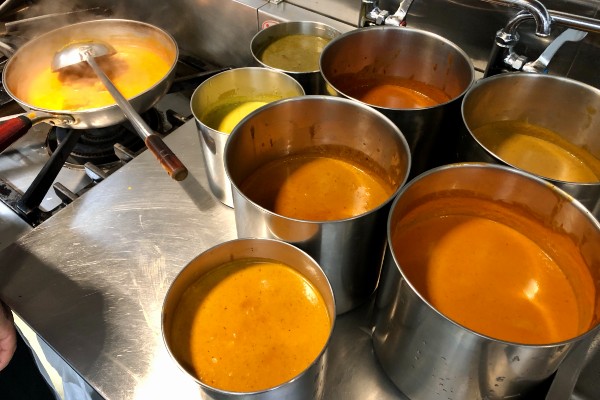 The menu at Asian Dining Sunrise is enormous, featuring something in the region of 140 different dishes. The lunch menu is extensive too, with the Sunrise special thali a firm favourite at just 1,190 yen including tax. Customers can choose two from eight curries (butter chicken, shrimp coconut, spinach and cottage cheese, lamb, mixed vegetable, keema masala, chicken, or the daily special), boneless tandoori, naan, saffron rice, salad, dessert and a drink. That's great value. A one-curry lunch with rice, naan, salad and a drink is just 950 yen. On the Thai menu are such star items as pad Thai (1,100 yen), khao pad kung (1,000 yen) and khao man gai (1,000 yen), all of which are served with soup, salad and a drink. The green chicken curry (1,000 yen) comes with rice, salad, soup, and a drink.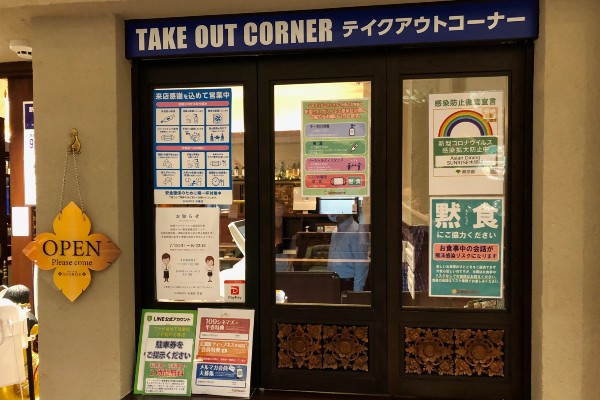 Asian Dining Sunrise also offers a large take out menu. Customers can select a spice level,  either regular or spicy. Half a dozen regular Thai favourites such as green curry are available, together with eight different curry choices. Prices are very reasonable, from 600 yen for a simple curry and rice to 750 yen for the Indian Royal Box which features a curry, chicken tikka, naan, rice, and salad. Customers can pre-order by phone.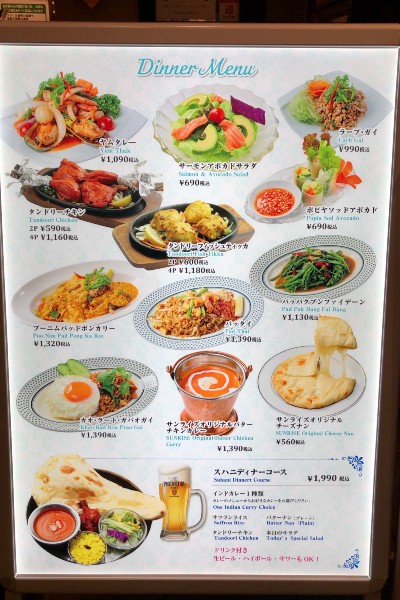 Sadly, under the current pandemic protocols alcohol is not served, which is a great shame as  Asian Dining Sunrise has a very interesting wine list. It includes wines from India's Sula Vineyards and Thailand's Monsoon Valley, two great successes founded by pioneering entrepreneurs, as well as Era organic wine from Italy and fine quality French and Chilean wines. The menu contains many light snacks perfect for pairing with a post-work or early evening drink.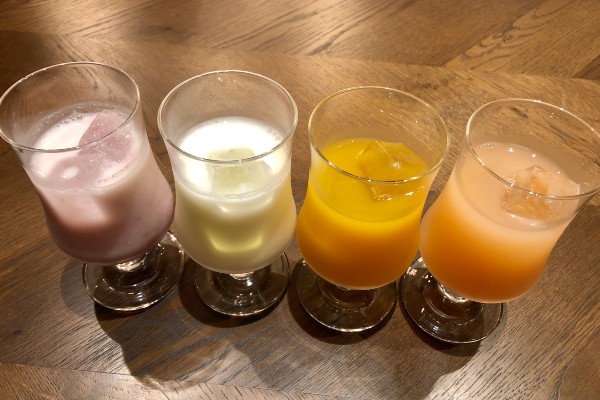 The rest of the drink menu is equally expansive, featuring beer and spirits from both India and Thailand, cocktails, shochu, sours, and a vast array of fruit lassi to quench the thirst. From left to right: blueberry lassi, mango lassi, mango juice and guava juice. Very nice. Asian Dining Sunrise is a most comfortable and welcoming restaurant; if you're in the Kiba area and yearning for top quality Thai and Indian food at reasonable prices, just head to Fukagawa Gatharia.
Story and photographs by Stephen Spencer