Authentic Italian in Casual Atmosphere at Osteria Chivo
Published: August 17, 2020
Osteria Chivo is a laid-back Italian restaurant that has been satisfying the residents of the Minami-sunamachi area since 2017 with its anti-aging meat and wide selection of antipasto. On a recent afternoon, we dropped in for a chat with youthful and ebullient owner-chef Mr. Katsumi Mochizuki.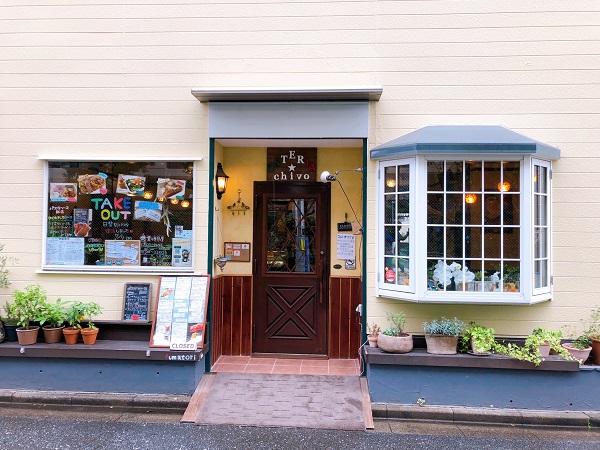 Despite being just two minutes' walk from Minami-sunamachi station, Osteria Chivo is located on a quiet side street just off the park and out of sight of those heading to or from the large shopping areas on Kasaibashi Street. It also feels a world away from the thundering traffic of Eitai Street, just a hundred yards to the south.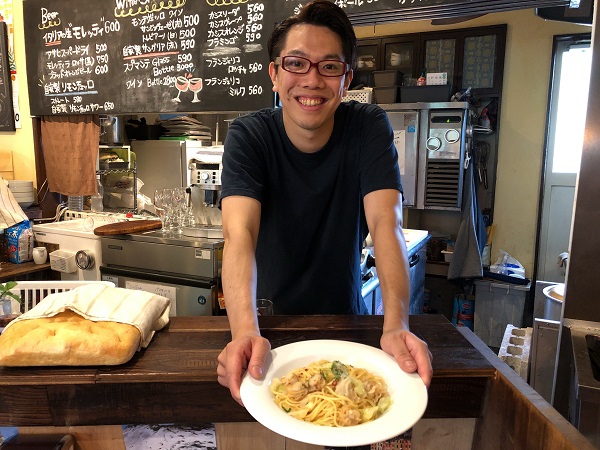 "I worked in an Italian restaurant in busy, crowded Shinjuku before deciding to become independent," explained Mr. Mochizuki, "and I really wanted my place to be a fixture of the local community, where neighbourhood residents could drop in any time for something to eat, a drink, and a relaxing time." Born and raised in Yamanashi Prefecture, he spent a year working in Sicily and Rome after he graduated from culinary school. "Sicily is famed for its seafood and desserts, which I enjoyed studying, but I also wanted to focus on cooking meat, beef in particular."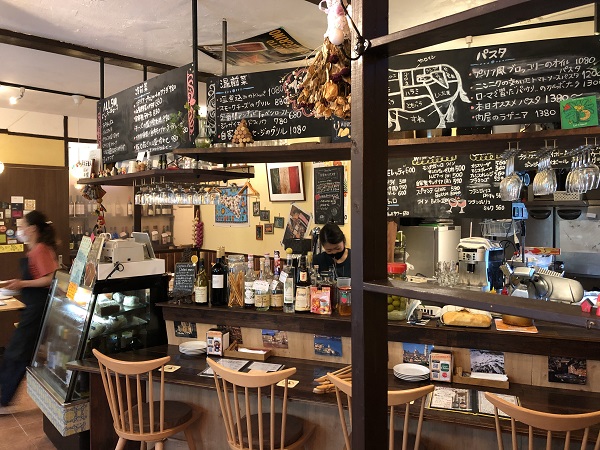 Osteria Chivo is built around a central kitchen area with a counter where Mr. Mochizuki can chat to customers when he's not cooking.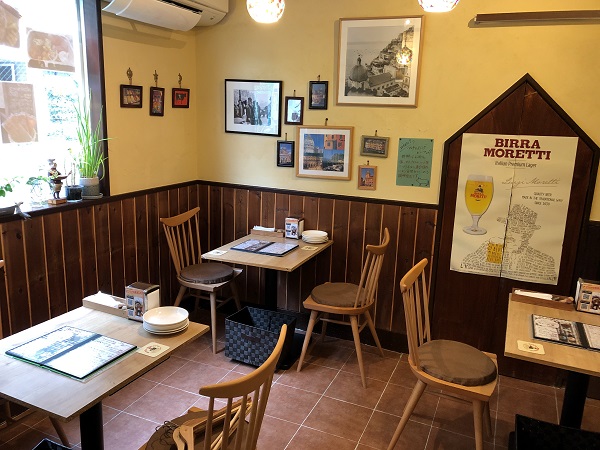 The high-ceiling and surprisingly spacious room has plenty of leg space between tables, important for these times of social distancing.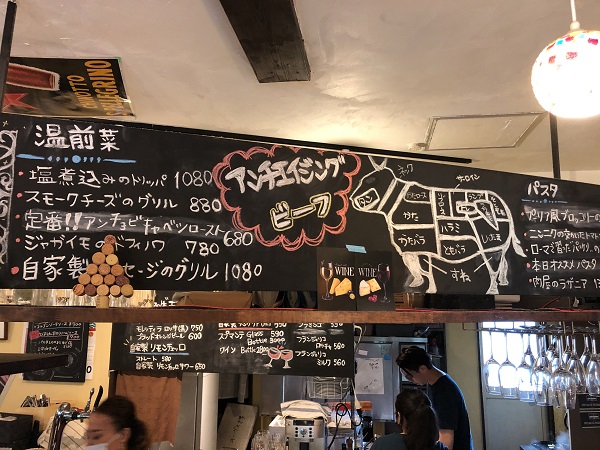 So, what's this "anti-aging beef" Mr. Mochizuki? "Well, it's a name I invented myself," he said laughing. "We take meat and season it with herbs, garlic, salt, and so on, then vacuum pack it and leave it for two days. During that time the deep umami flavour of the meat becomes even stronger. Then we cook it. The meat is very good quality anyway, but it becomes even softer and more juicy. It's the exact opposite of dry aging beef, so I named it anti-aging," he explained. It's a technique he learned from a chef in a Sicilian restaurant, during his work and study time there.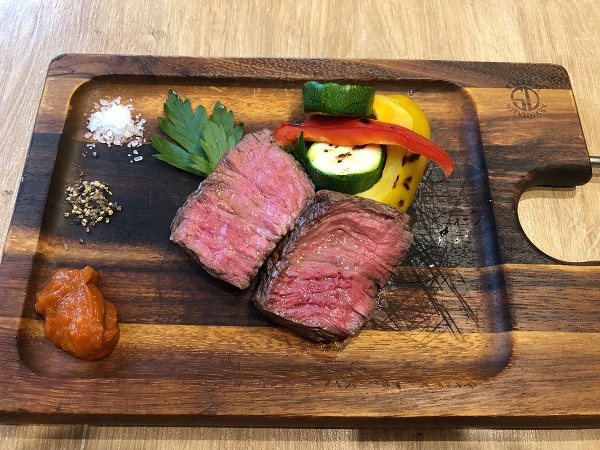 The meat here is grilled Angus skirt steak. It was served with some grilled seasonal vegetables, rock salt, black pepper and a piquant homemade tomato sauce. The meat was wonderful, rich and juicy, yet with a melt in the mouth softness. A serving like this costs 1,400 yen, which is an absolute bargain for such quality. Grilled rump steak is available at 1,500 yen, while heart (hatsu in Japanese) is 1,200 for 100g. There's a selection of all three for 3,600 yen; why not share with a carnivorous friend?
While the anti-aging meat is the chef's principal recommendation at Osteria Chivo, this antipasto misto is the preferred starter. At only 980 yen per person, there's a selection of seven or eight different items in one-bite size. On this particular day the plate featured a barley and bean salad with the vegetables sourced from Mr. Mochizuki's home area in Yamanashi Prefecture, ratatouille, broccoli marinated in garlic and olive oil and Tuscan salami with fennel and other herbs.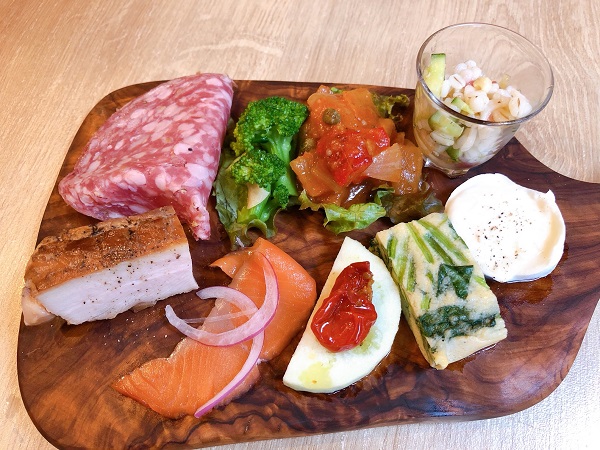 There was also home-smoked chicken, marinated salmon, red eggplant carpaccio, seasonal vegetable frittata, and mozzarella from southern Italy. This antipasto plate is also available as a takeout, where it's very popular. "My father sends vegetables from Yamanashi twice a week," said Mr. Mochizuki. "He also sends seasonal fruit, such as peaches, which we serve as desserts."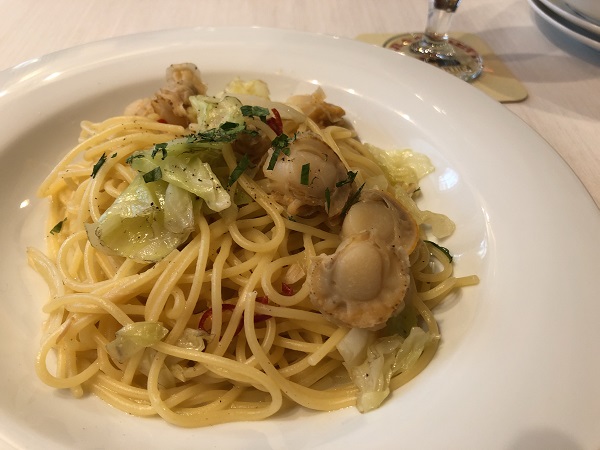 Pasta obviously has a strong presence on the menu. Apulia-style broccoli and oil pasta, slightly spicy garlic-free tomato sauce, carbonara, and a variety of gnocchi in sauces are also available. The smoked chicken is cooked with mushrooms as a pasta sauce and is another very popular item in the evening. As ever, it depends on the season and what vegetables, meat and seafood are the best quality at the moment.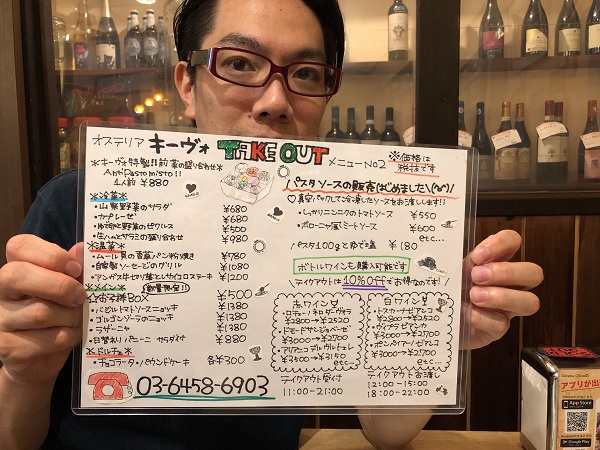 Take outs are available from 11:00am to 9pm, with special kids' lunch boxes at just 500 yen. As you can perhaps imagine, these are very popular with both the local kids and their mothers. The restaurant itself is open from 12:00 to 3:00pm and 6pm to 10pm. The takeout menu features a host of Italian dishes, from antipasto, main courses and desserts. The desserts are homemade by the staff and are so popular that they were sold out on this particular day.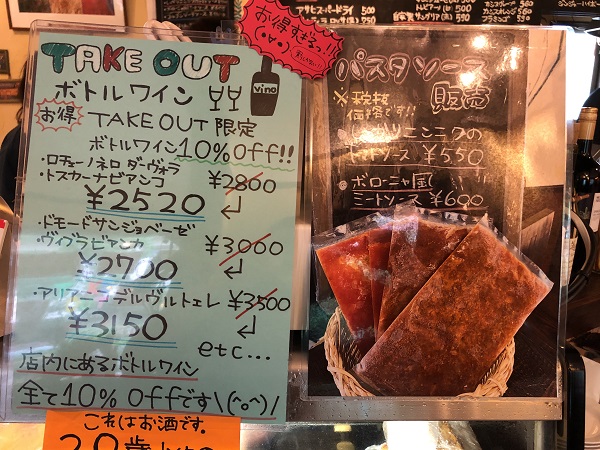 The enterprising Mr. Mochizuki has also bagged his own pasta sauces, tomato with garlic and Bolognese. Customers can purchase the sauces individually or in a set with Italian pasta, which they can then cook up at home.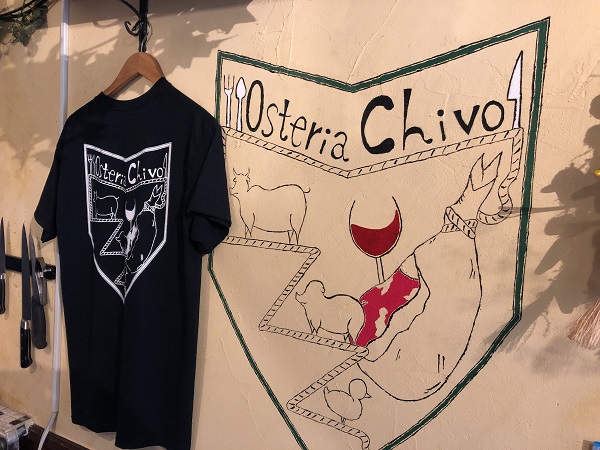 In Italy, an osteria is the most casual and simplest style of restaurant. The atmosphere at Osteria Chivo is very comfortable, the food was delicious and Mr. Mochizuki a most welcoming and enthusiastic host. The staff were also super-friendly and very efficient. If you're in the Minami-sunamachi area and feel an urge for some amazing meat, antipasto and other Italian delights, just head for Osteria Chivo.
Story and photographs by Stephen Spencer