Authentic Thai in Stylish Setting
Published: September 21, 2021
Those fortunate enough to reside in the Kiyosumi-shirakawa area of Koto-ku have yet another reason to be cheerful: the Thai restaurant Makin, serving authentic favourites from the Kingdom of Thailand. We dropped in recently for a chat with manager Ayumi Kinoshita and chef Montree Namket, the happy couple who run the place.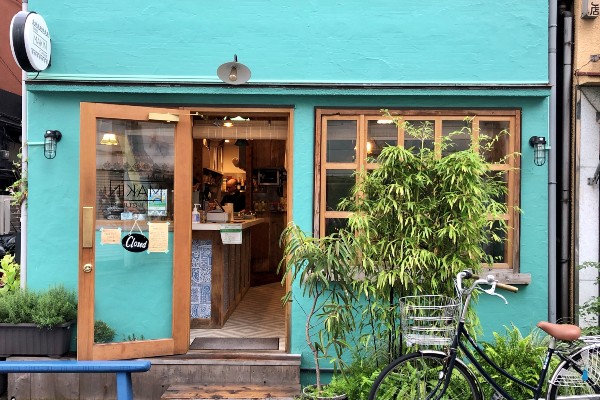 Opened on April 1st 2020, Makin (come eat in Thai) is located just off Kiyosubashi Street some five minutes' walk from Kiyosumi-shirakawa station. Being painted an eye-catching Tiffany Blue certainly makes it impossible to miss!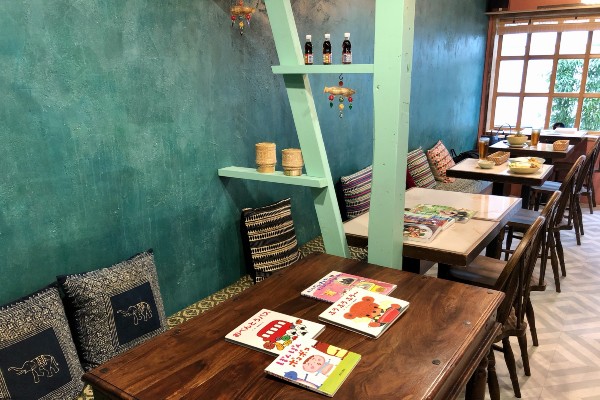 The comfortable, stylish interior was designed by the talented Ms. Kinoshita, who met her future husband Mr. Namket when both were working in the New Zealand town of Wanaka. "I was working in a cafe and he was cooking in a Thai restaurant in the town. We lived there for several years before moving back to Japan in 2018. My former employer has a cafe in Kiyosumi-shirakawa where I found work, while my husband worked in a local Thai restaurant. We decided to open our own place here last year as we wanted to experience running a restaurant in Japan."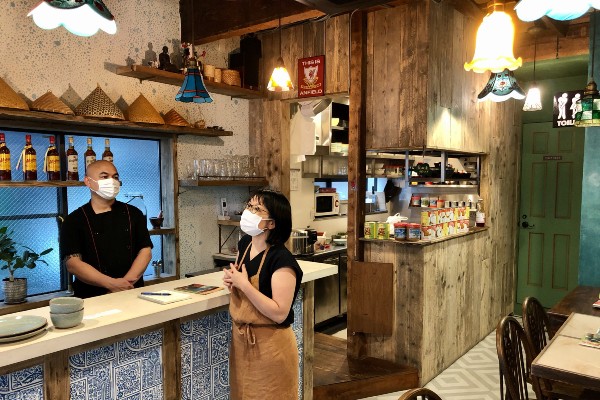 "We found this place, which was a really old house, and completely rebuilt the interior in the spirit of a contemporary cafe in Chiang Mai," said Ms. Kinoshita. It's very comfortable and colourful, with Thai pop music drifting from the speakers. When Mr. Namket starts cooking, the smells wafting from the kitchen set our tastes buds tingling in anticipation.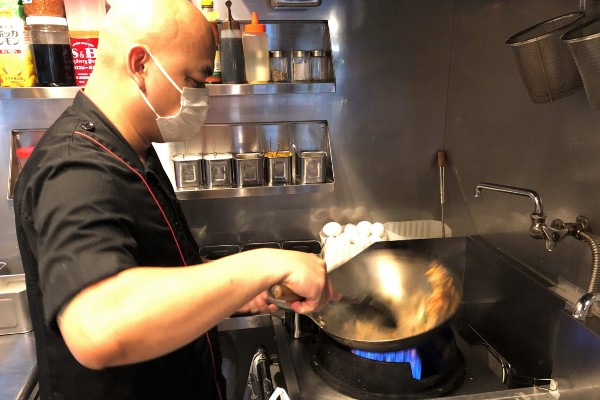 Hailing from the Northeast of Thailand, Mr. Namket learned to cook at a well-known Bangkok restaurant chain before moving to New Zealand at the invitation of a former colleague. "I really liked the laid-back lifestyle of the country," he said, "it's such a comfortable place to live." Makin sources all its meat and vegetables in Japan, but the holy basil, herbs, and seasonings are all imported from Thailand.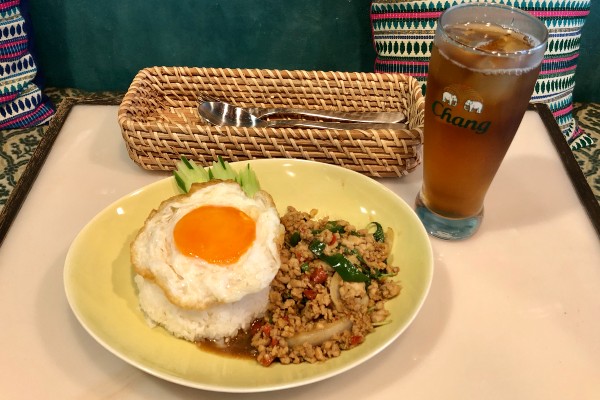 Lifelong Liverpool supporter Mr. Namket showed his 20 years of culinary experience by conjuring this magnificent gapao rice (as pad kra pao gai is known in Japan) in about one minute flat. The most popular dish at Makin, it's served with soup and salad for an incredibly reasonable 1,050 yen! It was wonderful: fragrant, spicy and hot. The jasmine rice was terrific too. The true taste of Thailand made my colleague, who lived in Bangkok for many years, teary-eyed with pleasure.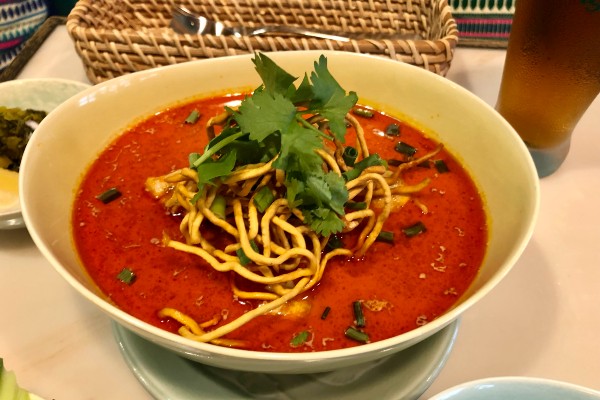 Next on the menu was this striking bowl of khao soi, the famous Chiang Mai dish of chicken in a rich curry soup with both boiled and crispy fried egg noodles. Featuring a vast array of herbs, spices and seasonings, the soup is savoury, deeply flavoured and finished with just a touch of coconut cream. Despite its fiery appearance the soup is relatively mild with a hint of sweetness, while the combination of the textured egg noodles and the crispy topping noodles is marvellous. Another winner! It also comes with a serving of mustard leaf pickles (takana zuke), sliced purple onion and lemon for squeezing.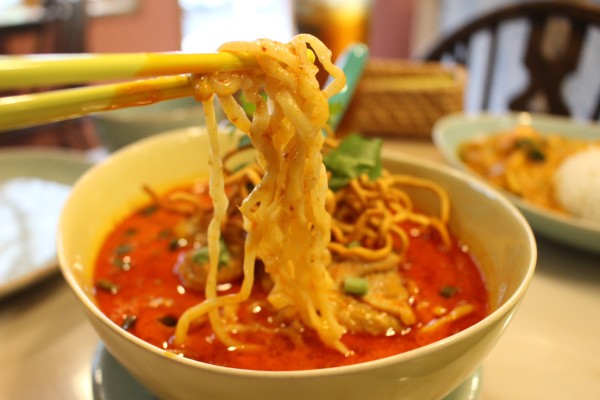 Khao Soi is the Wednesday special at Makin and is great value at 1,000 yen. Friday is khao mun gai (chicken and rice 950 yen), Saturday is kuay teaw nam sai (clear noodles with pork, 950 yen), while Sunday is a Nam-chan Special, which means whatever Mr. Namket feels like making at the time! These daily specials change frequently so the regular customers don't get tired of the menu, as Ms. Kinoshita explained.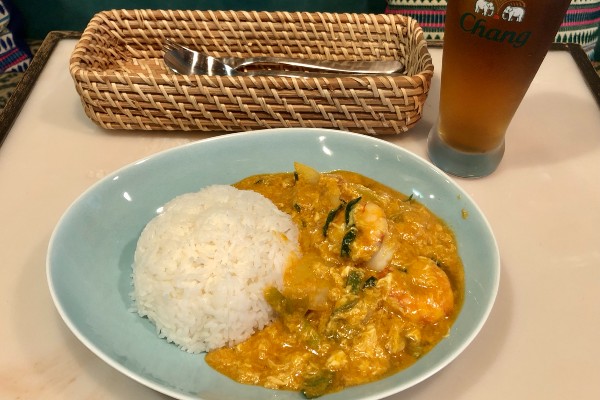 Finally Mr. Namket served a taley pad pong curry, mixed seafood and vegetables in a mild sauce that's cooked with an egg (1,200 yen). This was very tasty too, and mild enough for even the youngest customers to eat. "We have a baby ourselves, so families with young children are very welcome," said Ms. Kinoshita. There's also a large table with picture books for junior customers to read.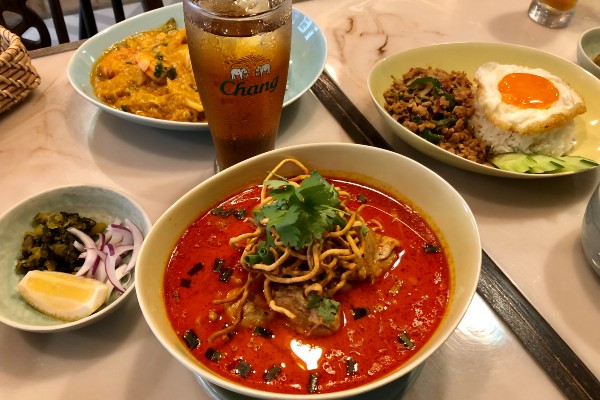 It's a terrific spread, more than enough for 2 people. Makin also has a drinks menu featuring Thai beer (Chang, Singha, Leo), Monsoon Valley wine (red and white), Thai whiskey (Mekhong and Sang Som) and a wide selection of fruit sours and non-alcoholic drinks such as tropical fruit juices and jasmine tea.
Under the current pandemic restrictions alcoholic beverages are prohibited, unfortunately. Hopefully they will be rescinded soon and life can return to normal. Fingers crossed!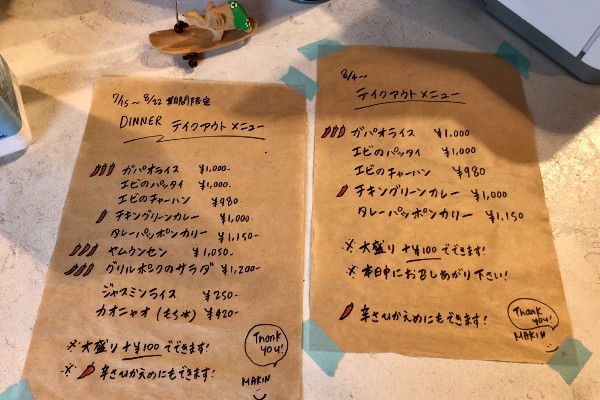 As of the beginning of September 2021, Makin is open only for take outs. Lunch is from 11:00 to 14:00, Wednesday to Sunday, with dinner from 17:00 to 20:00, Thursday to Sunday. The dinner menu is slightly larger but such favourites as gapao rice, pad thai, chicken green curry, taley pad pong curry, and shrimp fried rice are available at both times. Popular Isan dishes from Mr. Namket's home area such as grilled chicken (gai yang), papaya salad (som tum), and minced chicken with chili, mint and basil (larb gai) are also available.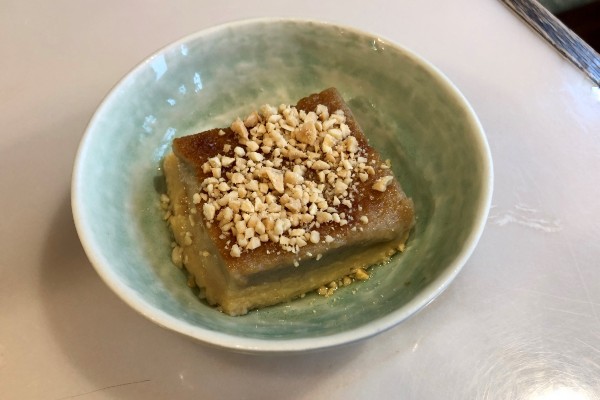 Not only does Makin offer wonderful Thai starters and main courses, it also has desserts, imported directly from the country itself. There's coconut pudding, coconut ice cream and the rare khanom mo kaeng, a baked pudding cake made with taro (500 yen). This was delicious, a cross between a flan and a baked egg custard, flavoured with coconut, nutty and sweet. Which is a good thing after the spicy, strongly flavoured dishes that preceded it!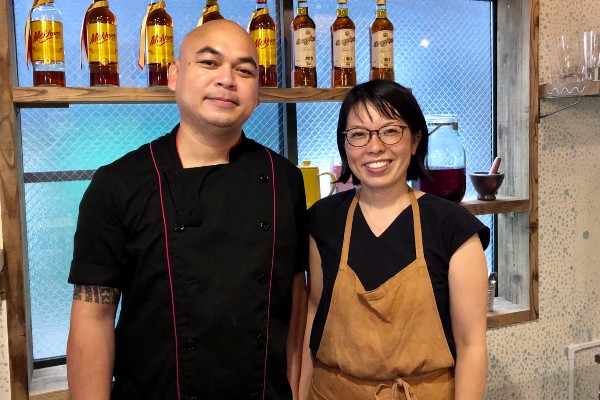 Ms. Kinoshita and Mr. Namket make splendid hosts in a friendly, relaxed "New Zealand-style" as Ms. Kinoshita explained. The food is fantastic and very good value. If you're in the Kiyosumi-shirakawa area and fancy some authentic Thai food that won't break your wallet, then head straight to Makin. Come, eat indeed!
Story and Photos by Stephen Spencer