Best Foot Forward at Ashidoraku
Published: August 21, 2019
※This shop requires a reservation.
Ashidoraku is a made to order insole and footwear specialist company. Founded in the Tokyo area of Machida in 2009, the company now boasts around 20 shops, mainly in the western suburbs of the city. In May 2019 Ashidoraku opened its first shop in Koto Ward, on the approach road to Fukagawa Fudoson Temple near Monzen-nakacho Station. On a recent afternoon we dropped in for a chat with the youthful manager Mr. Yukiya Seita.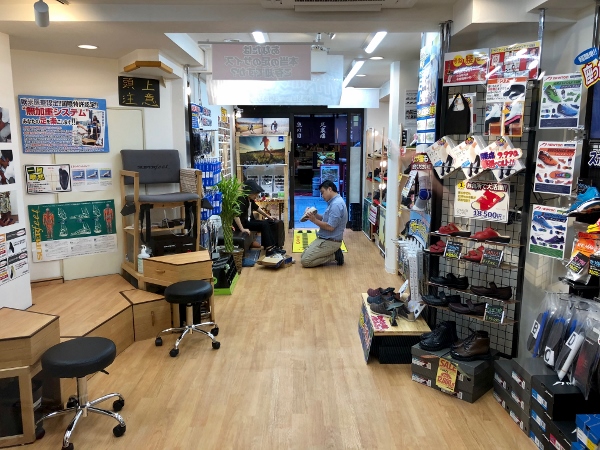 A lifelong volleyball player, Mr. Seita is both eloquent and passionate about feet and footwear. Not just any footwear, but the correct footwear. "Our basic concept is helping people to walk as well as is possible for them. That means identifying foot and shoe problems and giving the best advice possible. Our made to order insoles can be fitted into the customers' own shoes or shoes bought here in the shop," he explains.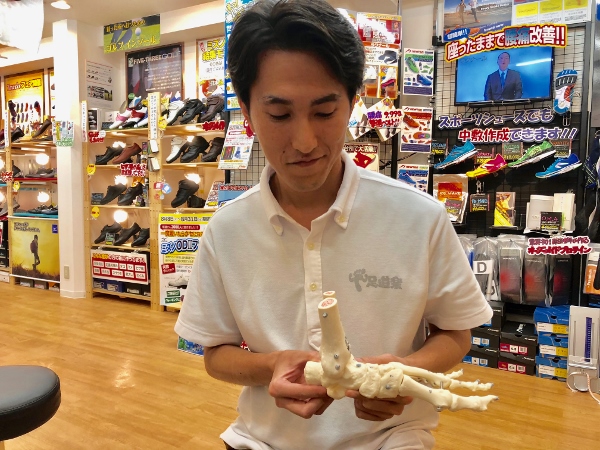 "Most people suffer from various aches and pains in their joints as they get older: knees, lower back, shoulders and neck. They visit the osteopath and doctor for massage or some kind of treatment which does relieve the pain and discomfort temporarily but doesn't address the root cause of those problems. After the initial effects of the treatment wear off, the person is back at square one again. The origin of such physical problems lies in the feet and ankles; just as a house relies on its foundations the feet and ankles are the foundations of our bodies. Problems there are magnified as they travel up the body: twisted ankle joints lead to poor posture which in turn becomes knee problems and lower back pain. We aim to find a solution to the underlying cause of the problem," he says.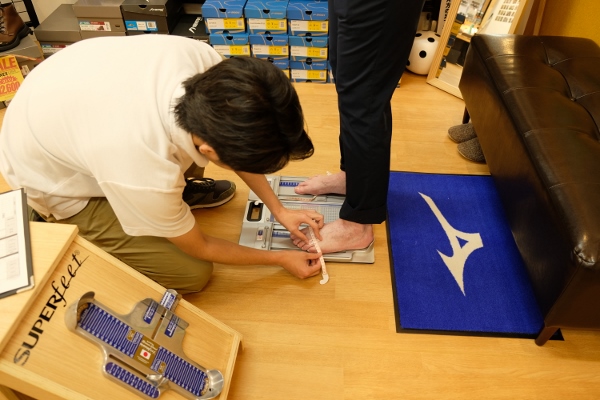 While many conditions may be inherited, the result of injuries or congenital problems, such as overpronation and plantar fasciitis, can be relieved by using insoles and changing your shoes. So, how does the Ashidoraku system work? Firstly, both feet are carefully measured.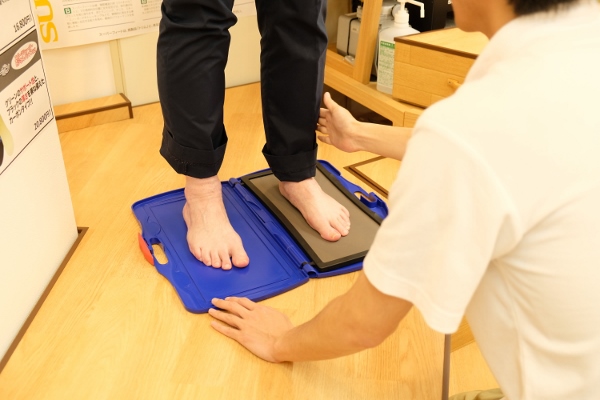 Then the customer steps up onto the raised platform and stands squarely on a soft pad that contains a graph paper. The interior surface is pre-inked and transfers an impression of your body weight distribution from the sole of your foot onto the paper.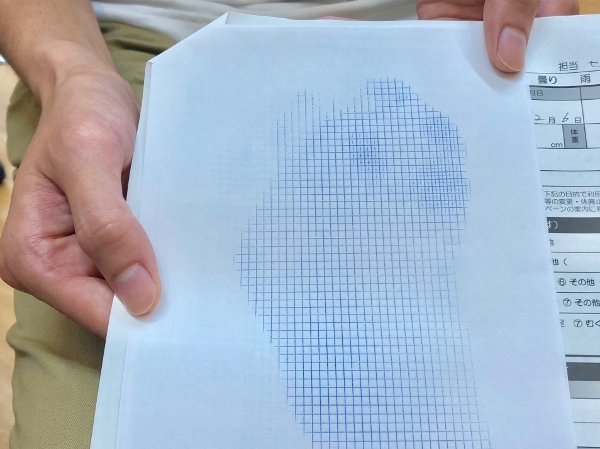 The small squares containing a cross denote higher weight distribution while the broken or missing section on the right shows where the arch is not in contact with the ground. This simple but elegant exercise quickly identifies the problem areas.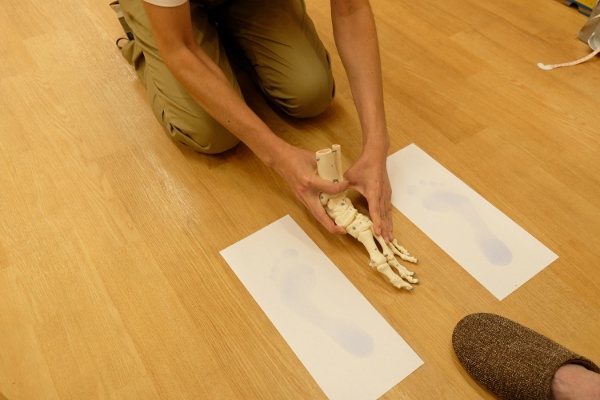 Unfortunately, the results clearly show evidence of pronation. The inner arch areas of both feet are blank, meaning the weight of my body is being carried on the outside of both feet, thus twisting the ankle joints and causing the discomfort I've recently felt.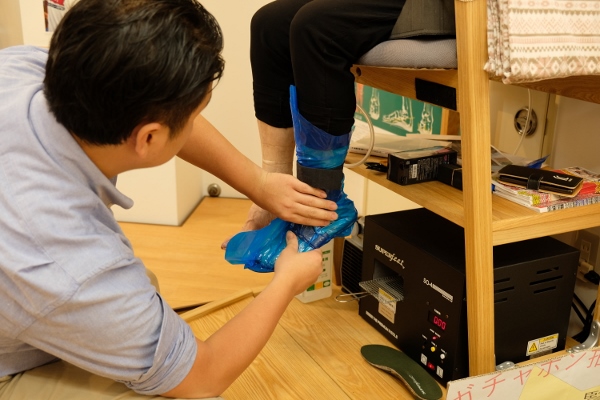 Made to order insoles are one solution to what Mr. Seita identifies as a major contributor to foot problems: incorrect shoes. Individually molded to the customer's feet by a vacuum suction process, they can be slipped into any footwear prior to wearing. Here assistant manager Mr. Masahiro Shiina fits a customer with a pair. All Ashidoraku staff receive extensive in-house training and are highly-qualified.
The customers sit in a raised, comfortable seat with their feet in a neutral, weightless position. The whole process takes just a few minutes and prices are very reasonable.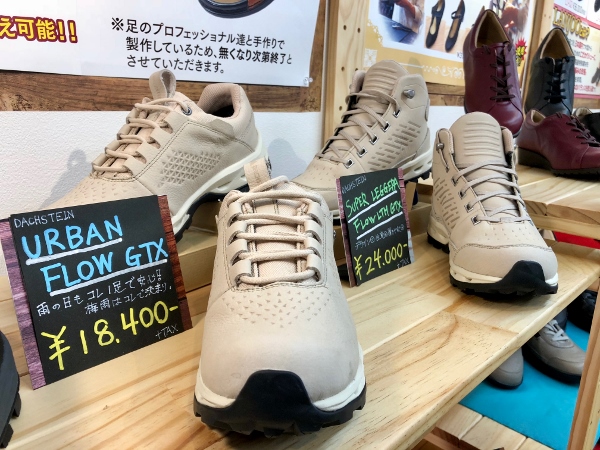 Ashidoraku also offers a wide variety of footwear, both domestic and imported, such as these from the renowned Austrian alpine and outdoor manufacturer Dachstein.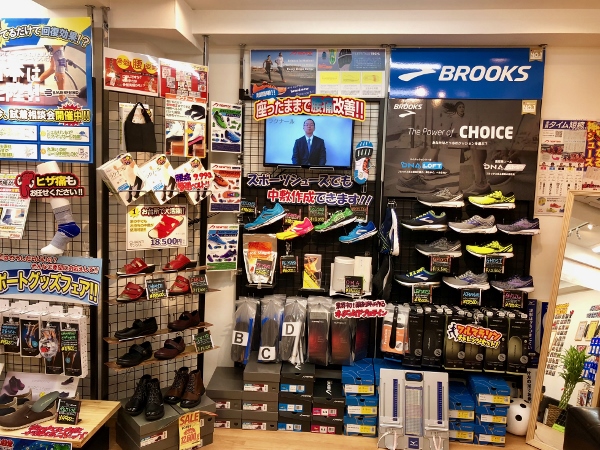 Brooks, the fabled American running shoe specialists are also available.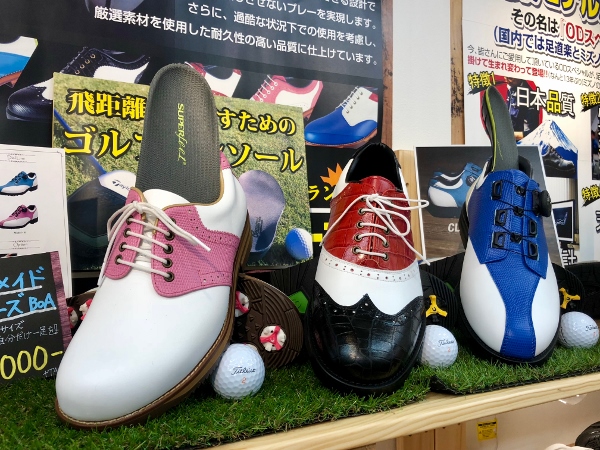 As are customized golf shoes.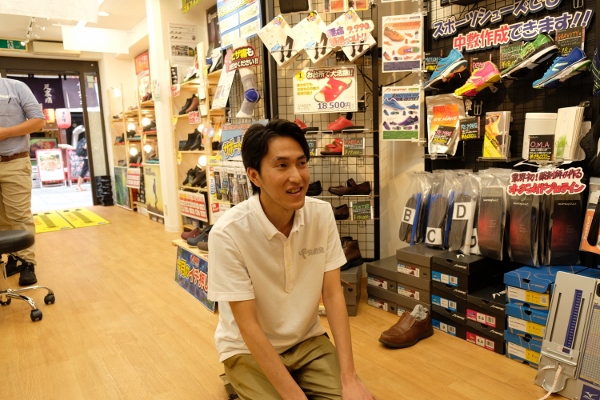 Mr. Seita's explanations are a model of clarity and his advice is straight to the point. "Slip on shoes, especially those with a double gusset on the instep are not good for your feet. The platform sandals that are popular right now and any thick, flat-soled shoes are also not good for the health of your feet. Ankles must be protected to prevent rolling, so high-sided shoes are better. Lace-up shoes or boots that fit your feet and grip tightly at the ankle are the best," he says.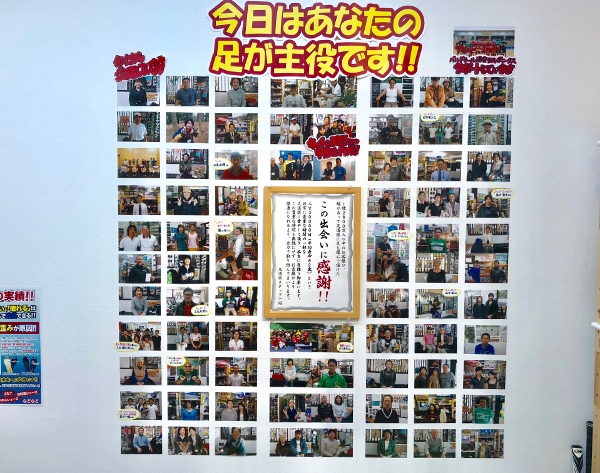 Most of Ashidoraku's customers are seniors in the 60 to 80 age range, who visit from all over Koto-ku and the eastern suburbs. Tokyo is a walking city and one that can be hard on the feet, whatever your age, lifestyle or occupation. It's not only seniors and business people though; professional and top-level athletes also visit Ashidoraku. Many have their photographs included on the shop's visitor gallery wall, including former sumo wrestlers, basketball and tennis players, snowboarders and the current captain of the Japan Rugby team, Michael Leitch. You'll be in good company at Ashidoraku!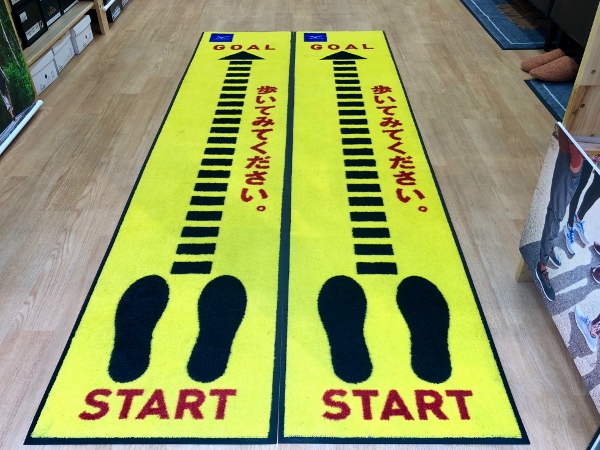 As someone once said, "The longest journey begins with a single step." Make your first step a visit to Ashidoraku and your feet will be eternally thankful!
Story and Photos by Stephen Spencer