Best Foot Forward
Published: September 30, 2021
Shoe Repair Avanti is a brand-new repair shop bringing much-needed relief to Kiyosumi-shirakawa residents suffering from footwear fatigue. On a recent pleasant autumn morning, we dropped in for a chat with proprietor Mr. Tatsuo Yamamoto.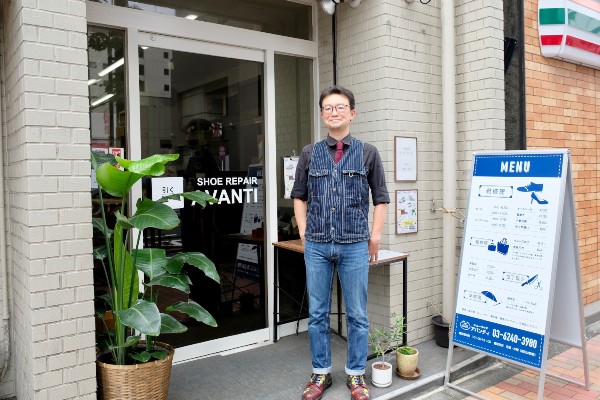 Located just one minute's walk from exit B1 of Kiyosumi-shirakawa station, Avanti opened in July 2021. "I worked at a large repair company for around 20 years before deciding to become independent and open my own business. Since I live down the Tozai Line in Chiba, which was very convenient for my previous job, I was looking for a suitable place along the same line. I couldn't really find anywhere that fitted my precise requirements but this place came up and it turned out to be a much better choice," explained the dapper and friendly Mr. Yamamoto.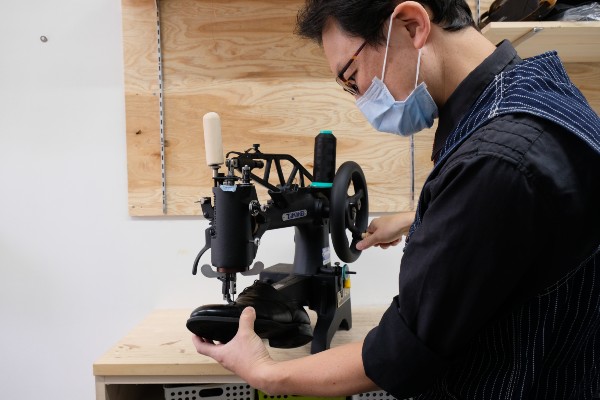 Avanti offers a full range of shoe repairs for both men's and women's shoes. Using the latest technology and a technique honed over 20 years of experience, Mr. Yamamoto will change heels (men's from 2,750 yen, women's from 1,430 yen), half soles (men's from 2,750 yen, women's from 2,200 yen) and full soles from 9,900 yen. Interior repairs are available too, such as repairing the stitching and changing insoles.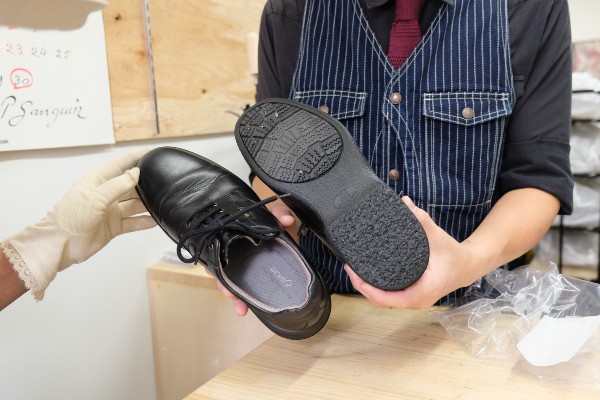 Bizarrely, before Avanti opened this year, there wasn't a repair shop near the station and, as a very satisfied local customer told us when she came to pick up a pair of shoes Mr. Yamamoto had repaired, "Local residents had to walk over to the next station before, which was time-consuming and inconvenient. The quality here is great and the prices are very reasonable. It's a real boon for people who live here."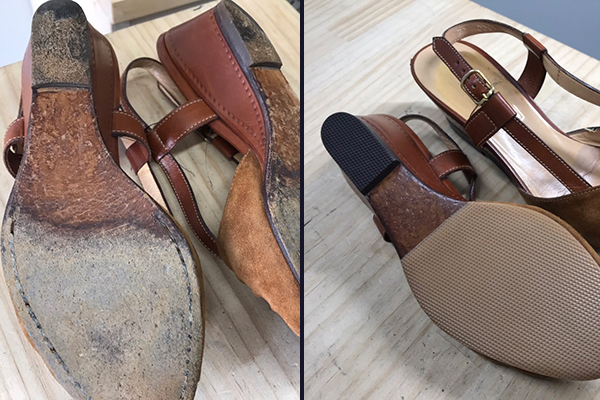 In addition, he can repair the quarter linings, fix frays, and give shoes a professional cleaning. "Generally speaking my customers bring business shoes, formal shoes and walking shoes. Many people want anti-slip grips fitted, especially with the number of heavy rainstorms we have experienced already this summer and autumn."
Immaculately repaired and ready to wear for a long time yet.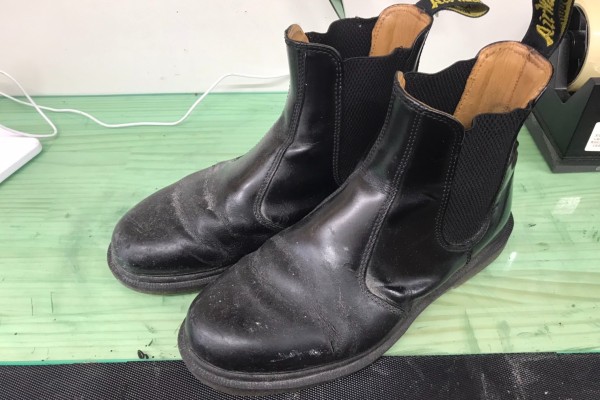 Mr. Yamamoto is a biker, hence the large number of beautifully repaired heavy boots on the Avanti Instagram page. From this…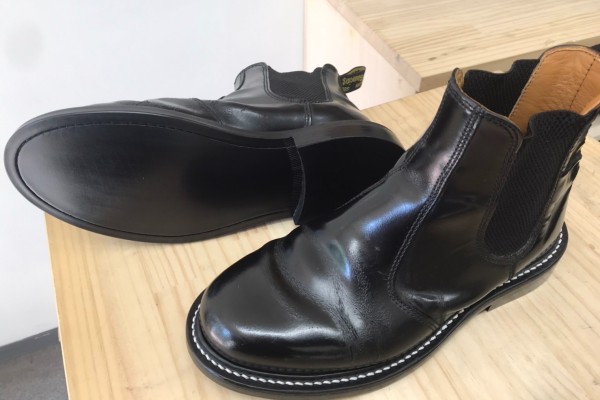 …to this in a few days! We all have favourite shoes or boots we'd like to keep forever!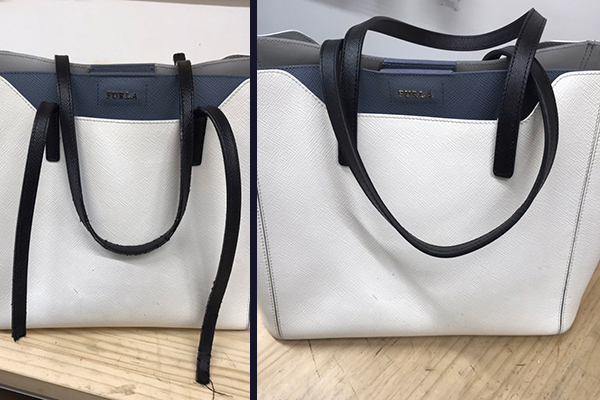 While footwear may occupy the majority of Mr. Yamamoto's working time, he's a wizard with any kind of leather goods. Frayed handles on handbags or briefcases can be replaced (from 3,300 yen) or repaired (from 1,100 yen). He can also alter belts and completely remake bags. The latter is a common request these days as many customers want their once-popular large bags resized to something smaller.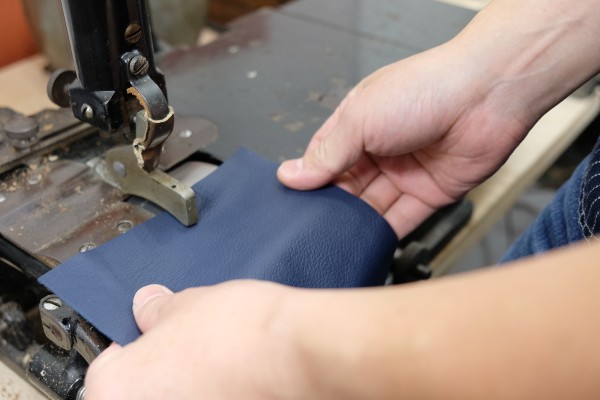 Mr. Yamamoto demonstrated his deft touch on a marvellous antique Nippy skiving machine, used for thinning leather prior to stitching.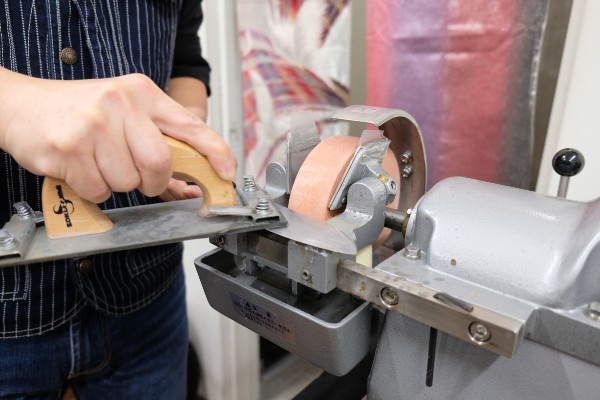 He's also a dab hand at knife-sharpening.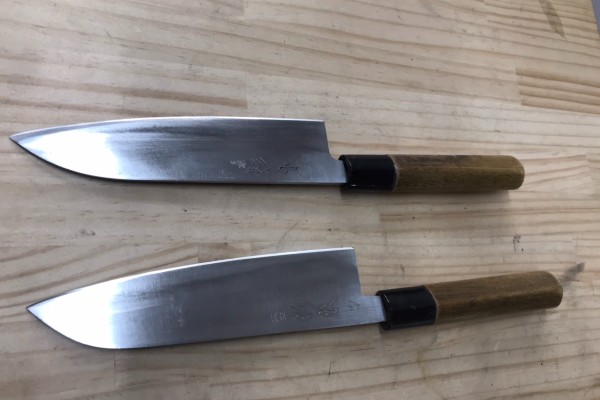 In just a few minutes he can sharpen even the bluntest blade to a razor-sharp finish that would make Hattori Hanzo proud.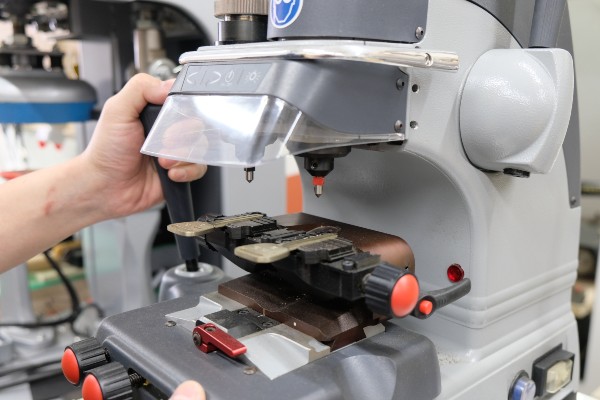 Alongside Avanti's fine collection of interesting machines is a key cutter. House keys are 550 yen for one-sided, 660 yen for double-faced and dimple keys are 3,300 apiece. Just 15 minutes' is all it takes!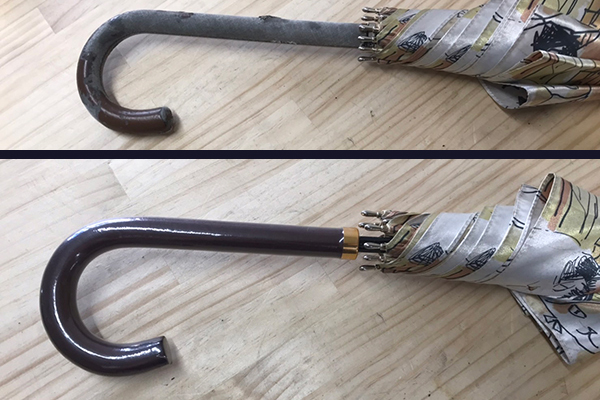 The recent rains had also brought many customers looking to have their heavy duty umbrellas repaired. While smaller folding umbrellas are perfectly fine for most of the year, larger ones are vital for those venturing out in typhoon season.
Prices are again very reasonable: from 440 yen for joint pins and ribs, from 1,320 for handles and from 5,500 yen for the central shaft.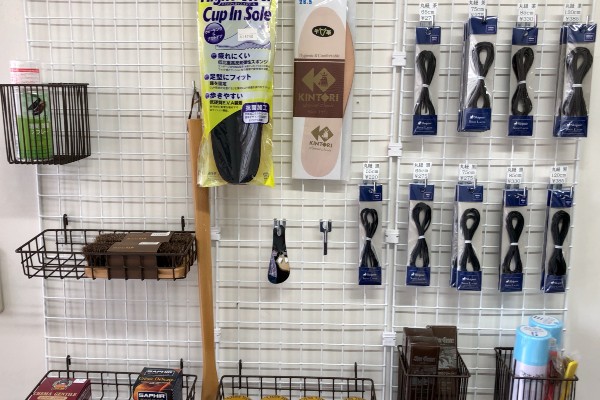 Avanti also stocks a selection of footwear accessories such as laces, brushes, polishes, creams and insoles. As Mr. Yamamoto said, "If you have any questions just bring your shoes in and I'll take a look." He's open at weekends and on public holidays too, a very convenient service. Residents and workers in the Kiyosumi-shirakawa area now have yet another marvellous shop to increase their quality of life!
Story and Photos by Stephen Spencer