If you live in the Morishita area and fancy a taste of France, then head to bistrot EN CACHETTE, a small restaurant located just off Shin-Ohashi-dori Avenue, between Morishita and Kikukawa Stations.
This small restaurant, with its kitchen running along one wall behind a counter, allows you to sit and enjoy the aromas of the food as it is being prepared. The bistro's clientele generally comprises local residents, many of whom are regulars and enjoy the food and the atmosphere.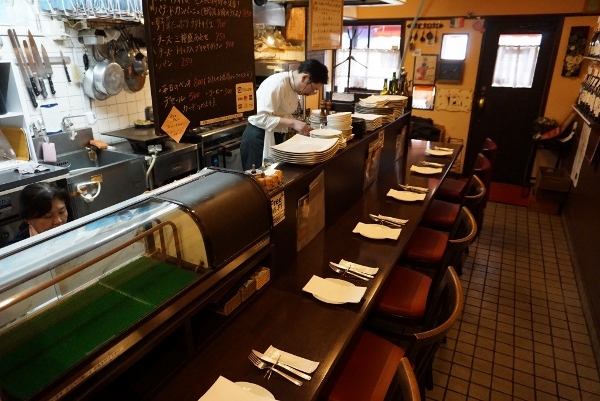 Besides the eight seats at the counter, there is a large table at the rear of the restaurant which seats a further seven or eight customers. The place is cosy and gives off a feeling of intimacy and relaxation. In the background, French chansons and pops play softly, contributing to the ambience created by the owners, Mr. Hideya and Mrs. Kumiko Tomonaga. Mr. Tomonaga's aim in life is to serve delicious French cooking that goes with French wine. His interest in French culture stemmed from his childhood, when his father introduced him to chansons and French films, and culminated in him and his wife opening bistrot EN CACHETTE in December, 2010.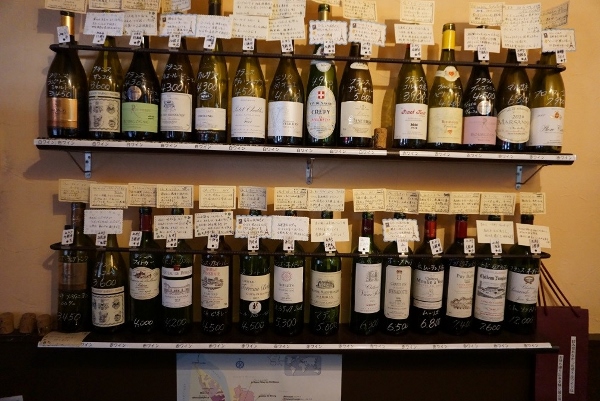 Mr. Tomonaga is definitely a Francophile and this is certainly a place for lovers of French wine. His wine selection is devoted to French labels, which he loves and knows well; and rather than just presenting his diners with a list of the wines in stock, he has two shelves lined with bottles of white and red so that customers can study the labels and read the short explanatory guides attached before making their selection.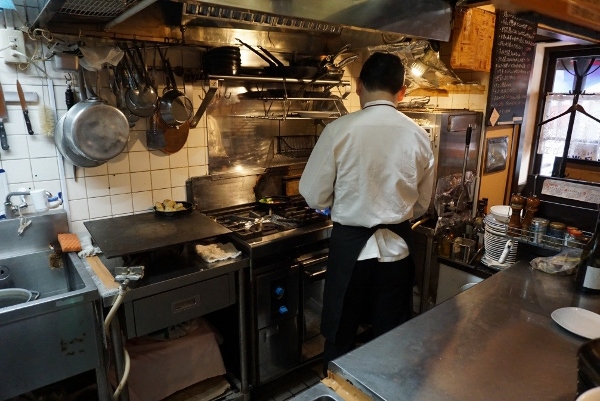 Prices average between 4,000 yen and 5,000 yen per bottle, but those for whom a bottle may be a little too much can order by the glass from a choice of two white wines and two red wines.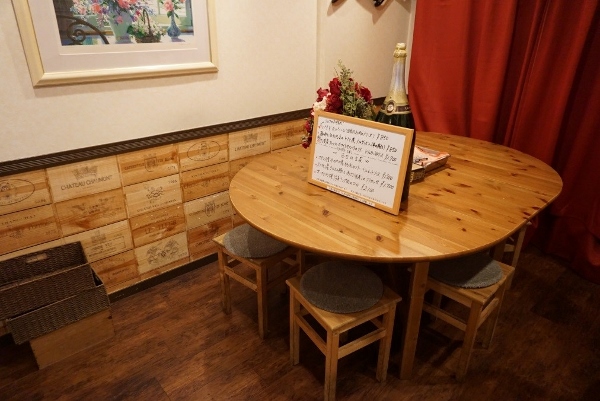 I noticed, hanging by the entrance, a framed sommelier's knife. This is a prized possession of Mr. Tomonaga, which saw much service uncorking wine bottles until the corkscrew snapped.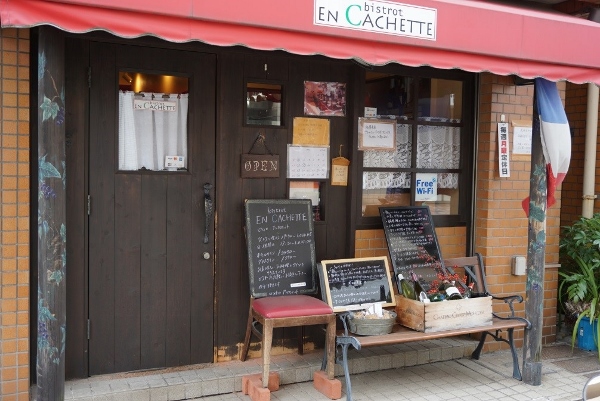 As Mr. Tomonaga says, his à la carte menu is based on dishes which he believes go well with the wine, and he happily discusses preferences with customers. The menu is changed periodically and reflects seasonal influences; at present, white asparagus features on the menu, whilst in autumn there are game dishes such as Ezoshika (Yezo Deer) to be had.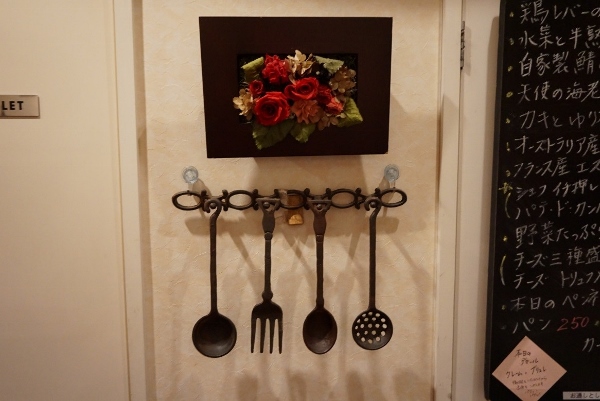 I was shown two typical dishes from the evening's menu. The first was a fricassee made of Teruel pork, accompanied by clams, broccoli, tomatoes, Italian parsley and mushrooms (1,700 yen). It looked attractive and smelled divine!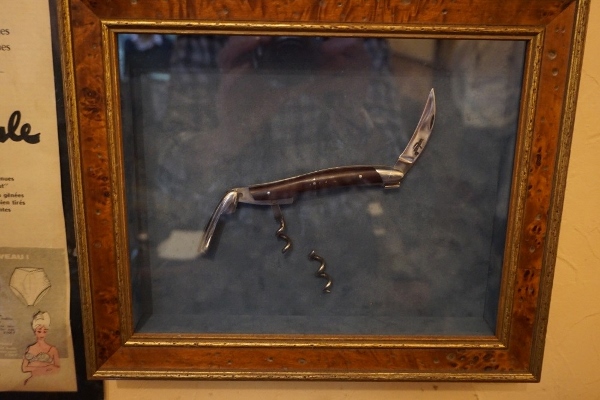 Secondly came the chef's recommendation: a large appetising plate of pâté de campagne, created from pork meat with pork and chicken livers (850 yen). This was served on a striking French-manufactured black and white plate dating back 100 years (I would have been worried about it getting broken).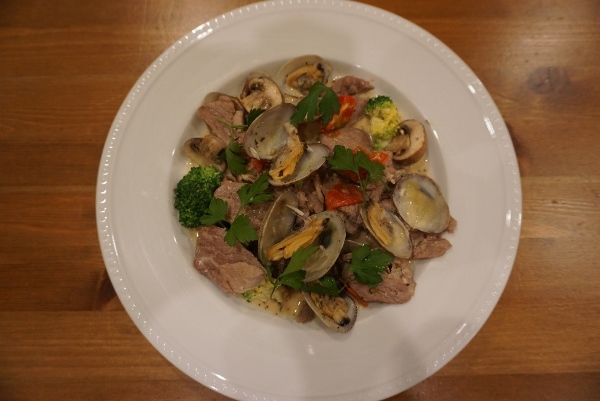 After seeing these two dishes, I was regretting that I had called in on the bistro in the afternoon and not the evening (the restaurant opens from 5:30 p.m.), when I could have enjoyed a meal with a glass of Pinot Noir.
If you are thinking of coming to bistrot EN CACHETTE, it is wise to make a reservation; and if, instead of à la carte, you prefer to try a set course costing 5,000 yen, please book 3 days in advance to allow the Tomonagas time to design and prepare it for you.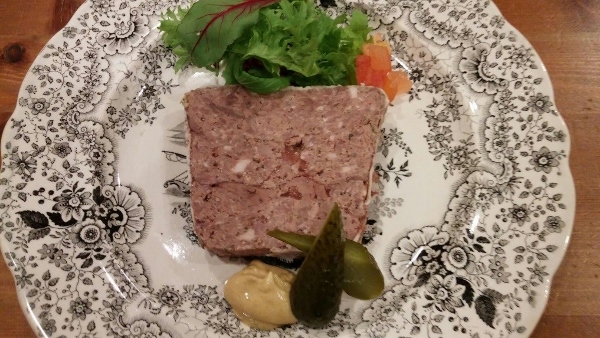 Mr. Tomonaga's motto is for his customers to spend a pleasant time at bistrot EN CACHETTE, enjoying the taste of French wine and food. Judging from the time I spent with them, he and his wife certainly seem to do their best to put this sentiment into practice. Oh, and just in case you were wondering: "en cachette" means "a hideaway" or "in secret".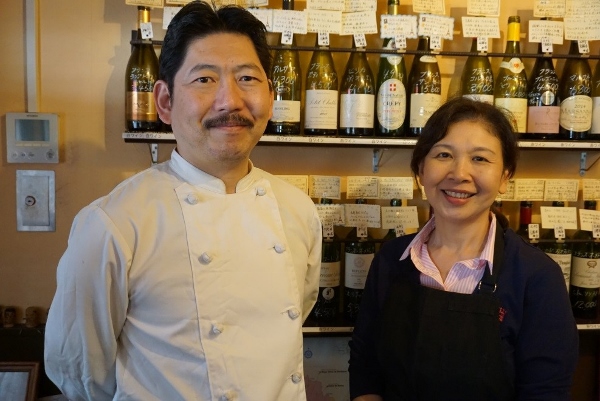 Story and Photos by Jeremy Hutchinson