Roughly translating to King's Hideaway or King's Hideout, O-sama no Kakurega is a bakery and bread shop tucked away on the bank of the Yokojikken River on Kuramaebashi Street, midway between Kinshicho and Kameido stations in the north-west of Koto-ku. On a recent sweltering early summer's morning, we dropped in for a chat with the proprietor Ms. Satoko Zenitani.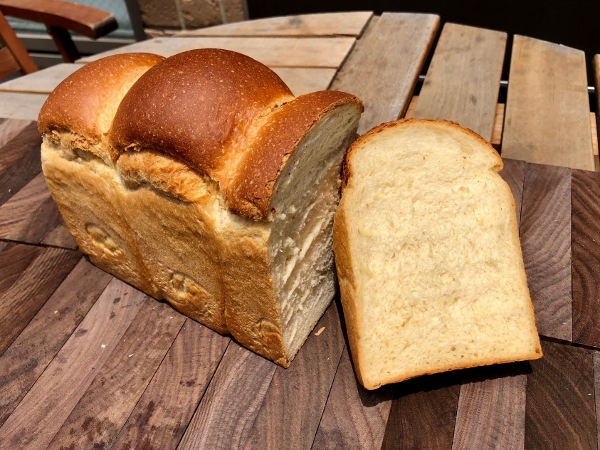 Located just behind the Tenjinbashi police box, the bakery rejoices in the remarkable name of Gorone no Kuni no Pan Kobo: O-sama no Kakurega, which may well be the longest name of any bakery in the world. What's it all about, Ms. Zenitani? "Well, Gorone no Kuni (roughly, Land of Lazing Around) is a cafe and space run by an Incorporated Association I founded for mothers with young children. It's just over the bridge in Sumida Ward. All the staff are qualified registered nurses, public health nurses, midwives, or nursery school teachers. We wanted to offer baked goods at the cafe and were fortunate to find this space, which had just been vacated by a butcher, and was fully equipped. We just walked straight in," she explained.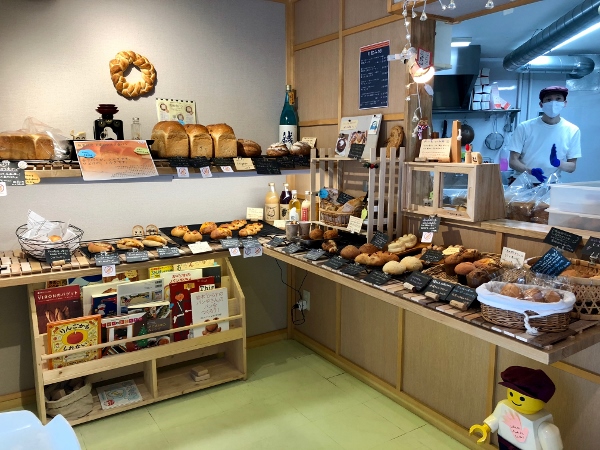 "The butcher had made hamburgers, hence the ovens were already in place. We began baking here on May 8th 2019 and our products proved to be so popular at the cafe that a customer suggested we open as a shop. We reworked this space here for sales and had just opened when the corona virus struck. We re-opened on June 1st." With social distancing still enforced, a steady stream of customers waited patiently in line outside for their turn in the shop.
"We make around 50 different kinds of bread and baked goods," said Ms. Zenitani, "with the top seller being the O-sama Chigiri (King's Tearing) loaf. The idea is that instead of slicing it customers can tear off chunks of bread and eat it by hand." The loaf looks very appealing and is reasonably priced at 500 yen. Reservations can be made for all bread at O-sama no Kakurega by using Line, email, or telephone.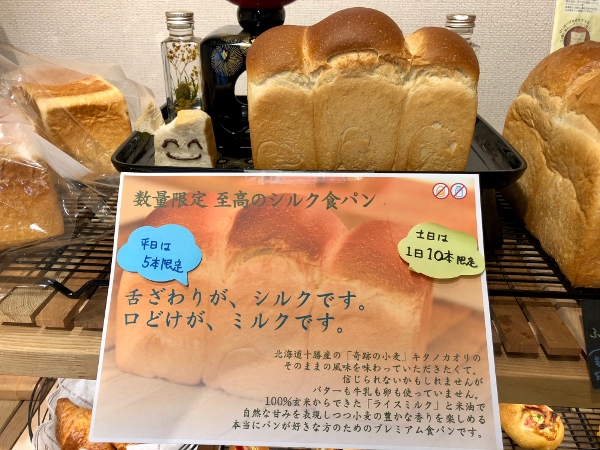 The second-best seller is the Silk bread. While it may resemble a loaf of standard bread, nothing could be further from the truth; these Silk loaves contain no butter, eggs, or milk. Instead, a wheat from Tokachi in Hokkaido, known as the "wonder wheat" is used, in conjunction with 100% brown rice milk and rice-bran oil. This mixture produces a loaf of surpassing softness and delicacy of flavour. It's a little more expensive at 640 yen plus tax. Only five are made on weekdays and ten at weekends; all sell out immediately, so a reservation is definitely recommended.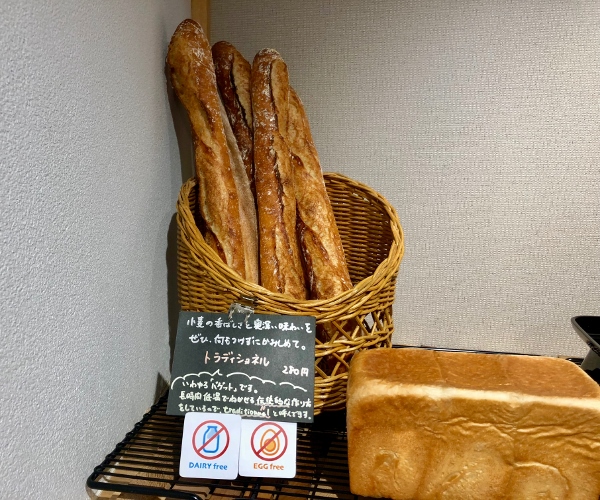 The baguettes at O-sama are made in the classic "traditionnelle" style with only flour, leavening, water, and salt. Freshly-made every morning, they are a snip at 280 yen each, and very popular with the foreign community in the area. For those with allergies, all the bread at O-sama is clearly marked egg or dairy free. If in doubt, please ask the staff.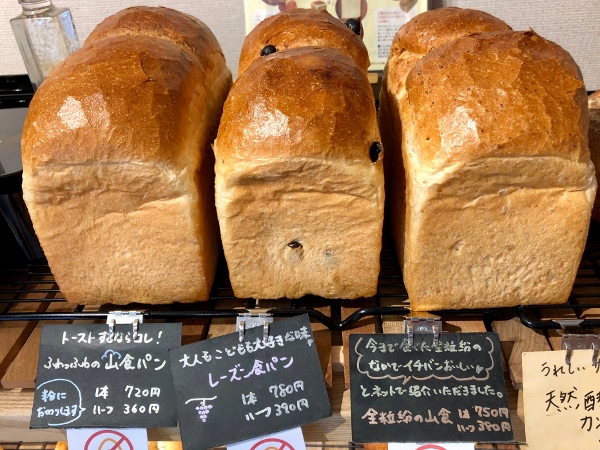 The bakers show off their skill with this trio of loaves. From left: the regular white loaf, ideal for toasting, is 720 yen whole or 360 for a half, in the centre the raisin loaf is 780 whole or 390 for a half and on the right the whole wheat loaf is 750 whole or 380 for a half. The smell of freshly baking bread was wonderful.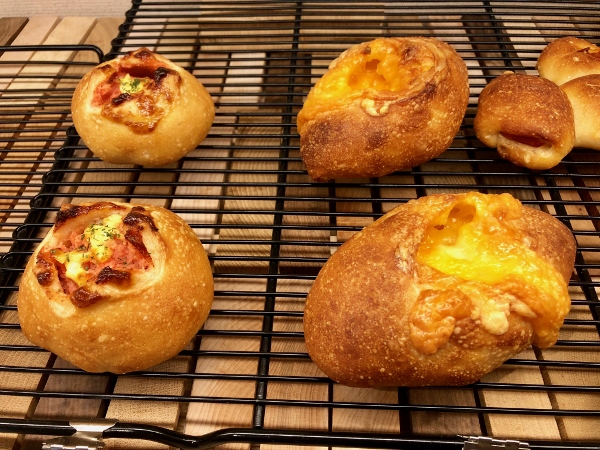 The most popular of the savoury baked items is the pollack roe (mentaiko) and mashed potato on the left here. Baked in a ball of baguette dough, the fluffy mash contrasts beautifully with the crispy exterior. At 230 yen, a real bargain. The double cheese on the right just melts in the mouth and costs 220 yen.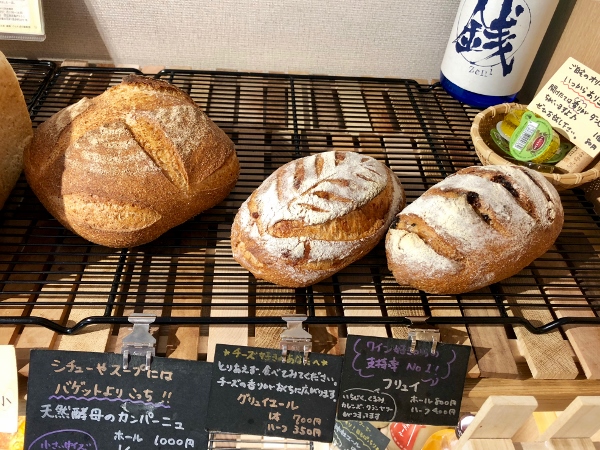 From the left here is a campagne style sourdough loaf made using a homemade leavening agent, recommended for eating with soups and stews. Wholes are 1,000 yen, halves are 500 and quarters 250 yen, a great idea for those wanting some freshly baked bread with their lunch or dinner. The middle loaf is flavoured with Gruyere cheese and costs 700 whole or 350 for a half. On the right is a mixed dried fruit and nut loaf, 800 whole or 400 for a half. All very appealing!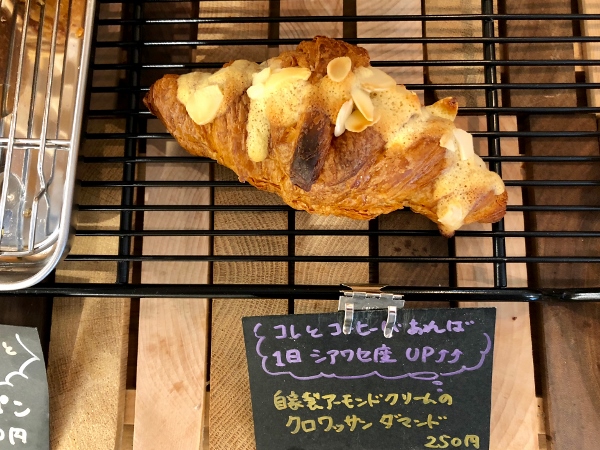 It's not all savoury though. These almond croissants are cooked, sliced and stuffed with homemade almond cream then topped with fresh almonds. "Very sweet," says Ms. Zenitani with a grin.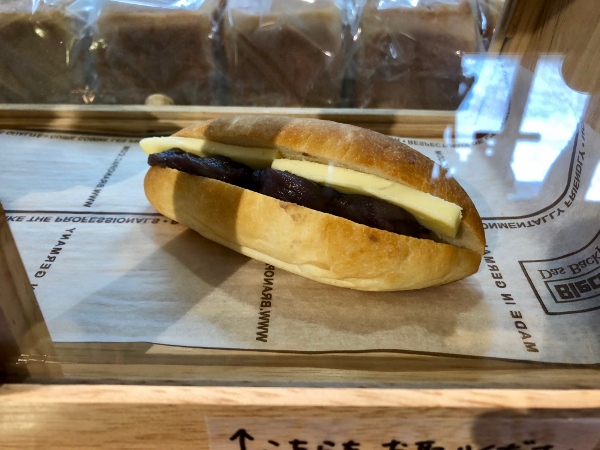 Equally popular are these hot dog buns (koppe pan) with azuki bean paste and fresh butter.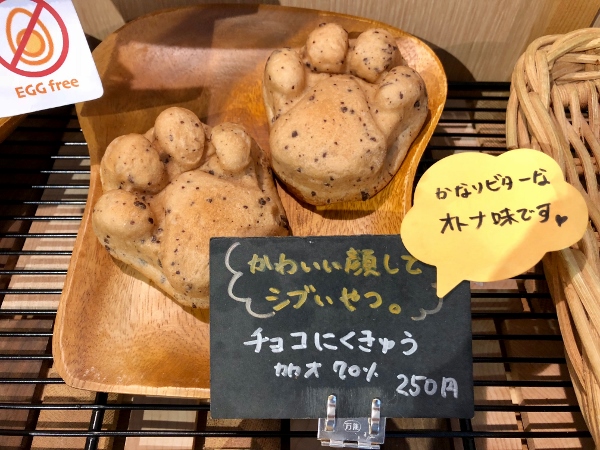 These lion paws are stuffed with a 70% cacao chocolate cream; a fairly bitter "grown up" taste and very reasonable at 250 yen apiece. A nursery school boy we spoke to said he liked the melon buns best, while his mother said he showed no interest in cream buns until he ate the ones at O-sama, which were the only ones he would eat now.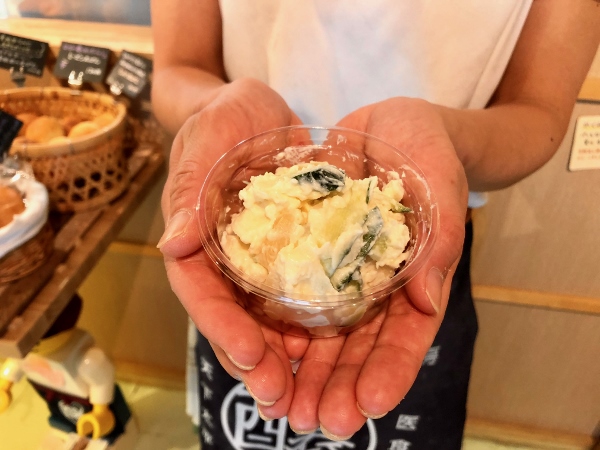 It's not only bread. The staff at O-sama no Kakurega also make potato salad!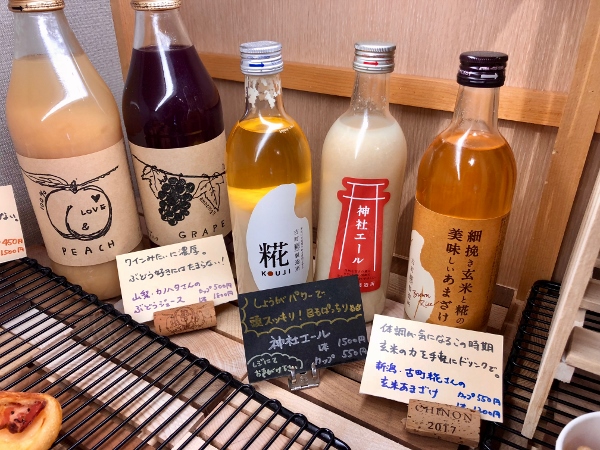 There's a small selection of 100% fruit juices including peach from Yamanashi Prefecture and a grape juice so fruity it tastes like wine. On the right are three varieties of amazake, the sweet, low-alcohol fermented rice drink that has seen a boom in recent years for its healthful properties. In the centre, with the red label, is the charmingly-named Jinja Ale which contains ginger as was the norm for amazake in the past. Produced in Japan's renowned rice-growing heartland of Niigata, a bottle of Jinja Ale is 1500 yen, while customers can enjoy a cup for 550 yen.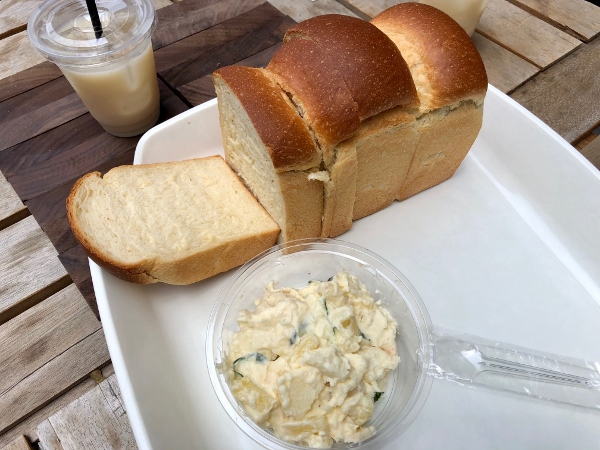 Overcome by the smells and sights of freshly-baked bread we treated ourselves to a small picnic of Silk bread, Jinja Ale and potato salad. The aptly named bread was indeed exceptionally smooth, soft and seemed to just melt on the tongue. It's astonishing that a bread so flavourful could contain no dairy products at all. The potato salad, which contained chunks of apple and pineapple as well as cucumber was deliciously creamy, while the Jinja Ale was certainly gingery but without a strong aftertaste on the tongue. Very refreshing indeed.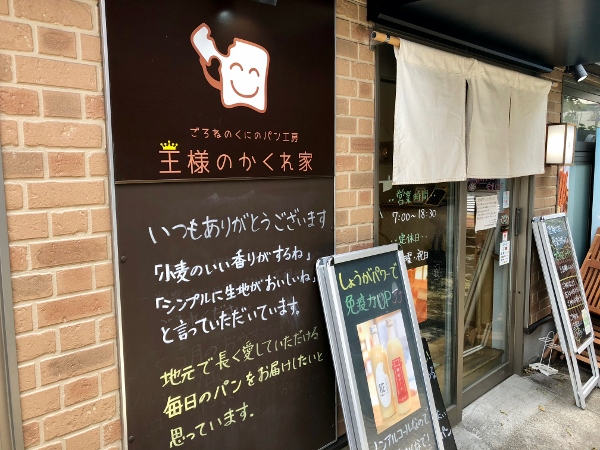 The Kuramaebashi Street area north of Kameido station is home to a host of interesting places to visit: the Katori Kachiun shopping street, Kameido Tenjin Shrine, the Okiya rice cracker shop, the Hobby Off shop and the venerable Funabashiya, purveyor of anmitsu and kuzumochi for over 200 years. To that all-star lineup we can now add O-sama no Kakurega, a hideaway that won't remain hidden for much longer. Bon appetit!
Story and photographs by Stephen Spencer