British Antique-themed dining bar hiding in Sunamachi Ginza
Published: December 23, 2022
Look for the three Bay Windows above a shoe store on the south side of the Sunamachi Ginza shopping street. Turn into the narrow side street and go into the doorway on the right. Go up to the second floor to enter this quaint, British style bar/restaurant with the wrought iron and stained glass windows. It was two weeks before Christmas, so the shop was decorated to the hilt with lights, ornaments, tinsel, and Christmas trees.
The style and decoration of the restaurant reflect Chef Imaniwa's love for antique English style and accoutrements. The interior of the restaurant is decorated with antique furniture and goods from England.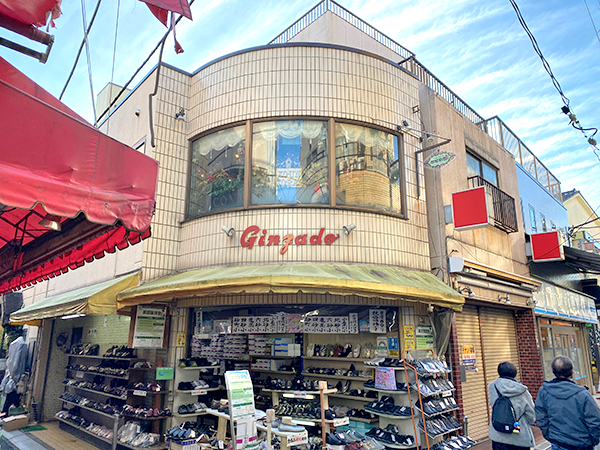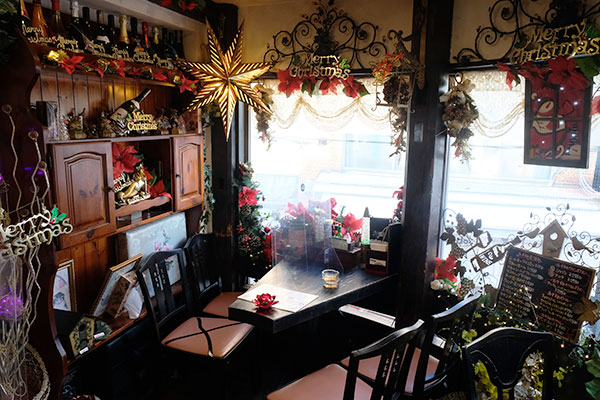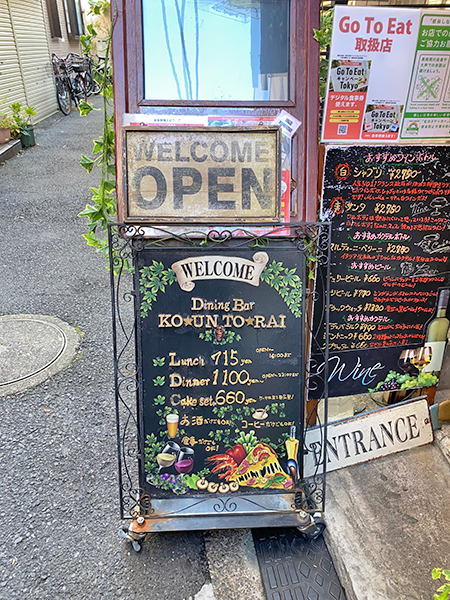 The menu features more than 450 dishes, desserts, and drinks, all of which are the pride of the owner, Ms. Imaniwa. The drink menu has both alcoholic and Alcohol-Free choices.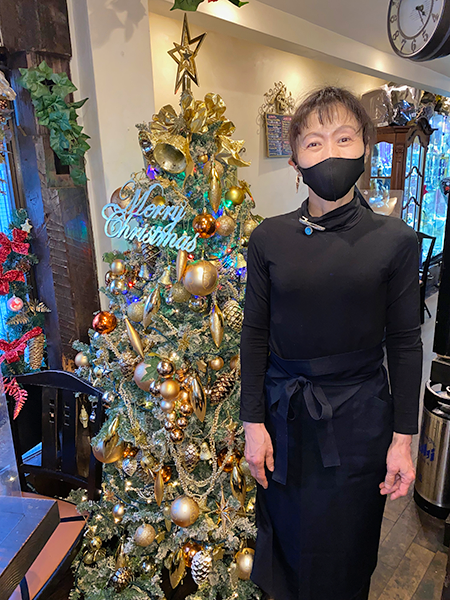 Ms. Imaniwa, the charming chef/owner.
There are several main dishes to choose from, but the most popular is the Braised Hamburger Steak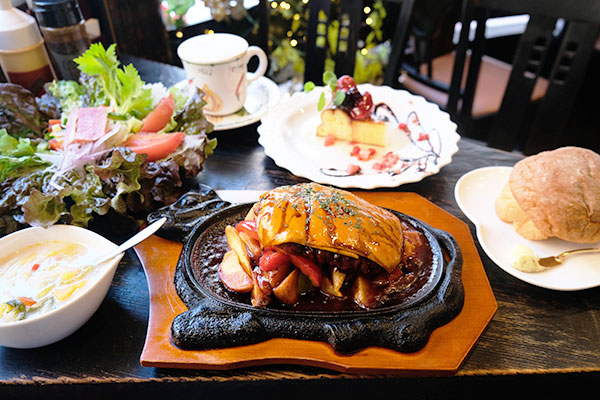 This set is popular among women. Special set price 1, 650 yen.
The set includes your choice of main dish, a fresh vegetable salad, soup, homemade bread made from rice, cake, and a drink for this price! A downtown price only Sunamachi-Ginza can offer! You can order any time during business hours.
The spicy homemade sauce is made with plenty of red wine and "ethnic" ingredients. This is the key to the deep flavor. The hamburger steak is cooked with vegetables such as bell peppers and fried potato wedges, and topped with cheddar cheese. We also recommend dipping the bread in the sauce. The price for the Hamburger Steak a la carte is 800 yen.
For dessert, you can choose from a total of six other cake varieties, including gateau chocolat, mixed berry meringue cake, and tarts.
The homemade cakes served with the set are very popular. This is the "New York Baked Cheesecake."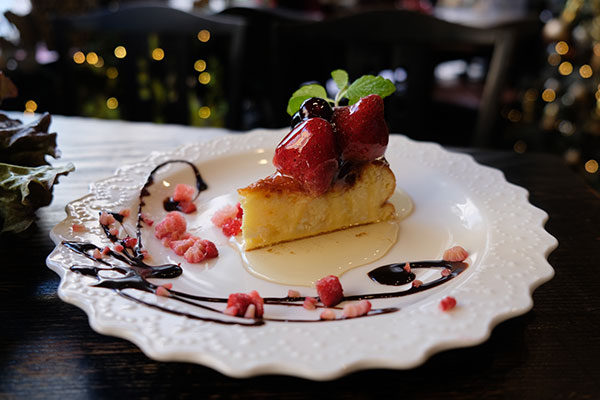 The homemade bread is made from cooked rice, so it has a sticky texture. It is popular for being delicious and filling.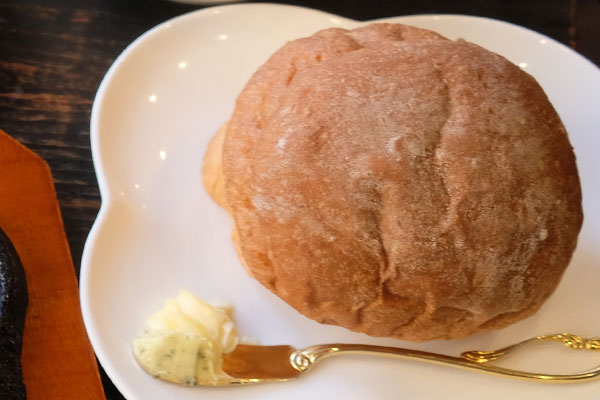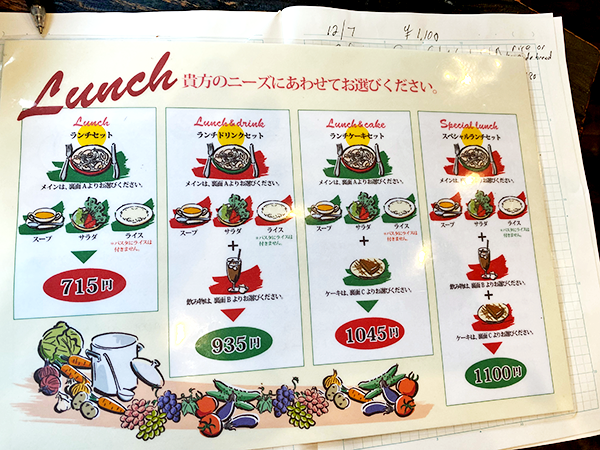 Lunch time limited sets range from 715 yen to 1,100 yen.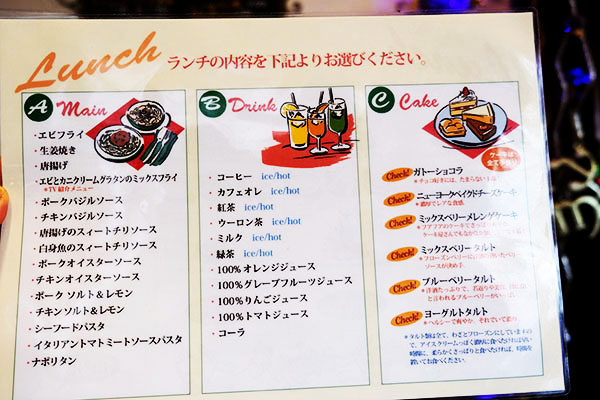 The menu is expansive, so you will never run out of new choices.
In addition to rice or bread, each set comes with a vegetable salad and soup, just like the special set, so you can stick to your New Year's Resolution to eat healthier.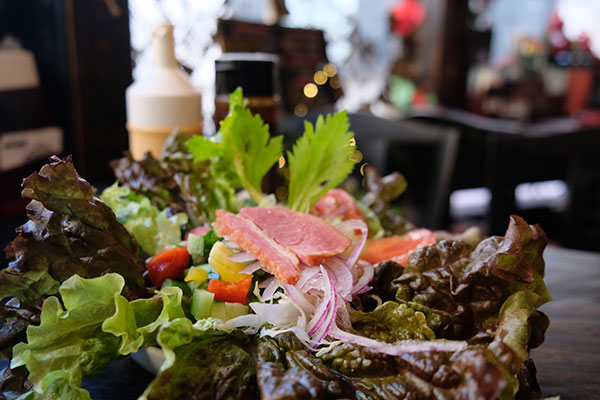 Antique goods on display and for sale
Old English sundries and tableware collected by Ms. Imaniwa as a hobby are also displayed in a glass showcase near the entrance and are well worth a visit!
The shop also sells directly imported antique and replica items.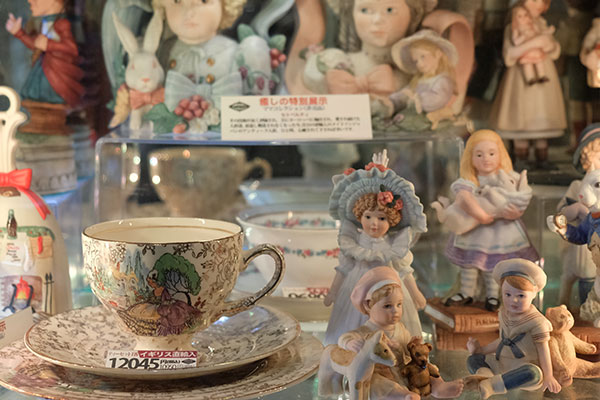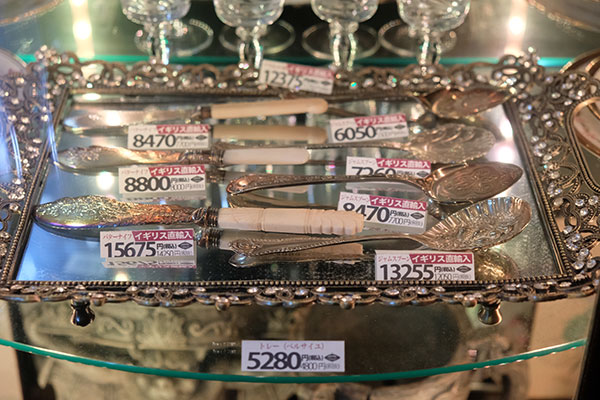 My experience at Ko Un To Rai-the shop was decorated with every conceivable Christmas ornament, but that gave me a bit of anxiety. I am tall and stout, which caused me to worry about breaking or knocking something over with every movement of my body.
Food-wise, I found that while the Hamburg Steak was tasty, the cheese on top wasn't melted and the thick slices of red and yellow bell pepper were not only raw, but barely warm. The sauce on it is described as "ethnic", which has become one of the popular catch-all phrases to describe non-Japanese foods, but is without clear meaning. South American?, African?, South Asian? I don't know. I would much prefer that the chef would focus more on the ACTUAL names of the spices and ingredients used in the sauce and mention those in the menu descriptions. I would like to dine there again and try some of the other menu items to get a better perspective on what the restaurant offers, (but after the Christmas decorations are put away.)
by Jerry Brady