The "Pawfect" Café for Pup-Lovers!
Published: August 24, 2018
Follow the Paw Prints…
In a quiet Kameido neighbourhood, a little ways away from the hustle and bustle of the station, Café Musubi pops out of the sleepy little street for its white walls adorned with black paw prints, and friendly atmosphere.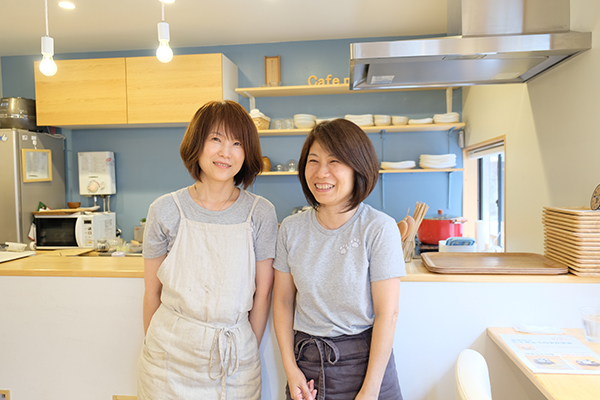 "So many people told me not to open a business here. It's so quiet," admits Ms. Ehara, who started the café with her sister in March of 2017. "But I took a risk, and it's been worth it."
A Welcoming Space for Pups and Owners
By far the most noticeable thing about Café Musubi is the presence of dogs: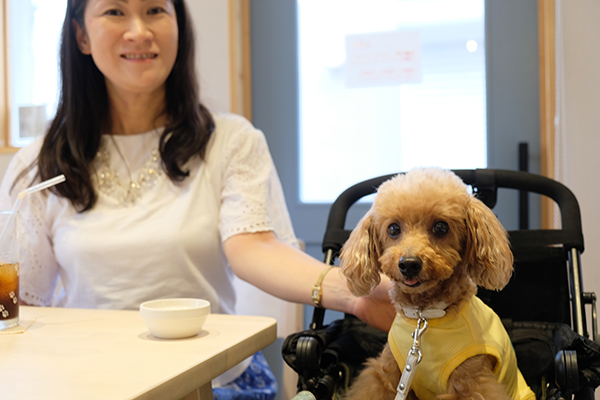 Dogs sitting down for a meal with their owners!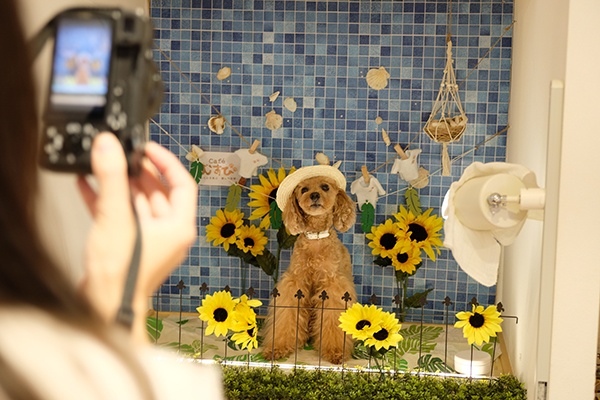 Dogs posing in the photo corner!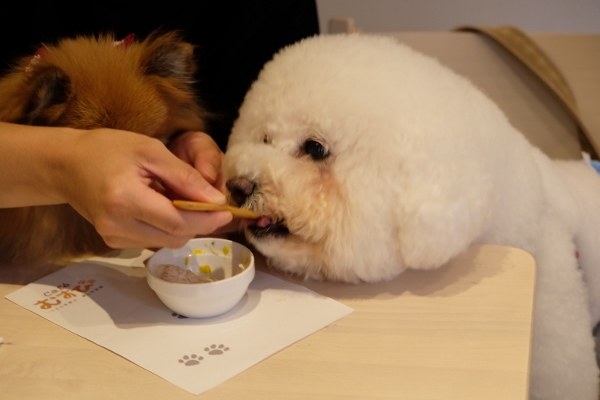 Dogs enjoying a healthy snack!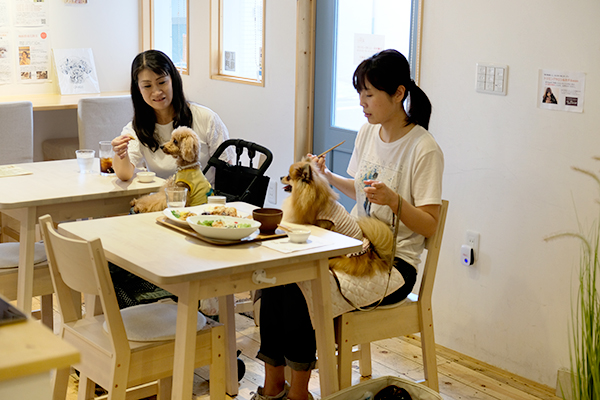 Ms. Ehara, seeking to provide a place where people and their pups could connect with each other, deliberately created a café that dogs are welcome to enjoy. No longer relegated to waiting outside, part of Café Musubi's success can certainly be attributed to the rarity and need for such an establishment. Customers can bond over their shared love of dogs, while their beloved pets are also given opportunity to interact.
Hearty, Healthy, Customizable Food!
As for the menu, there is one particular point on which Ms. Ehara stands firm: "All of our rice is genmai-kouso!" she declared with a smile.
"Genmai-kouso" is germinated and fermented brown rice. Taste-wise, it's more savoury than white rice, and it has a wonderful texture that's a little bit sticky (a sensation often described as "mochi-mochi"). Nutritionally speaking, it is a superfood goldmine.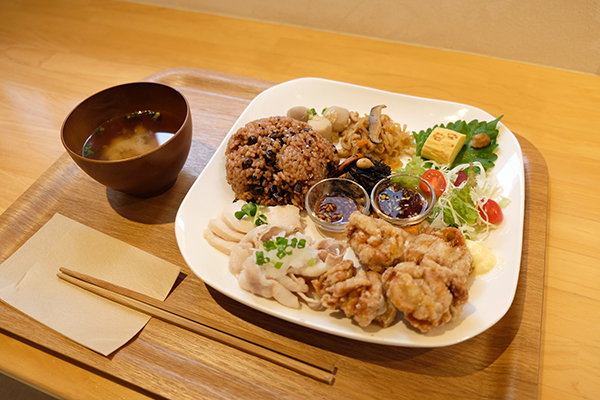 "Genmai-kouso contains a lot of enzymes, vitamins and minerals, is great for digestion, and is overall very good for you. My sister and I are both solid believers in its health benefits. Unfortunately though, it's very difficult to make in a regular home."
Making genmai-kouso is a minimum 3-day process, from germinating the brown rice, to cooking it with salt and beans, to allowing it to ferment under carefully controlled conditions. "Many people don't know how to germinate brown rice correctly," Ms. Ehara explained. "They understand that brown rice has nutritional value, but without proper germination, your system can't take proper advantage of it." In addition, she says using organic rice is extremely important, and gets all of her rice from a farm in Niigata prefecture, where it is grown without pesticides or fertilizers.
The other benefit of genmai-kouso is that it keeps really well. "Although it takes 3 days to make, it actually tastes best between 3~10 days after cooking! The enzymes keep it from spoiling, too, which is great in helping to prevent food waste."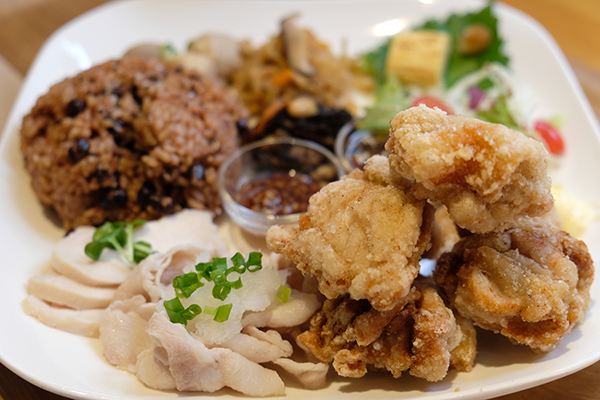 As for the main dishes, the café offers healthy options like steamed chicken breast and pork, as well as heartier choices like fried chicken. Their herb and spice masala curry is also very popular!
"You can order the mains as they are, but what a lot of customers like to do is mix and match," Ms. Ehara said. So while a typical genmai-kouso meal set, complete with miso soup, side dishes, and a main of your choice starts at an extremely reasonable 980 yen, the menu explains that you can ask for extra portions on almost everything for a little extra cost. So, if you can't decide between the steamed pork and fried chicken…just get one, and then ask for an extra portion of the other! The salad and miso soup servings can also be increased, which is happy news for those who want to get more veggies into their diet.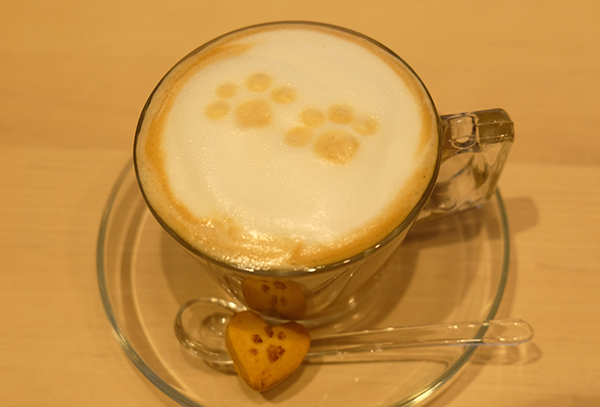 Don't forget to save room for dessert!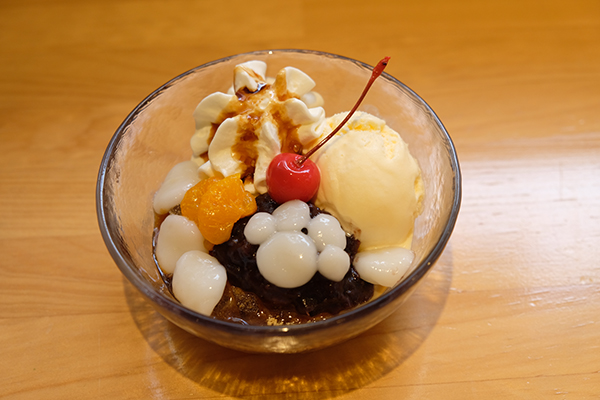 Their trademark paw print makes an appearance in almost every dish, including the "Nikukyu" (paw print) Anmitsu: a type of Japanese dessert featuring kanten jelly, fruits, ice cream and shiratama mochi balls that forms an adorable paw print!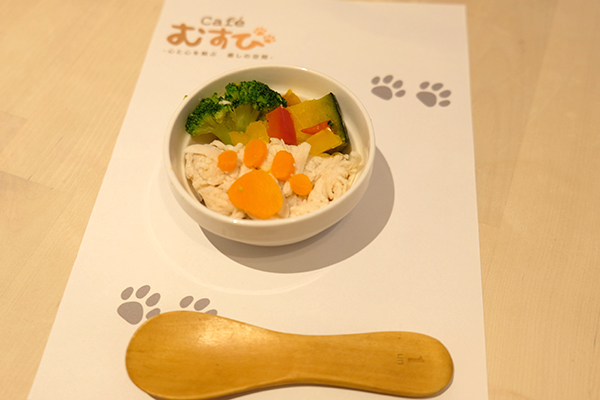 As for our beloved four-legged companions, doggie dishes are available starting at 110 yen, and feature a variety of meat and vegetables from which to choose. All are, of course, carefully handmade in the kitchens with care.
Bringing People Together
Though the café has gained steady customers, Ms. Ehara is far from feeling satisfied. "I really want to organize more events and activities, start a rental space for young artists, and hold classes in the rooms upstairs…"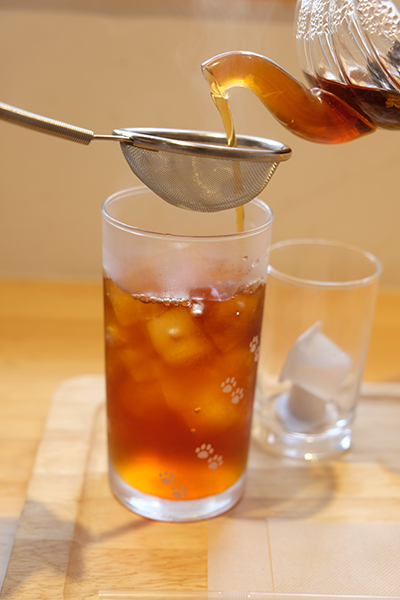 As a certified marriage consultant, she knows firsthand the value of forming connections between people, and Café Musubi is her solution to her lifelong ambition. "There's no better feeling than when two people you help bring together form a real, life-long connection," she said happily. "And when it comes to judging people's personalities, well, I think it's safe to bet on dog-lovers!"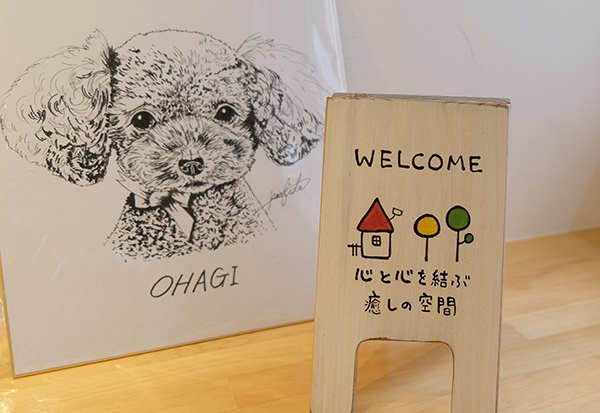 With that attitude, and her boundless energy I think it's safe to say that Café Musubi is well on its way to becoming an even more engaging place in the future!
Story and Photos by Xianru Shen(Koto City Office Coordinator for International Relations)