Call for Homemade Waffles
Published: November 2, 2020
If you are in the Eitaibashi bridge area of Koto Ward and fancy something sweet to eat, then why not call the intriguingly-named MR.OLD MAN DINER and order some waffles?
MR.OLD MAN DINER is tucked down a side street off Eitai-dori Avenue, a couple of blocks from Eitabashi bridge, and until the start of these uncertain times was usually full of office workers unwinding after a hard day or locals dropping in to relax with a meal and a few drinks. Nowadays, footfall has dropped off and the diner has had to seek alternative patrons.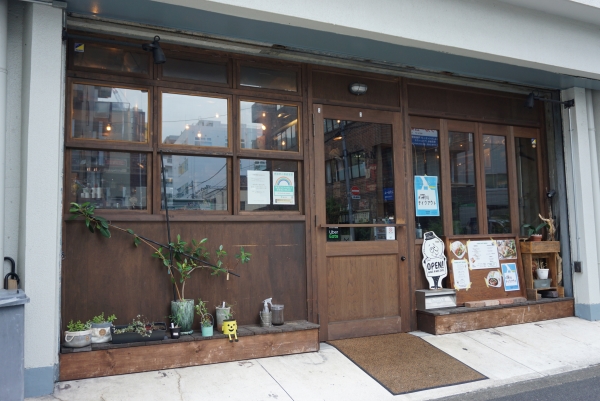 Run by Mr. Junichi Oki and his wife, Yurie, MR.OLD MAN DINER opened in 2016, as an American diner-themed bar/restaurant. When I asked Mr. Oki how he came to choose the diner's unusual name, he just shrugged and said it just happened somehow. Stepping inside, you are greeted by memorabilia covering numerous surfaces: bottles, books, number plates, model motorbikes, you name it, many of which are Mr. Oki's own items.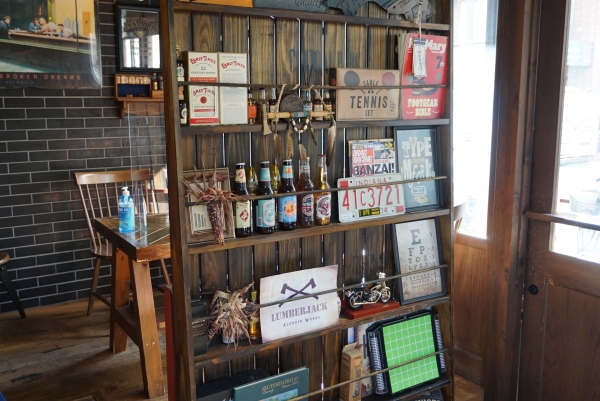 The diner's quirky layout, built on a couple of split levels, was designed by Mr. Oki, who has always been fascinated by things American, and although he confessed that he has yet to visit the States, he was influenced by reading magazine articles about America and watching American films since he was 20 years old. MR.OLD MAN DINER represents his image of the American diner and its attractive space offers intimacy with the promise of an entertaining evening in pleasant surroundings. Unfortunately, at present, apart from lunchtimes, that promise is on hold.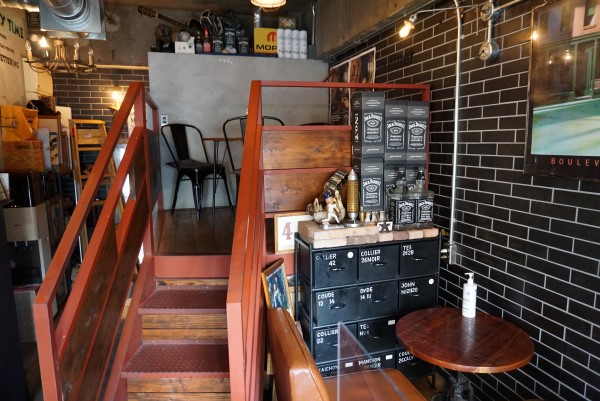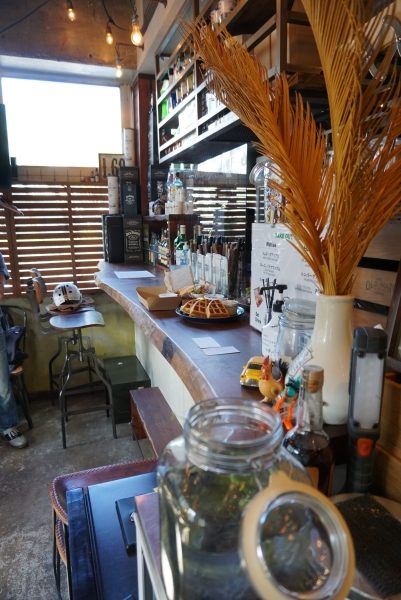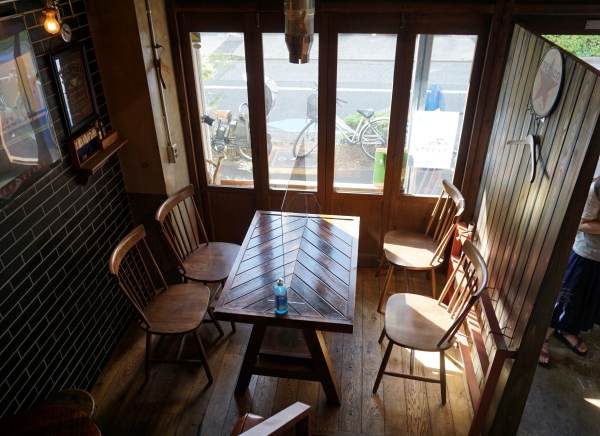 During the current coronavirus situation, the Okis have had to revise their menu and at lunchtime offer an Eat In selection comprising hamburg grill (grilled hamburger) or hamburg curry (hamburger curry) set lunch for 800 yen; both come with rice and a salad bowl.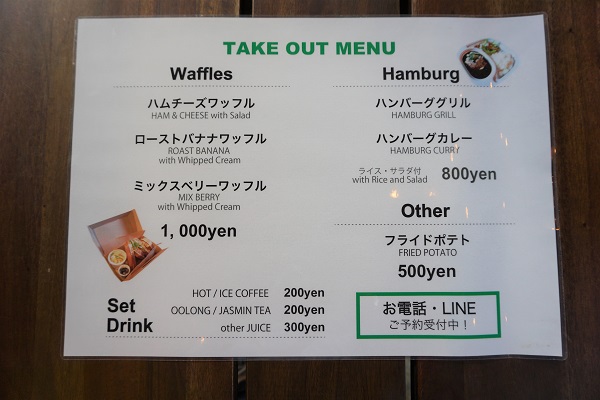 At lunchtime, the diner provides seating for 14, where they previously could seat 25 guests. The diner also offers waffles, although, as Mr. Oki said, "Waffles have been on the menu since we opened, but not many people order them for lunch." I can't imagine why not.
Where the waffles do come into play is in the Take Out service provided by the diner. The Okis make their homemade waffles to be picked up by Uber Eats or individual customers; all that is required is to call ahead 20 minutes beforehand so the waffle mixture can be prepared and the waffles are hot and ready when the customer arrives.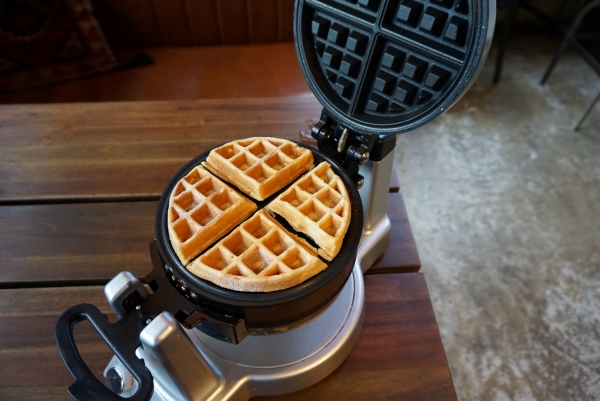 The mixture for the waffles consists of milk, sugar, eggs, baking powder, salt, vanilla extract, and flour, which Mrs. Oki whips up and then pours into a waffle iron to cook. It is this iron which creates that distinctive waffle shape.
The homemade waffles cost 1,000 yen each and come in three flavours: ham and cheese with salad,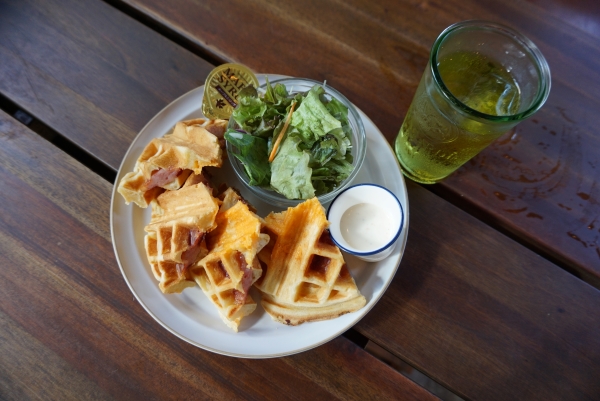 or roast banana with whipped cream, the most popular of the waffles, according to Mr. Oki,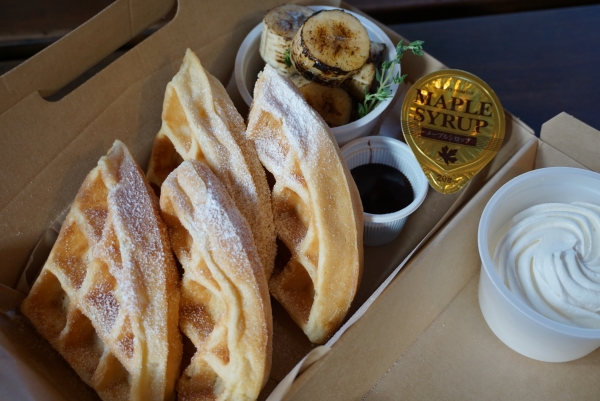 or mix berry, comprising blueberry, cranberry and raspberry, with whipped cream.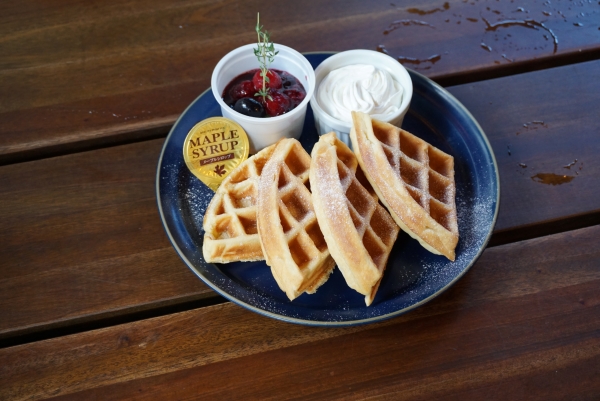 As well as the pack of maple syrup, which comes with the latter two, you are free to ask for a large squirt of some Hershey's chocolate flavour syrup topping. The waffles all looked very appetising.
Mr. Oki says that the customers for the Take Out service are split fairly evenly between female and male, including a number of foreign residents living locally, and whilst MR.OLD MAN DINER is open from 10:30 a.m. until 12:00 midnight, the peak time for orders is around 10:00 p.m., which surprised me. I suppose if you finish work late and don't fancy cooking or eating a heavy meal, then homemade waffles are the answer.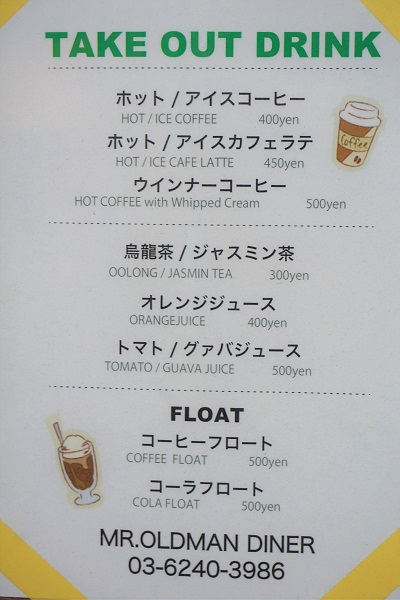 I fancy trying a lunchtime Take Out waffle, and wandering across to the Sumida River Terrace close by, and sitting on the river bank watching the current flow by as I munch one of Mr. and Mrs. Oki's appetising homemade waffles.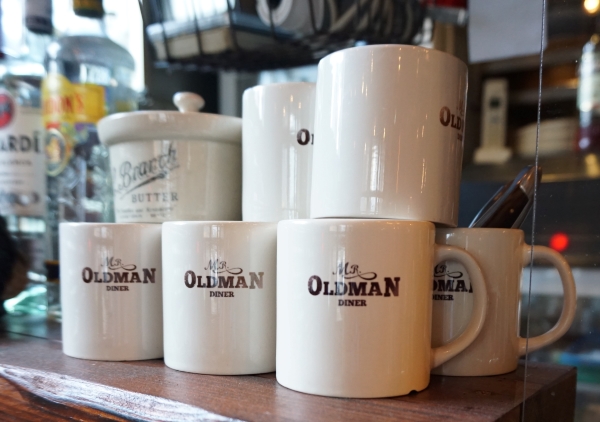 Story and photographs by Jeremy Hutchinson