Casual French with Wine and Élan
Published: April 14, 2021
It's rare to find a brand-new French restaurant in Tokyo these days. It's even rarer to find a brand-new French restaurant where one person does everything, from planning the menu and buying the ingredients, to preparing and cooking every dish. L'atelier in Sumiyoshi is one such restaurant and on a recent sunny afternoon we dropped in for a chat with youthful chef and manager Mr. Sho Saito.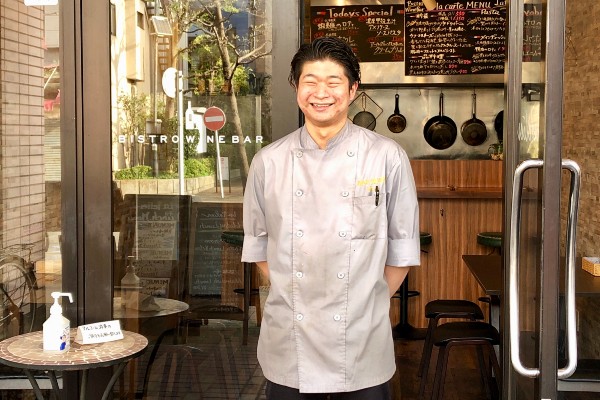 Located just five minutes' walk from Sumiyoshi station on the ground floor of the high-rise Shine Tower, L'atelier opened in January 2021. "Our basic concept is to create a casual French bistro where customers can enjoy high quality, reasonably priced French food and wine," explained Mr. Saito. "Most importantly, I discuss the menu with the customers and together we decide the sauces and wine combinations."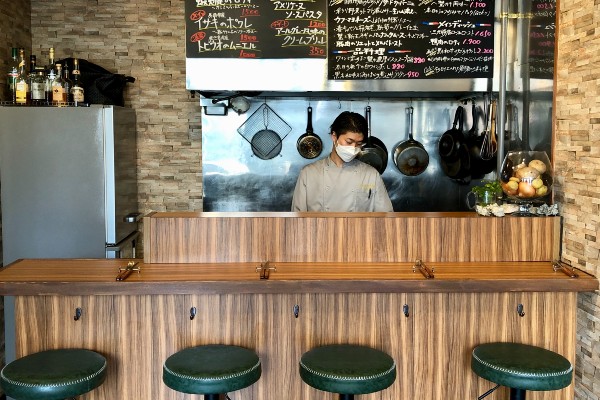 The interior is minimal, with current health protocols having reduced seating to four counter seats and two tables. 28-year-old Mr. Saito was given carte blanche to run the bistro in his own style by its owner, who also has a well-known French restaurant in the Kagurazaka area of Tokyo. "He just told me to make delicious food that the customers could enjoy," explained Mr. Saito, who has worked solely in French restaurants since graduating from cooking school.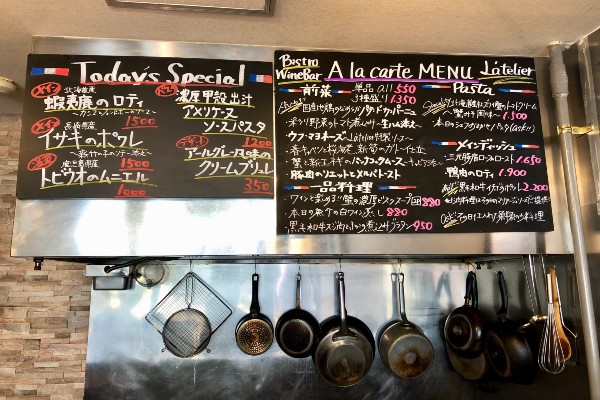 "Around 40% of the menu is fixed but the rest is either seasonal or can be arranged after discussing with the customers. For example, we have a poêle of chicken grunt (isaki, 1,500yen) on the menu right now which a customer asked me to adapt as a pasta topping," Mr. Saito explained. On the daily menu when we visited was roast duck from Hokkaido (1,900 yen), marinated flying fish from Kagoshima (tobio 1,000 yen) and sauce américain pasta (1,200 yen). Dessert was an Earl Grey crème brûlée for just 350 yen.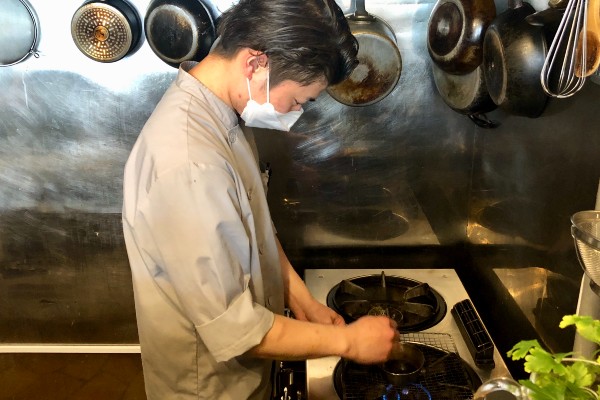 Mr. Saito darted behind the counter and began heating the sauce, a fond de veau base with cassis and figs. "I purchase the vegetables from a place in Oshiage or local vendors. The fish too, but the meat is ordered from a supplier. Sometimes customers even bring their own ingredients and ask me to prepare a dinner using them. One customer brought some fresh truffles and we designed a menu around them," he said.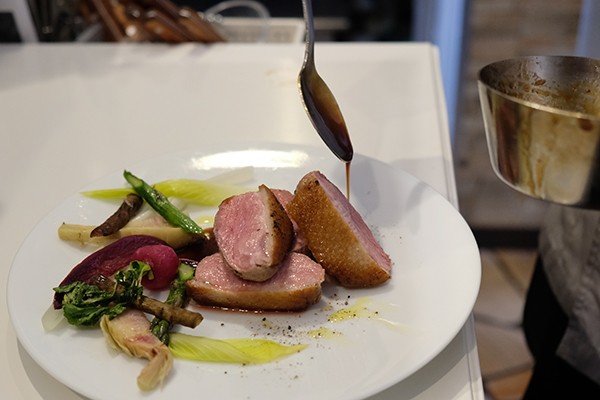 "The duck is lightly roasted so that it's extremely rare, the optimal way to prepare duck. It's also very versatile; we can serve it with a variety of sauces such as red wine, basil and fond de veau, or browned butter and walnuts," said Mr. Saito.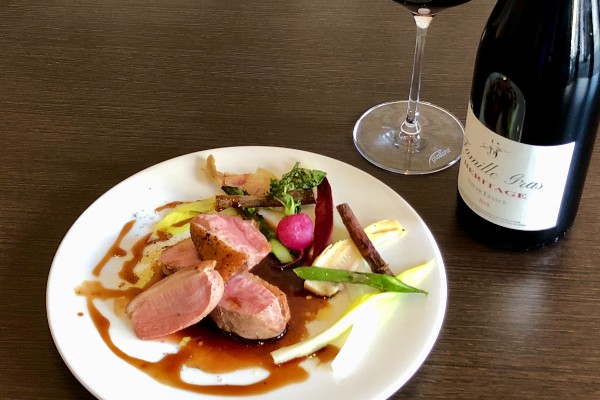 The duck was delicious and had us purring with pleasure. The full-flavoured, juicy and well-textured meat was perfectly matched by the sauce with its hint of blackberry and fig. Very nice indeed. The spring vegetables featured were spring burdock root, spring bamboo shoots, beni kururi daikon radish and a European radish. Also on the plate was some urui, a formerly wild mountain vegetable (sansai) that was renamed from the difficult to market oobagibooshi and is now being widely cultivated all over Japan. The urui resembles thin celery, has a slightly sticky texture yet tastes like asparagus, altogether an interesting combination!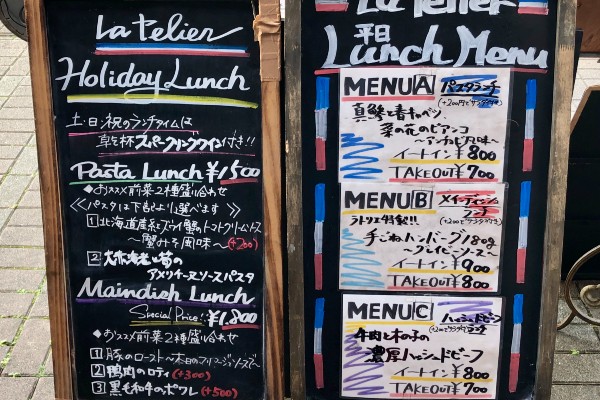 The daily lunches served at L'atelier are terrific value too. From Tuesdays to Fridays there are three available: on the day we visited, the pasta A lunch was horse mackerel (aji) and spring cabbage with rapeseed blossoms bianco, the B lunch was a 180g hamburg with gravy sauce and the C lunch was hashed beef and mushrooms. The Holiday Lunch menu (Saturdays, Sundays and public holidays) is extremely popular: the pasta lunch features a glass of sparkling wine, two hors d'oeuvres, focaccia, and a choice of two pasta dishes for just 1,500 yen. The main dish lunch features two hors d'oeuvres plus a choice of one main dish, such roast duck, roast pork or beef poêle, for 1,800 yen. Weekday dinner courses are also available but need two days advance reservation.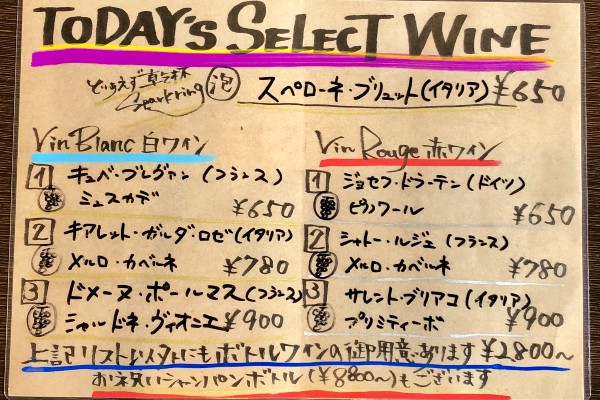 Although the cuisine at L'atelier is unmistakably French, the wine on offer isn't restricted to France. There is Italian and German wine too, with seven reds, seven whites and three kinds of sparkling wine. Glasses begin at 650 yen apiece and whole bottles cost 2,800 yen.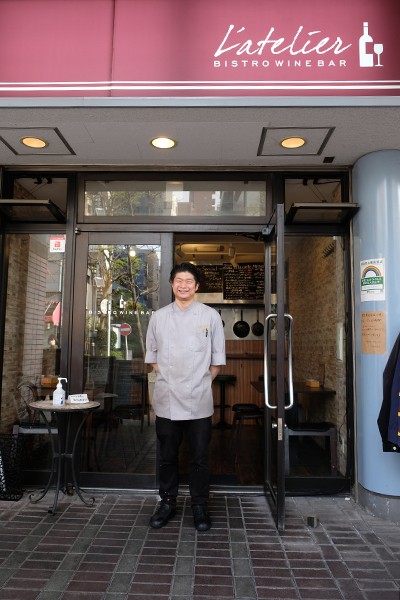 L'atelier may have only been open for three months but it is already firmly established in the area. The food's great, the prices are surprising and Mr. Saito is as hospitable and enthusiastic and as he is skilled in the kitchen. Bon appetit!
Story and Photos by Stephen Spencer