Charcoal-grilled Yakitori with Dogs!
Published: April 12, 2021
Sumiyaki Yakitori Ponta is a recently opened restaurant serving yakitori: Japan's wildly popular chicken barbecue where pieces of chicken and vegetables on wooden skewers are grilled over red hot charcoal briquettes. On a recent spring afternoon, we dropped in to meet owners Mr. Toru Tanaka and Ms. Kaoru Tanaka, together with the eponymous Ponta himself!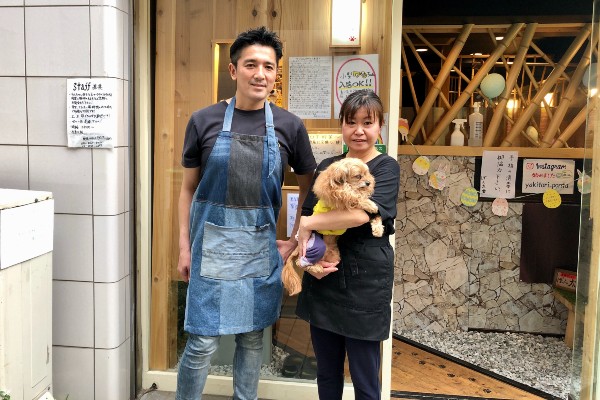 Located just a few minutes' walk north of Kameido station, Sumiyaki Yakitori Ponta is yet another addition to the seemingly unstoppable rise of the area as a mecca for lovers of quality cuisine at reasonable prices. "We opened here in January 2020," said Ms. Tanaka, "but before that, had another place in Hikifune for 23 years." When we expressed our surprise that the youthful couple had been in the business so long, she explained that Mr. Tanaka had begun his yakitori career at the tender age of 19!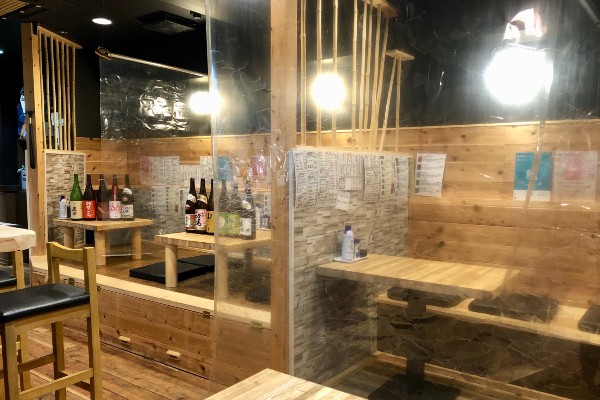 The comfortable, woody interior was designed and made by the Tanakas, ably assisted by their staff. Ponta seats around twenty or so, with a five-seater counter and several tables. All seats are separated by the now-ubiquitous plastic sheeting, and current health protocols are firmly in place.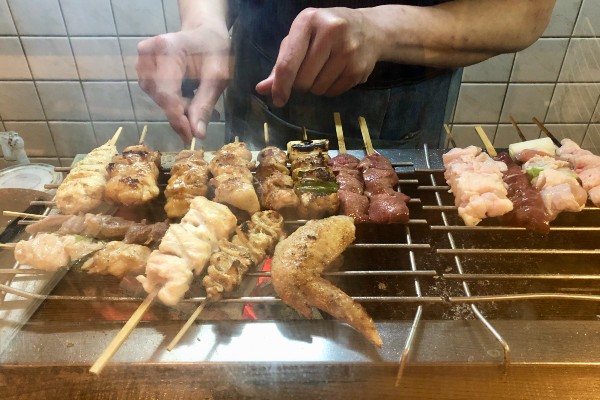 Without further ado, Mr. Tanaka fried up the charcoal and began cooking yakitori. Soon the place was full of the mouth-watering aroma of chicken, meat and vegetables grilling, while the powerful extractor fans above the glassed-in grill area whisked the smoke away. "We have around 30 items on the yakitori menu," he explained. "Most are permanent but some vegetables may change depending on the season. Customers can choose a seven-stick chef's selection (omakase) course for 880 yen, a five-stick set for 650 yen, or they can order individual sticks from the menu." Prices are very reasonable, ranging from 80 yen for onion to 180 yen for chicken breast with wasabi or chicken wings.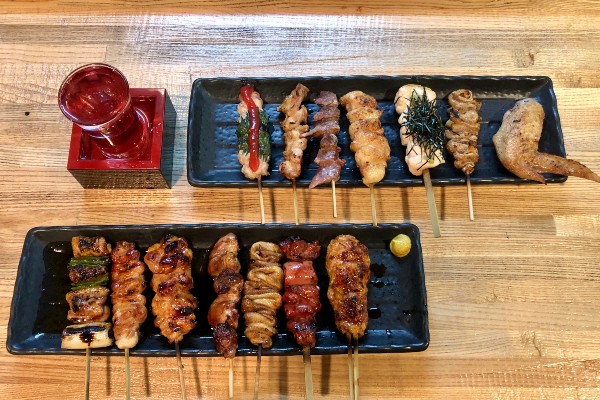 With remarkable speed and a dexterous touch Mr. Tanaka produced two plates of gorgeous yakitori. The upper plate contains, from left: chicken neck meat wrapped in perilla leaf (shiso maki seseri), cartilage (nankotsu), gizzard (tsunagimo), tail (bonjiri), breast (sasami), skin (kawa), and wing (tebasaki) with a sprinkling of salt. The lower dish contains, from left: thigh and negi onion (negima), neck meat (seseri), thigh (momo), heart (haatsu), skin (kawa), liver and minced chicken balls (tsukune) in sauce (tare).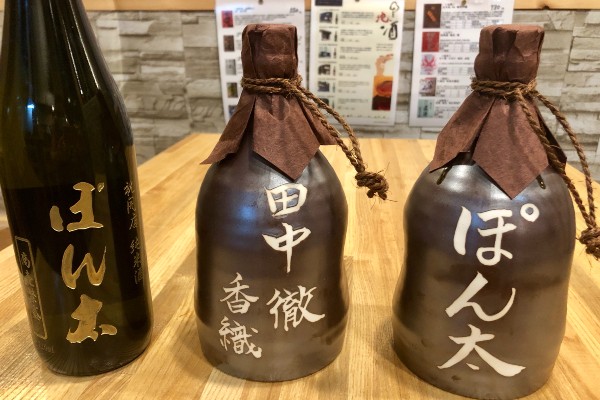 The sauce (tare) is unique to Ponta and its precise recipe a closely guarded secret. What isn't a secret is that the sauce is continually replenished every day, as it has been since the Tanakas began their yakitori business 23 years ago, without ever allowing it to be used up completely. The sauce is fresh and light, with a hint of sweetness.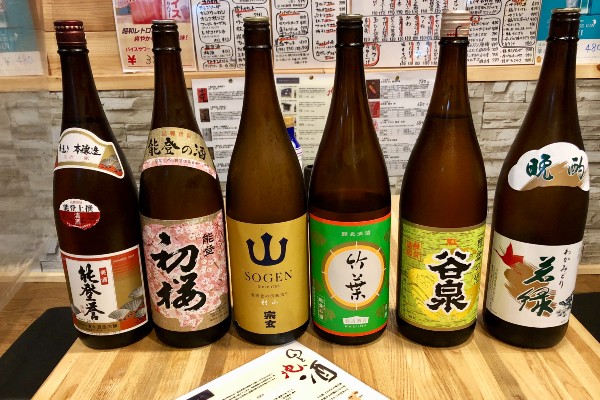 While Ponta serves all the drinks one expects at a contemporary Tokyo eatery, the sake menu is worthy of special attention as it contains several rare and unusual brands from the Noto Peninsula area of Ishikawa Prefecture on the Sea of Japan. According to the experts, the soft water of Noto contributes to sake that is light, mild and slightly sweet. Ponta also serves Koshihikari rice from the Noto area. Kirin Ichiban Shibori beer is available on draft.
And here's the star of the show! Ponta is an eight-year-old chiwapoo, a cross between a chihuahua and a poodle. "We've always had dogs and our previous place was dog-friendly too," explained Ms. Tanaka. "Well-behaved dogs are all very welcome. I'd estimate about half our customers bring their dogs with them. Bigger dogs are welcome too, but we ask owners of larger animals to call ahead as we may have to move tables to accommodate them." Ponta's a friendly chap and clearly used to posing for photographs.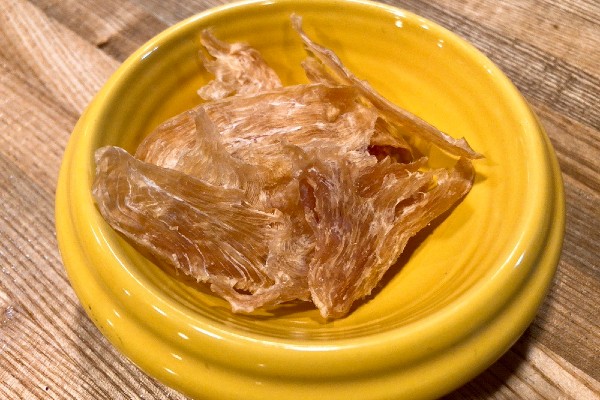 Ms. Tanaka even produces some pooch-friendly snacks for the dogs to enjoy while their owners tuck in. This chicken jerky is prepared from preservative-free chicken breast without seasonings of any kind. Sliced thinly, it's also low in calories. Ponta certainly enjoyed it, wolfing down a couple of pieces.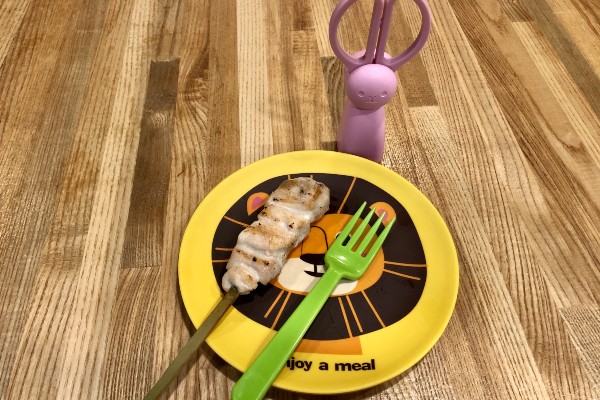 Ponta also serves doggy yakitori, such as this chicken breast, which contains no preservatives, additives or seasoning of any kind. Sticks are the same price as for humans!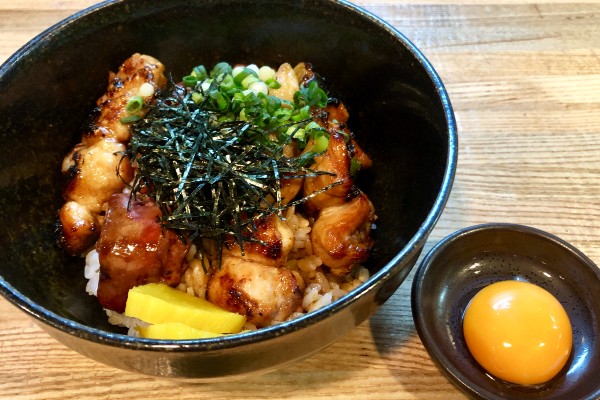 One of the best ways to eat yakitori is in the form of a yakitoridon, which is as topping on a donburi bowl full of rice. At Ponta, Noto rice is topped with four sticks of chicken meat, sliced negi onions, seaweed paper (nori) and some pickled daikon radish. The chicken is usually thigh meat and bonjiri, plus two more which vary from day to day, according to Mr. Tanaka. The savoury chicken and tasty sauce combined beautifully with the soft fluffy rice. At just 680 yen it's a real bargain and comes with a raw egg for those who want one.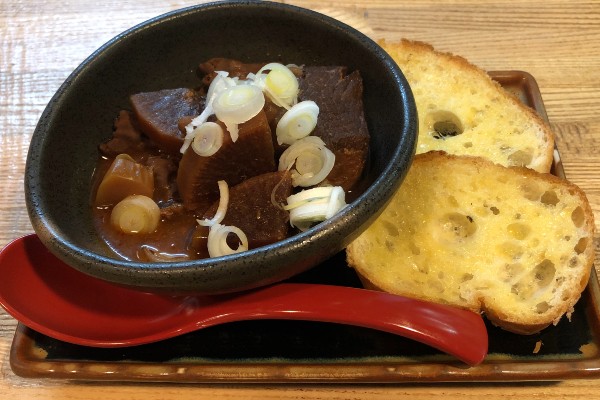 While Ponta is principally a yakitori restaurant, it also has a large menu of popular izakaya items such as this nikomi, a slow-cooked stew of beef tendons and pork intestine (motsu) with daikon radish and negi onions in a miso and demi-glace sauce flavoured with garlic and ginger. The beef was soft and juicy while the sauce was deep and rich and from the long cooking time. Served with a couple of slices of fresh baguette, it's hearty, filling and a real bargain at just 380 yen.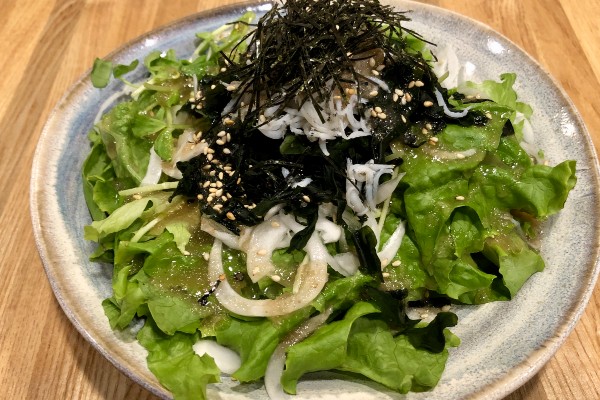 It's not all chicken and beef though, as Ponta offers a terrific salad, perfect for cleansing the palate. It features whitebait (shirasu), sunny lettuce, pea sprouts (tomyo), seaweed (wakame) onion and sesame in a pleasantly sharp onion dressing. It's crispy and crunchy with a nice refreshing tang to it. Another winner at just 380 yen.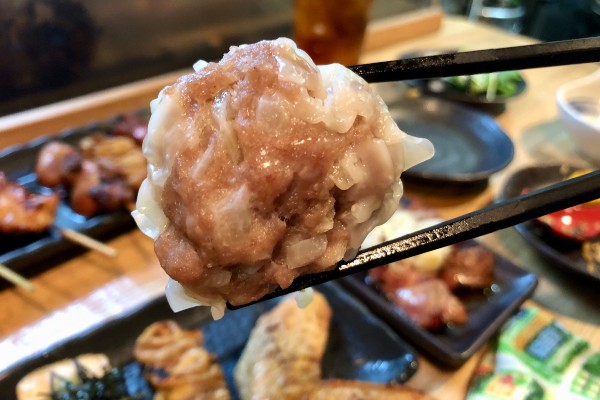 The hits just keep on coming. These homemade shumai were plump, flavoursome and so juicy that they didn't need soy sauce, or anything more than a touch of mustard. Three for 380 yen is just crazy value!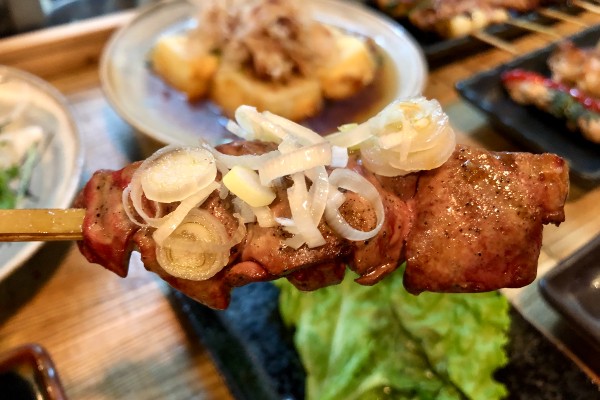 The liver yakitori was so soft it almost dissolved on the tongue!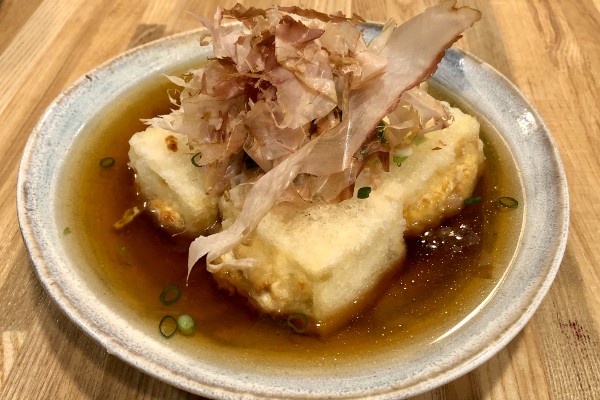 Everything we tried at Ponta was both excellent and astonishingly good value. This deep-fried tofu (agedashi tofu) was no exception; crispy on the outside, soft in the centre and cooked in a rich broth with ginger and negi onions, the topped with dried bonito flakes and more negi onion. Tasty!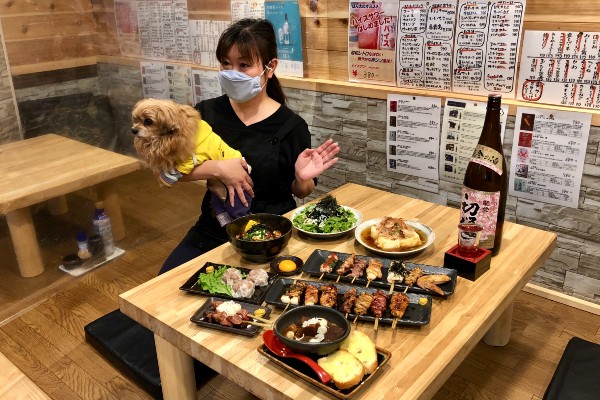 Ponta is terrific. The food is great and so reasonably priced we were moved to ask how they actually made a profit. Mr and Mrs Tanaka are marvellous hosts; two legs or four, everyone is guaranteed a warm welcome. If you're a dog owner, or even just a dog lover, in the Kameido area head for Ponta, you'll be happy you did!
※ All prices are excluding tax
Story and Photos by Stephen Spencer