Chill Out Shisha Lounge
Published: December 19, 2022
Want to step away from the hustle and bustle of the city and into an alternative chill out zone that can soothe daily cares away? Well, if you're in the Monzen-nakacho area, just head straight for the Alif Shisha Hookah Lounge and watch those worries melt away.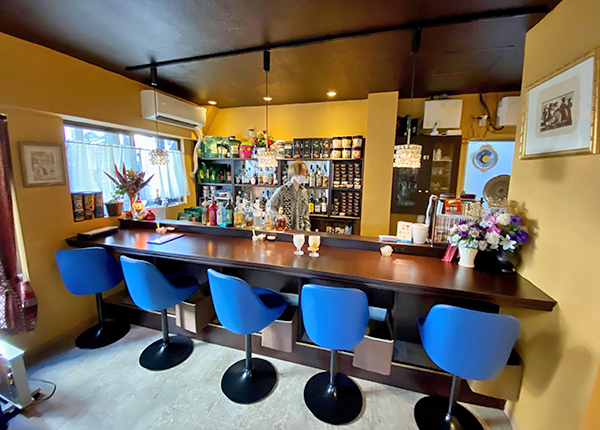 Comfortable is right.
Alif was opened in October 2021 by owner Ms. Aney Rurie Ubukata as a healing space. As she told us, "It's a place to relax, to chat, to enjoy a pipe and chill out. Many of our customers neither smoke regular tobacco nor drink but come here to relax in a comfortable atmosphere."
Comfortable is right. As the incense, decor, music and vibe washes over one, it's easy to forget the thundering traffic of Eitai street just a few metres away.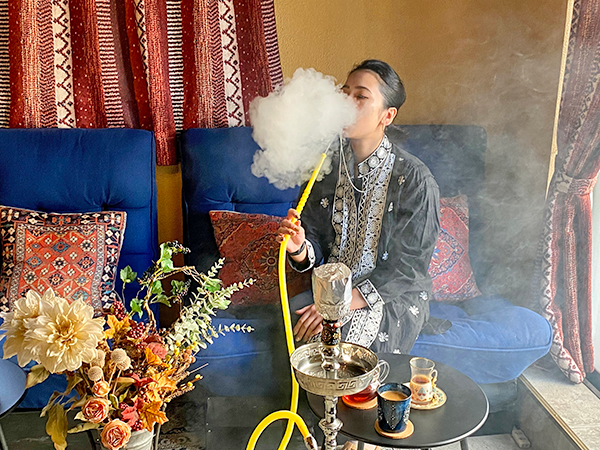 As Ms. Ubukata, who shares both Pakistani and Japanese heritage, explained, "The hookahs themselves have tops from Iran and bases from Egypt, while the shisha tobacco comes from the UAE and other countries such as Germany, France, and the US. Alif is Pakistani style but also Morocco, Egypt, and Middle Eastern too."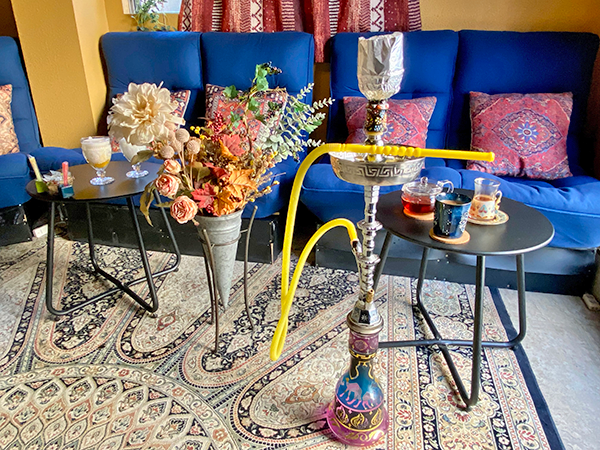 Shisha is the glass bottomed water pipe in which flavoured tobacco is heated by charcoal and the smoke filtered through the water, resulting in a mild and flavourful experience. "I smoke every day," she said. "It's great to smoke and read or listen to music." Customers are mainly in their late 20s and early 30s, with men outnumbering women about 70 to 30. "It's easy for women to come in. Some customers sit at the counter and chat, while smoking the shorter hookahs."
What's the system?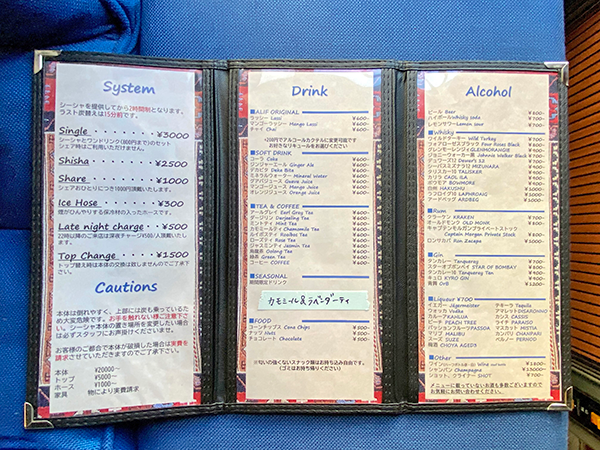 A session generally lasts from 90 minutes to 2 hours. For those wishing to enjoy a shisha there are three choices: a single, which includes any drink up to 800 yen in value, is 3,000 yen. A shisha is 2,500 yen and a share is 1,000 yen per person. Extras such as a hose with thermal gel to cool down the smoke (500 yen), a change of the 'top' part of the hookah (1,500 yen) and a late night charge of 500 yen per person after 22:00 are also on the menu.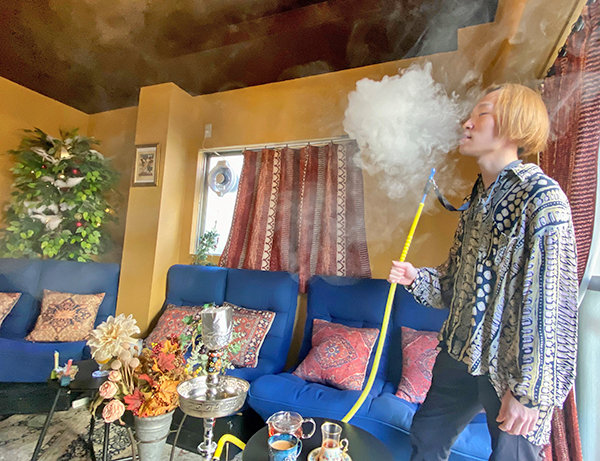 Staff member Kosuke was a customer too before he began working at Alif. He was first introduced to the lounge by an older colleague at his previous place of employment and liked it so much he started work there six months ago!
Wide variety of flavors.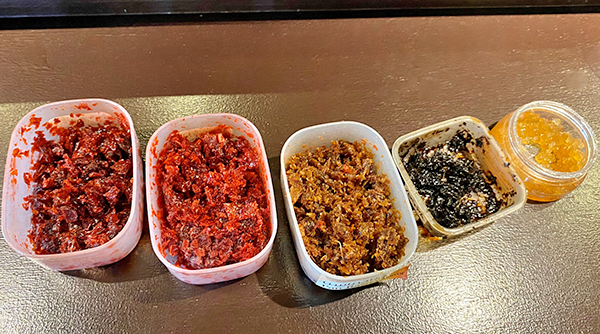 We were very surprised to see the actual tobacco used in the pipes. I'd vaguely expected something brown and crumbly but they resembled nothing more than brightly coloured Japanese pickles known as Fukujinzuke.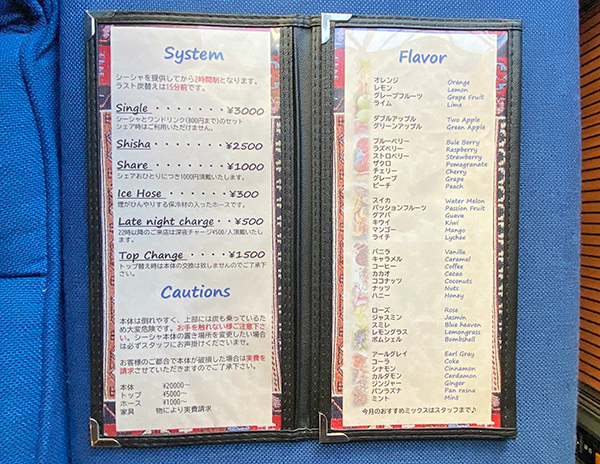 Alif stocks around 50 different kinds of shisha tobacco, from the classic Double Apple (which is flavoured with aniseed) via all the main fruits, nuts and tea flavours to such exotic items as corn potage. We had a quick sniff of the latter and can confirm it really is shisha tobacco that smells like instant corn potage soup! As Kosuke explained it's possible to mix and match the many flavours of shisha tobacco to create original blends. Each month there's something new; for December 2022 it's a ginger lemon soft cream, which sounds great.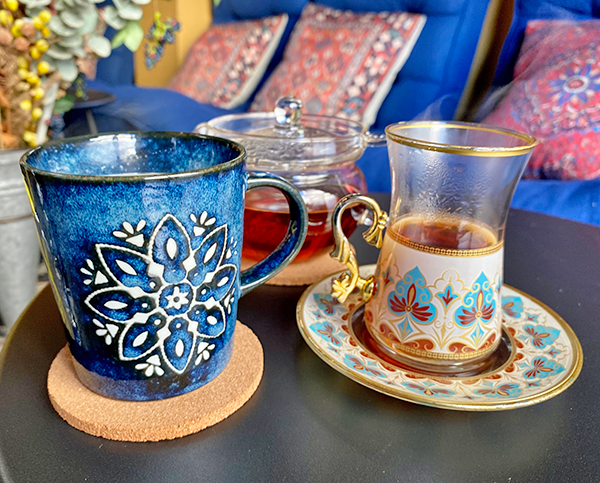 Most people don't consume alcoholic drinks with shisha, with soft drinks and tea the preferred beverages. As many people are unable to consume alcohol, this is one of the reasons for the increase in popularity of hookah lounges in recent years. The chai (600 yen) is entirely homemade, contains three kinds of spices and is easy to drink. The stylish cups are from Turkey.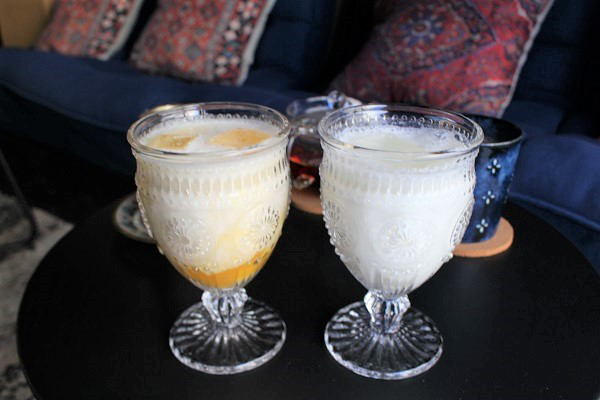 The lassi and mango lassi are popular in the warmer weather.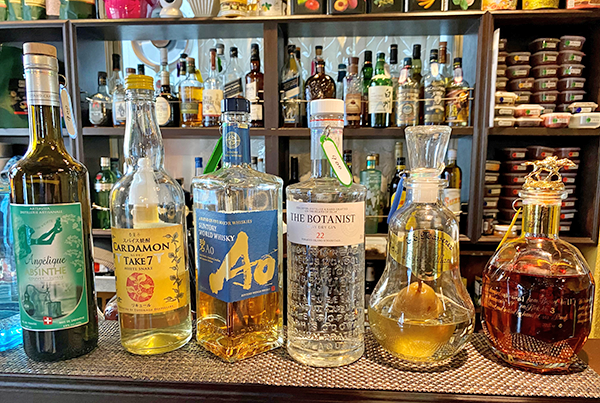 While most customers don't imbibe, Alif boasts an eclectic drinks selection. There's Swiss absinthe, Japanese cardamom flavoured shochu ("This actually goes very well with shisha," as Ms Ubukata said), Scottish gin, French pear eau-de-vie, Blanton's bourbon, and more. "Most are actually gifts from customers," she said with a laugh.
what a wonderful place to relax!
The staff prepare everything, filling the hookah with water, adding the shisha tobacco and then putting coconut-flavoured charcoal into the aluminium cup at the top. It takes around 15 minutes for the charcoal to heat up enough to draw through the tobacco.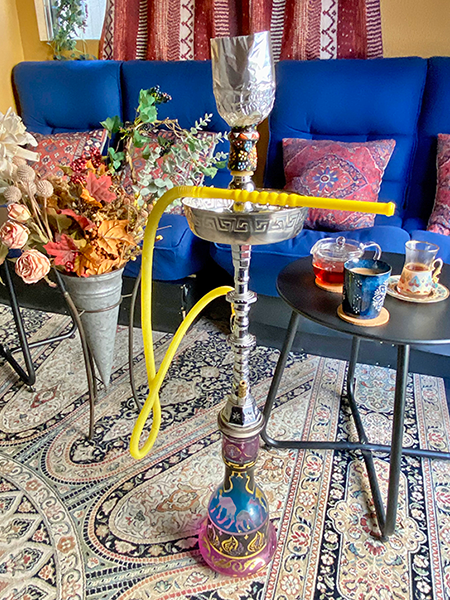 Unlike other tobacco products we don't inhale, just take the smoke into the mouth and then exhale. Compared to smoking other tobacco it's extremely mild with no harshness at all. What's wonderful is the rich flavour, in this case a beautiful orange aroma that spreads out and envelopes you. It's really easy to smoke and induces feelings of contentment and restfulness.
My colleague Misuzu had never smoked a shisha before, but soon picked it up and was grinning in pleasure after just a few minutes. The whole sensory experience is extremely relaxing: the incense, the soothing decor, comfortable chairs and sofas, the tinkling music of Middle Eastern origin, and the shisha itself, which tasted wonderful. I entered a total chill out zone and could easily have stayed at Alif for hours; what a wonderful place to relax!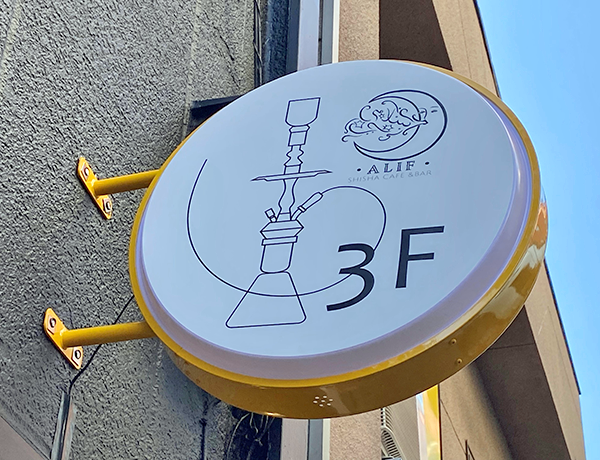 The name Alif comes from the first character of the Urdu alphabet, which is cunningly inserted into the smoke issuing from the mouth of the crescent moon in the logo. If you're in the mood for a relaxing time in a cool, chill-out environment just head straight to Alif.
by Stephen Spencer