Chinese for Hungry People
Published: September 27, 2021
Chuka Shokudo Ichibankan is a very reasonably priced Chinese restaurant serving noodles, gyoza, fried rice, and more to hungry workers and local residents in Toyocho. On a recent cool and rainy autumn afternoo,n we dropped in for a chat with the manager Mr. Seki.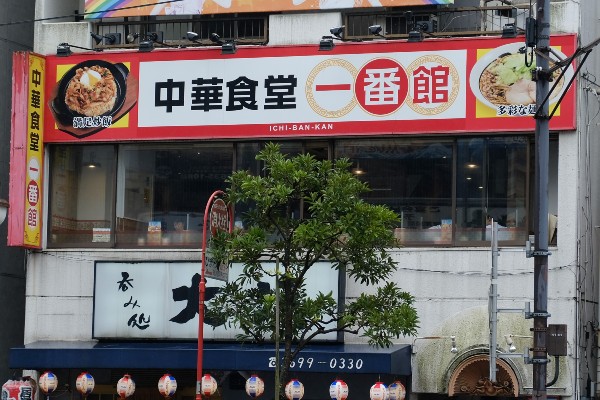 Ichibankan is located on the second floor of a building just one minute's walk from exit 3 of Toyocho station, heading towards Kiba. It's maybe not the easiest to spot from the street but it's certainly a convenient location.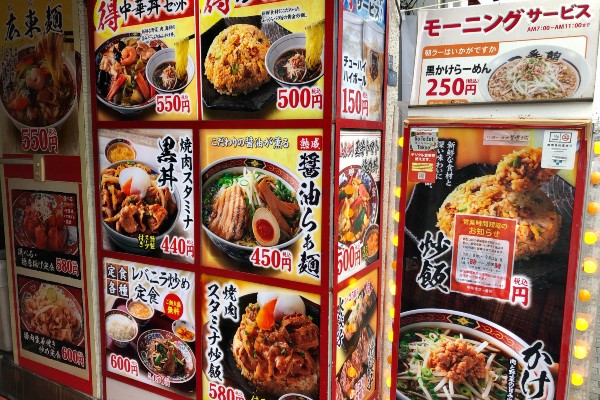 There's no missing the doorway though, with its flashing lights and massive, full-coloured photographs of the tasty treats within.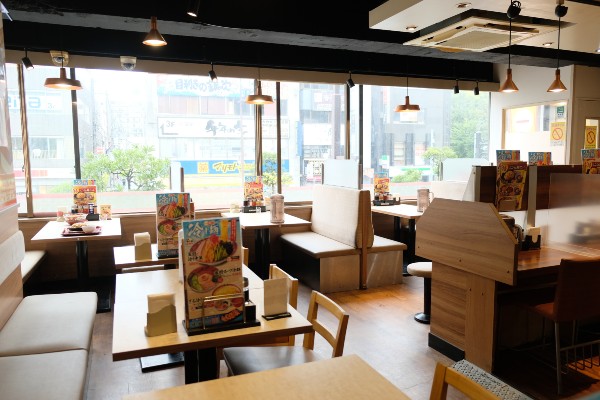 The interior is spacious and airy, with that wonderful smell of gyoza and ramen noodles wafting from the kitchen at the back. There are four-seater booths against the front window, with more four-tops against a side wall and individual sections of counter separated by the obligatory plastic partitions. All current health protocols are firmly in order.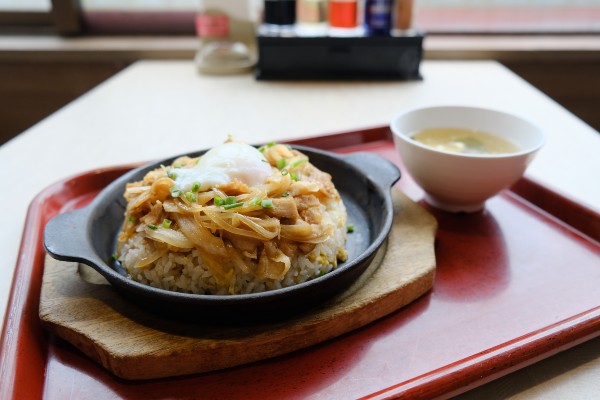 The extensive menu at Ichibankan strongly favours ramen, fried rice, gyoza, and a selection of individual dishes that can be ordered singly or in various combinations. There's fried rice and premium fried rice, which is the regular fried rice with extra toppings. In this case it's the most popular version, fried rice with a generous serving of pork in a yakiniku barbecue style, with onions and green onions, all topped with a hot spring egg (onsen tamago).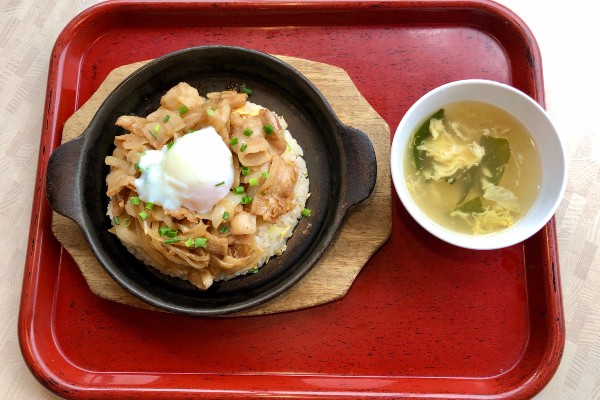 The eggs are slow cooked in hot but not boiling water, which leaves the white soft, like custard in texture, while the yolk is firmer in consistency yet not completely hard. Pricking the egg with your chopsticks and watching the gooey yolk roll out is immensely satisfying! This yakiniku stamina fried rice is just 580 yen. Other toppings in the premium fried rice section are squid and shrimp in a chili sauce omelette (ika ebi chili, 600 yen), spicy tofu (mapo dofu 500 yen), fried chicken (500 yen) and pork and vegetables in a thick savoury sauce (butaniku yasai ankake (500 yen). All represent terrific value!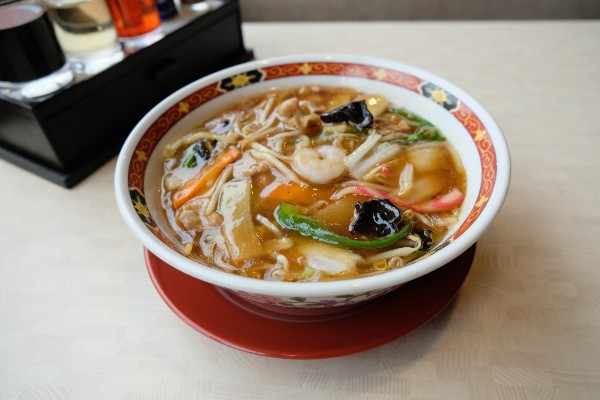 Ichibankan also serves a wide array of ramen dishes. Mr. Seki chose to highlight this very popular Canton-style noodle dish containing meat, seafood and lots of vegetables in a thick savoury sauce (gomoku ankake, 550 yen). It contains pork, shrimp, carrot, Chinese cabbage, bean sprouts, green pepper, pink and white steamed fish cake (naruto), wood ear mushrooms (kikurage) and fermented bamboo shoots (menma). Great!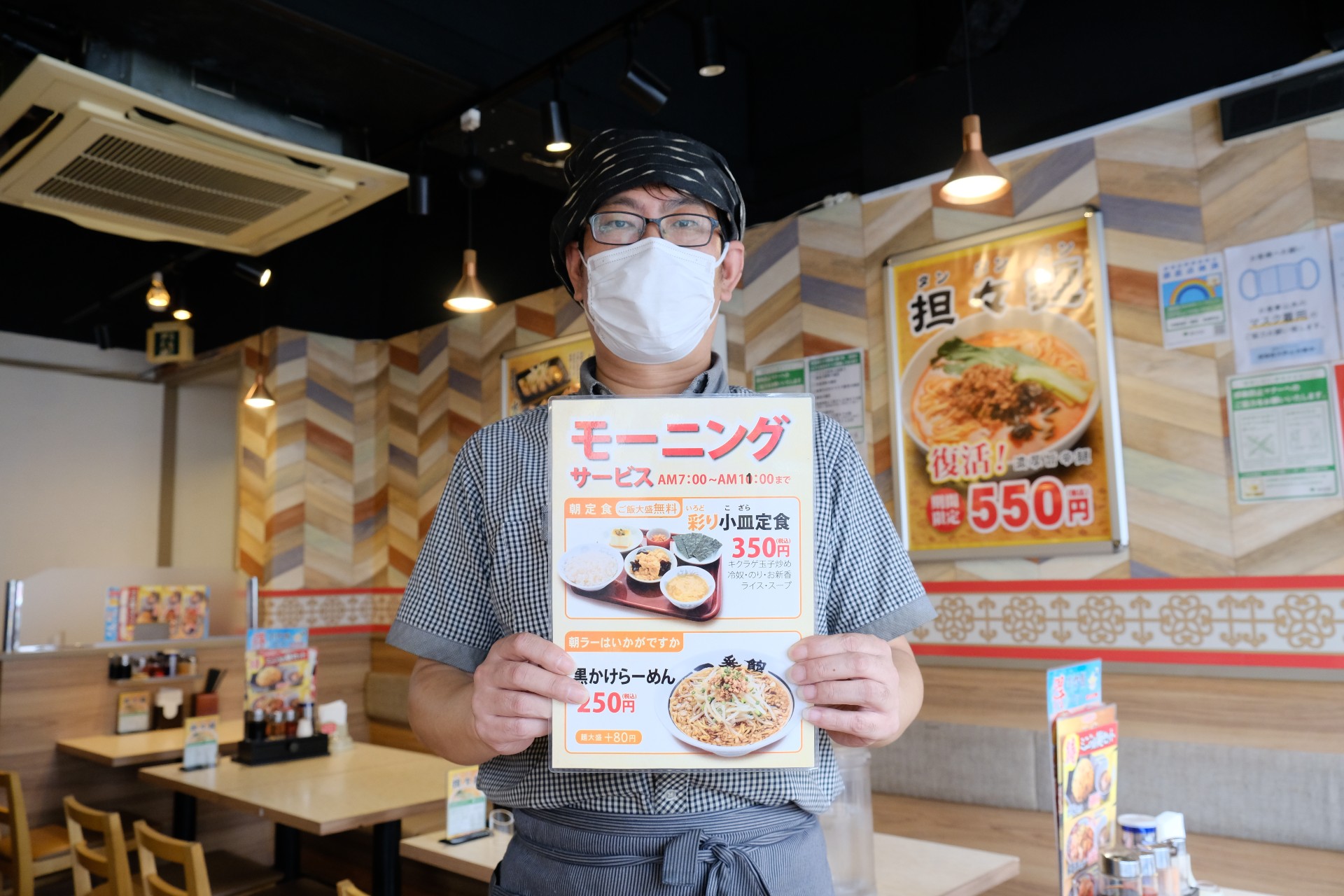 Here Mr. Seki models the morning menu available at Ichibankan from 7:00 am to 11:00 every day. "There are very few places that open for early breakfasts around here, so we thought it would be a popular service. We usually have between 30 to 50 customers for breakfast every day," he explained. The set breakfast is incredible value at just 350 yen and features scrambled egg with wood ear mushrooms, rice, chilled tofu, soup, seaweed paper, and pickles. A large serving of rice is available at no further charge.
Also popular is the "black" ramen, driven by a recent boom in eating noodles for breakfast. The colour comes from a particularly dark soy sauce used in the soup. Again, it's terrific value at just 250 yen and contains sauteed minced pork (soboro), negi onions, bean sprouts, and sliced green onions.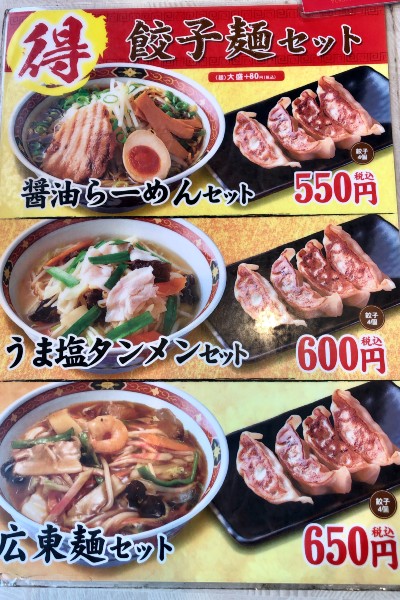 For gyoza lovers these sets represent terrific value as well. From the top: soy sauce ramen and gyoza (550 yen), savoury salty tanmen and gyoza (600 yen) and Canton noodles with gyoza (650 yen).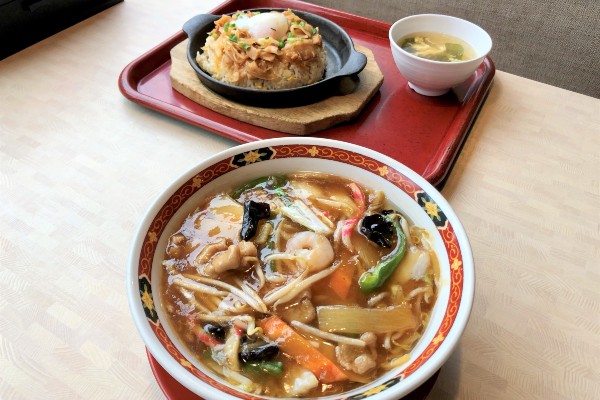 Ichibankan also serves a selection of set meals (teishoku) which contain a main dish, rice, soup and pickles for between 580 and 630 yen. Even in the middle of a wet Friday afternoon there was a steady stream of customers, both male and female, taking advantage of the excellent value on offer. If you find yourself hungry in Toyocho, just head for Ichibankan!
Story and Photos by Stephen Spencer