Choice Chicken at Jima Yakitori
Published: August 24, 2021
In the blazing heat of a Tokyo summer afternoon, there are few things more appealing than stepping into a cool, softly-lit yakitori restaurant for an ice cold beer and several skewers of the perennial Japanese favourite. Sadly, beer is off the menu right now owing to the pandemic, but the barbecued chicken skewers are still available at Jima, the yakitori izakaya in Ojima we visited on a recent afternoon.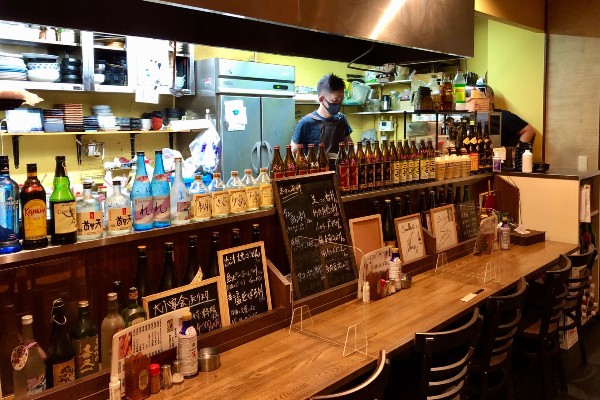 "We're a yakitori restaurant but we also have many chicken dishes and other items too, which makes us an izakaya, I think," said friendly and welcoming manager Mr. Nakajima, who runs the place with his wife. "I've worked in the restaurant trade for years and always loved yakitori, which is Japanese soul food, so I was keen to open our own place. We opened in June 2013 and thanks to the support of our customers we're still here."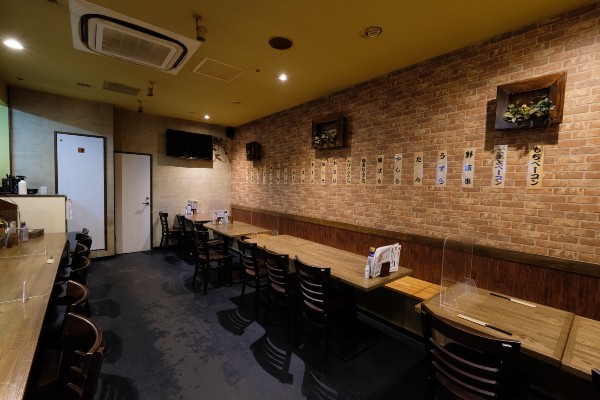 Jima, located in the basement of the building next to exit A1 of Ojima station, is accessible without returning to ground level, a boon on inclement days. "I'd estimate around 70 to 80% of our customers are regulars," said Mr. Nakajima. "There aren't very many companies around here so most customers are local residents, families with kids and couples, generally in the twenties to forties age group. My wife is from Ojima and we live nearby, with our children attending the local schools."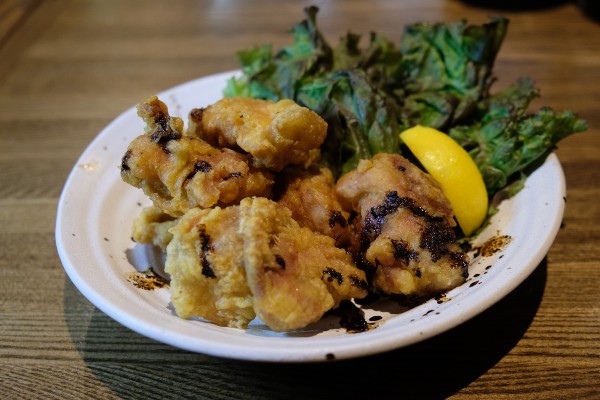 As Mr. Nakajima explained, the most popular dish on the menu was the chicken nanban, a deep-fried chicken recipe that hails from Miyazaki Prefecture on the southern island of Kyushu. "All the chicken we use is from branded chickens, particularly the Daisen-dori from Tottori Prefecture," said Mr. Nakajima. The chicken thigh meat is seasoned, dipped in a light batter, and crisply deep-fried.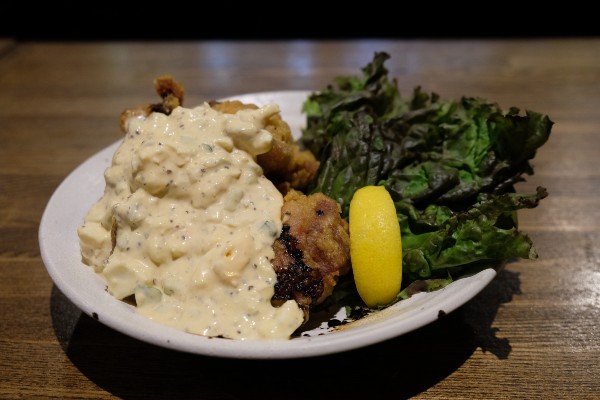 It's drizzled with Jima's original, handmade yakitori sauce (tare) and then slathered with a rich and creamy tartar sauce. It was terrific: juicy chicken surrounded by a light but crispy coating, a hint of vinegar, and a rich sauce made with chopped, hard boiled branded eggs from Hyogo Prefecture which contain 30 times the usual amount of vitamin E. At just 680 yen a plate it's not only extremely tasty but astonishing value. "Our chicken nanban set was wildly popular at lunch time," said Mr. Nakajima. We can see why!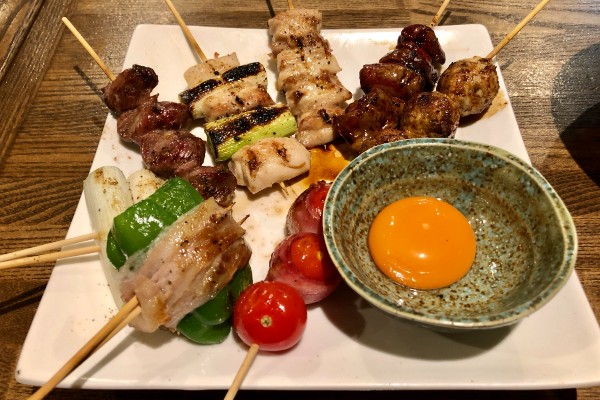 While there's no yakitori "chef's selection" (omakase) at Jima, patrons can simply order their favourites from the menu, which features around 20 varieties ranging in price from 150 to 200 yen. Mr. Nakajima and his staff prepared an appetizing plate which featured from the bottom, clockwise: tomato and bacon, green pepper and bacon, negi onions, gizzard (sunagimo), chicken and negi onions (negima), thigh (momo), liver, and minced chicken balls (tsukune). The brilliant yellow yolk, from the Hyogo Prefecture egg brand, is used for dipping the chicken balls. The chicken yakitori was great, soft and juicy, with the liver creamy and sweet, just the way we like it.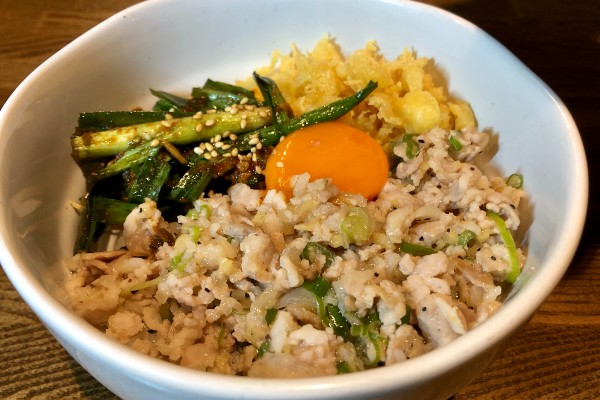 Soboro is a traditional dish of finely minced, cooked chicken seasoned with sake, mirin, soy sauce, and sugar. It's a common topping for rice in lunch boxes, where it's frequently paired with minced beef or finely scrambled egg prepared in a similar fashion. At Jima the salted soboro (shio soboro) features chicken and thinly sliced negi onions, crunchy tempura nubbins and garlic chives (nira) cooked in a fiery chili oil sauce.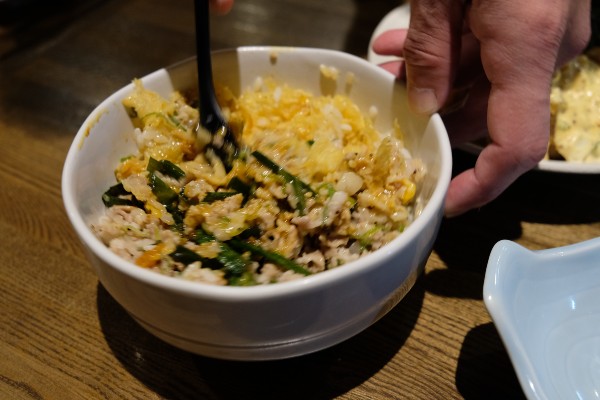 You mush it all up, mixing the egg in with the rice, chicken, crispy tempura bits, and spicy garlic chives like a Korean bibimbap. It was fantastic, a savoury crunchy taste explosion that had us purring with pleasure. "What a brilliant accompaniment to a cold drink this would make," was our simultaneous thought. Unmissable at just 800 yen!
For hungry diners who'd prefer a change from chicken, Jima has a daily selection of fresh fish. On this particular day there was a sashimi selection (octopus, salmon, squid, tuna and sea bream at 880 yen), mixed seafood on rice (bakudan 780 yen), octopus in ponzu sauce (600 yen), deep fried squid and cheese, pollack roe and cheese balls, and many more interesting items at reasonable prices.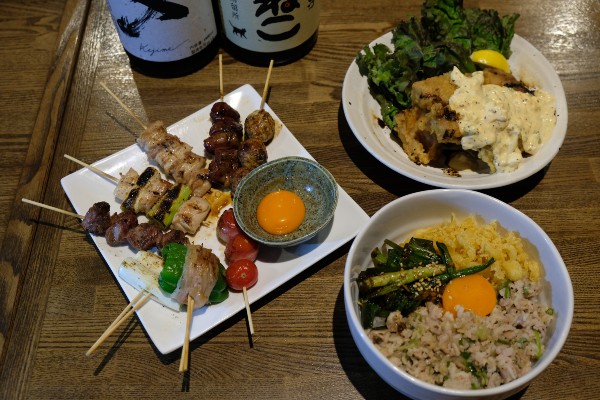 Jima is exactly the kind of no-nonsense, hearty and tasty yet reasonably priced yakitori izakaya that everyone craves at their local station or residential center. There's a wide selection of drinks too, especially some quite uncommon sake varieties from the likes of Nagano and Miyazaki Prefectures.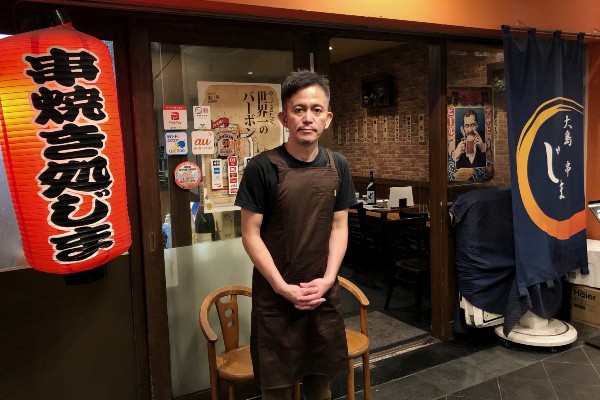 The portions are generous, the atmosphere is lively and the Nakajima family are local residents, part of the community. Plus, you can walk straight off the train and into a seat at the counter. Doesn't that sound great!
Story and photographs by Stephen Spencer