Soba is one of the greatest gastronomic pleasures in Japan. The popular buckwheat noodles, served hot in winter and chilled in summer, are delicious, healthy and versatile. There really aren't many more congenial ways to escape the heat and humidity of the dog days in Tokyo than by ducking into a cool, stone floored soba restaurant for an ice-cold beer and a plate of chilled zaru soba. On a recent humid and rainy afternoon, I dropped into the long-established Choujuan Kyosho restaurant near Kiyosumi-shirakawa Station to talk noodles with the Shitara family, who manage it.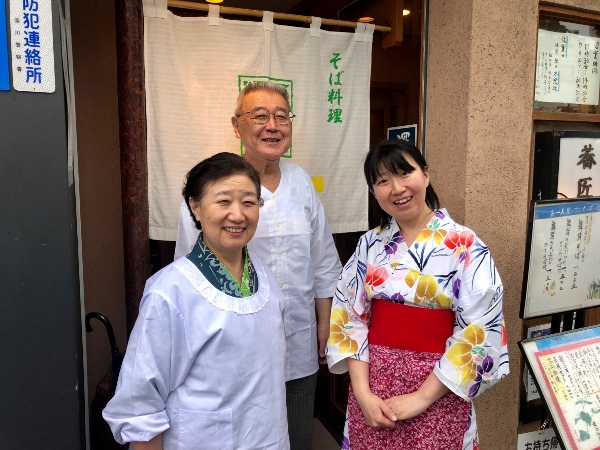 The senior Mrs. Shitara welcomes customers with a greeting so warm and friendly that one immediately feels comfortable. The atmosphere is calm and relaxed, a tranquil haven against the rain and wind outside.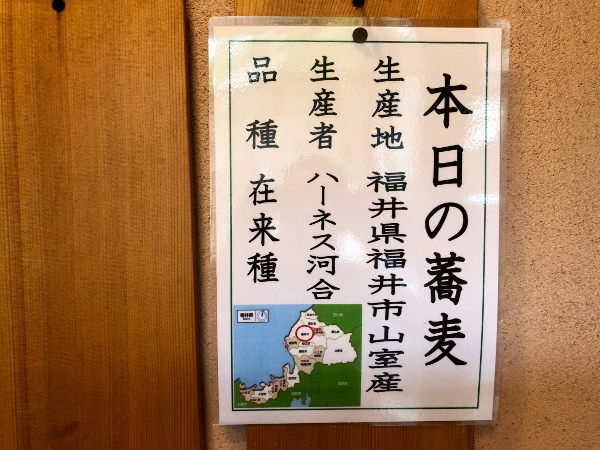 "We're serving soba made from Fukui buckwheat flour right now," explains the younger Ms. Shitara. "The buckwheat harvest starts in Hokkaido in autumn and then moves south through Yamagata, Niigata, Nagano and Fukui. We take the best of the buckwheat from each area, down as far as Kyushu sometimes. Our soba is "ni-hachi" (2-8), which means it's 20% wheat flour and 80% buckwheat." Buckwheat is gluten-free and needs a binder to make into a dough; usually this is wheat flour although certain areas use local alternatives such as seaweed or soybeans.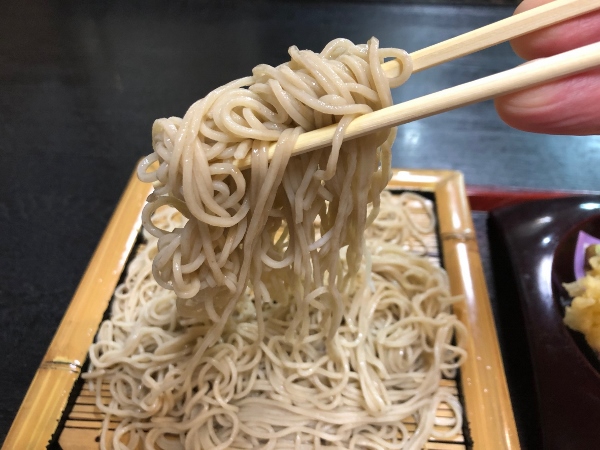 In the blink of an eye, a large tray appears featuring a mountain of tempura and a large portion of very tasting looking soba. The dipping sauce is a mixture of kaeshi, a thick sauce made from soy, shaved bonito and mirin (the sweet rice wine condiment) and a broth ("dashi" in Japanese) based on edible kelp. The kaeshi sauce is simmered for hours then stored for two weeks. A touch of spicy horseradish and some sliced long onions completes the flavour. As you can see the noodles are long and have a wonderfully earthy and nutty taste, with a nice solid texture. They are delicious, exceptionally good!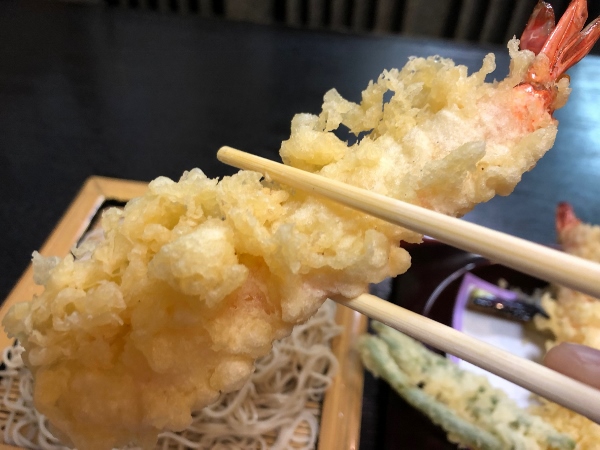 The tempura features two large shrimp, a slice of squid and some green beans ("ingen" in Japanese). The shrimp are fantastic, with a crisp yet light batter concealing the plump and soft shrimp inside. The homemade tempura dipping sauce is light and flavourful and comes with some grated daikon radish, which imparts a refreshing aftertaste.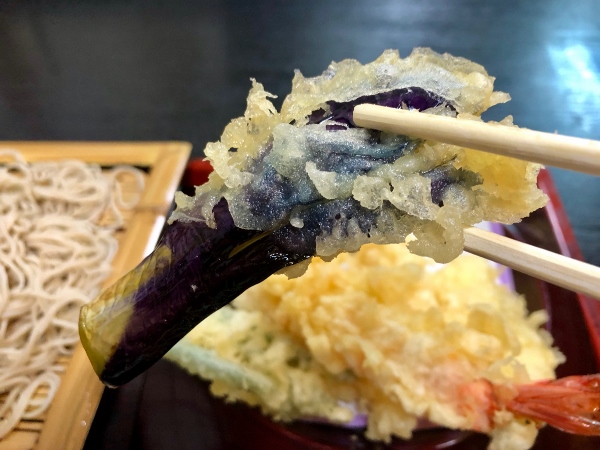 The eggplant is crisp on the outside and meltingly soft on the inside without being oily.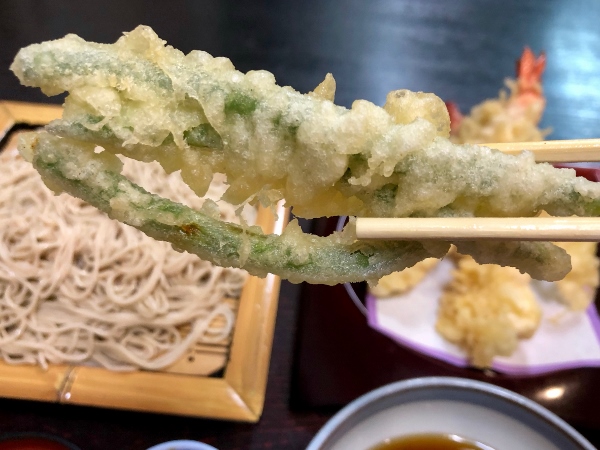 While the green beans are fresh, crisp and chewy. "We serve seasonal vegetables throughout the year," says Ms. Shitara, "Eggplant, green beans and mushrooms in summer, sweet potato, pumpkin and so on in autumn. Since we're in Fukagawa, renowned since the Edo Period for its signature dishes made with short-necked clams, we have a round tempura ("kakiage" in Japanese) made with Edo style long onions and clams."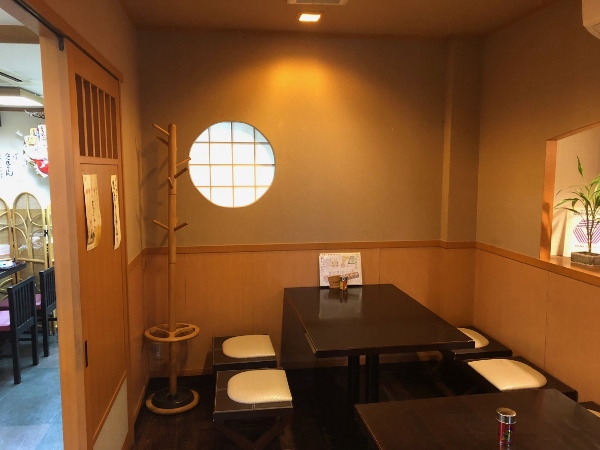 Mr. Shitara joins us after his shift in the kitchen finishes and relates the history of his establishment. "My parents opened the restaurant in 1952," he says "I took over from my father as the second-generation owner and my daughter is the third. It's a long and busy day; I'm up at six lighting the stove and preparing the dipping sauce for the day. While that's going I begin to make the soba, rolling out the dough and chopping it by hand. Then I cook a batch of soba to check the quality. On dry winter days, I add a little more water to the dough while during the humid summer a little less. It's a matter of experience and feeling."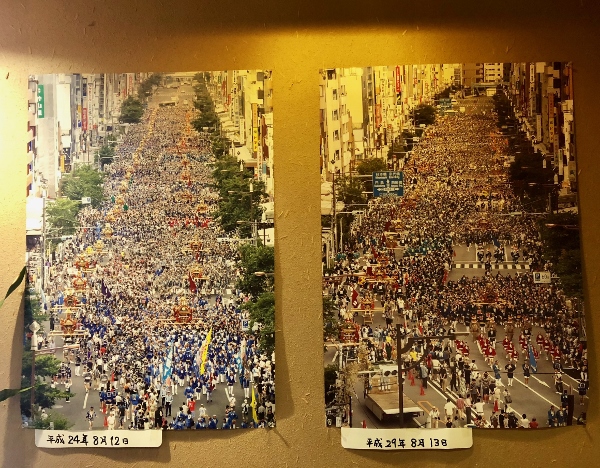 "In those days there was a streetcar line running along the road and Hirano Station was just outside the restaurant. Next door was Hirano police station and the detectives used to come in here for their lunch. Sometimes they would order soba for people held in the cells and my father and I would deliver it. Both sides of the street were lined with a variety of shops and the whole neighbourhood was teeming with people. We are members of the Hirano Ichi portable shrine ("omikoshi" in Japanese) group and still join in the Fukagawa Festival in August every year." Ms. Shitara proudly shows an album of photos of herself and her father from the festival and the walls are adorned with massive photographs of the epic parade.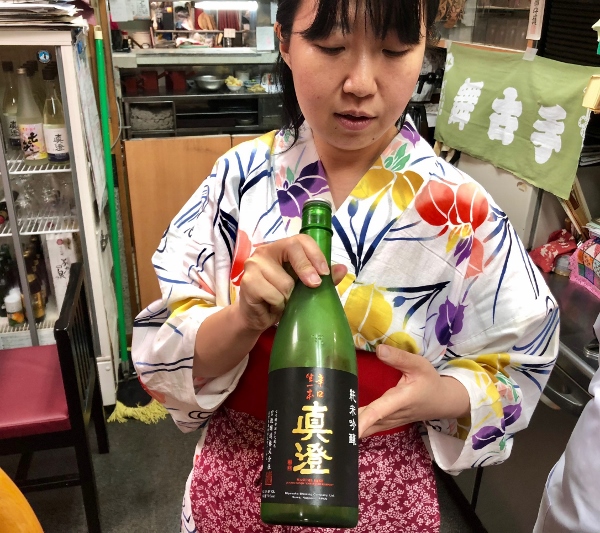 Choujuan Kyosho has a variety of drinks on offer, largely sake such as this Karakuchi Kiippon from the Masumi Brewery in Nagano, Okuden Kanzakuri also from Masumi Brewery and buckwheat shochu such as this Nihachi from the Kikusui Brewery in Nagano.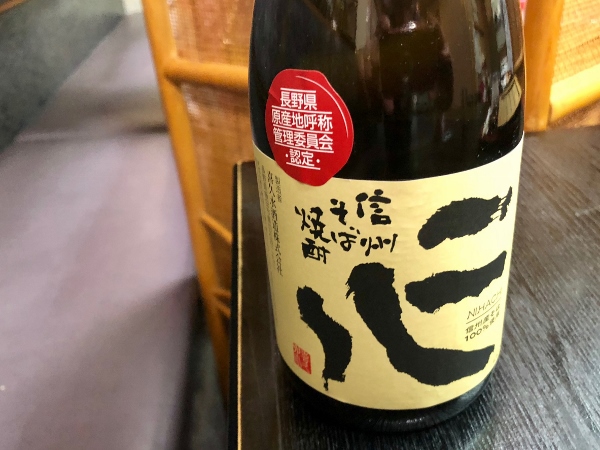 Buckwheat shochu was first produced in Miyazaki, Kyushu in 1970 and is still quite rare in Japan. Unlike sake, shochu is distilled, with the distinctive nuttiness of the buckwheat grain adding a strong flavour to the drink. Mr. Shitara recommends diluting it with a little of the leftover soba-yu, the hot water the noodles are cooked in. "You don't get a hangover that way and it's actually quite good for you," he says. A top tip from someone with a lifetime's experience!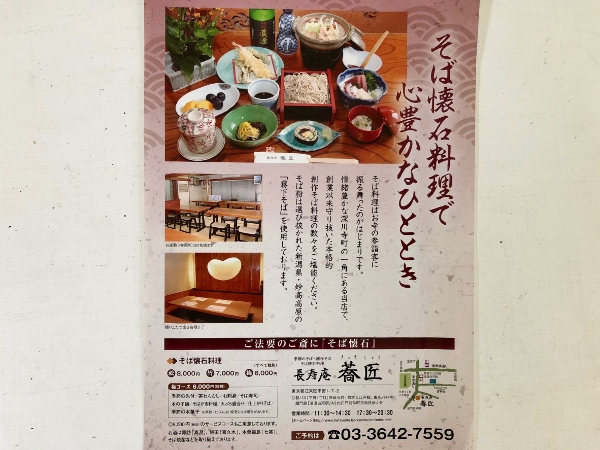 For a special event, Choujuan Kyosho offers a series of course meals that are served in the upstairs rooms. These require reservation. Customers can choose from the pine, bamboo or plum courses which feature a dizzying array of favourites including sashimi, chawanmushi (savoury egg custard), sushi made from soba, mushroom hot pot, tempura and, of course, soba.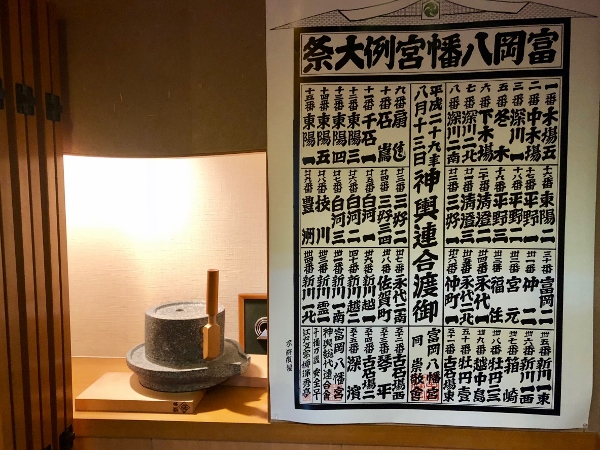 Choujuan Kyosho is located right across the road from the beautiful Kiyosumi Gardens, the traditional Japanese stroll garden and jewel in the crown of Koto-ku. It's also just a few minutes' walk from the Tomioka Hachimangu shrine and Fukagawa Fudoson temple in Monzen-nakacho. In fact, there are a host of interesting places to visit in the area. After a day of walking and sightseeing, why not treat yourself to the delicious taste of traditional soba, prepared with loving care by the Shitara family, and served with the warmest of welcomes, in the true manner of old-town Fukagawa hospitality.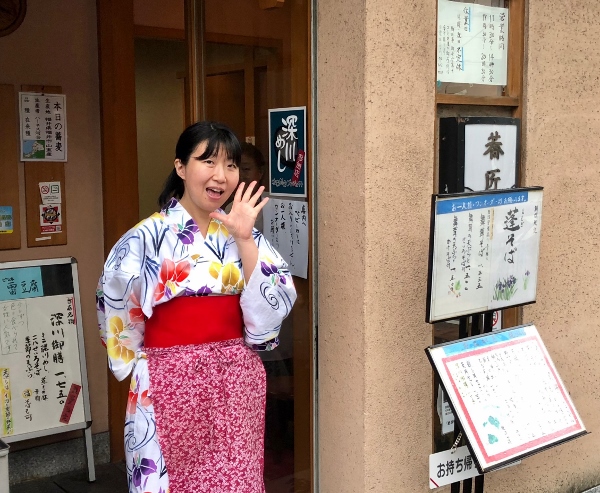 Story and Photos by Stephen Spencer