A Taste of Canton in Morishita
Published: January 12, 2018
For sixty years, Raku Raku has been serving Cantonese food to diners in the Morishita area of Koto ward.
When the restaurant opened in 1930, the original chef was Chinese, and it is his Cantonese recipes that have been passed down through the Nakajima family, owners of Raku Raku; the restaurant is now run by the 4th generation member, Mr. Masayuki Nakajima.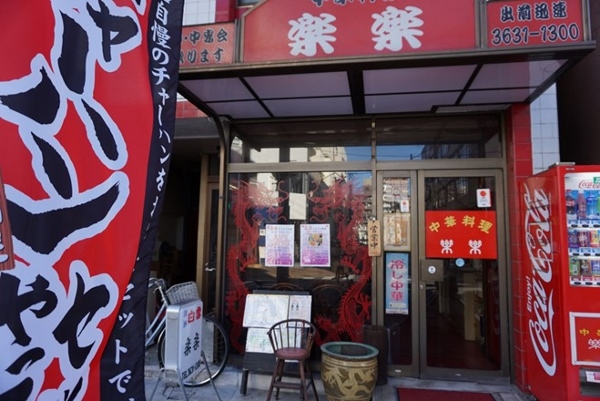 Raku Raku has been featured both on television and in food magazines, and is particularly renowned for 2 things: its delicious ankake age-wonton, and Koron and Maron, the restaurant's two resident cats. The ankake age-wonton is said to retain its original taste from the days when it was fried by the restaurant's first Chinese cook. I am used to eating wonton as dumplings stuffed with pork served in a bowl of soup. Raku Raku's dish is very different; it comes deep fried, without the soup, and is served with a topping of sliced naganegi (leek) in a sweet vinegar sauce. The outer casing of the fried wonton starts out crisp, but if you leave it for a while it becomes softer. The inside of the wonton is stuffed with a tender mixture of pork, vegetables and ginger. I found I couldn't stop eating this delicious variation of a well-known dish.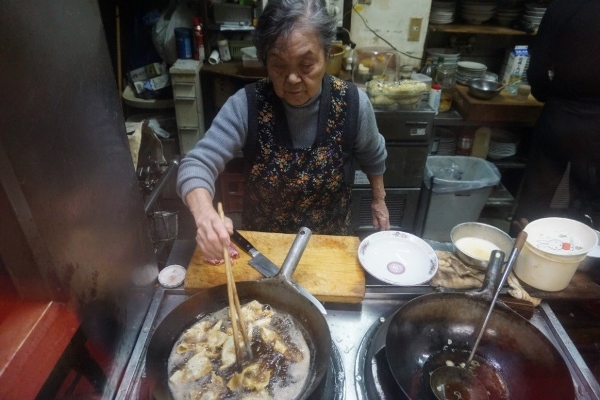 And then there are the cats: over the years Raku Raku has had numerous cats, which have become a fixture of the restaurant. The current cats, Koron and Maron, are around two-and-a-half-years-old and were gifted by a neighbour when they were kittens. Whilst Koron, a friendly feline with a laid-back attitude at the fuss made over him customers, graced us with his presence, Maron decided to go into hiding that day.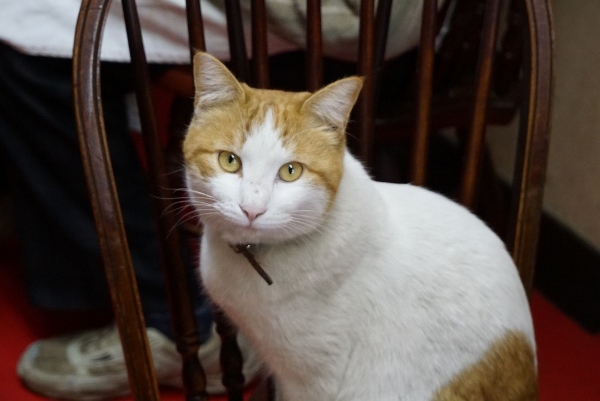 Back to the food: Raku Raku serves a daily ramen lunch set for 840 yen, in which a bowl of ramen is accompanied by a dish of chahan (fried rice), curry rice, gyoza rice (stuffed fried dumplings on rice) or mabo-don (bean curd and spicy minced pork on rice). Or, you can opt for something from the a la carte menu. In addition to the ankake age-wonton, we were served three tasty dishes: firstly, a generous serving of chahan,…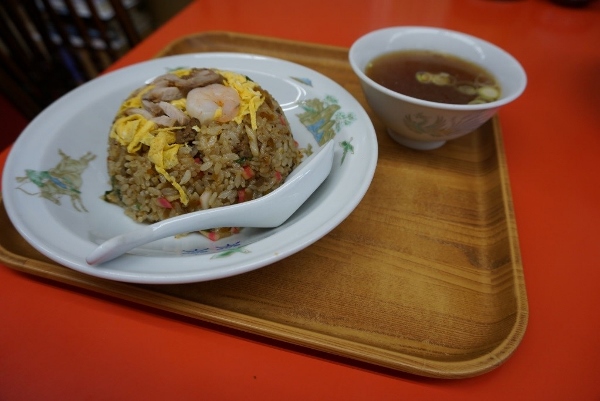 …and then that stalwart of Chinese restaurants, subuta (sweet and sour pork)…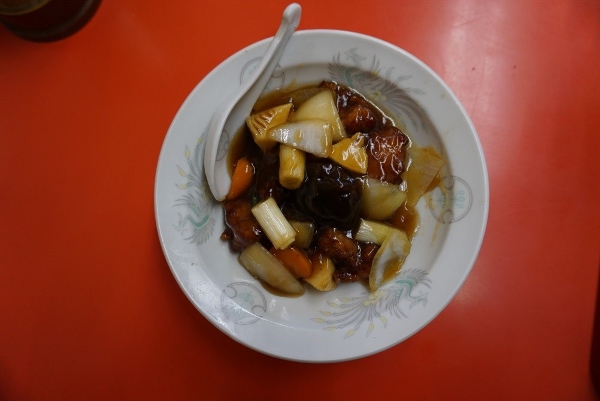 …and finally, Canton-men.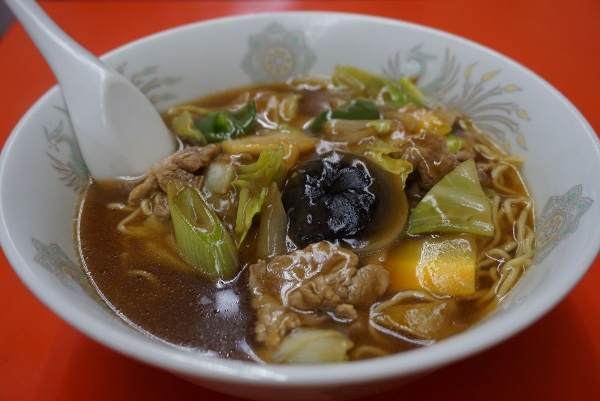 Mr. Nakajima's mother, Toshie, who, along with her sister-in-law, helps out in the restaurant and the kitchen, told us that whilst the restaurant started out serving only Cantonese food, over the years, recipes from other regions of China have been added to the menu at the request of customers. I was surprised to see that one dish, hiyashi-chuka (chilled Chinese noodles served with a variety of toppings in a vinegary sauce), which I associate with the hot and humid days of summer, is a year-round favourite at Raku Raku.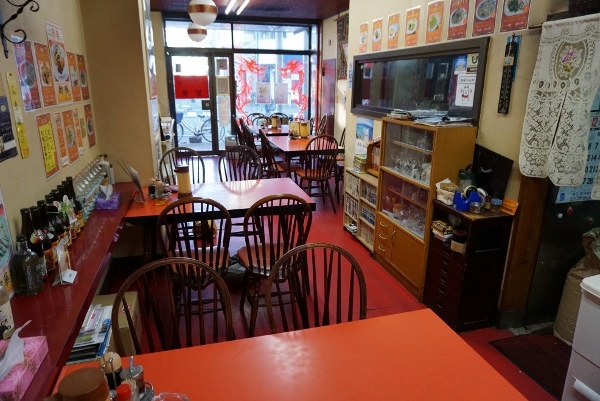 Raku Raku's long-standing connection with the neighbourhood is evidenced by the magnificent old wooden carving hanging over the kitchen entrance, inscribed with the name of the restaurant on the left hand side and that of a local craftsman, its creator, on the right.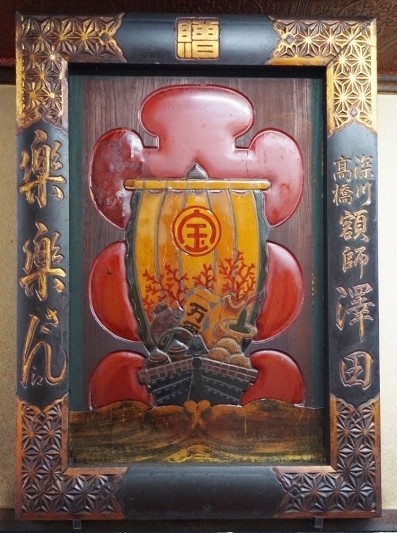 At the rear of the restaurant is a tatami (straw mat) area for use by groups, which is popular with families, as babies can be left to roll on the tatami flooring. The 3rd floor, which has round tables, is also used to cater to groups. Raku Raku also provides a take-away service and delivers to customers in the area.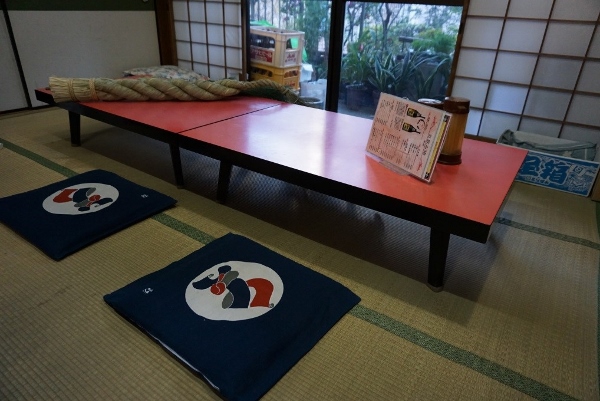 So, if you fancy a combination of traditional Chinese and Japanese "Chuka" (Chinese-style) dishes in a relaxed atmosphere, why not drop into Raku Raku? And you can be sure of a welcome from one of the restaurant's resident cats.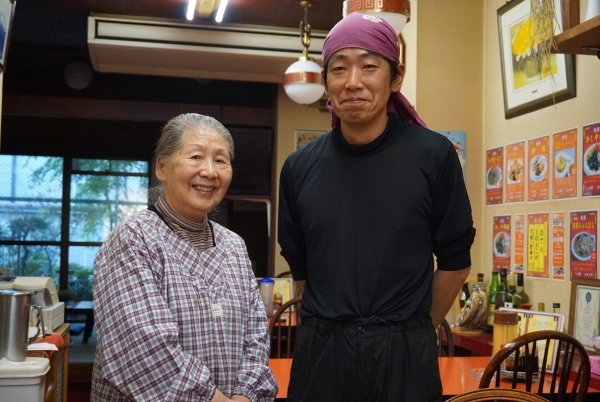 Story and Photos by Jeremy Hutchinson