Classic Boots, Workwear, and Toyosu Market Souvenirs at Ito Uroko
Updated: October 13, 2020
Ito Uroko is a company specializing in original rubber boots, workwear, souvenirs, and a whole lot more, mostly relating to fish and fisheries. The company was founded in 1910 at the Nihonbashi riverside fish market. Ito Uroko ran a shop in the Tsukiji Fish Market from its opening in 1935 to its closure in 2018, whereupon it moved to the market's new location in Toyosu, Koto-ku. Ito Uroko moved too and now inhabits a shop on the 4th floor of the Fisheries Wholesale Market Building. On a recent morning we dropped in for a chat with the executive director, Ms. Kanako Ito.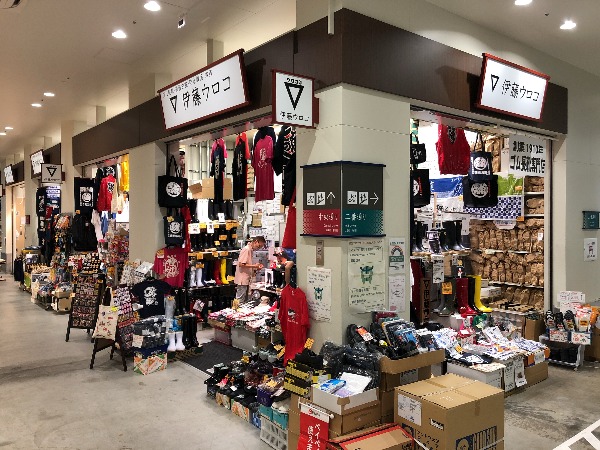 "My great-great-grandfather started the company in 1910," explained the youthful and charming Ms. Ito. "It was a rubber goods business back then. My mother is the fourth president and I'm the executive director. Our principal business has been supplying rubber boots to the fish market workers, first in Nihonbashi, then Tsukiji and now here in Toyosu."
While old photographs from the 1950s show a shop selling predominantly black rubber boots and gloves, Ito Uroko now is a riot of colour and sells a wide variety of items.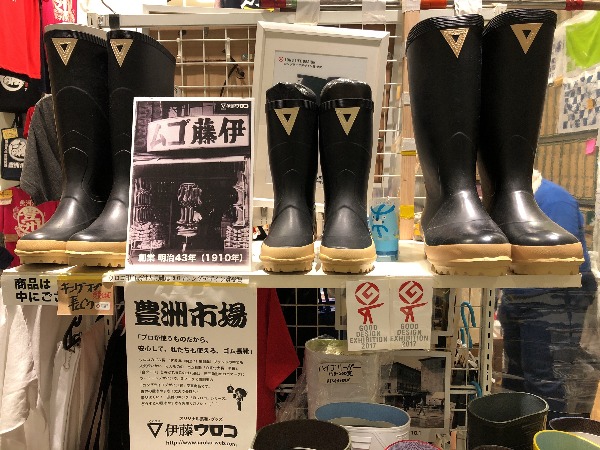 The long boots specifically designed for the fish market workers are still the top items, though. "The designs have remained the same since the days of the second president," said Ms. Ito. "The boots are composed of several parts, manufactured to our specifications by various makers. The final products are all put together by hand in our factory." One of the major elements in the design is the upper part of the boot: it's extremely soft and flexible, yet still strong. "The workers on the floor of the fish market must squat down a lot," as Ms. Ito explains, "so a hard, stiff boot would be very awkward and uncomfortable. Our boots are both tough enough to withstand the rigours of the job and pliable enough to be very comfortable for the wearers."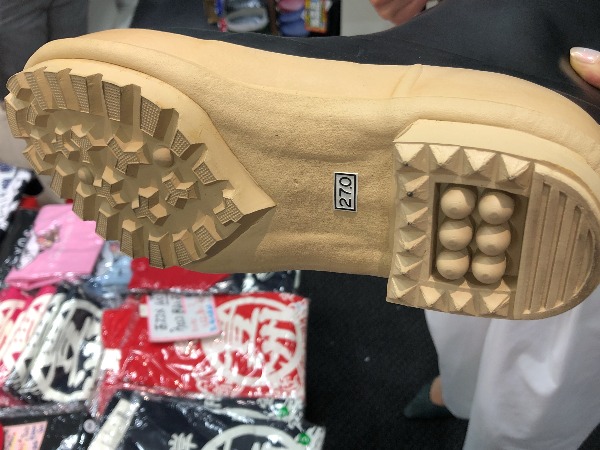 Another key point is the sole, which comes in two versions. The standard sole, made from natural rubber, is solid with a strong grip in wet conditions. These boots are recommended for fishing, farming, outdoor work in heavy rain, typhoons or snow and commuting by bike. A second version has a grease-resistant sole and is the variety favoured by fishery workers in Toyosu and all over Japan.
Prices are very reasonable considering, ranging from 12,100 yen (for sizes 24 to 27), 12,460 for size 28 to 14,080 yen (including tax) for a 29. Some half sizes are also available. The boots were honoured with the Good Design・Long-Life Design Award in 2017.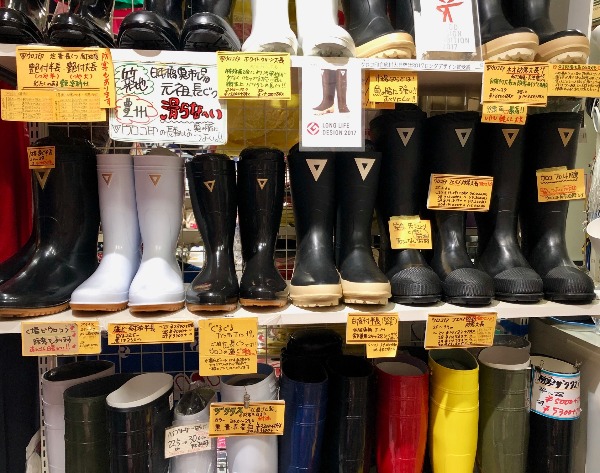 Aside from the main long boots, Ito Uroko also offers some even more specialized ones. On the right here are the felt-lined, grease-resistant sole boots with toe protectors for those doing seriously heavy work in oily, refrigerated environments. Frozen tuna are heavy, and having one land on your foot could seriously spoil your day. Sizes 24 to 27 cost 15,600 including tax, with some half sizes also available. This series extends to size 30, which costs 17,165 yen including tax. On the left are shiny black and white vinyl boots. Reasonably priced at 3,520 to 4,180 yen a pair, all are made in Japan. Again, many half sizes are available.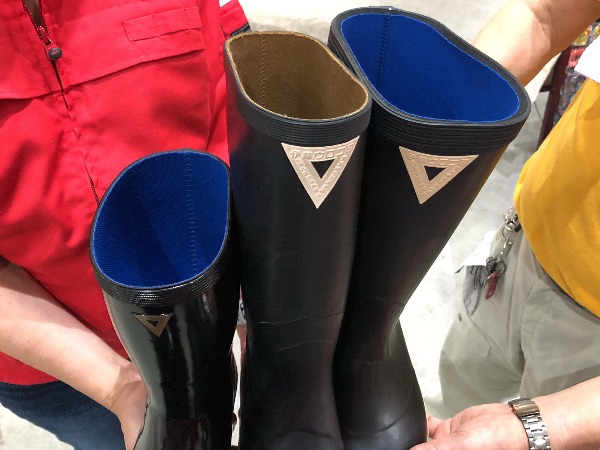 Different boots feature different linings. The Uroko Neo Cold Protection series, made using foam rubber, feature a lining made from blue wetsuit material, targeting those working outside in low temperatures (down to a low of -40C, according to the staff). The central boot has a felt lining.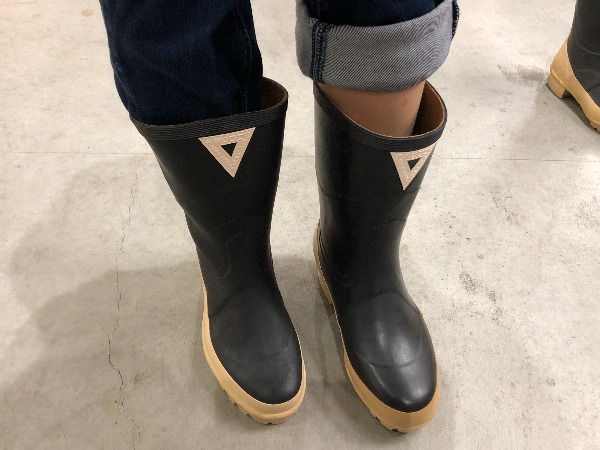 Japan residents and visitors alike will be aware of the increase in violent rainstorms in recent years, sudden torrential downpours that strike in highly localized areas. This climate change has prompted a rise in rainboot sales, particularly among female commuters in major cities. Ito Uroko have responded by introducing a short boot specifically for ladies with petite feet. They come in two sizes: small are 22.5~23.5 cm and medium are 23.5~24.0, with both having a 2E width. All are made to the same design and with the same high-quality materials as the long boots. Two versions are available, the natural rubber sole and the grease resistant sole. At 10,175 including tax, they're very nice indeed for rainy or snowy days. Comfortable, hard-wearing, warm and stylish – what more could you want from rainboots?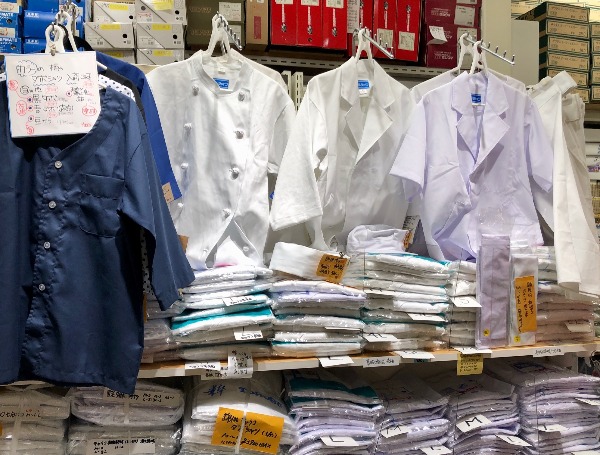 Since the Toyosu Market is visited by many buyers from sushi restaurants, Ito Uroko also stocks workwear for chefs and restaurant staff.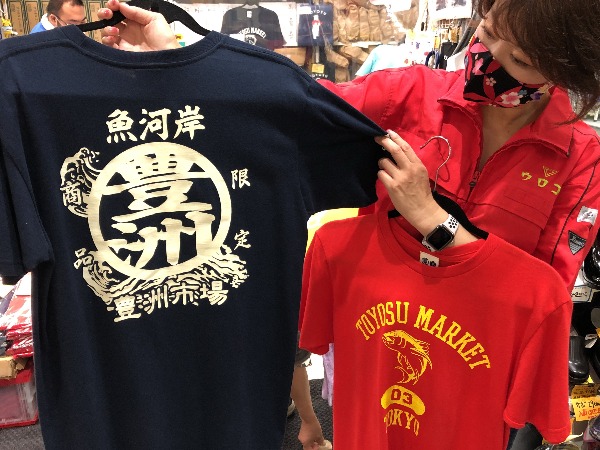 In recent years the shop has begun to sell original souvenir goods. "It started after my mother became president, before that we just sold happi coats. She and I argued about it at the time," Ms. Ito explained, laughing. The red T-shirt on the right is the first design produced, while local school kids wear pastel-coloured ones with the same design for their group performances. All the original tees and other souvenir items are made from designs created by Ms. Ito and her staff.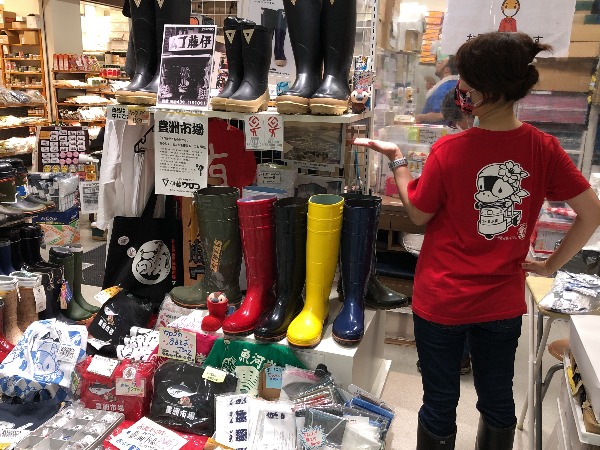 Koto-ku tourism mascot Kotomi-chan features extensively on a variety of goods, seen here driving one of the iconic turret trucks used to transport fish around the market. The sturdy, well-made T-shirts are 2,440 yen including tax and make a great souvenir.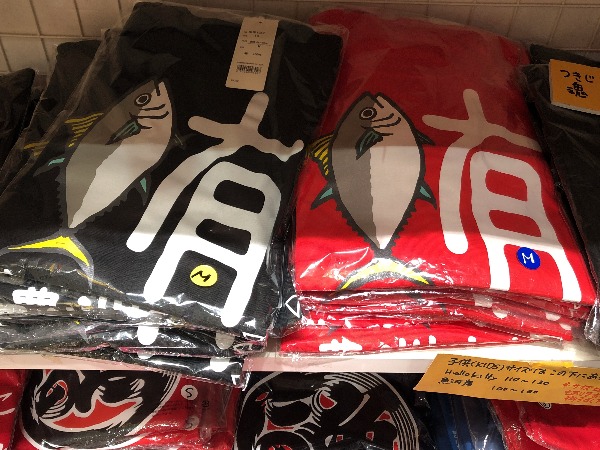 While the Toyosu Market also handles fruit and veg, it's still mainly a fish and seafood centre. This is reflected in the large number of piscine souvenirs, particularly tuna-related ones. These tuna tees celebrate Japan's most popular fish.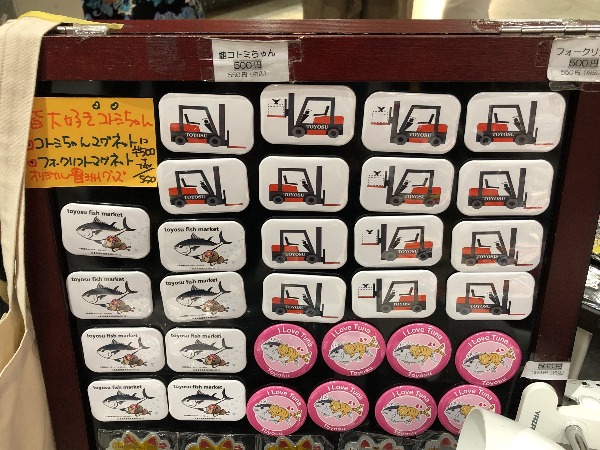 Refrigerator magnets are always popular and Ito Uroko has a fair variety at 550 yen including tax.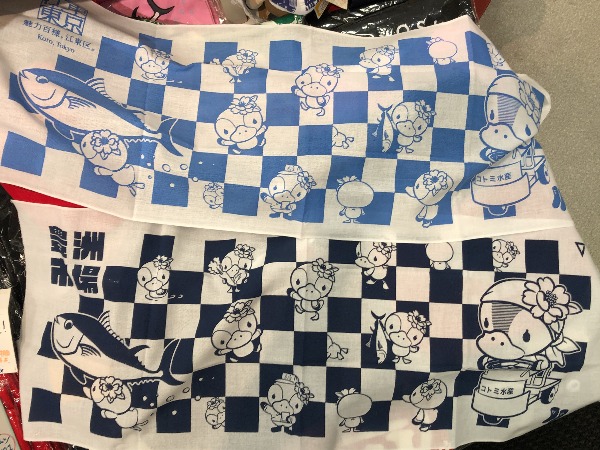 Tenegui are thin cotton hand towels, usually measuring 35 by 90cms, plain woven and dyed with a pattern. They were originally used as towels, washcloths or kitchen cloths but have become popular as souvenirs and multi-use items in recent years.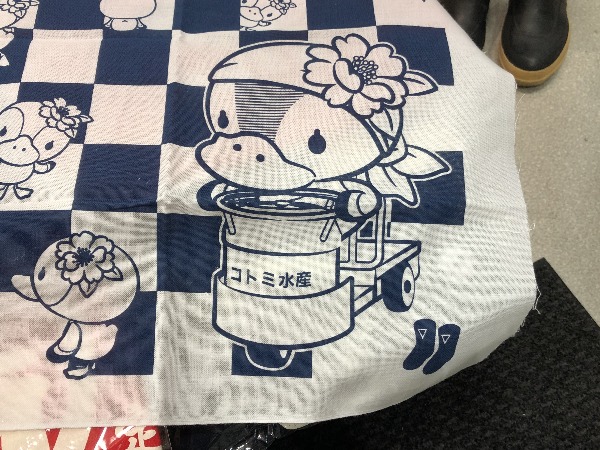 Ito Uroko has a variety of tenegui, many featuring fish, and the latest additions feature Koto-ku tourism mascot Kotomi-chan. The brand's triangle logo is visible on the bottom right of the tenegui.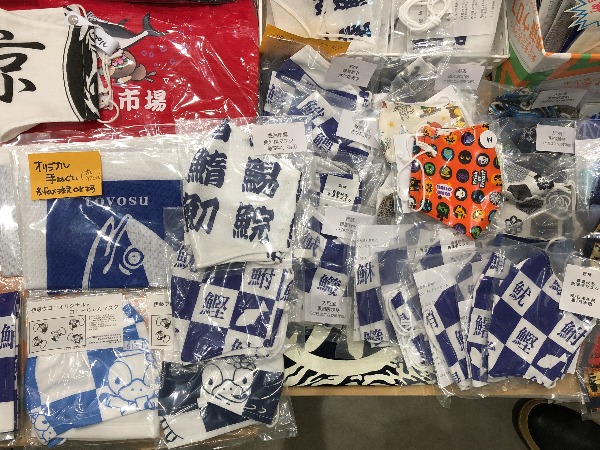 Moving with the times, Ito Uroko has begun selling masks too. The Japanese characters on the masks are for a variety of fish such as bonito (katsuo), rockfish (mebaru), mackerel (saba) and the like.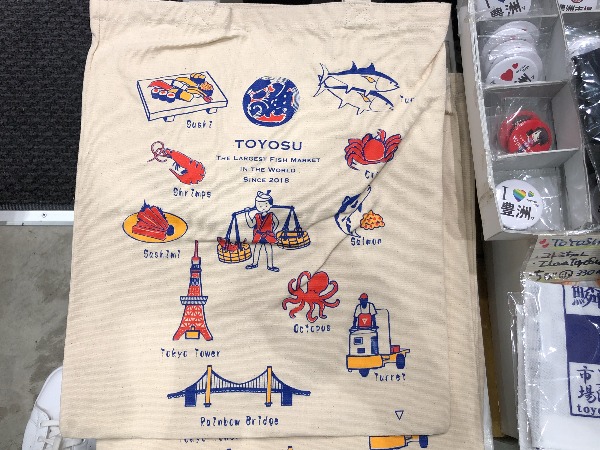 These ever-popular shopping bags make a useful, environmentally-friendly souvenir at 1,518 yen including tax.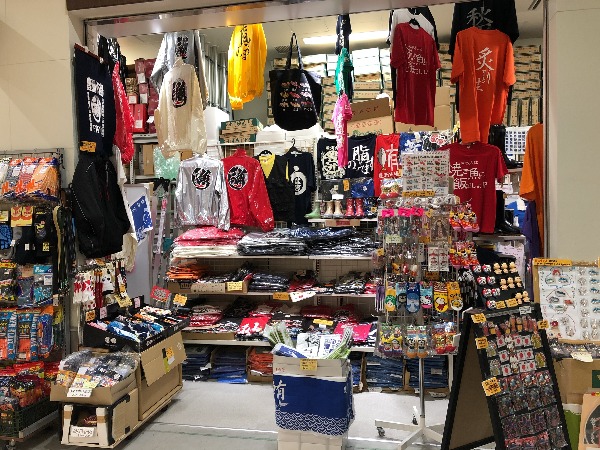 Ito Uroko is a veritable cornucopia of long-selling, classic designs, both functional and heavy-duty, together with fashion wear and souvenir items. The shop opens at 5am from Monday to Saturday, with market workers doing their shopping in the early hours. "Generally, we're very busy from six am until around eight," said Ms. Ito. "General visitors to the market should drop in after eleven or so as it's less crowded then."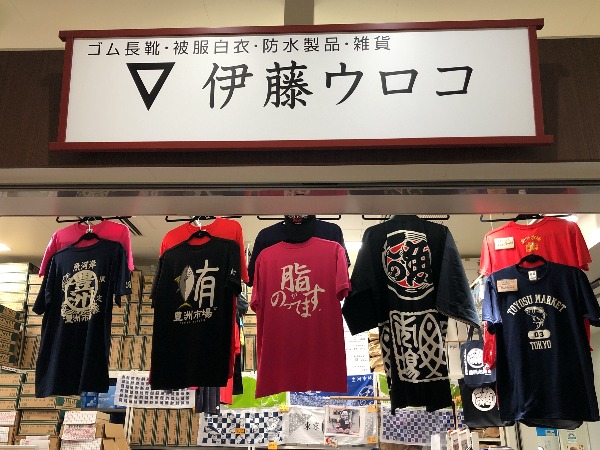 Ito Uroko is a fascinating shop with unique products, while the world's largest fish and seafood market is a must-see (and a must-eat-at) for visitors to Tokyo. While you're there why not drop in to look for that one-of-a kind souvenir. Ms. Ito, her mum and the friendly staff will be waiting for you!
※This shop is inside the Toyosu Market (Tokyo Metropolitan Central Wholesale Market).
Story and photographs by Stephen Spencer