Coffee and Honey at Beeslow
Published: November 11, 2022
Beeslow is a specialty coffee and honey cafe with a unique approach to its products; just as a sommelier matches wine to food, the staff at Beeslow match rare Japanese honey to single origin coffees. On a sunny autumn afternoon, I dropped in for a chat with shop manager and head barista Mr. Akira Nakadate, and Beeslow boss Mr. Funayama.
Beeslow is located on Shiryokan Street just a one-minute walk from exit A3 of Kiyosumi-shirakawa station. It's a prime location, perfect for a break before, during or after visiting the plethora of interesting places in the area.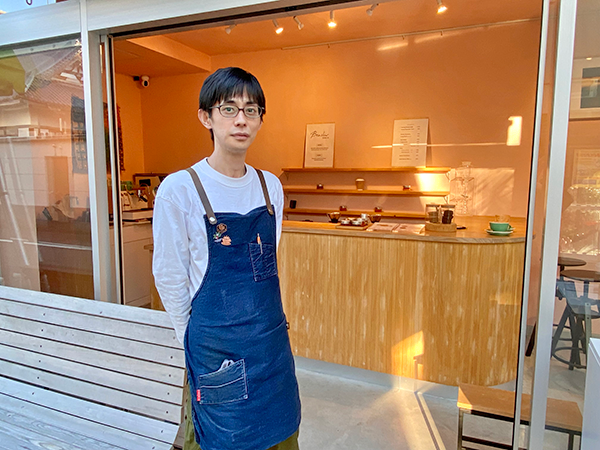 Shop manager, barista, and fly fisherman Mr. Nakadate studied the business at a specialist school in Japan, then spent two happy years in Christchurch, New Zealand, working and fishing. "I love fly fishing," he explained in fluent English. "I've been fishing since I was ten, have a vice and make all my own lures. I actually wanted to be a fishing guide in New Zealand." On returning to Japan, he was headhunted to work in Beeslow via a chat with a Colombian coffee importer on social media, a rather unusual way to gain employment.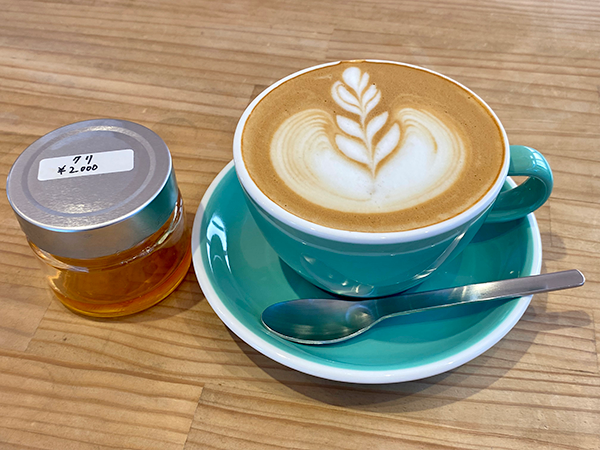 The signature drink at Beeslow is this pairing honey latte (1,000 yen). Beeslow offers a selection of single origin coffees mainly, but not completely, from Colombia with honey selected to match the unique characteristics of the beans. On this particular day the coffee was from Xishuangbanna, while the honey was chestnut, an autumn favourite.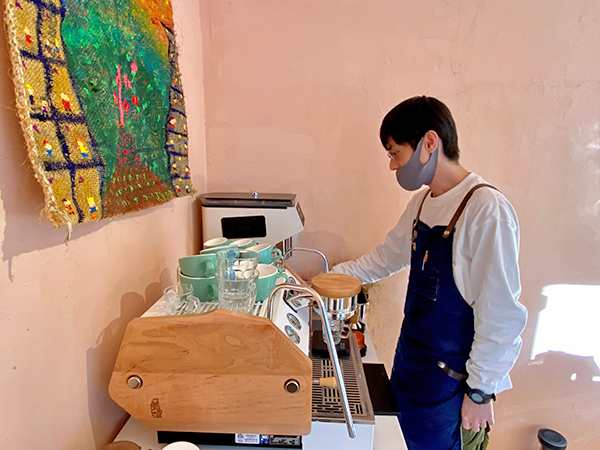 As Mr. Nakadate explained, "The Xishuangbanna coffee has a rich cacao flavour, which pairs perfectly with the sweet and strong floral taste of the chestnut honey." It was wonderful, incredibly rich and creamy, with the honey and coffee creating a fine balance in which neither dominated the other.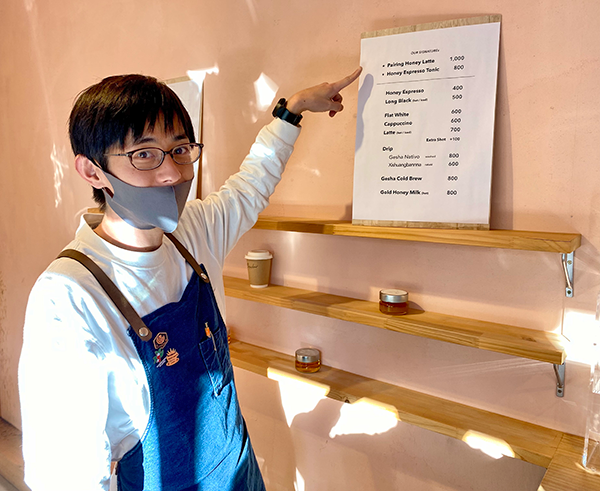 On the other hand, the Gesha Nativo coffee would be paired with a Forest Honey, as both have a herbal, citric acid, and slightly bitter flavour profile.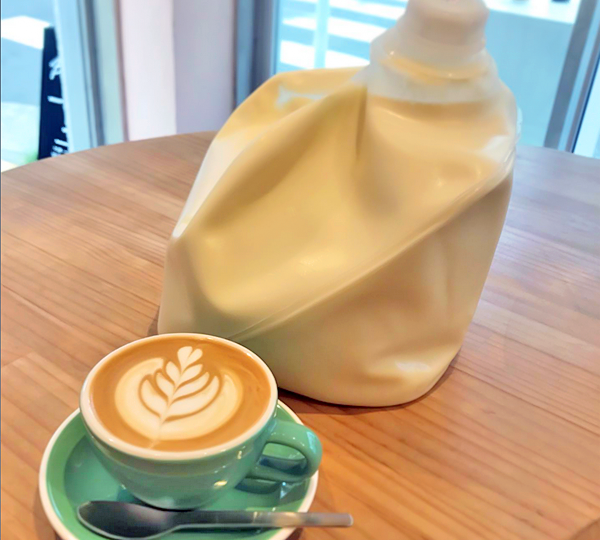 The honey at Beeslow is astonishingly good, as is the milk, which comes from free range, grass-fed cows at the aptly named Shiawase (happy) Farm in Iwate Prefecture. Beeslow is the only place in Japan that uses this particular milk as it has a shelf life of just one week.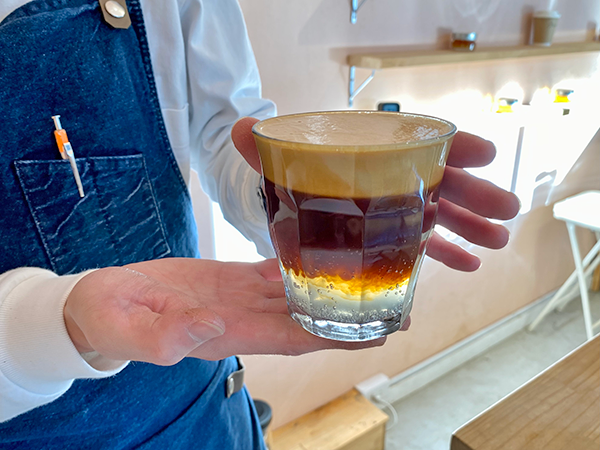 Second on the menu at Beeslow is the intriguing named Honey Espresso Tonic. Mr. Nakadate poured a quantity of homemade honey syrup into an ice filled glass, added some homemade tonic water and then floated a shot of espresso on the top. The turgidity settled in an instant and the drink assumed the aspect of a stout ale.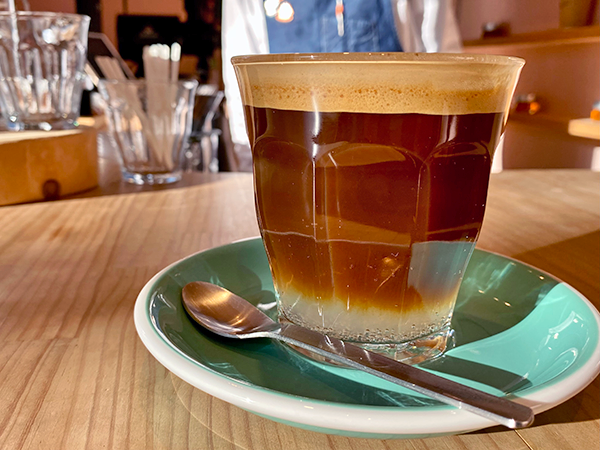 It even tastes slightly like a stout ale too, except one made with honey. Simultaneously refreshing and energising, it would make a perfect eye-opener in the morning or an afternoon pick-me-up. The combination of coffee and carbonated water may sound odd, but it was a real treat.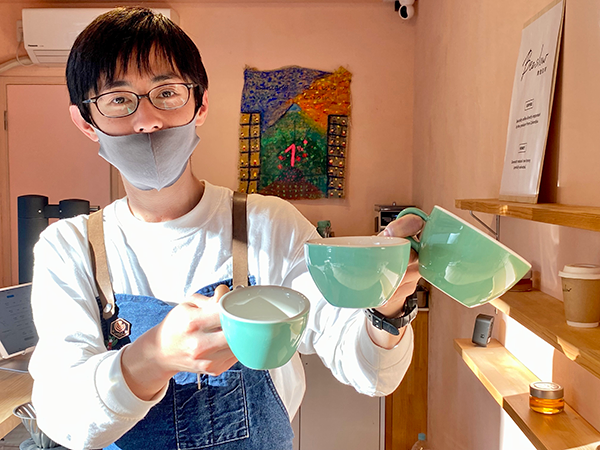 All cups and saucers used at Beeslow are imported from New Zealand.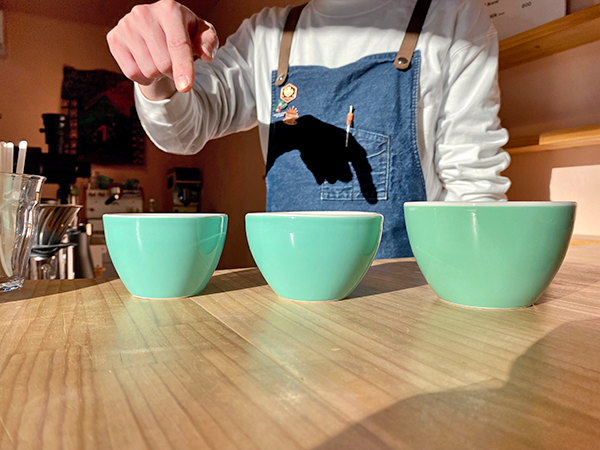 The cups come in 5 oz, 6 oz and 8 oz sizes, depending on the quantity of milk in the drink ordered.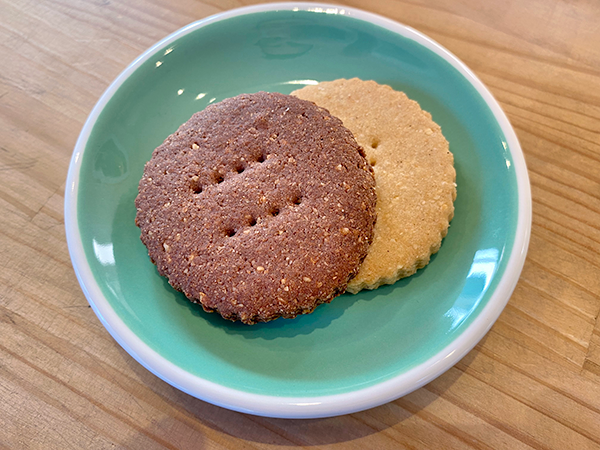 Beeslow also offers some tasty accompaniments to the coffee. There are two varieties of cookies: the plain contains cashew nuts and honey (200 yen) for a mild, very pleasant sweetness and a touch of salt that suits drip coffee, while the dark cookies contain cacao and soba flower honey for a deeper flavour that matches milky drinks. The cookies are all gluten free and contain no dairy or sugar.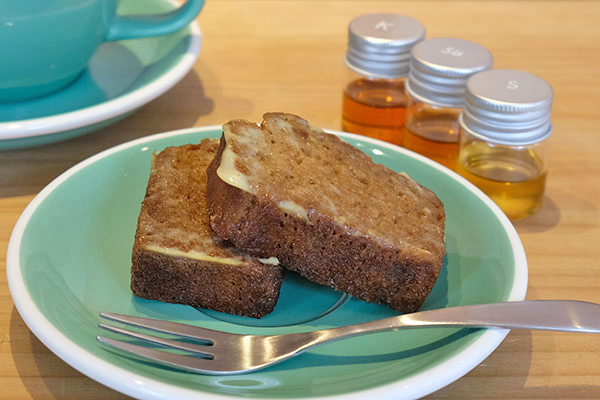 In addition there's cold French toast (650 yen) that comes with a choice of three kinds of honey. Customers can choose one, souse their toast and take what's left home in the mini bottle. Nice.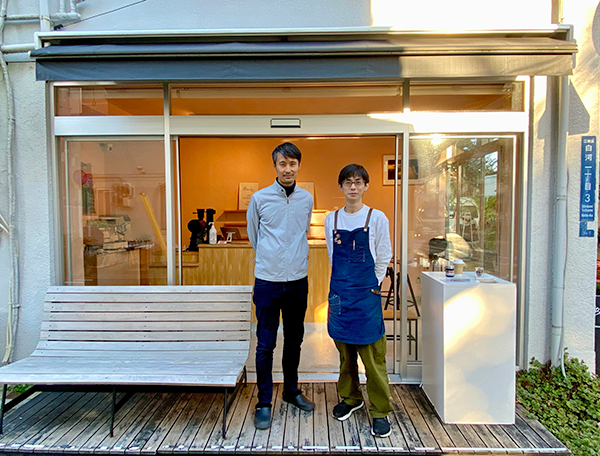 Beeslow also hosts a vegetable market on the first and third Sundays of each month, featuring veggies brought directly from farms in neighbouring prefectures. Both Mr. Nakadate and Beeslow boss Mr. Funayama strongly stressed their respect for the producers of both coffee and honey, together with their commitment to the environment. "We want our customers to enjoy our specialty coffee and honey; the flavours come from the producers and the natural environment, so enjoying them means appreciating them," they said. The motto is "think bee, live slow" and that's something we can all support!
by Stephen Spencer