Cool Canal Lunch Cafe!
Published: June 29, 2021
Koto-ku is home to many hidden gems. Some are hiding in plain sight behind unassuming facades, while others, like Container Cafe 2187, are just hidden. Seriously, if you didn't know it was there you would never find it. It's not even visible on Google Maps! On a recent balmy summer afternoon I trod boldly along the canals of Koto-ku to find yet another secluded treasure.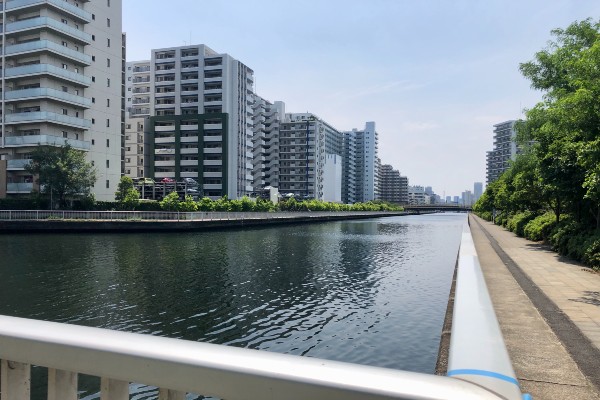 Container Cafe is located on a corner of the Shiohama Canal, some 10 minutes walk south from Toyocho station. The easiest way to get there is straight down Yotsume Street from the station crossroads and hang a left just before the canal. This is the view looking back towards Yotsume Street. Nice!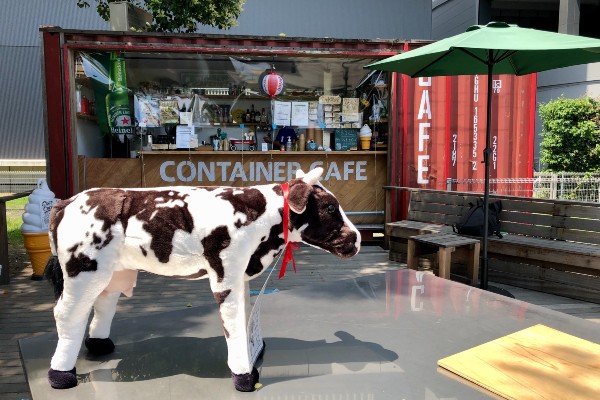 The container abuts a large wooden deck known as Shiohama Terrace, and is part of an urban design project (machizukuri) for the area. That's a real, functional container which was previously located somewhere in Nihonbashi.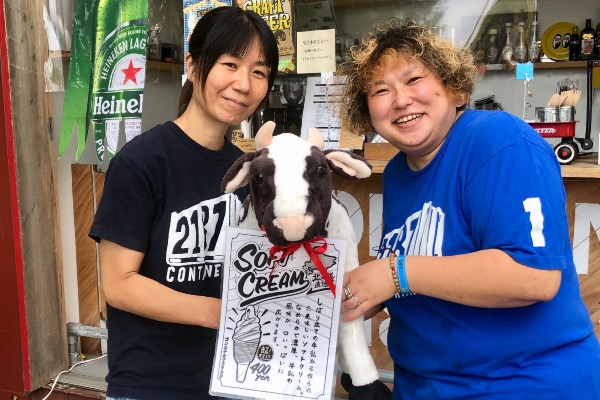 Your hosts at Container Cafe are Ms. Kyoko Kunisada and chief cook Ms. Eri Suemitsu, on the right here. They are exceptionally friendly and welcoming, as bright and cheery as the sun that was shining the day I visited. "We opened here on July 15th, 2020," explained Ms. Kunisada, "which was three months later than planned due to the state of emergency. The cafe is a joint venture between three major household name companies that have offices in the area, the local residents association and the Tokyo Metropolitan Assembly."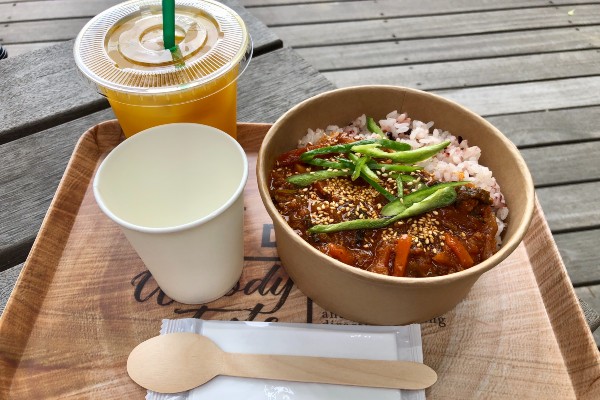 So, what's on the menu Ms. Suemitsu? "Well, we try to vary the menu as much as possible so our customers don't get tired. On weekdays our customers are mainly local residents. Some are teleworking and want a break for lunch, while others feel more comfortable eating outside given the current situation. Some dishes change every day but we always have a curry dish, such as this bulkogi curry (800 yen)," she said.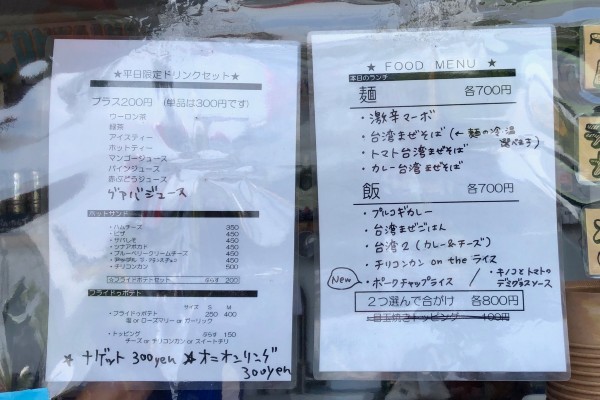 On the day I visited there were four noodle dishes and five rice dishes, with Taiwan maze appearing with both rice and the usual noodles. Maze (pronounced mazé) is a popular soupless ramen style featuring thick, chewy noodles, a tare (taré) sauce and a variety of toppings that customers mix together before eating. Also known as abura soba, Taiwan mazesoba is actually a Japanese creation, but based on an old Taiwanese recipe, hence the name. The noodles can be hot or cold. There's a curry mazesoba, one with tomato and a spicy mapo dofu noodle dish (which I suspect is hot) all for 700 yen.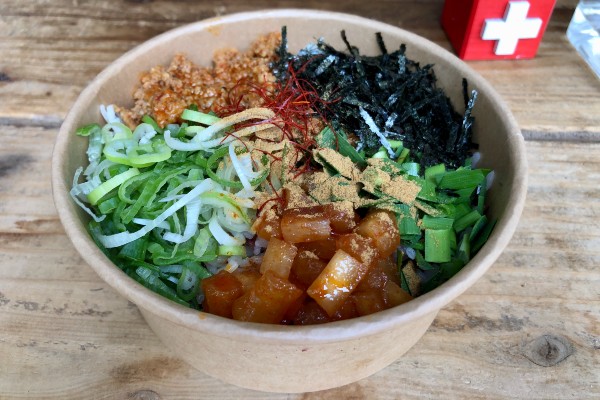 This is the mazé rice, featuring spicy pork, daikon radish, green onions, garlic chives, and more. The portions are large at Container Cafe! Ms. Suemitsu is also particularly proud of her chili con can (not carne!) and there's a new dish in town: pork chap rice, which consists of pork, tomato, mushrooms, and sausage in a demi glace sauce. Sounds great! All rice dishes are 700 yen too.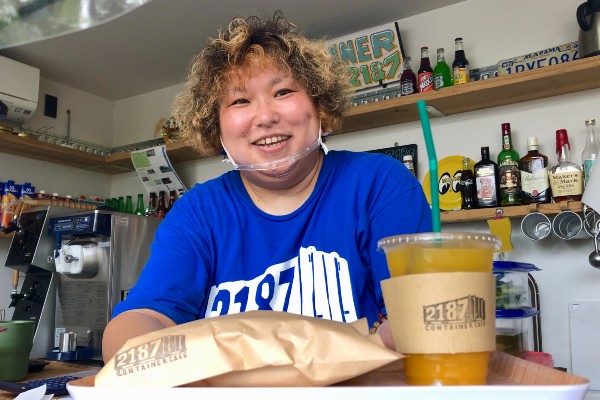 The hot sandwich is equally appealing, and also changes daily. On this day there was: ham and cheese (350 yen), canned mackerel and perilla (shiso, 450 yen), pizza toast (450 yen), croque monsieur (450 yen), tuna and avocado (450 yen), blueberry cream cheese ( 450 yen) and chili con can (500 yen). That's quite a line-up, with something for everyone!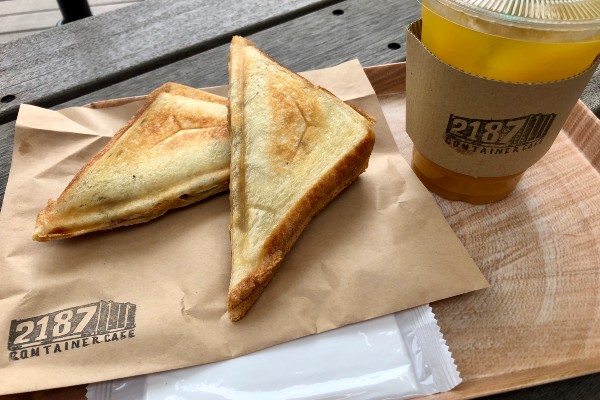 I plumped for a corned beef and potato hot sando, something I hadn't eaten for years. It was fantastic, piping hot and stuffed full of corned beef and cubed potatoes. The mango juice was a treat too, at just 200 yen if ordered in a lunch set, or 300 yen by itself. Sitting under a shaded parasol on a warm summer's day, with a light breeze blowing off the canal and mellow music drifting through the trees was a wonderfully relaxing way to spend the lunch hour.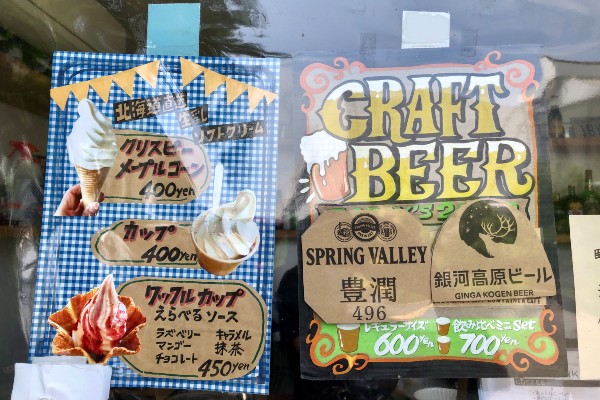 And there's beer and dessert too! Container Cafe always has two different craft beers on tap each week. This week's guest beers were Spring Valley 496, an Indian Pale Lager, and Ginga Kogen Beer. One large glass is 600 yen, with a drink-and-compare set of both for 700 yen. The staff said beer was particularly popular with weekend customers, and why not! Dessert is Hokkaido soft ice cream, available in crispy maple syrup-flavoured cones (400 yen), cups 400 yen, or waffle cones (450 yen). There are various topping syrups, too: raspberry, caramel, matcha, chocolate and mango.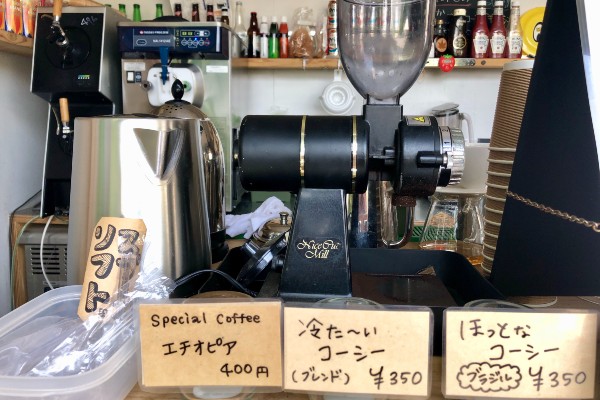 Container Cafe has coffee of course. There are three kinds: while the regular hot coffee is always Brazilian (350 yen) and the iced coffee is always a blend (350 yen), the special changes depending on availability. "This week it's Ethiopia, last week was East Timor, and we often have Indonesian," explained Ms. Kunisada.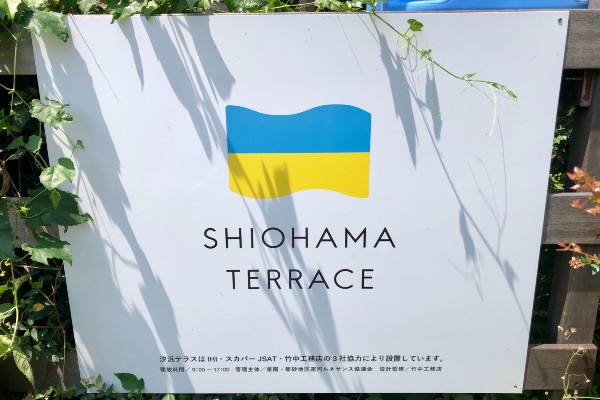 The Shiohama Terrace is open from 9am to 5pm every day, while Container Cafe is open from Wednesdays to Sundays. In the event of typhoons, or other inclement weather, the cafe will be closed so please check the Instagram link below before setting out.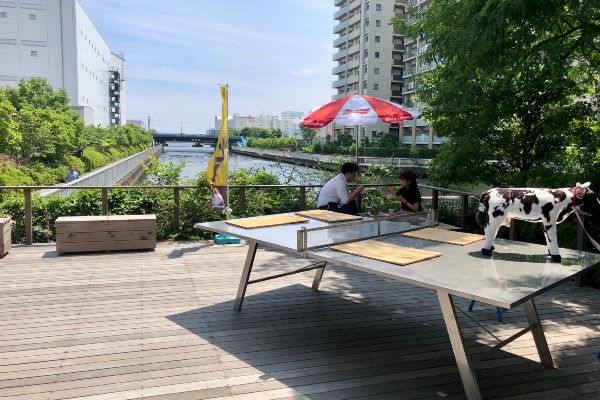 There are also a variety of events held on the deck or on the canal, such as yoga classes, organic vegetable markets, live music performances and even stand up paddle board (sup) events. There's a small floating dock and a changing room for participants. Container cafe is a small oasis of pleasure away from the bustling city, yet is right in the city. The food's great and the ambience is a knockout. If the weather's good tomorrow, why not take a walk down Shiohama Terrace? You won't regret it!
Story and Photos by Stephen Spencer