Darjeeling Spice Magic in Shiomi
Published: August 17, 2021
Darjeeling Spice Shiomi is exactly the kind of curry house you'd like in your neighbourhood: spicy, authentic curries at reasonable prices with a friendly, welcoming staff and a comfortable, relaxed atmosphere. On a recent stunningly hot summer afternoon, we dropped in to meet the ebullient owner Mr. Shugo Sasaki and his Nepalese staff.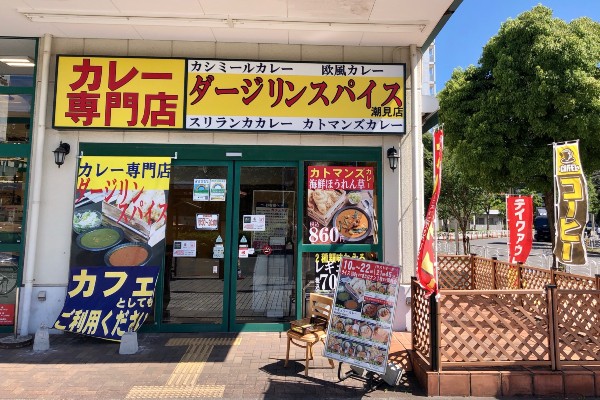 Darjeeling Spice Shiomi is located adjacent to Shiomi station, on the right of the main exit. It's unmissable, even without the brightly coloured signage and fluttering flags. "We opened on June 16th 2021," explained the Iwate-born, enthusiastic entrepreneur Mr. Sasaki. "I really like curry, especially deep fried pork cutlet on rice (katsu curry rice, in Japanese) and I wanted to have an affordable, easy-to-enter place where I could eat it," he said, laughing.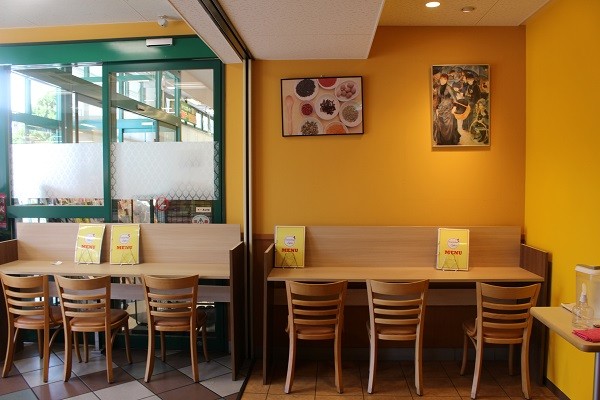 And why not? The downstairs area of Darjeeling Spice Shiomi is colourful and has several seats at a counter for those in a real hurry, while the upstairs has four-top tables, high stool counters and comfortable banquettes.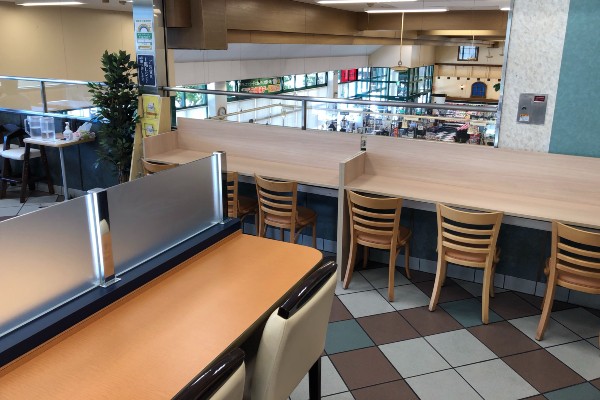 We were quite surprised to realise that there was no interior window to the neighbouring supermarket, allowing customers seated at the counter an unrestricted view of the oblivious shoppers below. This was both oddly nostalgic and strangely relaxing.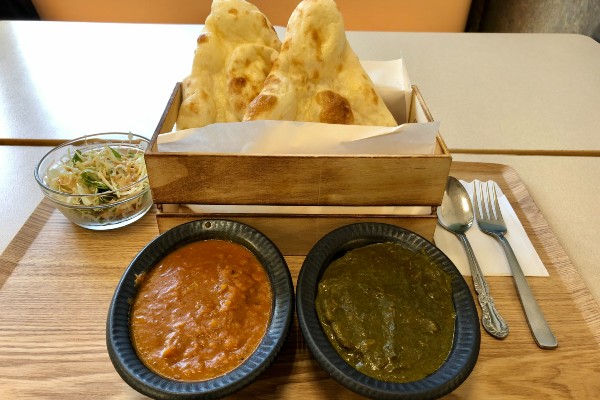 Despite its name, Darjeeling Spice Shiomi isn't only an Indian/Nepali restaurant, and the menu features around 13 different curries, all heartily spiced. This double curry set features two from the regular menu and the daily special, plus three naan and a bowl of refreshing shredded vegetables for just 700 yen. That's great value! For those who prefer rice to naan, one serving is 300g.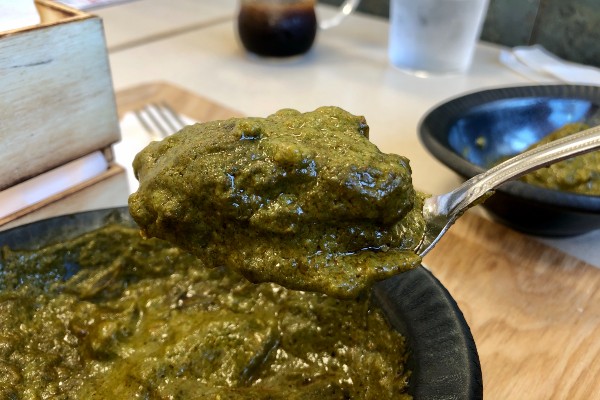 This spinach and chicken curry is a regular on the menu. Slightly sweet from the onion base, rich and creamy, spicy but not overly hot, it really stimulated the taste buds and served as a tasty eye-opener on an enervating August afternoon. The naan was crisp and hot from the tandoor, while the chunks of chicken were juicy and tender. Great!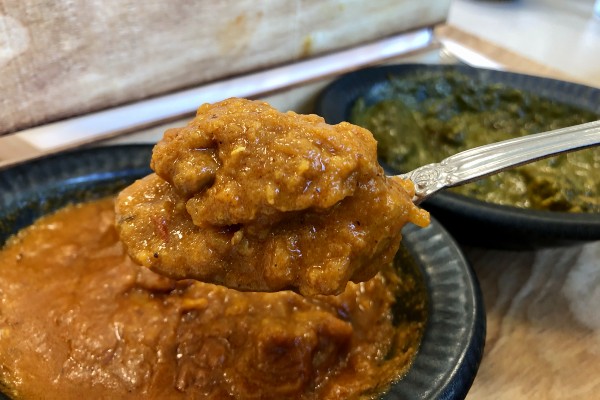 Spicy lentil soup (dal bhat) is often said to be the national dish of Nepal, so it was no surprise to discover that the daily special curry was chicken and the nutritious, protein-packed pulses. The sweet onion base was again present, this time with tomatoes and the savoury richness of the thick lentil curry. It was also well-spiced and slightly hotter than the spinach curry. Despite feeling washed out and with little appetite from the intense heat, we polished off the curries and naan in moments and immediately felt thoroughly revived in both mind and body. That's spice magic!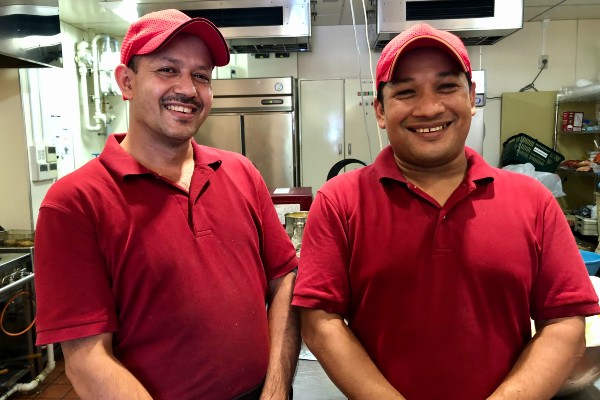 Down in the kitchen the staff were hard at work preparing late lunches. Nepali chefs Seresta and Kiren learned their trade in Indian restaurants and are great fans of legends Messi and Ronaldo.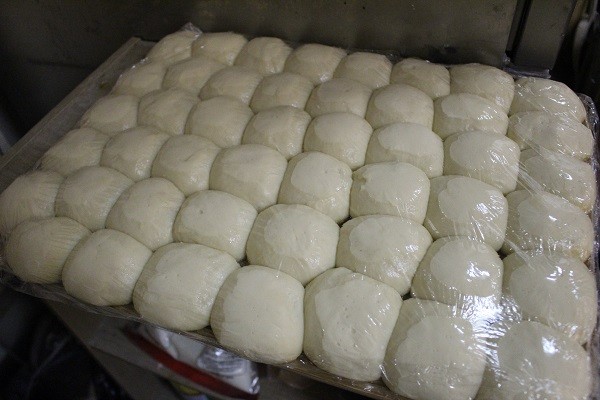 The staff prepare the dough for the naan and allow it to rise overnight.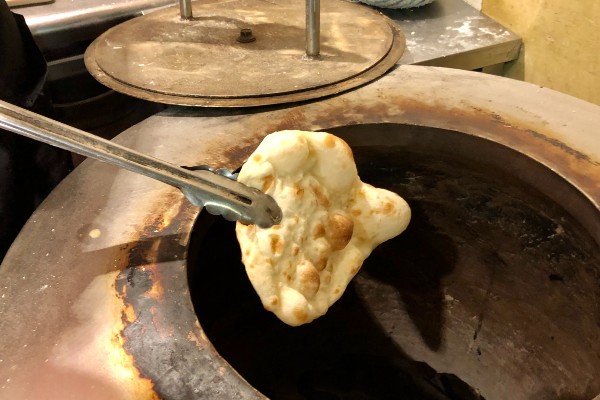 Then they're cooked to order in the tandoor.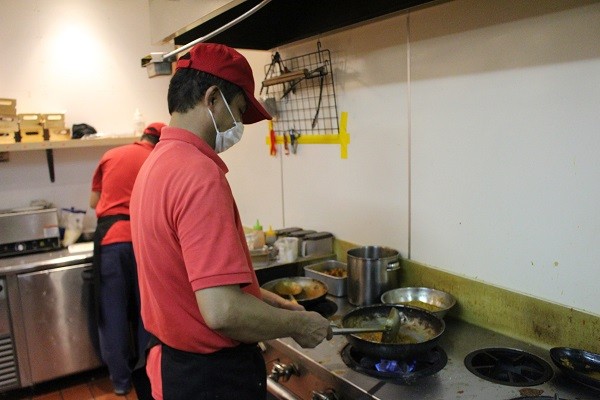 "Our customers are very varied," explained Mr. Sasaki. "Shiomi is home to many businesses, particularly printing companies, and has an increasing number of hotels very popular with tourists visiting theme park, which is just two stops away on the Keiyo line." The Tokyo Bayside tower apartment block building boom continues at pace too, as it's only seven minutes' by train to Tokyo station. Despite its proximity to the heart of the city, the area has a quiet, relaxed ambience, perhaps engendered by it being an island.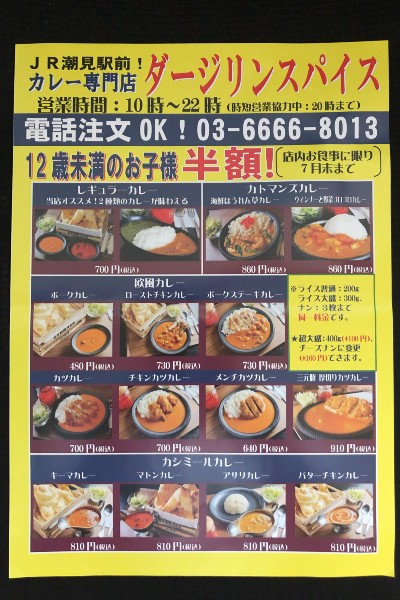 The top left of the menu features regular curries, with Kathmandu curries on the right. The middle section is given over to European (Ohfu) styles curries, which means a Japanese-style curry, according to Mr. Sasaki. At the bottom are Kashmir curries. Mr. Sasaki's favourite, the pork cutlet curry, is just 700 yen with chicken cutlet curry also 700 yen. The thick cut pork cutlet, made with well-known pork brand Sangenton, is 910 yen. Kids under 12 are half price until the end of August! Nice!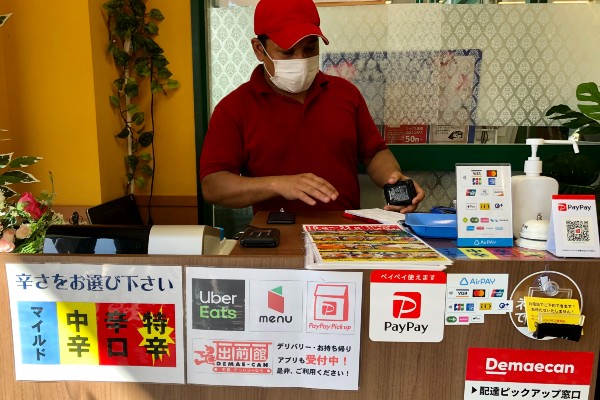 Customers can choose from four levels of heat: mild, medium, hot and ultra-hot. Everything on the menu can be taken out and all the popular delivery services are available too. If you're in the Shiomi area for work or play and are feeling esurient, why not drop in to Darjeeling Spice Shiomi? It really is magic!
Story and photographs by Stephen Spencer