Delicious and Cute Seafood Parfaits in Kameido
Published: November 18, 2020
Since it opened in 1998 the izakaya Uogashi Kura has been serving fresh seafood dishes to the lucky residents of Kameido. The extensive menu features over 80 dishes, all created from ingredients personally selected by owner Mr. Kazuya Iwasaki. On a recent afternoon we dropped in to talk fish with Mr. Iwasaki and his staff.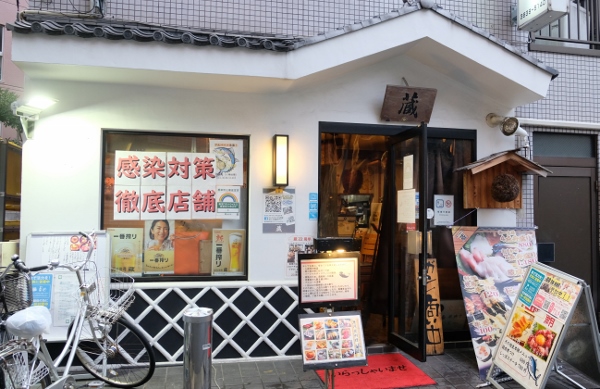 The most eye-catching items on the menu are what Mr. Iwasaki named his "seafood parfaits," creations as delicious as they are photogenic. There are around a dozen on the menu, starting at 480 yen.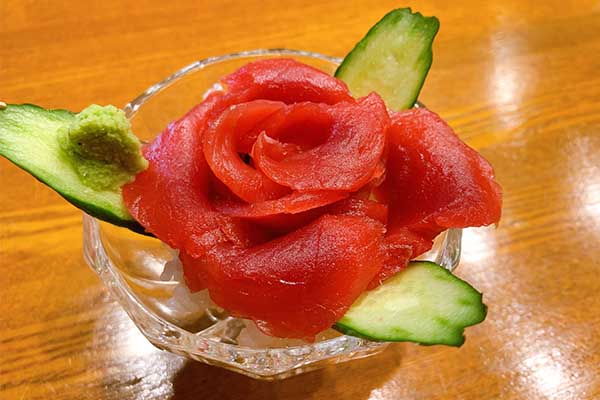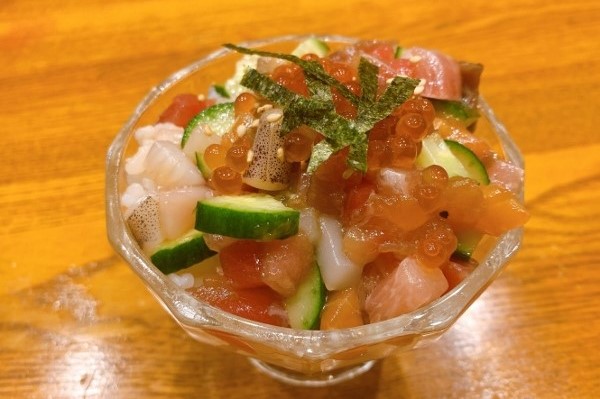 The photogenic parfaits are especially popular with female customers. "I used the downtime we had during the initial State of Emergency caused by the corona virus to think about some new items for the menu and I came up with these," he explained.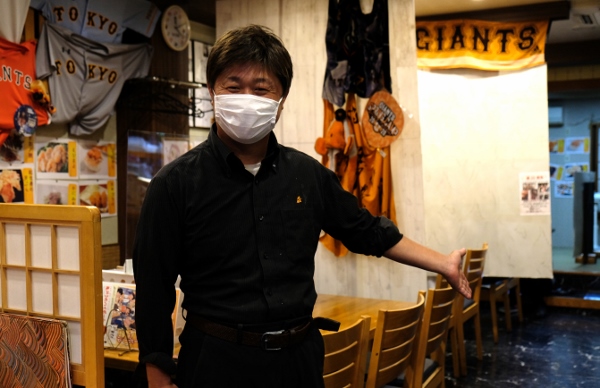 Born and raised in Kameido, Mr. Iwasaki began his career by learning the fish wholesale trade, then moved on to burnish his skills in a Japanese restaurant and a sushi/kappo restaurant before opening his own place. We were surprised at the length of the youthful Mr. Iwasaki's career until he explained that he'd begun work at 15!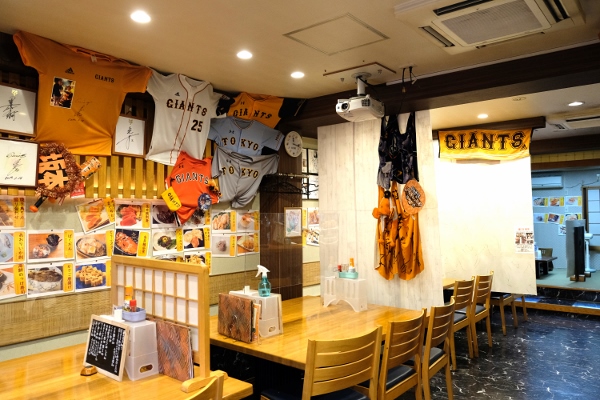 With the owner a fervent Tokyo Giants fan and lifelong local resident, it was perhaps only natural that Uogashi Kura became a haven for Kyojin supporters. The Giants games are shown live on the big screen, but following current protocol only a limited number of customers can watch at any one time, unlike pre-corona virus days when the place would be packed.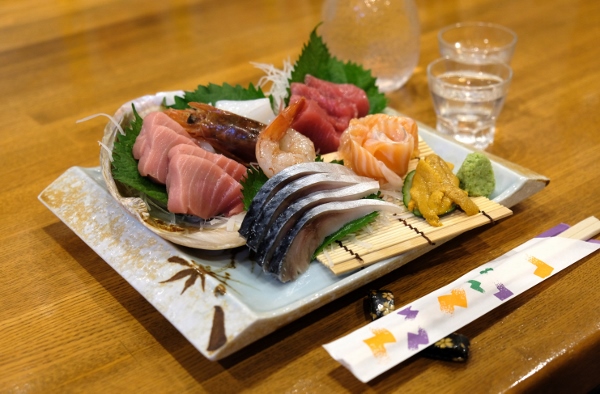 Uogashi means riverside fish market in English and the Toyosu Fish Market, located in the south of Koto-ku, is where Mr. Iwasaki heads to stock his fridge with fish and seafood. "Sashimi is the first thing I look to buy when I'm down there," he says. "I target the best quality fish on the day for the budget I have." This sashimi selection costs 2,000 yen and features a classic lineup of hon-maguro (bluefin tuna), shime-saba (home cured mackerel), aori-ika (bigfin reef squid), salmon, uni (sea urchin), and aka-ebi (red shrimp).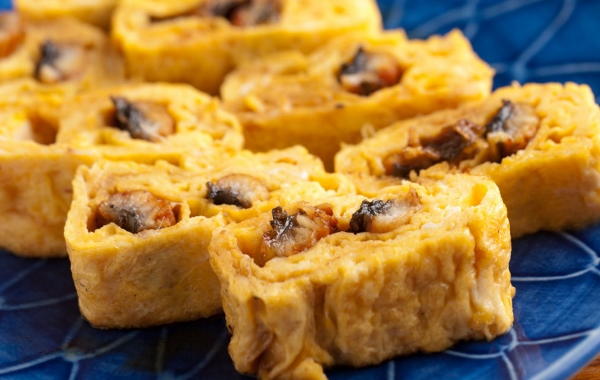 There are many mouthwatering dishes on the menu. One popular and unusual item is this broiled eel egg roll; after the order is placed, the eel is grilled and then rolled up inside a freshly-made Japanese-style omelette. It's best eaten piping hot!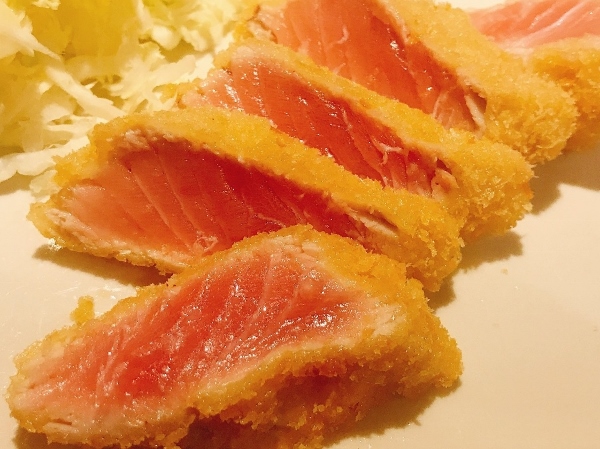 Another winner is this juicy tuna cutlet (maguro katsu). While pork cutlets are a staple in Japan it's quite rare to find a tuna version. The deep-frying leaves the fish crispy on the outside but still rare in the middle. Again, it's best eaten piping hot with some crispy sliced cabbage and a dab of mustard.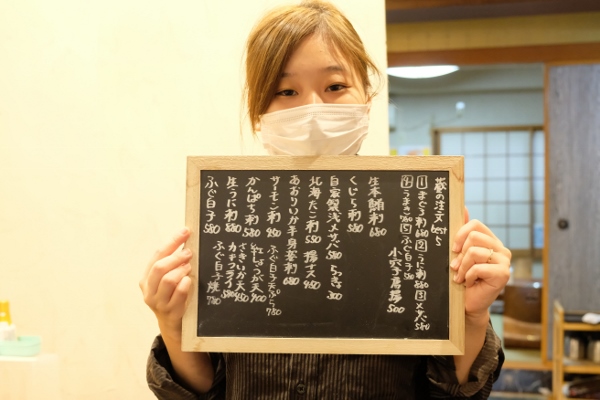 As with most seafood and fish izakayas, the menu at Uogashi changes daily, depending on the season and what is available at the fish market. The days' specials are featured on a chalkboard, here modeled by charming staff member Ms. Karin. In the restaurant it's one group to one table with partitions between and on the tables, while the front door is left open and covered by a thick mosquito net, with large fans used to circulate the air. Take-outs and deliveries are both available. If you're in the Kameido area and in the mood for some top-quality fish and seafood, along with a wide selection of sake, then Uogashi is the place for you!
All prices are excluding tax and accurate as of October 2020.
Story and photographs by Stephen Spencer