Delicious Seafood, Amazing Value
Published: April 26, 2021
Maguroya Kaoruchan is an izakaya (Japanese pub) specialising in seafood and the epicurean delights of Kagoshima Prefecture, from the large southern island of Kyushu. On a recent balmy spring afternoon, we went along to meet the eponymous owner and chef, Mr. Kaoru Yamasaki.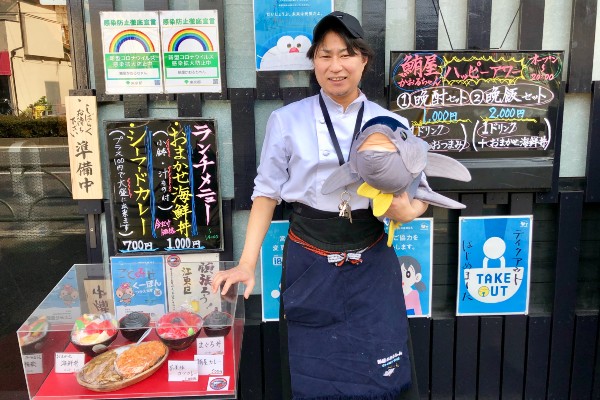 Maguroya Kaoruchan is located on Shin-ohashi street, midway between Sumiyoshi and Nishi-ojima stations on the Shinjuku line. Here Mr. Yamasaki poses with the restaurant's character Maguro-kun, who appears on the logo with a large red snow crab. Born in Kagoshima, Mr. Yamasaki spent many years learning his trade in seafood and traditional multi-course restaurants (kaiseki) in Osaka and Tokyo, before striking out on his own and opening Maguroya Kaoruchan with the support of many fans in December 2019.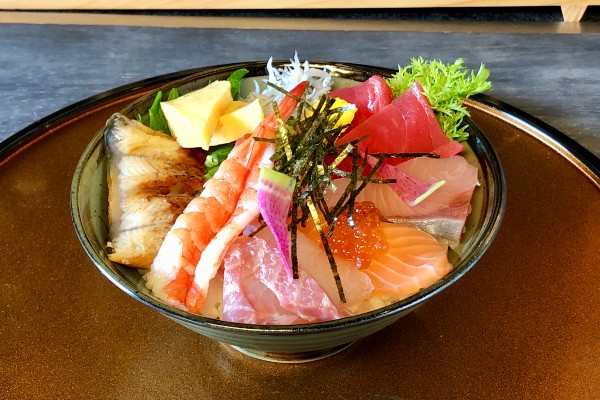 The top-selling item on the Maguroya Kaoruchan menu is this chef's selection seafood bowl (omakase kaisendon). Available at both lunch and dinner, the ingredients vary slightly depending on the season but are all totally fresh, as Mr. Yamasaki selects the fish from two local markets using his considerable experience. Usually. the bowl features between seven and ten kinds of fish and seafood. The lunch set comes with a bowl of miso soup and a small dish of vegetables or pickles. At just 1,000 yen including tax this represents incredible value and frequently sells out!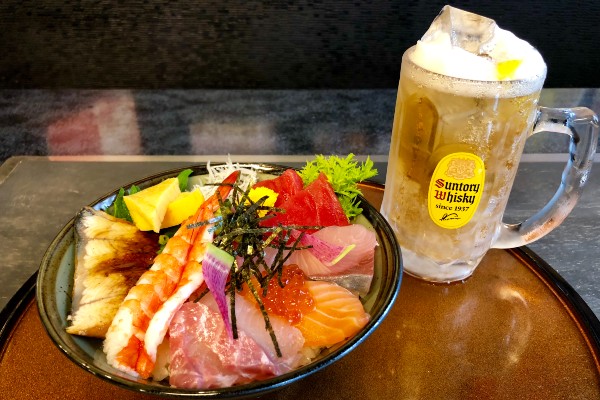 The evening Happy Hour from 6~8pm features a deluxe version of the seafood bowl with one drink for 2,000 yen including tax. Again, it's very popular with the early evening crowd; having sampled the seafood bowl we can attest to its quality and taste. On the day we visited it contained Pacific bluefin tuna, conger eel, tuna, sea bream, minced tuna and negi onion, shrimp, whitebait, salmon, shrimp and egg. Wow!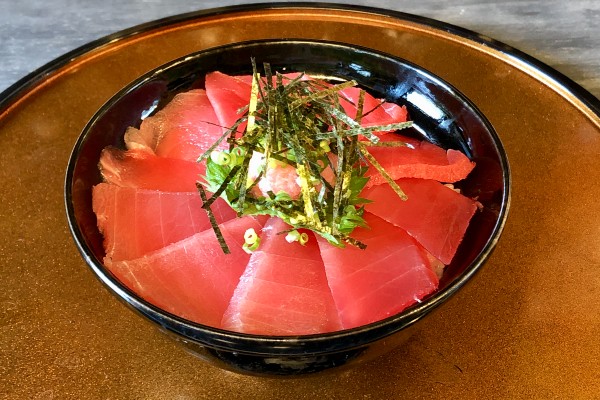 Now is an excellent opportunity to sample Ginza quality seafood at downtown prices. This tuna bowl (maguro don) features a large quantity of excellent Pacific bluefin tuna for just 1,650 yen including tax. The tuna bowl comes with miso soup and another small dish of pickles or vegetables. It's a popular lunch time takeout item for business people and locals alike.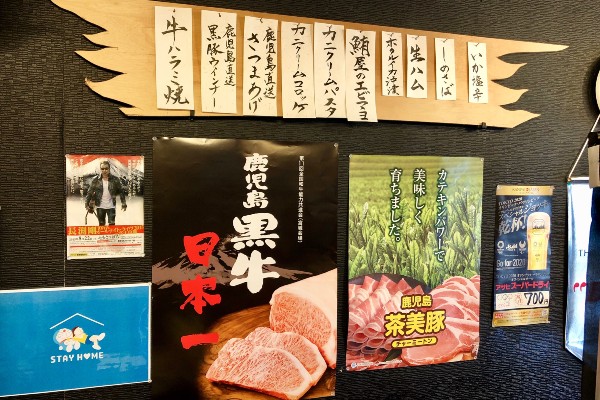 While Mr. Yamasaki's culinary background is firmly in the fruits of the sea, he's recently added four varieties of meat and poultry from his home area of Kagoshima to the menu, namely Kagoshima Black pork (kurobuta), Chaminton pork, Kagoshima Black beef and Satsumadori, a breed of chicken native to Kagoshima. Mr. Yamasaki particularly recommended the Chaminton pork as "Kagoshima is a major tea growing area and a green tea leaf extract is added to the feed that the pigs eat. Whether as pork sauté or deep-fried pork cutlets, Chaminton pork is very tasty and much cheaper than other brands of Black pork."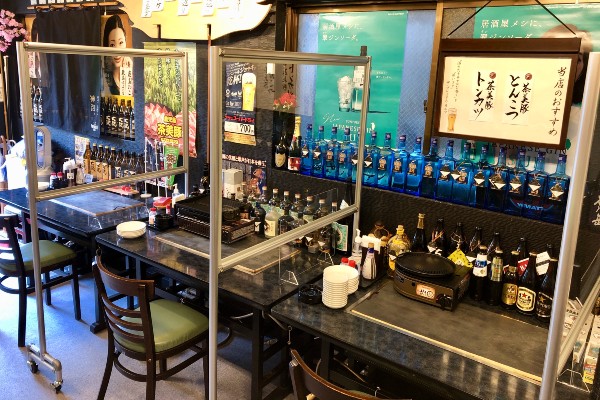 The drinks menu at Maguroya Kaoruchan is also extremely wide. It's especially interesting for shochu lovers as many rare Kagoshima brands are featured, alongside an extensive range of draft and bottled beer, craft gin, sake, mixed drinks, sours and the ubiquitous highballs.
Maguroya Kaoruchan offers many special dishes, depending on seasonal availability. Mr. Yamasaki spoke about preparing tiger blowfish (torafugu) full courses at 12,000 yen per person including tax. Customers must call first. He also has such rarities as silver-stripe round herring sashimi (kibinago). The small hotplates are for cooking tuna slices in a yakiniku style, a very popular dish with health-conscious young ladies.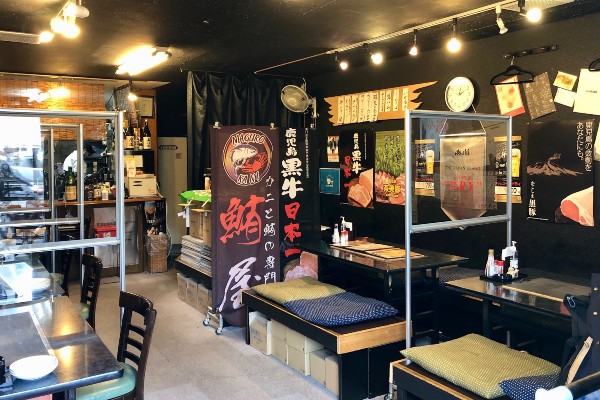 The restaurant is surprisingly large inside, with the tables widely-spaced and separated by plastic screens. All current protocols are firmly in place. Mr. Yamasaki is a most interesting and welcoming host and his seafood is top quality at very reasonable prices. Whether it's lunch, dinner or a takeout, Maguroya Kaoruchan is definitely worth a visit!
Story and Photos by Stephen Spencer