Direct from Farm to Tomioka
Published: July 2, 2019
For those of us who sometimes complain at the cost of vegetables in the shops, Mr. Junya Asano runs a greengrocer's business which takes a little of the pressure off our wallets. What makes Sanchoku Shop Asano ("sanchoku" translates as "direct from the producer") special is that all the products come direct from the farm or producer to the shop. The result is shortened delivery times, leaving them fresher than some competitors, as well as cutting costs, allowing customers to benefit from the relationship Mr. Asano has with each producer.
Over the years he has built up connections with farmers and friends, particularly in Kumamoto Prefecture, who arrange to deliver produce direct to his small shop in Tomioka, close to the Narita-san Fukagawa Fudoson temple.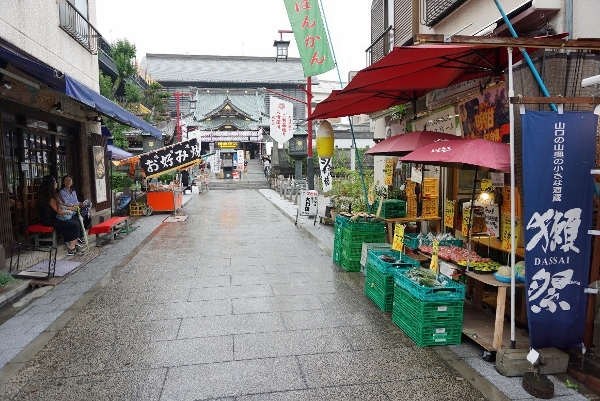 The store opened in 2016 and sells a variety of in-season vegetables and fruit, along with selected meat and fish products. The shop is also the exclusive Tokyo outlet for an award-winning vanilla ice cream from Hokkaido (of which more below).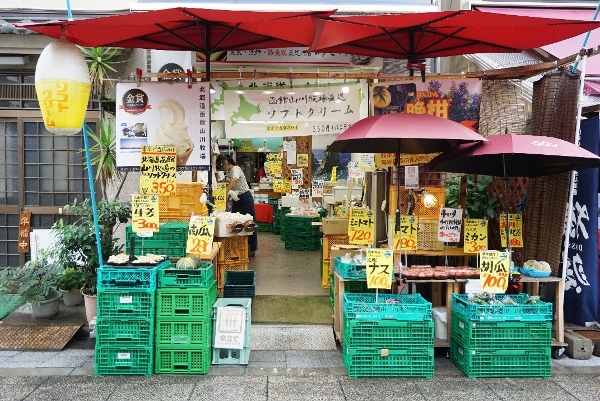 Mr. Asano was out the day I visited the shop, but his long-term part-time assistant-cum caricaturist, who asked to be called "Ousuke-san", showed me around. The shop was a hive of activity; Ousuke-san was busy serving customers whilst a colleague was frenetically opening cardboard boxes of a sizeable new delivery of large fresh eggplants and popping them into plastic bags before putting them on display.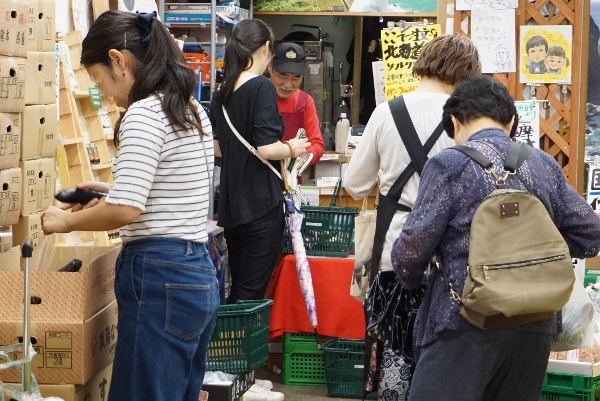 Given the nature of the relationship between Mr. Asano and the producers, the produce on sale depends not just on what Mr. Asano orders, but also what the farmers send him. Taste comes before appearance and some of the vegetables may not be the prettiest of shapes or of uniform size, such as you find in local supermarkets, but this does not affect their quality.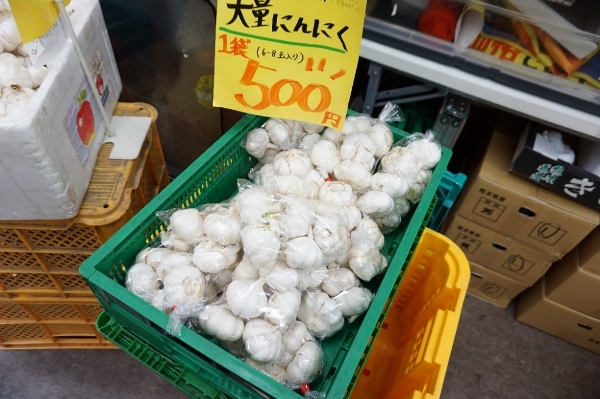 Looking over the displays I could see trays of green peppers, Japanese giant radishes, potatoes, mild green chilli peppers, boxes of tomatoes,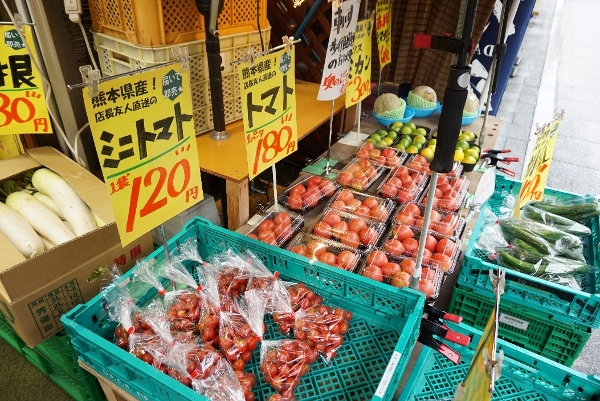 bags of very large cucumbers,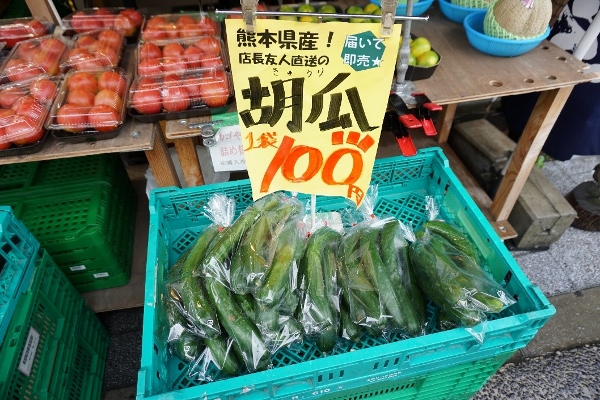 huge lumps of fresh ginger,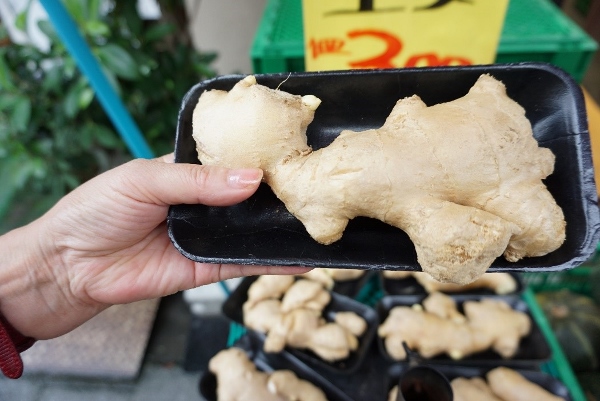 pumpkins,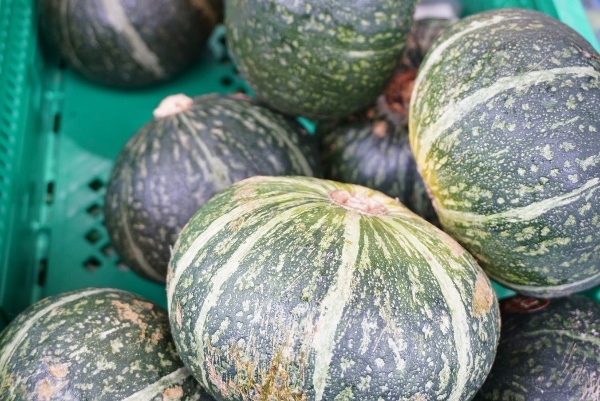 and dried Shiitake mushrooms; not grown on a farm but picked from a mountainside in Kumamoto and then dried before being wrapped and sent to the shop in Tomioka.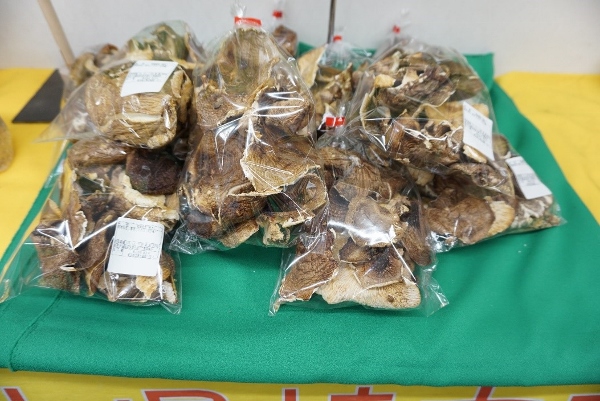 Sanchoku Shop Asano's customer base comprises local regulars (the shop is a few steps away from Monzen-nakacho's shopping street), and visitors heading to and from the nearby temple. Ousuke-san says that the shop's mini tomatoes and the gold prize-winning ice cream from the Yamakawa Dairy in Hokkaido, are especially popular with foreign tourists. I couldn't resist trying the ice cream and I have to say it is extremely creamy and has a great lingering aftertaste of milk and is a delicious experience for only 350 yen.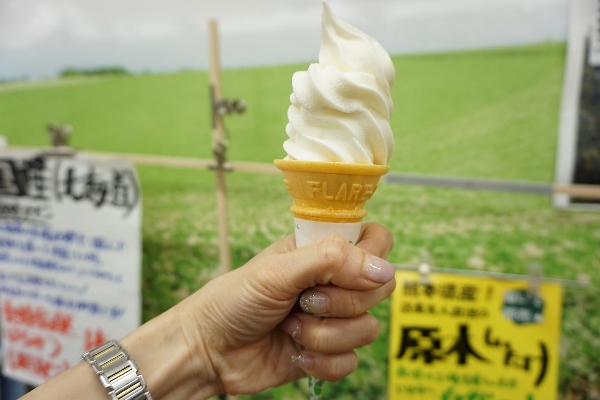 As well as vegetables and fruit, the shop offers customers an unusual range of items. Ousuke-san pointed out plastic bags of handmade fermented miso, containing no additives, which have a valve in the bag to allow the miso paste to breathe.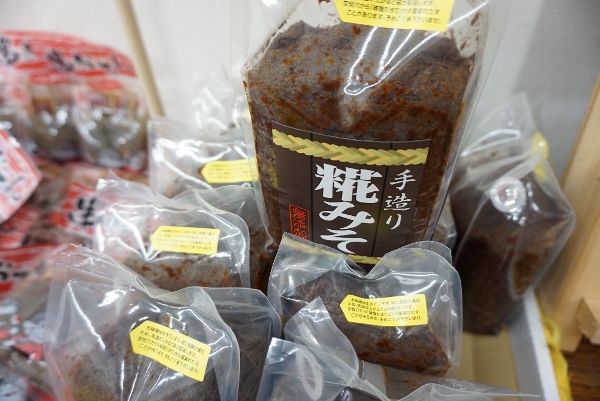 Fish products also receive the "sanchoku" treatment. There were bags of dried ami-ebi from Iwate Prefecture. These are tasty just on their own as nibbles with drinks, or make an enjoyable meal mixed with pasta or fried rice. Alongside them were bags of dried sardines, which are great for chewing.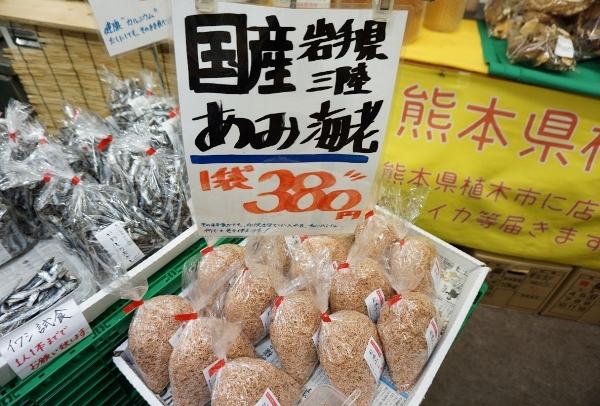 Propped up on display in a box against a wall were packs of salted cod, accompanied by instructions on how to lessen the salt content if required; given the instructions, I guess they must taste somewhat like the Portuguese dish bacalhau.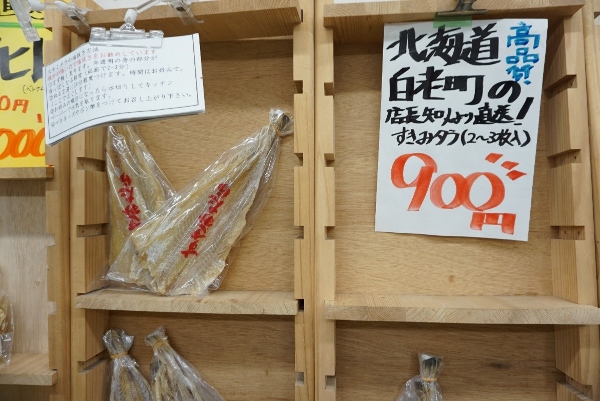 Ousuke-san proudly showed me another exotic item: Chaga tea, made from a mushroom which grows on the trunks of birch trees in Siberia. Supposedly having medicinal benefits, the fungus is processed and made into tea and imported from Russia. According to Ousuke-san the drink is pleasant and tastes just like Japanese tea.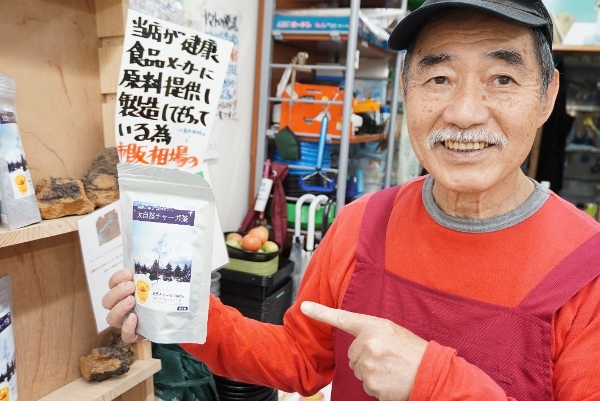 And to complete Sanchoku Shop Asano's list of unusual products: daruma doll-shaped packets of boiled sweets. Not what you normally expect to find in a greengrocer's, but again Sanchoku Shop Asano is not your usual greengrocer.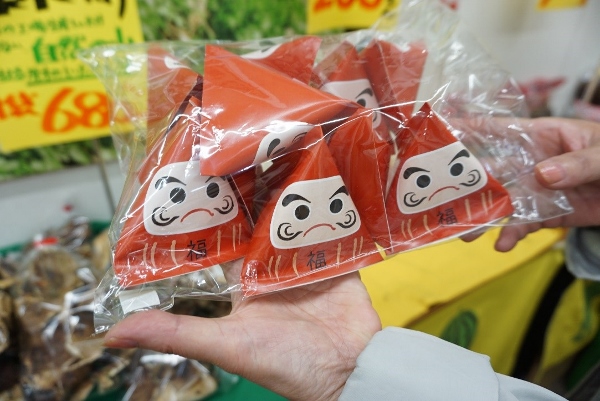 So, why not pop in and have a look at what is for sale, and while there why not try the award-winning ice cream?
Story and Photos by Jeremy Hutchinson