Dogs, Dining, and a Shampoo and Trim
Published: January 20, 2021
Are you a dog owner living in the Ojima area and are at a loss where you can go to for a meal that lets you take your dog inside? Then Oli'ilio, a dog café-cum-diner, could be the answer to your prayers. Not only that, but it also happens to have a grooming salon and a dog run on the premises.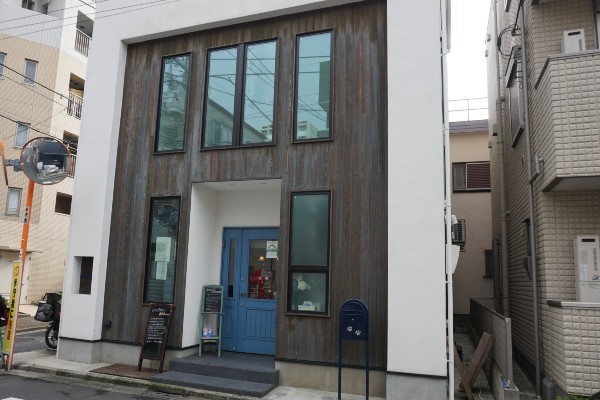 Located in a backstreet off Shin-Ohashi-dori avenue, not far from Toei Shinjuku Line's Ojima Station, Oli'ilio provides a perfect place for dog owners, their dogs, and dog lovers to meet up. The day I visited the premises, there were two corgis, one long haired dachshund, four miniature poodles, and one shiba, sat relaxed with their owners, who were enjoying the food or chatting over a coffee, with not a raised hackle or dogfight in sight. And presiding over everything was Vicky (short for Victor, not Victoria), Oli'ilio's delightful resident nine-year old Yorkshire terrier-Maltese cross.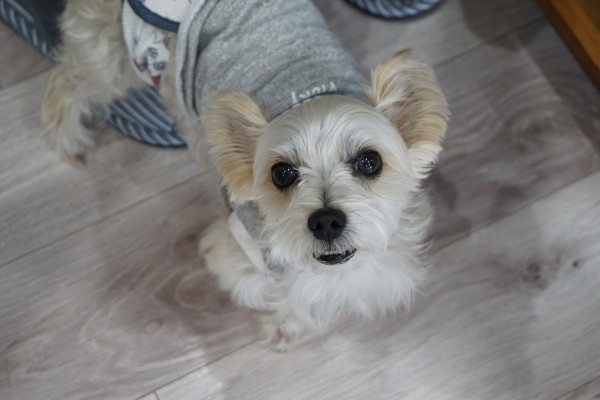 Oli'ilio derives its name from the Hawaiian words "oli" – joy, happiness, and "ilio" – dog. The owner of Oli'ilio, Ms. Aki Onishi, has a great fondness for Hawaii, and when she was looking for a name for her new business, she opted for the islands' warm image. Before opening in July 2017, Ms. Onishi researched various pet cafés, and taking what she considered the best points from them, incorporated these into her concept for the business, as well as designing the floorplan and selecting the décor.
Not only is she a qualified pet care adviser, dog trainer, and pet sitter, she also runs Oli'ilio, assisted by her daughter, who is responsible for the café's wonderful cakes, a chef, in charge of the human and canine menus, and a groomer, tasked with shampooing and trimming the four-legged customers.
The first floor is taken up by the dining area, counter and kitchen, whilst the second floor houses the beauty salon and the dog run.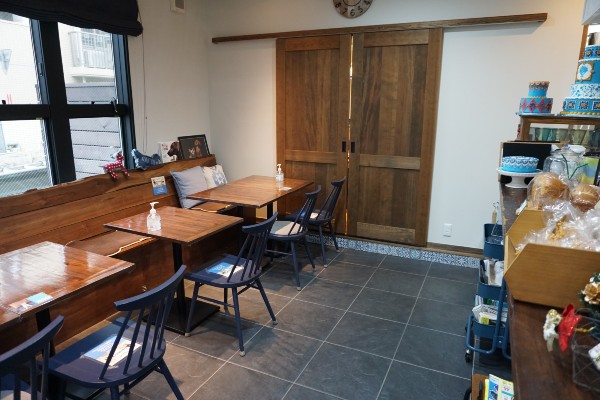 Ms. Onishi showed me upstairs, where Ace, a friendly Shiba Inu, was having a shampoo and blow dry in the well-equipped salon.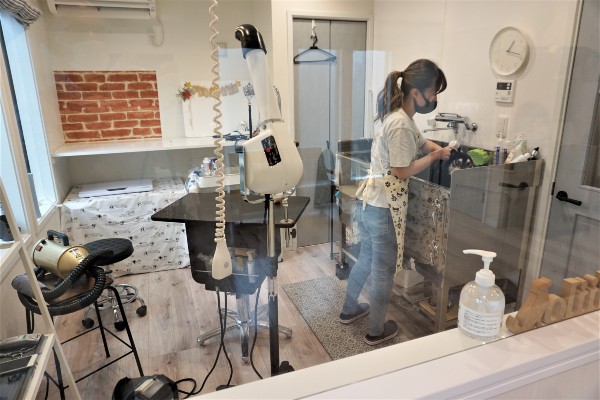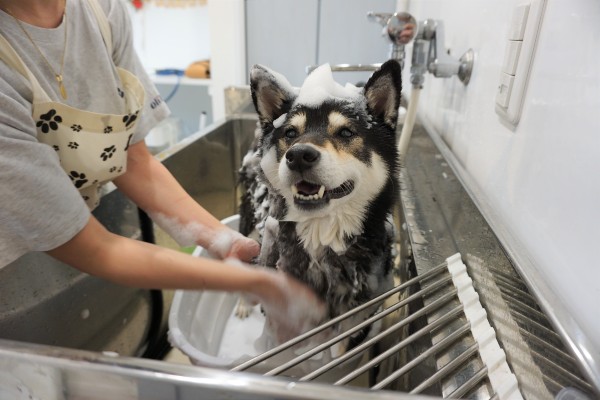 Prices for a normal shampoo start at 2,700 yen for extra-small dogs and rise with size. Trims start at 5,800 yen and rise accordingly. A shampoo and trim session takes about one hour, and Ms. Onishi reckons that on average the salon handles three to four customers per day. And to protect your pooch's sensitive skin and hair, Oli'ilio also offer an Ayurveda natural herb pack treatment for 2,000 yen.
The second-floor dog run was empty when I visited, but for 300 yen (500 yen on weekends) for 30 minutes you can accompany your tail-wagging friend and let it run off the lead in this light and airy space. This is ideal for small dogs if you can't find a suitable open space for them in built up Ojima.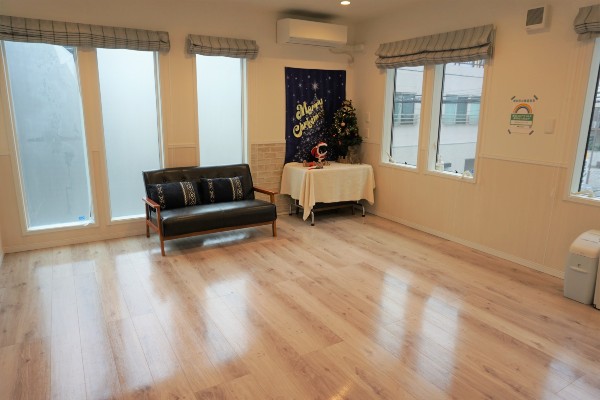 Whilst a lot of care and attention goes into attending to its four-legged clients, the humans who accompany them are not forgotten. Oli'ilio's menu is good enough to attract dog-less customers, so, whilst your pet is receiving a shampoo and trim, you can sit back and enjoy what the café has to offer.
For example, there are dishes such as Omu rice (omelette stuffed with butter rice and topped with a demiglace sauce), which looked deliciously filling,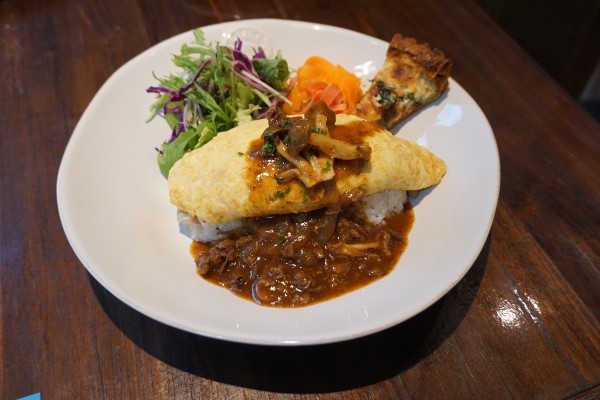 and Oli'ilio's original hamburger set (1,780 yen, only available at weekends, sadly), which Ms. Onishi says is a great favourite with children and "repeaters".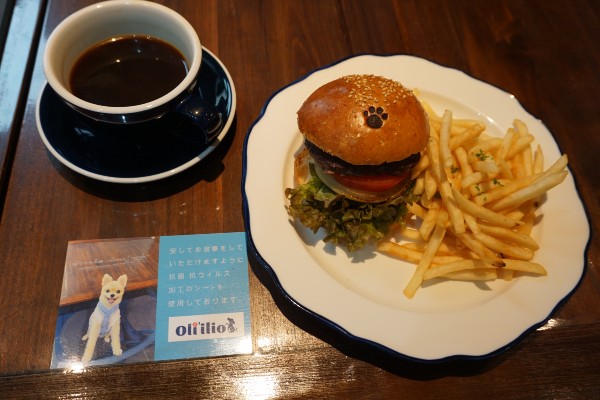 And then there is a gratin set, with salad and homemade bread.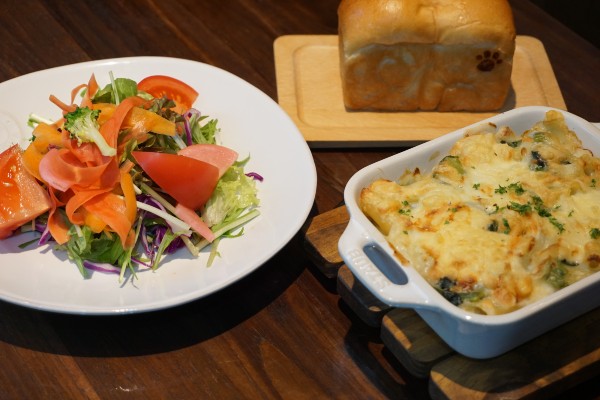 Afterwards, if you fancy a dessert, or you just want a dessert on its own, you can go for one of Ms. Onishi's daughter's creations. Her skills as a qualified pâtissiere are abundantly evident in the goodies on display: Basque cheesecake; gateau chocolat topped with orange and crystalised syrup; fruit tart, filled with persimmon, strawberries and apple; and apple crumble tart.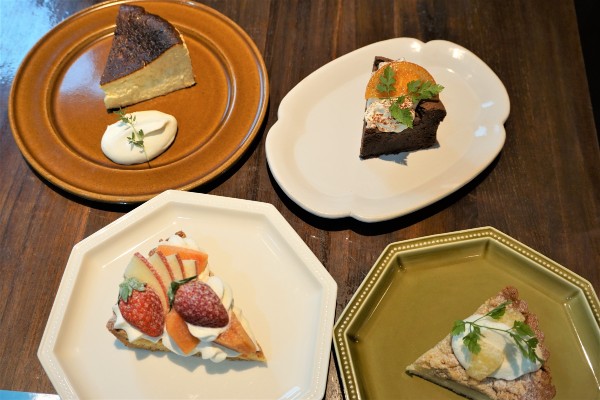 I plumped for the apple crumble, and I was not disappointed.
And man's best friend is not neglected in this gastronomic delight: there is a separate menu for them, with healthy additive-free dishes, containing no sugar or butter, such as tofu (bean curd) and hijiki (edible seaweed), hamburger (680 yen), chicken and vegetable cream stew, and white fish meat cacciatore, simmered in tomato.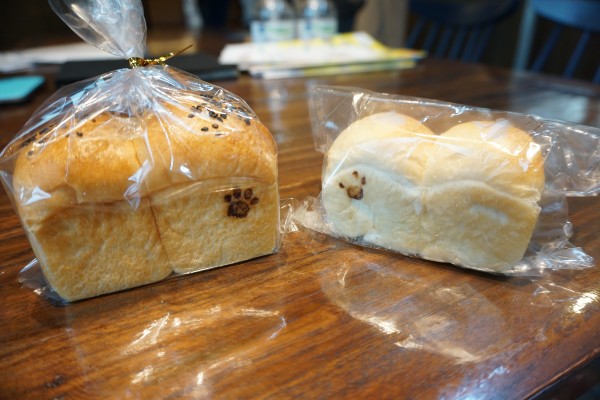 And for something lighter there are snacks, such as flakes of chicken breast, chicken liver (small size at 380 yen/large 680 yen), and roast beef (small 480 yen/large 780 yen), as well as kabocha (pumpkin) and murasaki imo (purple sweet potato) rusks and bread. Oli'ilio will even rustle up a birthday cake for fido, made from meat and vegetables and priced from 880 yen (pre-order necessary).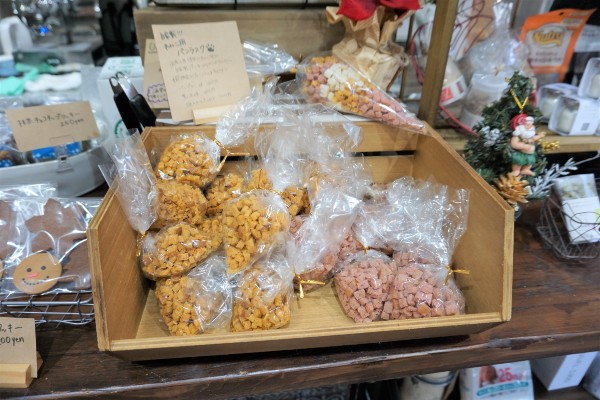 So, whether your faithful pet needs a shampoo and trim, or you just fancy something to eat whilst swapping doggy stories with fellow owners, why not pad along to Oli'ilio and spend a couple of hours in the company of like-minded people and their canine companions?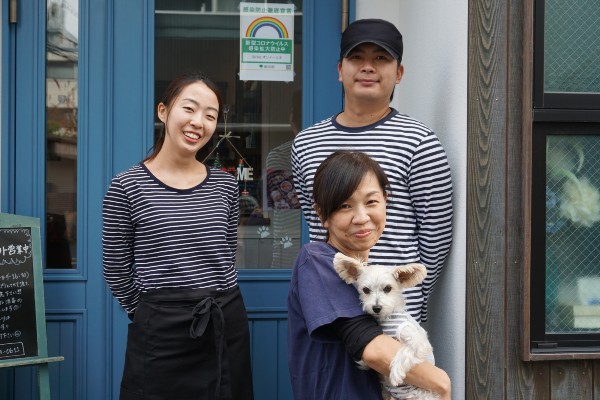 Note – all prices quoted are exclusive of tax.
Story and photographs by Jeremy Hutchinson