The blazing heat and energy-sapping humidity of summer in Tokyo seems never-ending. There are many ways to beat the late-summer lethargy but one of the healthiest is through eating some spicy, capsaicin-laden sweat-inducing food. On a stunningly oppressive post-typhoon afternoon we dropped into the wonderfully-named Yume Kazoku restaurant, located just a few minutes' walk from Toyocho station, for a chat with the staff.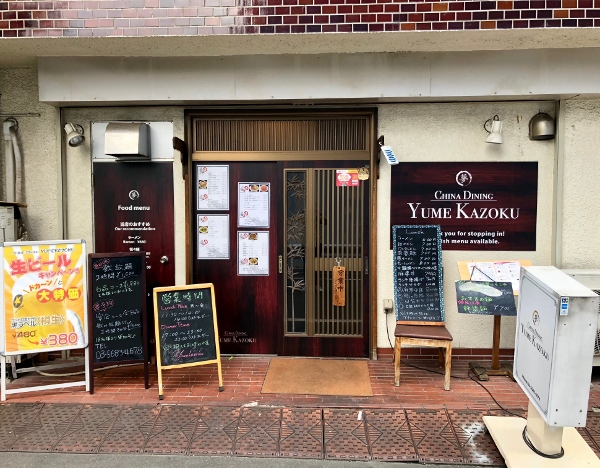 First opened in 2005 as a Japanese pub (izakaya), the owner of Yume Kazoku recently decided to completely overhaul his establishment and re-invented it as a Chinese restaurant. The name literally means "dream family" in English. "I wanted our customers and staff to be happy together, like one big dream family," he explained, adding, "The local kids call it Do-ri Fa-mu. Let's go to Dorifamu, they say to their parents." Dorifamu is a play on Dorikamu, nickname of the well-known Japanese pop band Dreams Come True.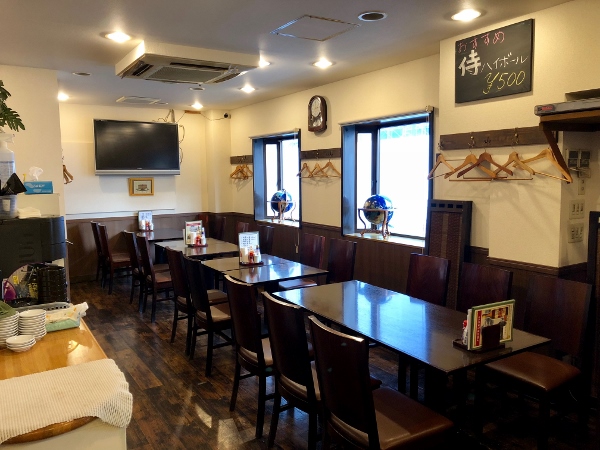 Yume Kazoku re-opened in June 2019 and has already proved a big hit with both local workers and residents. Although it seats 28 people the interior feels spacious, with large windows allowing plenty of natural light. The atmosphere is comfortable and relaxed with friendly, laid-back manager Mr. Takano presiding. When we entered at 2pm there were still some customers enjoying a leisurely chat, in no hurry to leave.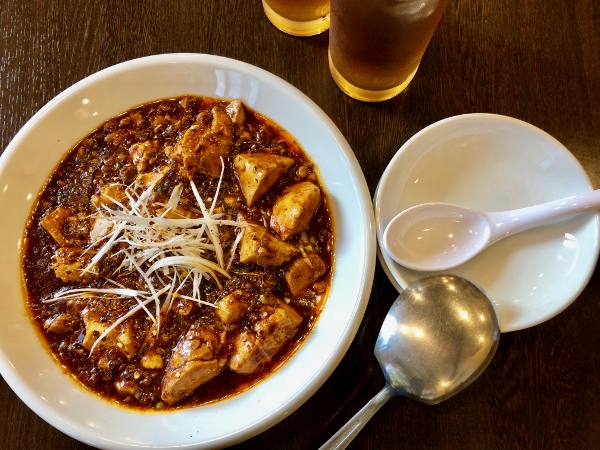 In a trice the chef whips up a steaming bowl of mabo dofu (麻婆豆腐), the perennial Sichuan favourite. As Mr. Takano explains, the most popular lunchtime orders are the lunch sets: for a very reasonable 800 yen they consist of a main dish, rice, soup, pickled mustard plant stem (zasai) and another small side dish. In the evening the mabo dofu costs 680 yen, which makes the lunch seem even better value.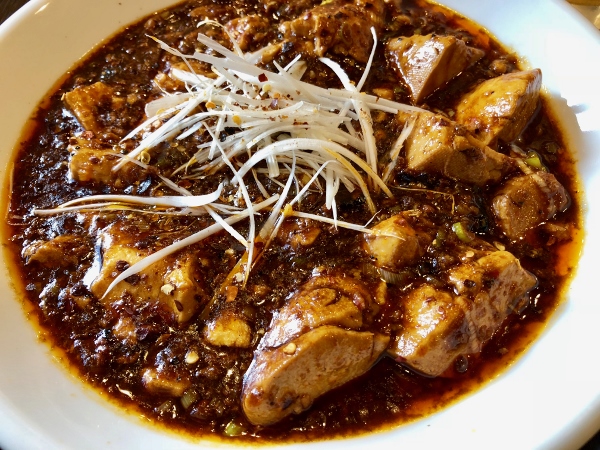 Made from tofu and minced beef cooked in a sauce of fermented broadbeans and chili paste, then taken to another level with the addition of Sichuan peppercorns, (or Japanese sansho peppercorns) it is pungently hot. The peppercorns are fragrant and flavourful yet numb your mouth. The mabo dofu at Yume Kazoku is fierce and we're soon glowing with sweat. The health benefits of both capsaicin from chili and piperine from the peppercorns are well-established. And it tastes great!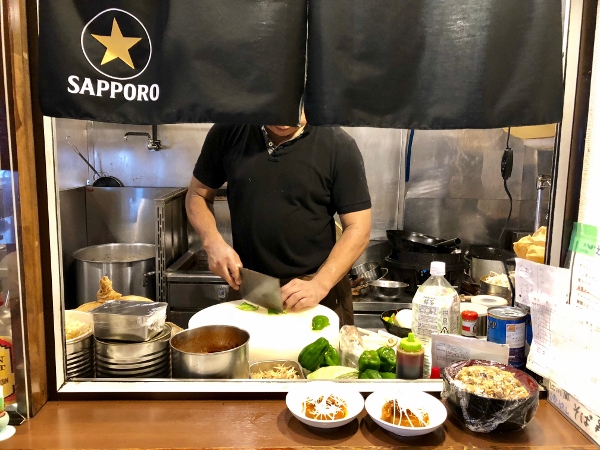 The chef at Yume Kazoku has a total of 35 years' experience and was formerly head chef at a large restaurant in central Tokyo. When asked about the main feature of the food he prepares he answered, "I make genuine, real Chinese food at reasonable prices."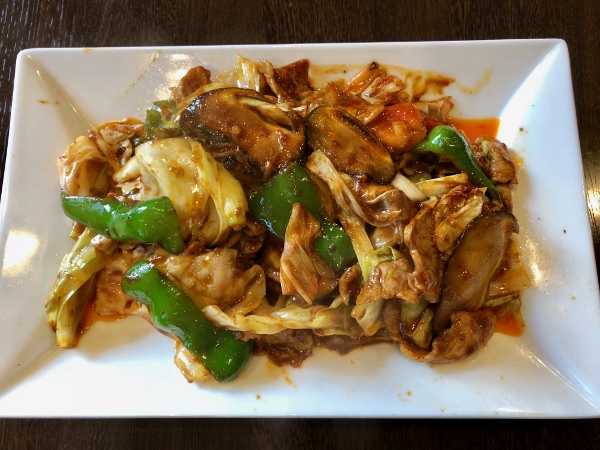 Another classic Sichuan dish on the menu is twice-cooked pork (回鍋肉 or hoikoro in Japanese). Pork bellies are simmered with a variety of spices, refrigerated then thinly sliced and stir fried with cabbage, negi onions, mushrooms and red and green peppers in a spicy sauce that include chili bean paste, soy sauce, hoisin sauce, ginger and so on. It's incredibly tasty and very hot indeed. The twice cooked pork is usually an evening-only dish but on the day we visited it was Lunch of the Day. Lucky us!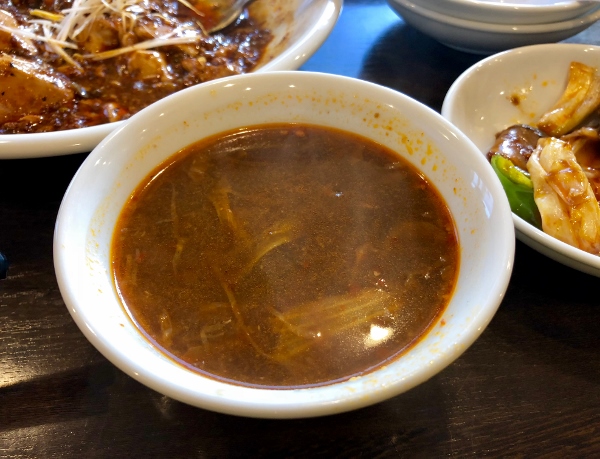 Mr. Takano brought out some of the chef's special soup. It's a Sichuan-style soup, hot and sour, rich, meaty and the most piquant dish by far. It was so pungent and spicy I thought my head was going to explode. Fortunately, it didn't and I felt invigorated by the sheer power of the steaming broth.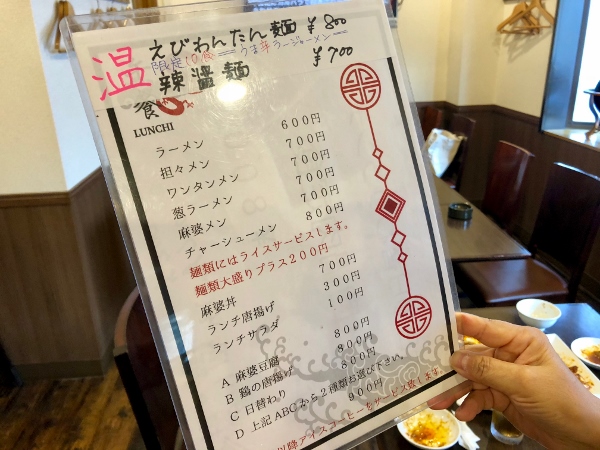 The lunch menu features a variety of noodle dishes: ramen is 600 yen, tantanmen, negi onion ramen and shrimp wantanmen are all 700 yen while the braised belly pork (chashumen) is 800 yen. In addition to the mabo tofu lunch set there's a fried chicken set and a Lunch of the Day set, too. Customers needn't worry as there is an all-English menu as well.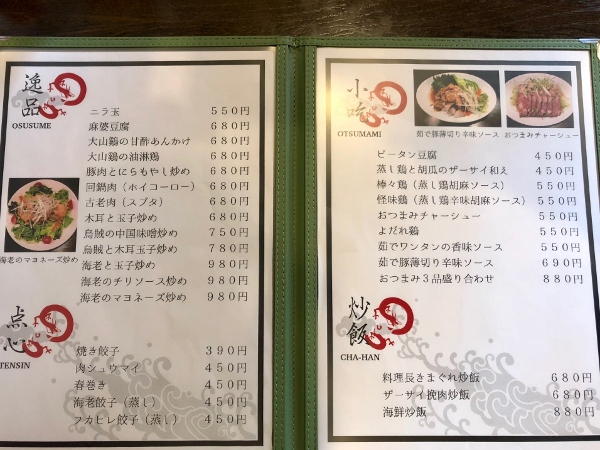 The dinner menu is far more expansive, featuring a host of popular Chinese hors d'oeuvres at very reasonable prices. Many classic dishes are also available including sweet and sour pork, pork with garlic chives, shrimp in mayonnaise or chili sauce and deep-fried chicken breast with chopped scallions and sweet vinegar soy sauce. Such crowd-pleasers as gyoza, spring rolls and shumai are also present, alongside three kinds of fried rice and two kinds of fried noodles (the ever-popular yakisoba). There's something for everyone at Yume Kazoku and it won't break the bank, either.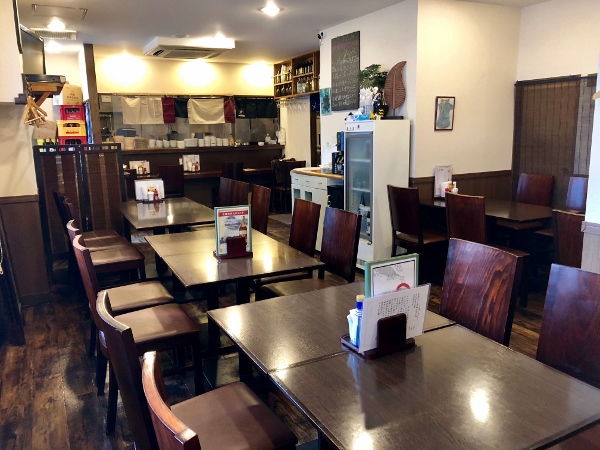 There's a lengthy drink menu at Yume Kazoku too: Sapporo beer, a variety of sours and highballs, cocktails, sake and shochu, not forgetting the ever-popular Shaoxing rice wine, known as shokoshu in Japan. There's also a selection of red and white wines from France, Australia, Chile and Italy.
If you're having a party or just feel exceptionally hungry then Yume Kazoku offers a very tempting party menu. For just 1980 yen you can enjoy mixed hors d'oeuvres, mixed dim sum, mabo dofu, deep-fried chicken, shrimp in chili sauce and fried rice. For an extra 1500 yen (excluding tax) you can immerse yourself in an all-you-can-drink experience too. That sounds like too good a deal to miss! The food is great and so are the prices; it may seem like a dream but it's Yume Kazoku.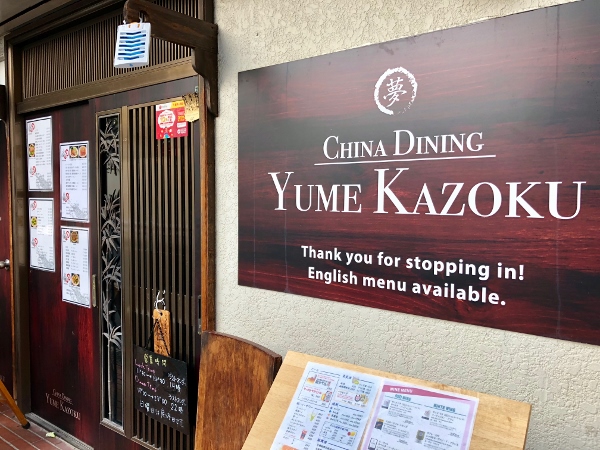 If you're in the Toyocho or Kiba area and want some hearty, spicy and tasty Chinese food that will stick to your ribs without injuring your wallet, then make a beeline for Yume Kazoku. You'll be living the dream!
Story and Photos by Stephen Spencer