Edo Kiriko Classroom in Ojima
Published: December 13, 2022
Edo Kiriko is a form of glass cutting that developed in Edo (modern-day Tokyo) in the 19th century as a synthesis of traditional Japanese techniques and European glass cutting.
Edo Kiriko Kōbō Shuseki is a workshop and classroom of Edo Kiriko.
On a recent afternoon, we dropped in for a chat and to marvel at the beauty of the cut glass objects.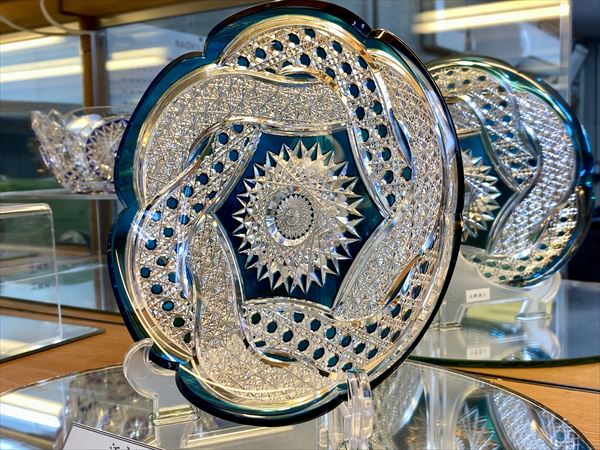 The workshop was founded by Mr. Tomio Suda. He was a renowned Edo Kiriko master craftsman who was awarded the prestigious certification as a Koto-ku Preserver of Important Intangible Cultural Properties.
Such accolades are given only to those who reach the highest levels of their art. Some of Mr. Suda's stunningly beautiful pieces are on display at the workshop.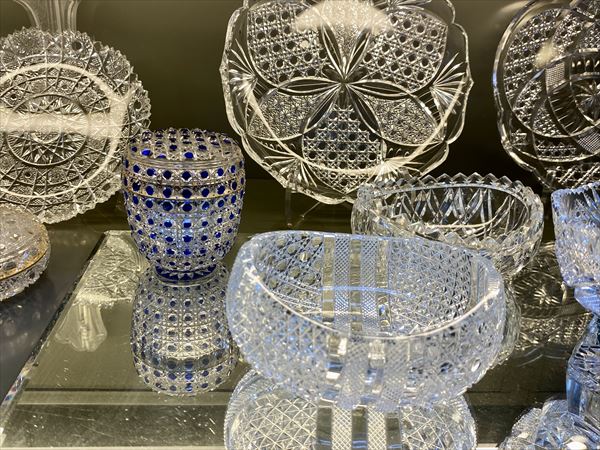 In the late 19th. century many glass cutting artisans moved out of the central Tokyo area to open their own studios in the eastern edges of the city where rents were cheaper, in what are now the Sumiyoshi, Ojima and Kameido areas of Koto-ku, which remain the centres of Edo Kiriko manufacture to this day.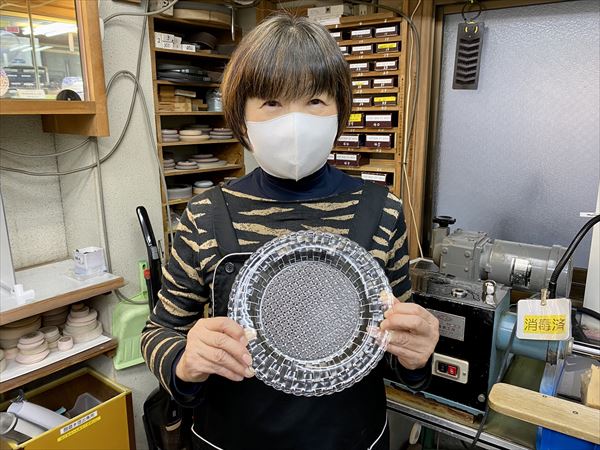 The classroom and workshop is now managed by Mr. Suda's daughter-in-law Ms. Shizue Suda.
The tools are extremely impressive, including these grinders with industrial diamonds.
Those attending classes can make full use of all the extremely wide range of tools and equipment used by her father-in-law.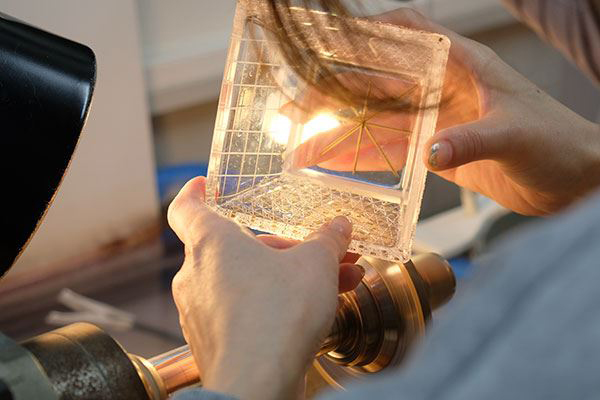 Like many artisans, instructor Mr. Satoshi Kitashiro chanced upon his future career as a teenager when he attended an industrial fair in his home area of Katsushika-ku in Tokyo.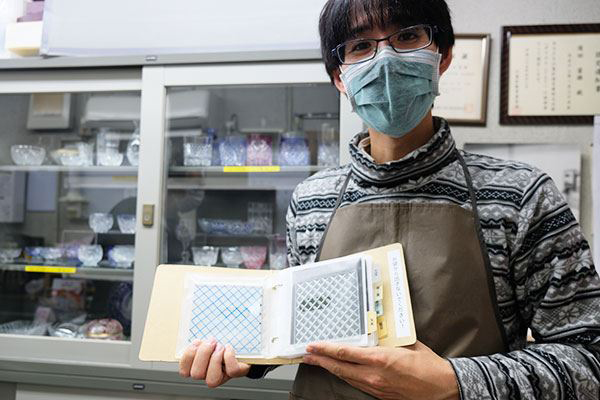 He watched an exhibition of Edo Kiriko glass cutting and was so smitten he returned the next day. Years later, he studied under Mr. Suda, then became a professional and saw his work displayed at various traditional arts and crafts exhibitions where it gained awards and won prizes.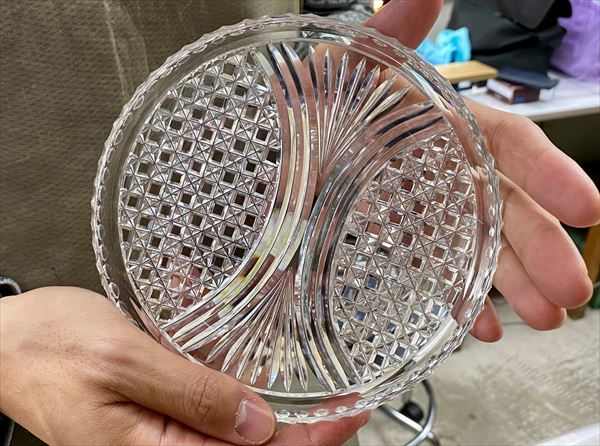 How do the students learn the art of traditional glass cutting?
"Slowly, step by step," he explained.
"There's a set curriculum, through which the students move at their own pace with individual instruction on a one-to-one basis. We start with the basic patterns and move on from there."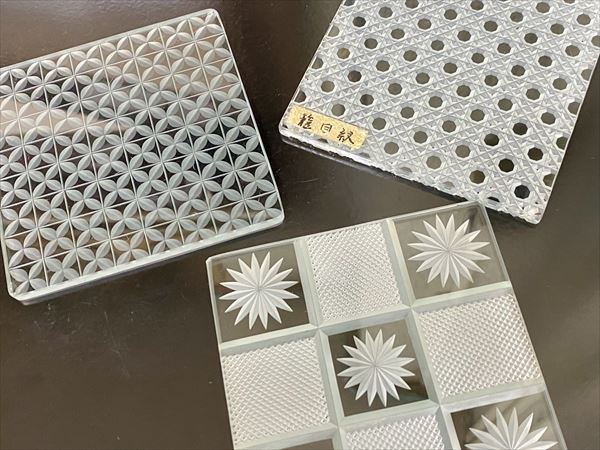 They begin by learning to cut the standard patterns onto small square glass tiles like these.
Then, as they become more proficient they progress to glass plates.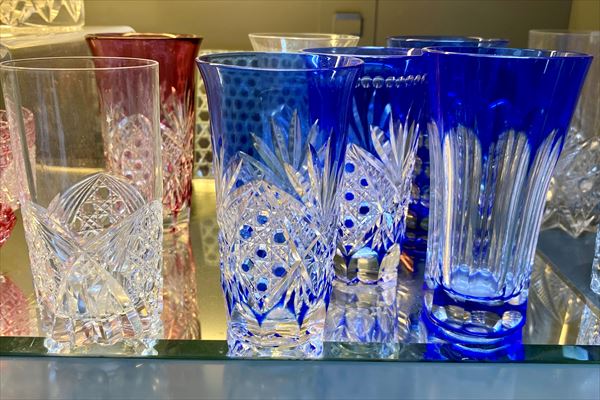 "Making Edo Kiriko for your own personal use or to give as a gift is deeply satisfying," said Mr. Kitashiro. "After work I like to go home and enjoy a drink from a glass I designed and made myself. It tastes so much better. I even made all the glasses we used at the wedding when I got married." Now, how many people can say that?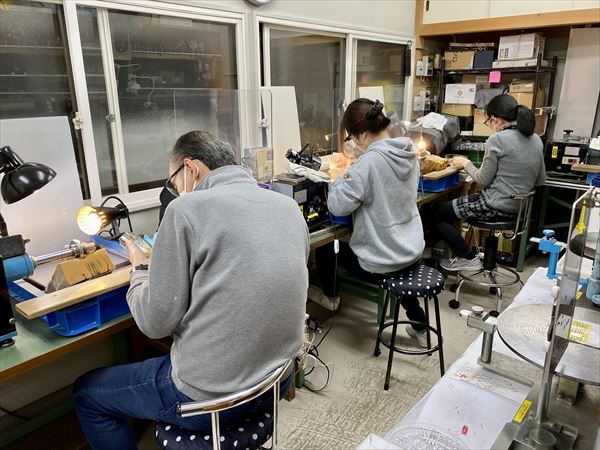 The atmosphere of concentration was intense.
Each class is 3 hours, with a short coffee break in the middle, and costs 4,000 yen. That includes instruction, energy, and use of the tools. There's a separate fee for materials and acid polishing.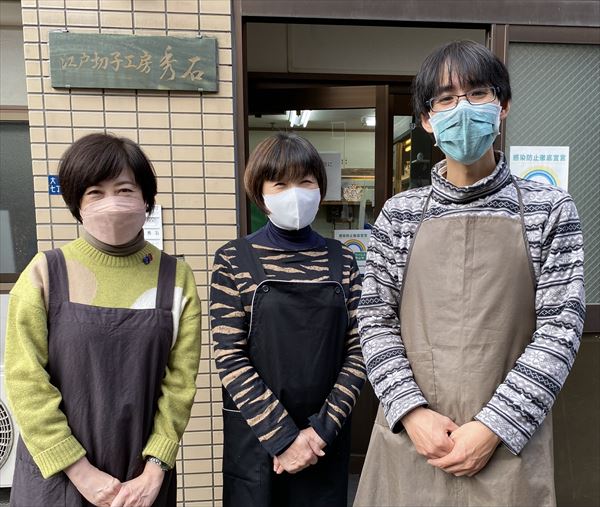 Photographs don't do justice to how incredibly beautiful Edo Kiriko is; you really have to view it for yourself.
If you'd like to try an original Edo Period craft then the Kotomise coupon will allow a 1,000 yen discount off a trial lesson, which are usually 4,000 yen.
The trial lessons are 3 hours long and each student will learn to produce their own original plate during that time. "Making Edo Kiriko is highly addictive," added Mr. Kitashiro, here with staff members Ms. Sasaki and Ms. Suda.
by Stephen Spencer