Koto-ku is blessed with an abundance of restaurants purveying top-quality food at reasonable prices. The Eitai and Saga areas are home to the Eifukuki group of Chinese restaurants, all of which are immensely popular with local residents, workers, and tourists. Now the hungry people of Kiba can sample similar delights at Eifukuki Kiba, which recently opened on Eitai Street, just a quick walk from the station. On a wet and chilly December day, we dropped in for a chat with the youthful manager Mr. Ko.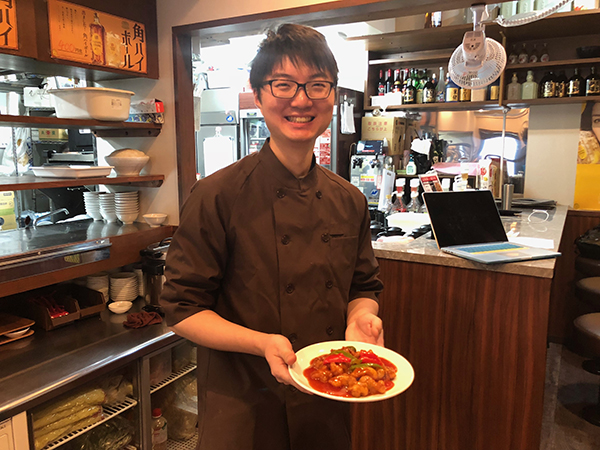 Tsingtao-born Mr. Ko is not only youthful but exceptionally smart, having graduated from a top Japanese university. "We opened here in July this year," he says. "Lunch customers tend to be business people while it's more locals in the evenings. We open at 11am, close for a couple of hours in the afternoon, and then open again until 11:30pm. We're open every day as well."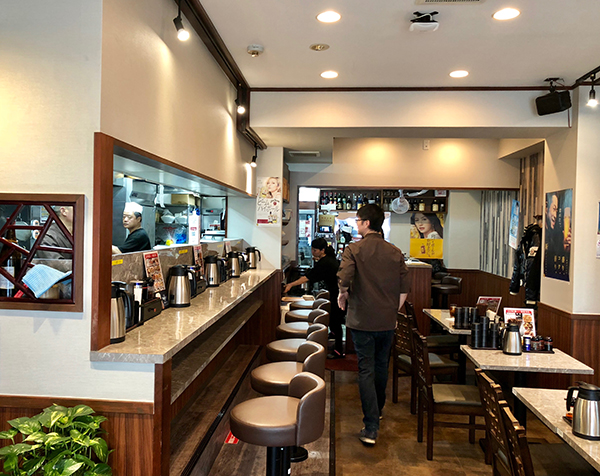 The comfortable interior features a counter on the left facing the kitchen area with a line of tables against the opposite wall. Even at 2pm on a Friday afternoon, there were satisfied customers finishing up a late lunch before braving the elements and heading back to work.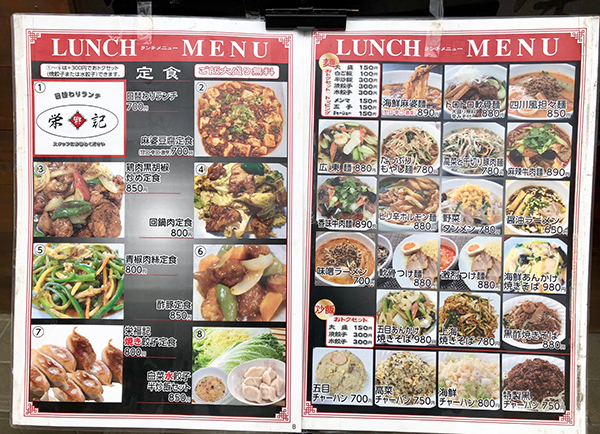 The lunch menu features a selection of such Chinese favourites as spicy ma-po tofu, pork and peppers (chinjao rosu), pork and cabbage in miso sauce (hoikoro), and sweet and sour pork (subuta). Eifukuki is rightly famed for its gyoza and soup-gyoza, which can be ordered as a main lunch or added to a lunch set for the modest addition of 300 yen.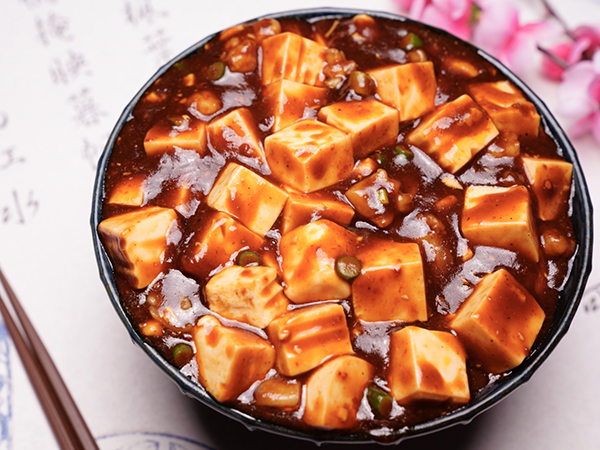 The lunch menu also has a dizzying array of Chinese-style ramen noodle dishes, including the top-selling seafood ma-po ramen, which includes shrimp, scallops, and squid. Spicy Sichuan-style tantanmen, Shanghai-style fried noodles, and the popular black fried rice are also available.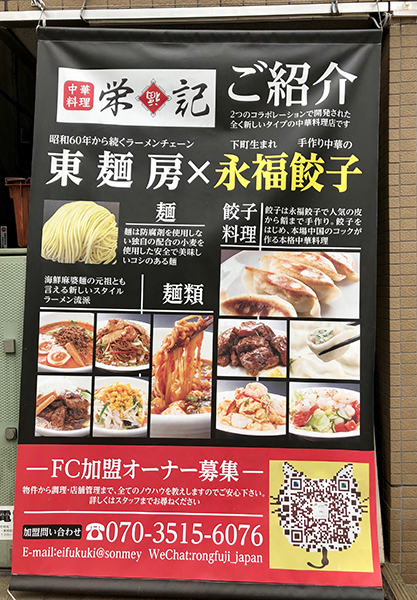 The noodles are produced in collaboration with well-known ramen producer Tomenbo. Lunch noodle dishes are also available in sets with side dishes of fried rice, plain rice, gyoza, and soup gyoza. Prices are very reasonable! "We have great confidence in our ramen dishes," says Mr. Ko, "We feel they're second to none!"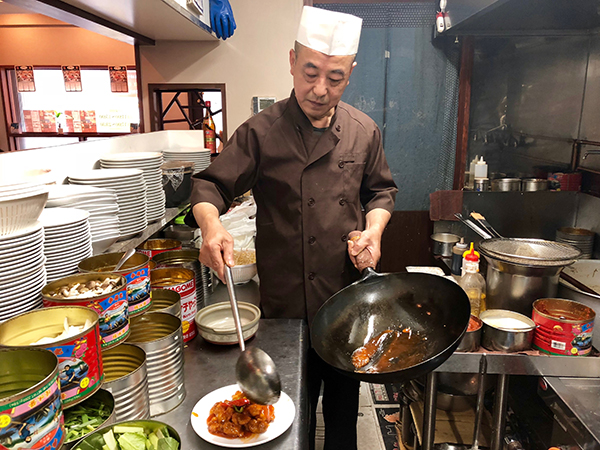 The chefs kindly and quickly whip up a batch of dishes for our enjoyment.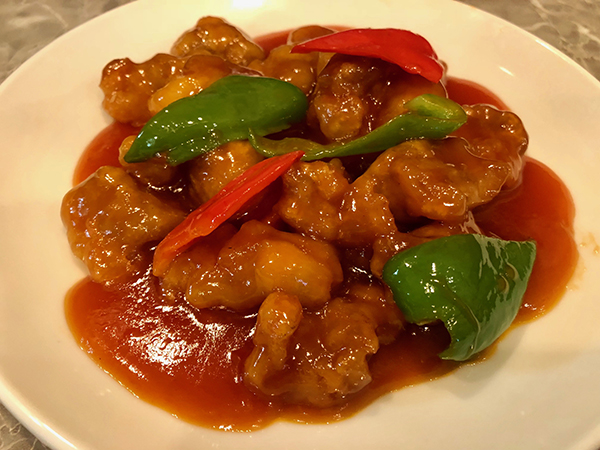 This sweet and sour pork was perfect, tangy and sharp, but not too sweet.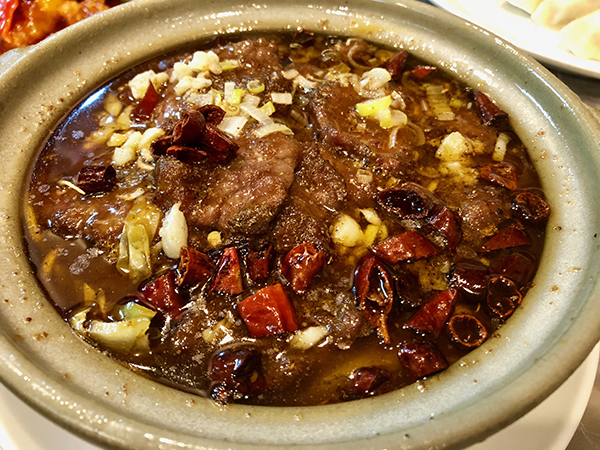 This one really knocked our socks off, though. A steaming Sichuan hot pot of sliced beef, chili, garlic, and sansho pepper looked fearsomely spicy but was superbly flavoured, rich, juicy, and refreshing without being heavy or oily at all. The aftertaste of the sansho pepper was just right, leaving a pleasant tingle on the tongue without overpowering the other flavours. The pot also contained beansprouts, cabbage, carrot, and plenty of soup to which one could even add cooked rice to create a Chinese-style rice soup (zosui).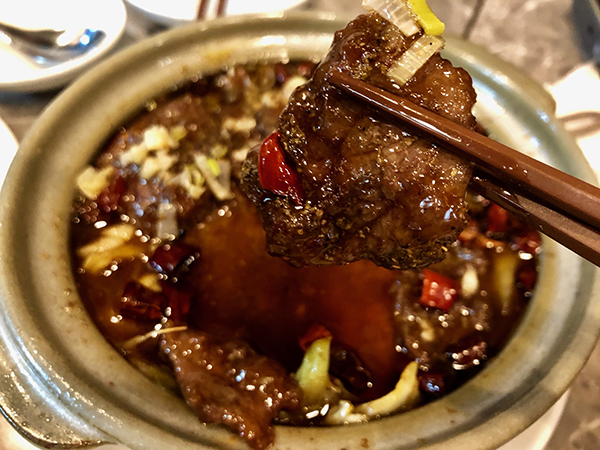 Hearty and filling, this was just perfect for a cold winter's day. It would also serve as a tasty energy boost for the sweltering dog days of summer too. Fantastic! And all yours for only 1,080 yen.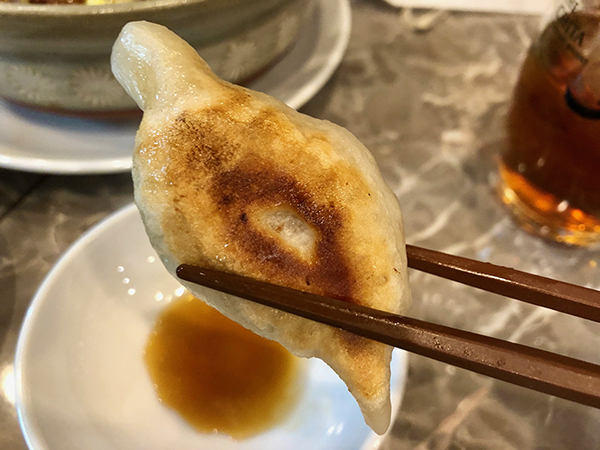 The renowned Eifukuki gyoza is crisp and garlic-free so it can be safely eaten for lunch. Handmade from scratch, the gyoza contains only pork, shrimp, and Chinese chives (nira). A bowl of spicy noodles and a plate of crispy gyoza is the top lunch pairing at Eifukuki Kiba.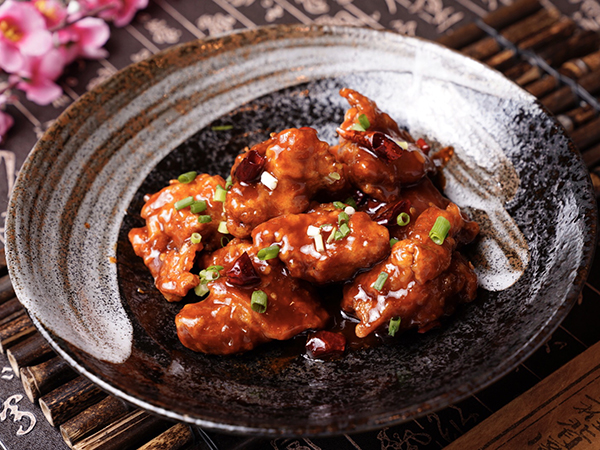 Also, on the menu at Eifukuki Kiba is General Tso's Chicken, that staple of New York-area Chinese restaurants, yet little known outside of North America. Beloved by Americans and those who have lived in the New York area, it's a dish of crispy-fried chicken breast chunks in a garlic, ginger, and chili pepper hoisin sauce. It was added to the menu at Eifukuki at the request of an American friend of the owner and has attracted customers from all over the Kanto area, for whom it is a nostalgic taste of time spent in the States.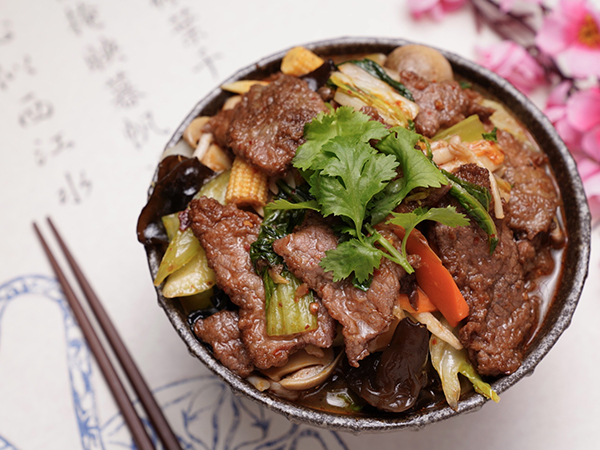 Another Sichuanese favourite, beef in mala sauce, is available at Eifukuki. Hot and spicy, it's a winner for those in need of hearty fare to beat the winter chills.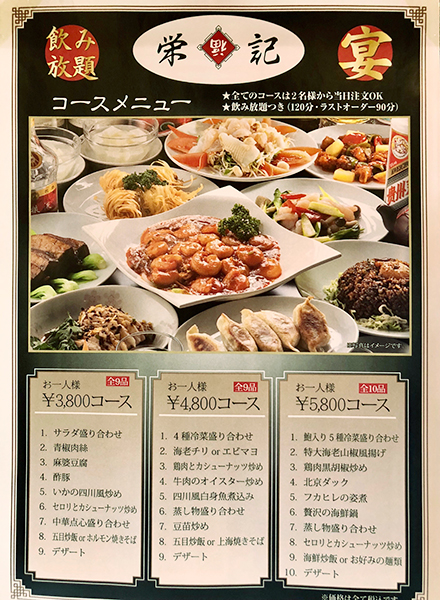 A wide variety of multi-course meals are available, ranging from a 9-dish set at 3,800 yen per person to a 10-dish extravaganza for 5,800 yen. Given the quality of the food at Eifukuki these prices seem very good value, especially for trenchermen (or trencherwomen).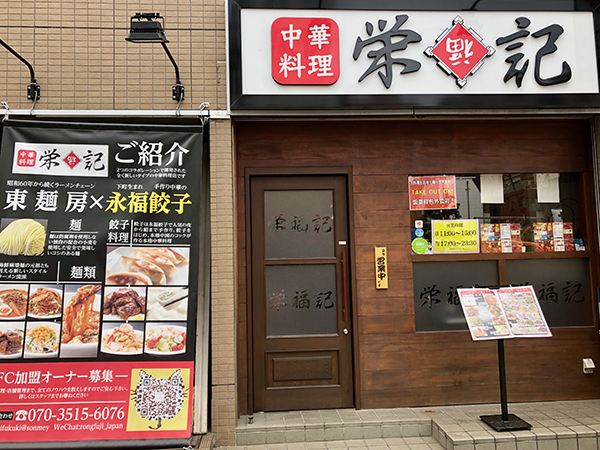 The restaurant has free wifi, an English menu, and the multi-talented Mr. Ko can also speak English. UberEATS delivery is available or you can take away your own order. Payment by most popular credit cards is possible, too. What more could you want: great food, reasonable prices, brisk service, and a convenient location? See you there!
Story and Photos by Stephen Spencer