Expert Legal Advice in English
Published: August 3, 2022
Unlike many other countries around the world, consulting a lawyer in Japan is a rare experience for most people—as becoming embroiled in lawsuits is unusual for private citizens.
However, if the need ever arises it's always better to be prepared, which is why we recently headed to the Taishin Law Office in Monzennakacho to meet Mr. Nobuaki Machida.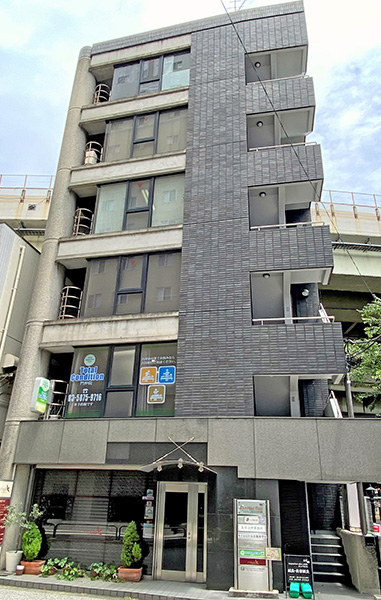 The Taishin Law Office is located on the fifth floor of this new office building just one minute's walk from Monzennakacho station. Mr. Machida has provided legal advice to many foreign residents, particularly regarding contracts, real estate agents, and labour problems. If that sounds like you, please don't hesitate to call. The English-speaking secretary will be on hand to translate for those who need it. There's also a 20% discount on the first consultation fee for Kotomise coupon holders.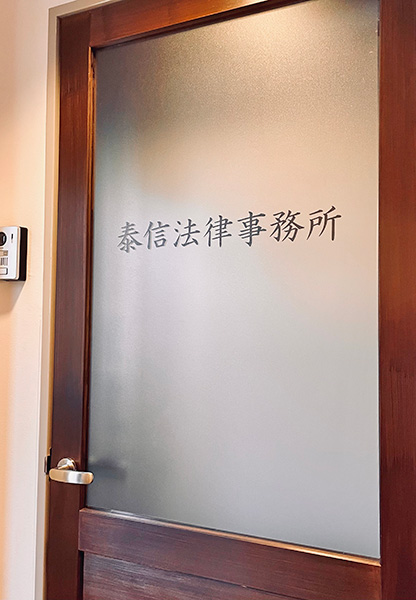 Visitors are greeted by this classic office door in frosted glass, with the Taishin Law Office logo rendered in a beautiful script. There's another interior door inside; visitors should speak through the intercom on arrival. Mr. Machida, who is currently a member of the Tokyo Bar Association's special committee on consumer problems, specialising in the digital divide, opened the office on January 1st. 2022.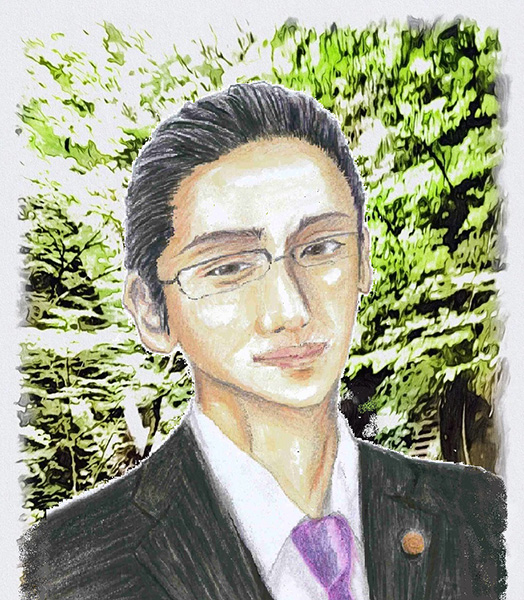 Mr. Machida requested no photograph. Instead we have this remarkably lifelike drawing created by his secretary, a multitalented person who also acts as English translator for foreign clients. Mr. Machida has a wide experience of practising law, from being a corporate legal adviser to working on mergers and acquisitions. He is also a special instructor teaching law in the Judiciary Department of a university law school.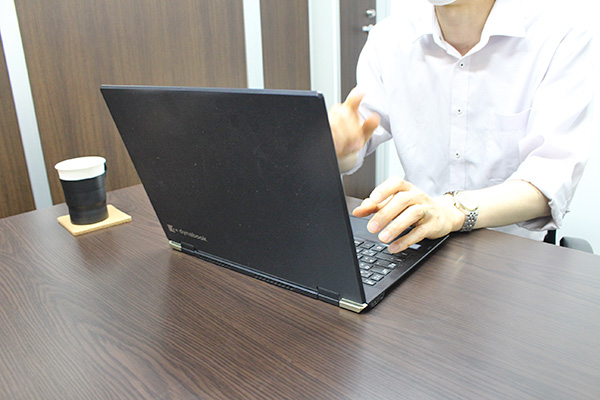 Mr. Machida likened his role to that of a doctor of internal medicine. "People visit their local doctor for a consultation, and the doctor either treats them himself or recommends a specialist. That's what I do here at Taishin. Individual people and small or medium sized companies all have equality under the law with large organisations," he said. "There's a dearth of law offices like Taishin in Koto Ward, compared to other parts of Tokyo, and I opened the office here in order to provide that service to local people."
The office is comfortable with splashes of colour here and there. Mr. Machida is an extremely busy person yet finds time to relax by reading mystery and suspense novels or watching action movies.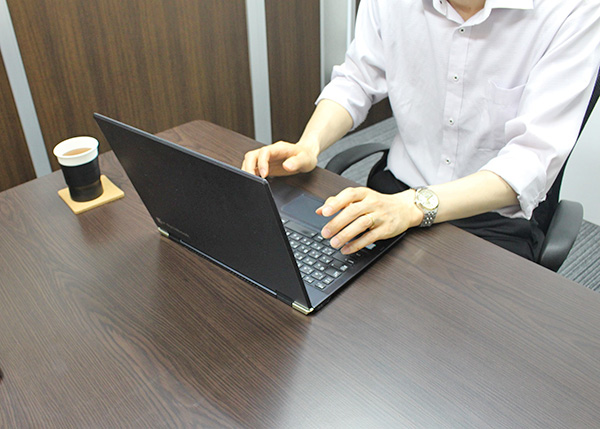 Mr. Machida consults on numerous and varied legal problems, with inheritance, succession, divorce, and bullying of children being very common ones. "Many problems are obviously of a very private nature and people feel uncomfortable or reluctant to discuss them with a stranger, but after talking they see things more clearly and are relieved to get the problem off their chest." He stressed that many problems can develop into mental health issues and that people should take action before they do.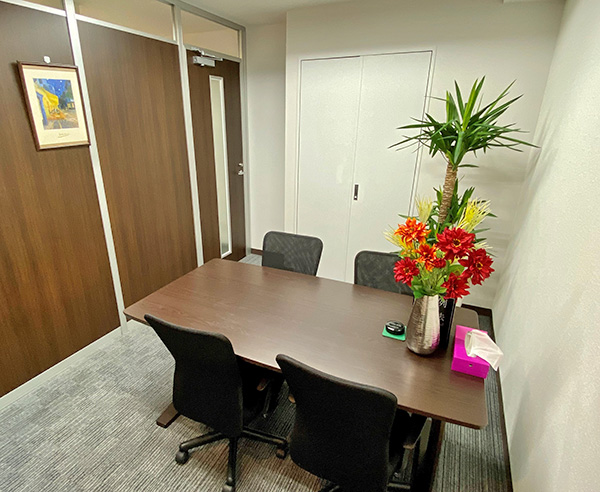 Mr. Machida also deals with divorce cases and emphasised that consulting a lawyer before the situation breaks down completely is the best course. "Prevention is always better than cure, so reaching an early settlement is the preferred outcome," he stressed. Financial settlements, bequests and inheritances have all been in the news recently and have shown the importance of seeking professional advice in a timely fashion.
If readers find themselves in a thorny situation that requires legal advice, don't hesitate to call Mr. Machida and his highly accomplished secretary.
Story and photos by Stephen Spencer