Explore the locals favorite eats in Japan at Kyushu Jiman!!
Published: November 17, 2023
※Prices are subject to change from those in effect at the time of the interview. Please contact the store directly for the latest information.
Led by the famous dish "Hakata MotsuNabe", Kyushu Jiman is an izakaya where you can enjoy the local delicacies and famous Kyushu cuisines.
MotsuNabe is a hotpot dish made mainly from beef or pork motsu (offal), and is a local cuisine of the Fukuoka City area in Fukuoka Prefecture.

Shoes are individually stored in shoe cabinets, and each customer manages their own wooden keys. This type of shoe cabinet, commonly seen in Japanese izakayas, is equipped with a lock to prevent intoxicated customers from accidentally wearing someone else's shoes and taking them home. While the large key may seem inconvenient to carry at first, it offers the advantage of being easily seen, reducing the likelihood of losing the key as well.
In Japanese culture, along with most Asian cultures, removing shoes before going into a home or certain places is a sign of respect, as well as keeping the space you are in clean. While it's rare to remove your shoes in a restaurant in America. The lockers add to the ambiance of the restaurant and make the experience memorable for those who visit for the first time. Removing your shoes and making yourself comfortable enhances your stay here at Kyushu Jiman.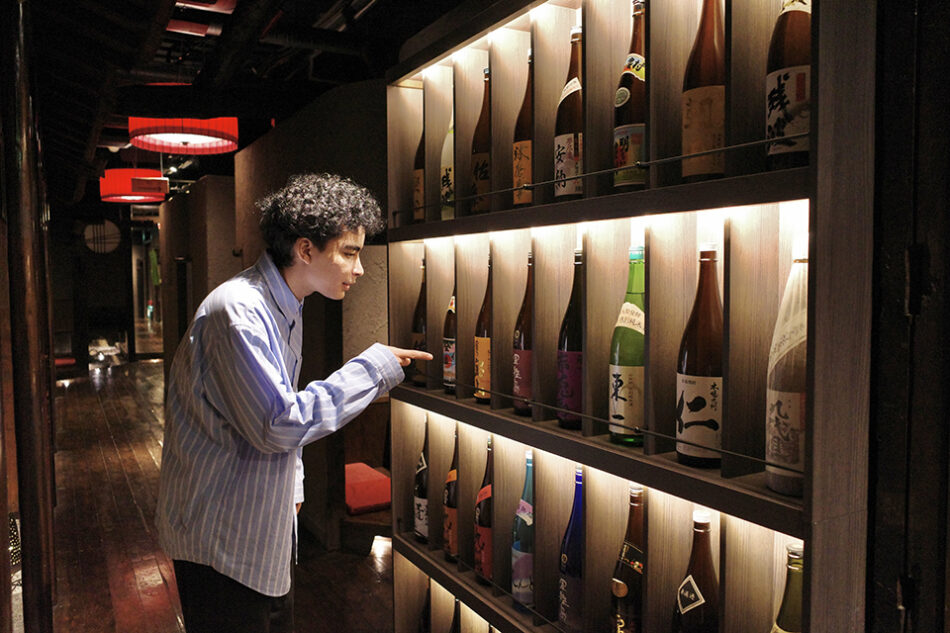 A wide variety of alcoholic beverages.
How stylish it is to have a lineup of drinks right in the middle of the corridor! There are plenty of trendy and appealing choices, including beer, Kyushu shochu, sake, and highballs featuring local specialties. Be sure to give them a try, especially alongside the MotsuNabe hot pot. For those of you who are not familiar, shochu is a Japanese traditional hard liquor, distilled spirits with ingredients such as sweet potato, barley, rice, buckwheat, and sugar cane.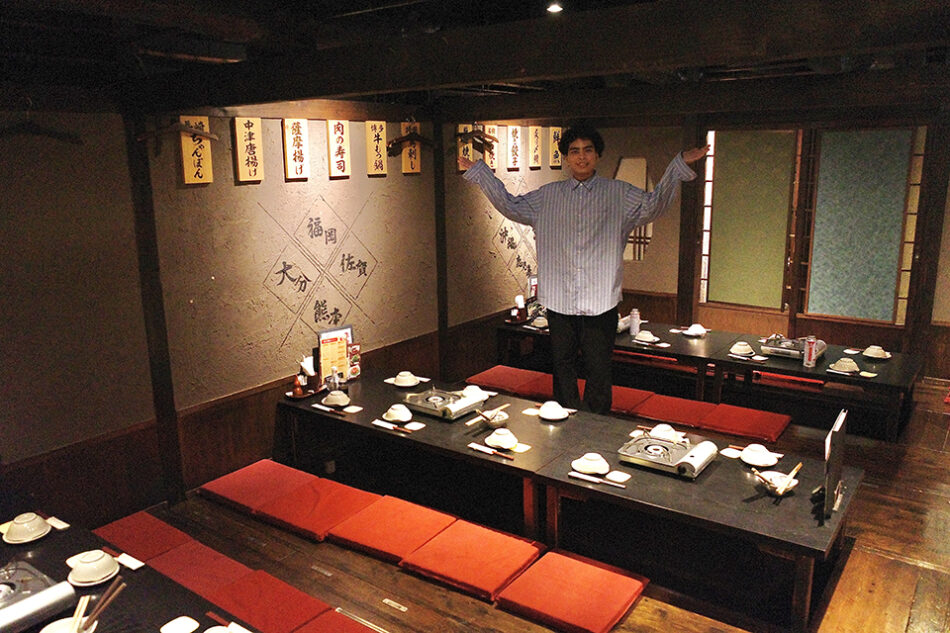 The interior, inspired by a traditional Japanese house, features a total of 100 seats. Each room is equipped with comfortable "Hori gotatsu" which are low tables with a sunken floor, and there are also large rooms suitable for gatherings or parties. Additionally, private rooms with different layouts are available, offering a variety of options for accommodating various events.
You can attract a wide range of customers, from group tourists to individuals. I thought the design of this izakaya is perfect for tourists visiting Japan for the first time. The menu is also displayed on the wall behind the counter seats, and even though I am still studying Japanese letters, the shapes of the characters presents a striking visual, creating a space that conveys the unique atmosphere of a Japanese izakaya!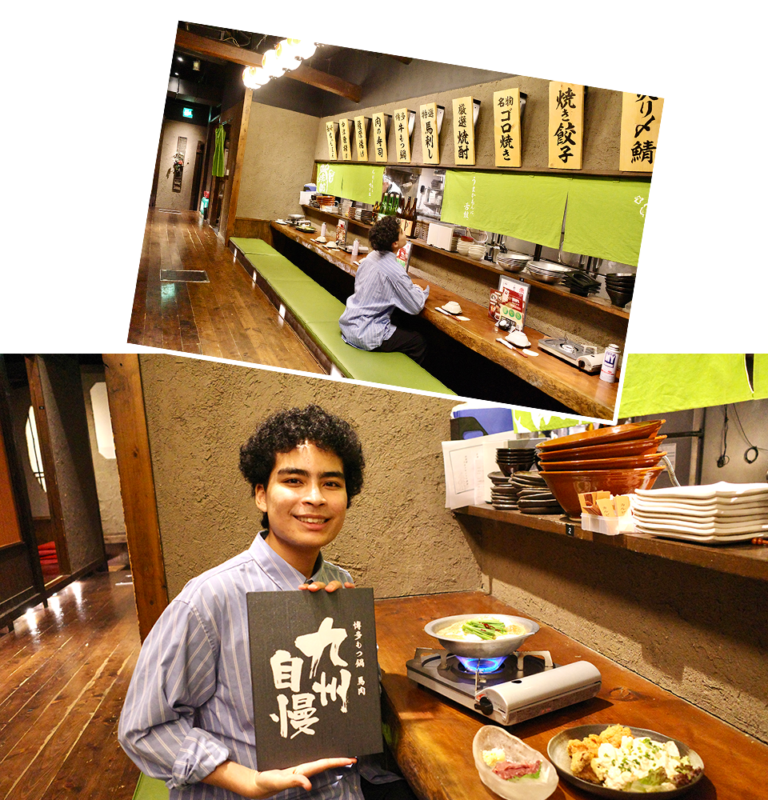 The first dish we want you to try at Kyushu Jiman Kameido Branch is the "Hakata MotsuNabe" which has Japanese beef intestine.
MotsuNabe is a dish you can only find in Japan. It was my first time having this version, and there isn't a similar dish in the Western world. What makes this dish special is the warm comfort it gives you after the first bite and how resourceful it is with vegetables and intestine. I would consider this a must-have dish when visiting Japan in the winter or sharing a meal with friends!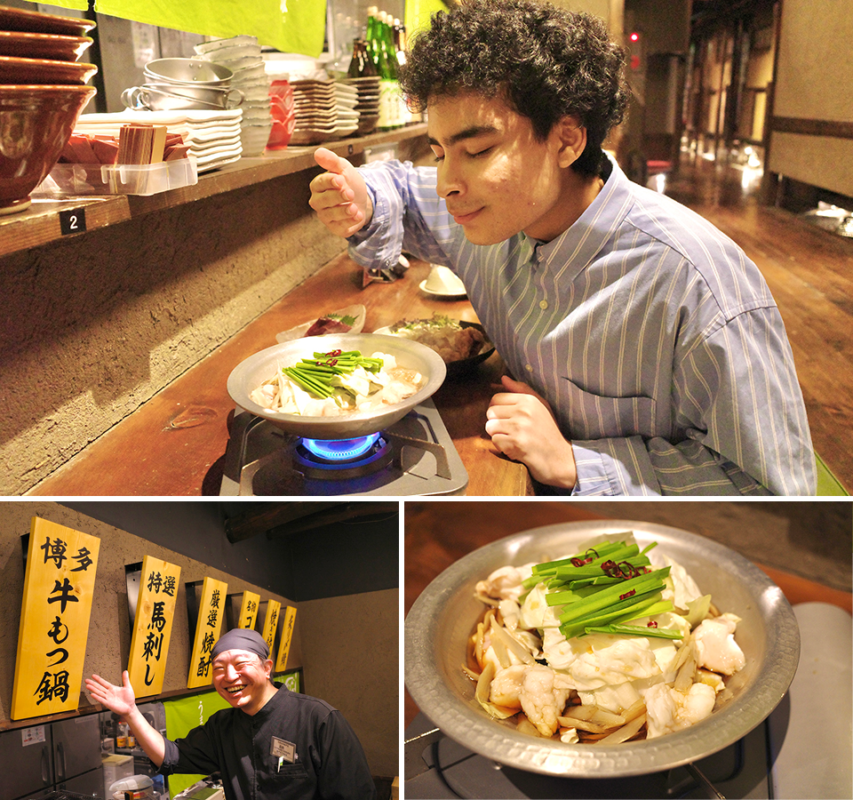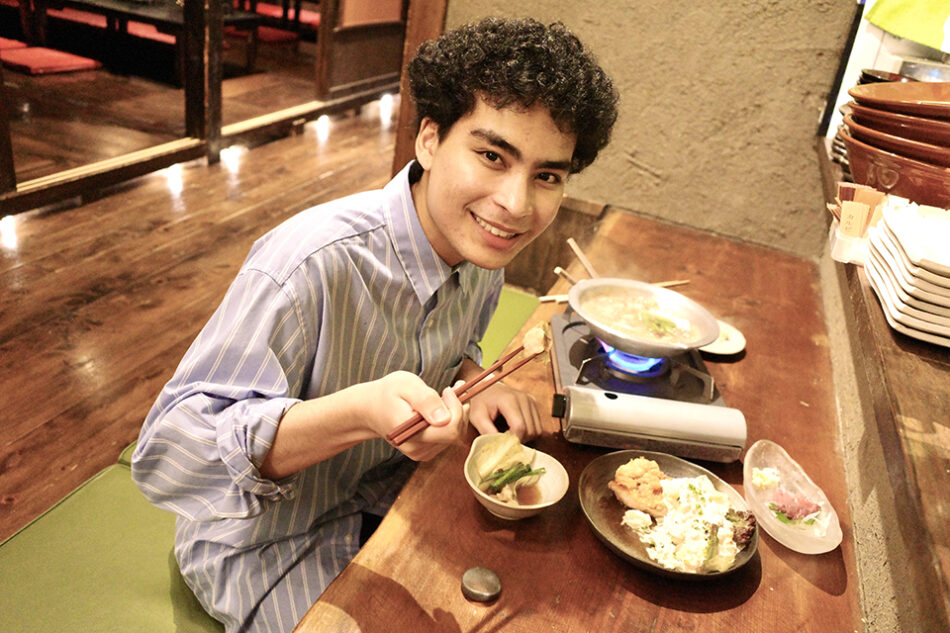 The domestically produced large intestine has rich fat and a very soft texture, and sweet juices spread in your mouth when you take a bite.
You can choose from 4 flavors, the classic soy sauce, a savory salt which goes perfectly with alcohol, ginger pork bone broth for getting warm during winter and spicy pork bone broth for people who like spice.
The classic soy sauce flavor is the best for first timers because of the familiarity. Also included in the dish is Nira (Garlic Chives), which add an additional garlic-like flavor to the broth, and cabbage, which soaks all the flavor from the hot pot.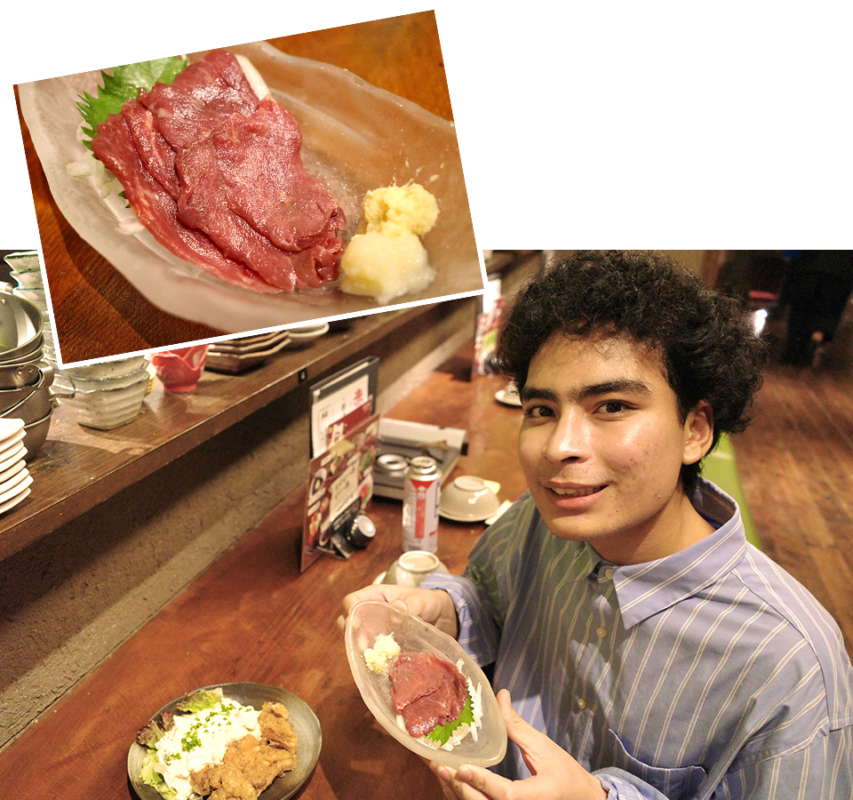 A specialty of Kumamoto, "Basashi" or horse sashimi is a highlight at Kyushu Jiman Kameido Branch. The Basashi is distinguished by its superb tenderness without the gamey odor. It tastes even better when dipped in sweet soy sauce, with condiments such as ginger and garlic.
Horse Sashimi is another one of Japan's specialties you should experience when you visit. In America, it is very hard to find this dish. It is incredibly fresh, and the taste felt similar after my first bite. It has a similar appearance and taste to tuna sashimi. Due to being on the leaner side, it is refreshing and pairs well with the MotsuNabe because it provides a balance from the fatty and warm stew.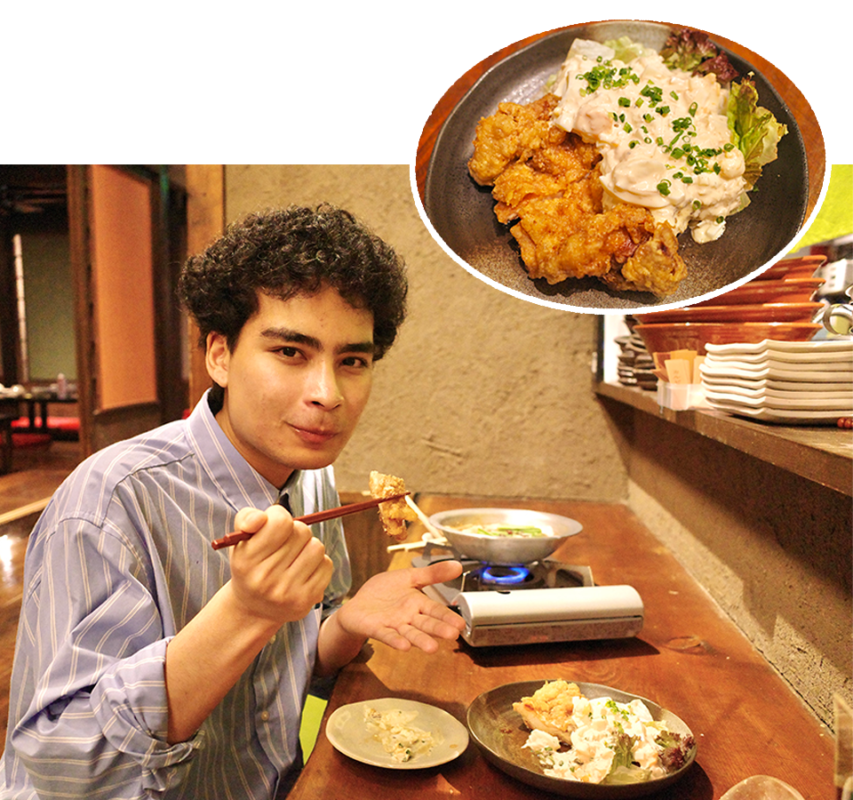 A specialty from Miyazaki Prefecture, "Chicken Nanban"
It features a crispy texture and juices coming out of the chicken that harmonize perfectly with tartar sauce is an ideal dish to drink with highball or beer.
Chicken Nanban is easy for Westerners to try when visiting Japan. Inspired by the Western world, fried chicken and a mayo-based sauce are easy to get behind. Kyushu Jiman's chicken is cooked perfectly, and the addicting tartar sauce includes mayonnaise, eggs, and onions. The Tatar sauce has notes of umami, sweet, and acidic flavors that combine perfectly with the fatty and savory chicken. You will end up ordering another order of this dish once you first try it!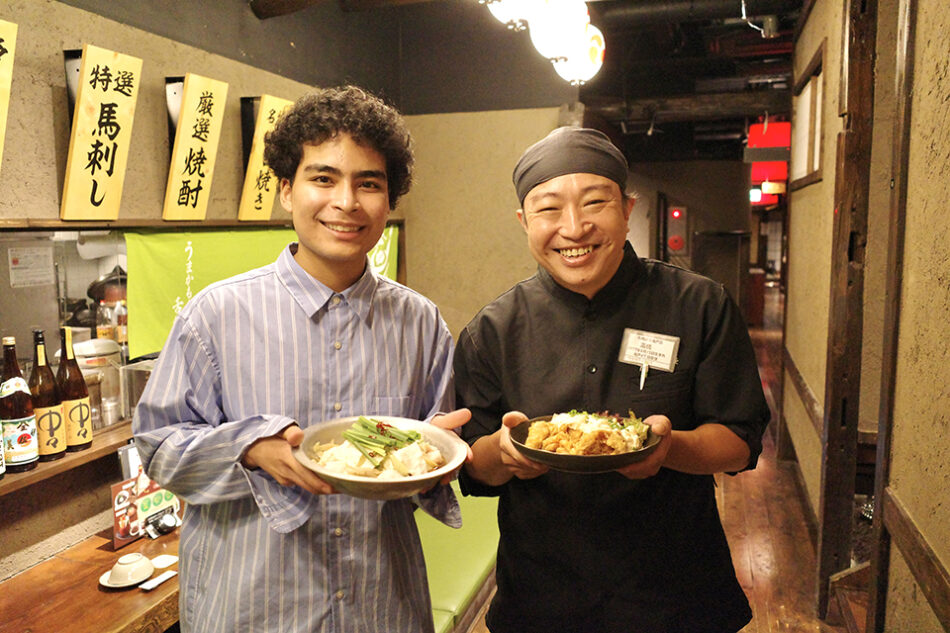 During the cold winter, why not enjoy Hakata MotsuNabe along with your loved ones, while you enjoy the traditional atmosphere of Japan. If you want to experience the specialty cuisines and hospitality of Kyushu in Tokyo, visit Kyushu Jiman!!
≪English Article Journalist Profile≫
・Name: Jasper Savoy
・Age: Twenties
・Nationality: United States of America
・Hobby: Watching Basketball and cooking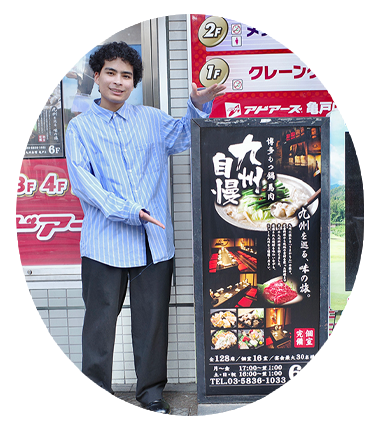 ---
※Information is based on interviews conducted in September 2023. Prices, operating hours, etc, might be subject to change. Please be sure to confirm the details at the establishment.
※All prices mentioned in the article are inclusive of tax.