Obanzai is Kyoto-style home cooking with an emphasis on simply-prepared, nutritious seasonal vegetables. Colourful, fresh, and comforting, obanzai has been called the soul food of Japan's ancient capital. With the 2019 opening of the restaurant Jinnosuke, residents and visitors to the Botan area of Koto-ku can now enjoy Kyoto-style treats and a whole lot more besides. We dropped in recently for a chat with owner/manager Ms. Keiko Hoshiba and owner/chef Mr. Yoshimasa Jinbo.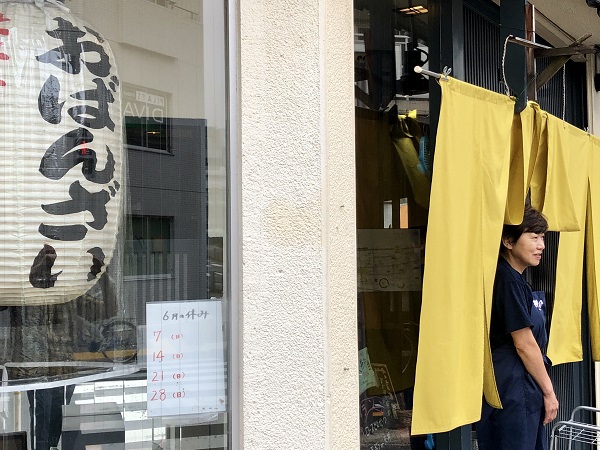 Located just a hundred metres or so south of the frenetic traffic on Eitai Street near Monzen-nakacho station, the Botan area has a sleepy, nostalgic atmosphere which may result from being hemmed in by canals and a water park on three sides. "It's a really nice place, full of friendly people," says Ms. Hoshiba. "We feel happy to be here." After working with Mr. Jinbo in another restaurant for several years, they decided to become independent and took over Jinnosuke in October 2019.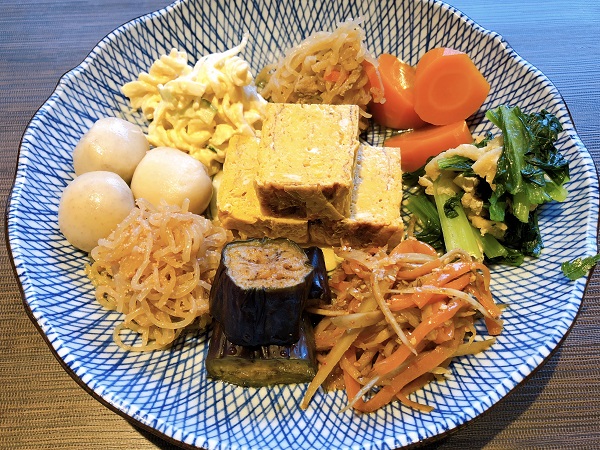 The Obanzai selection consists of around ten different items which change with the seasons. Ordered individually they cost 300 yen each but a mixed plate like this costs 800 yen for one person, which is very reasonable. For two people though, it's 1,000 yen or for three just 1200 yen, or 400 yen each. Vegetables such as eggplant, carrot, burdock root, Japanese mustard greens, bamboo shoots, daikon radish, shiitake mushrooms, taro, and the like are gently simmered in light sauces to bring out their natural flavour. There are also such items as macaroni salad and the traditional sweet egg roll. The obanzai menu is the most popular in the evening, Ms. Hoshiba pointed out.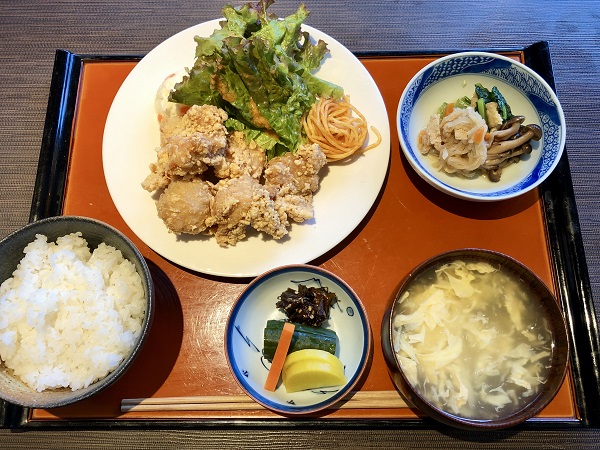 While the obanzai selection, which sits very nicely with Japanese sake, is the most ordered in the evening, the clear winners in the daytime are the lunch sets, and the most popular lunch set is the deep-fried chicken (karaage teishoku). Big juicy chunks of crispy fried chicken, potato salad, a little pasta, pickles, a small obanzai-style vegetable plate, egg soup and a huge bowl of rice all for the princely sum of 850 yen. It was delicious, and like the obanzai selection represents remarkable value.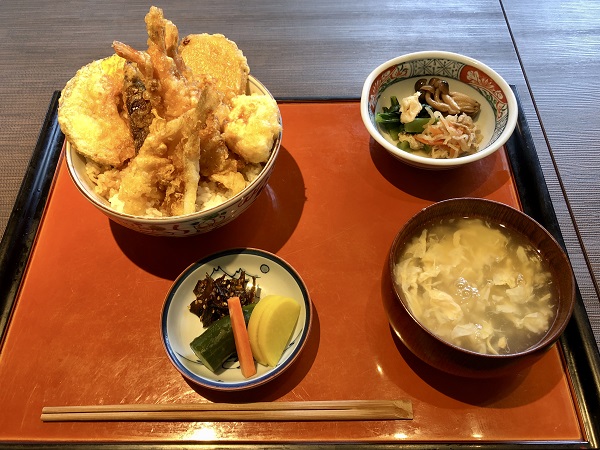 The tempura donburi lunch featured a variety of immaculately fried seafood and vegetables served on rice, together with the pickles, vegetables and egg soup. Plump shrimp, crisp Japanese whiting (kisu) and three seasonal vegetables comprise the tempura. When we visited it was pumpkin, eggplant, and the somewhat rare potato tempura.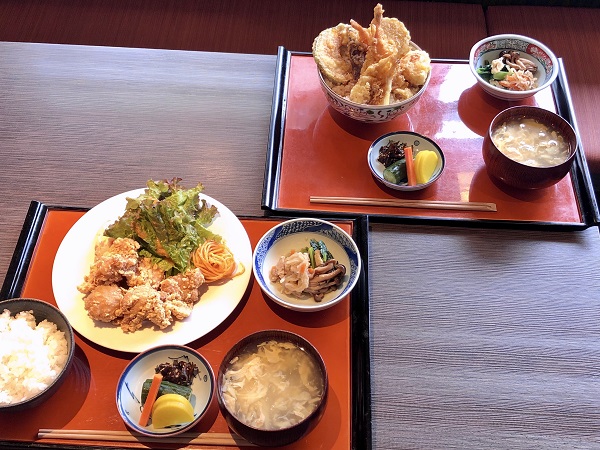 "Our aim is to deliver tasty, filling, healthy and moderately priced lunches that can satisfy the hungriest of young people," says Ms. Hoshiba. "Our lunch customers are predominantly local office workers who are both hungry and pressed for time, so speed is of the essence after taking their order." The really hungry can order extra-large rice as well.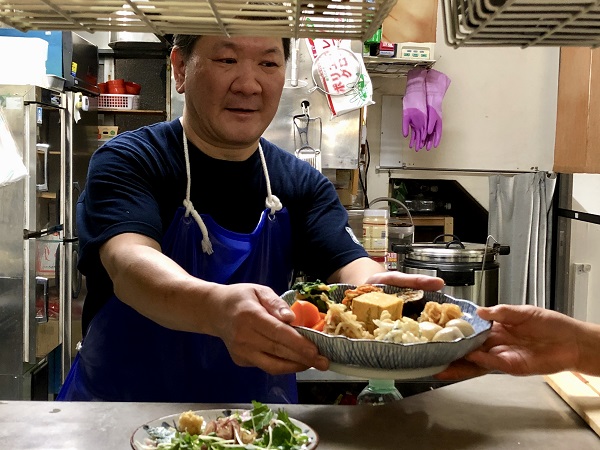 The alacrity with which Mr. Jinbo prepared the orders was stunning. At 11:30 on the dot a young businessman entered and placed his order; it seemed no more than two minutes later that Ms. Hoshiba was presenting the young man with a steaming tray of food.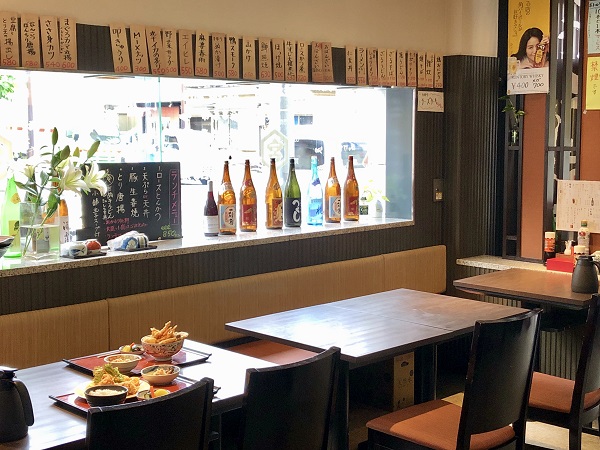 Together with the tempura and fried chicken sets, the lunch menu features pork loin cutlet (tonkatsu), pork and ginger, and a chilled tanuki udon noodle served with a bowl of rice topped with whitebait. The latter is a real summer dish, perfect for the humid heat of July and August. All lunch sets are 850 yen. There's a daily takeout lunch available for 800 yen, which on this particular day was tempura on rice.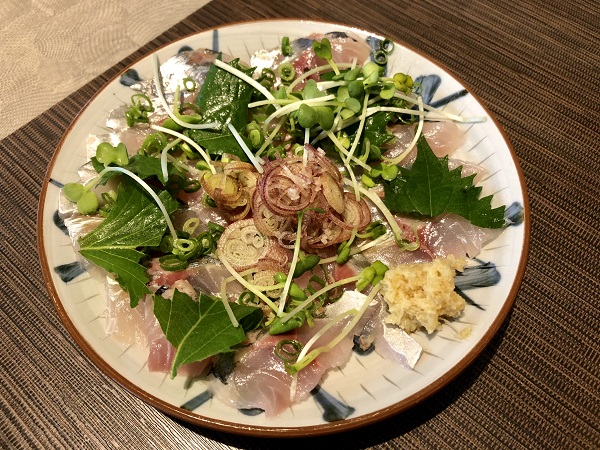 The main menu at Jinnosuke features something like 50 different dishes. Soba, udon, ramen, and donburi are all represented, together with a wide variety of tasty treats, from beef tendon stewed with daikon radish, crab croquettes and smoked duck. This horse mackerel sashimi is just 680 yen.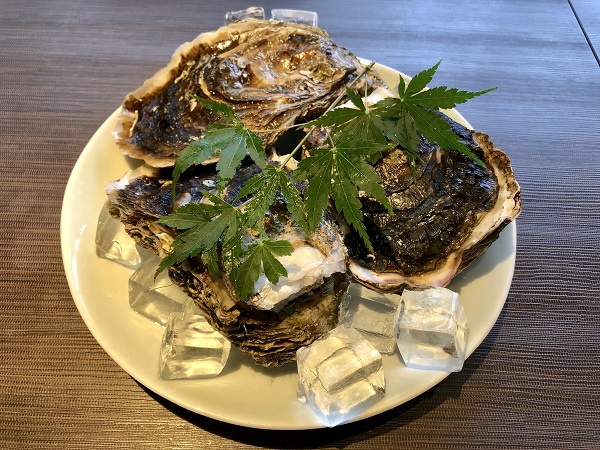 Yonezaki oysters from Iwate Prefecture have become a recognized brand in recent years. While they may seem a little pricey at 1,300 yen each, Ms. Hoshiba assured us one is more than enough for two people to share. Like all the seafood at Jinnosuke, the oysters come direct from the Toyosu Market in the south of Koto-ku.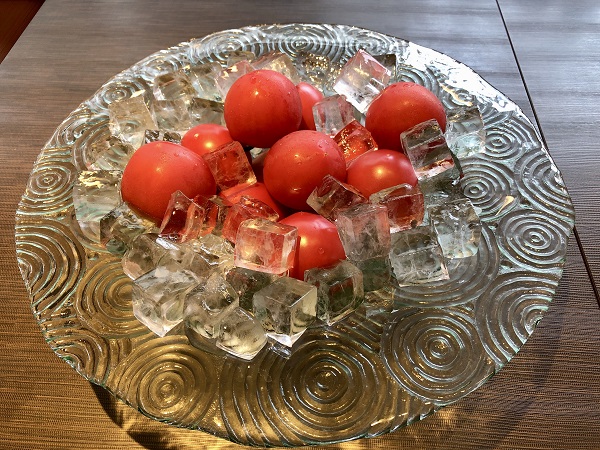 These plump tomatoes looked very appealing too, at 300 yen each.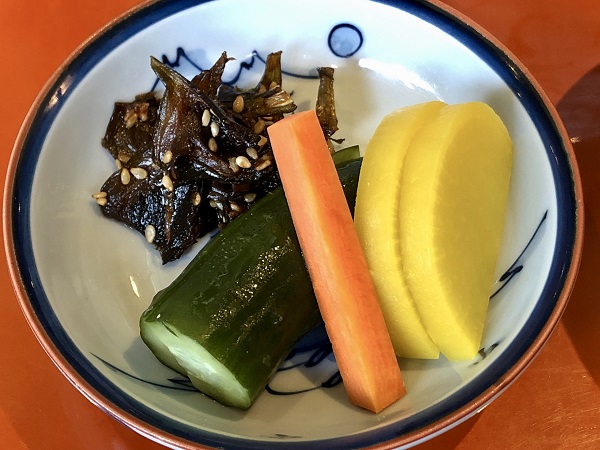 In fact, all the vegetables were very tempting. The homemade pickles were really fresh and crisp.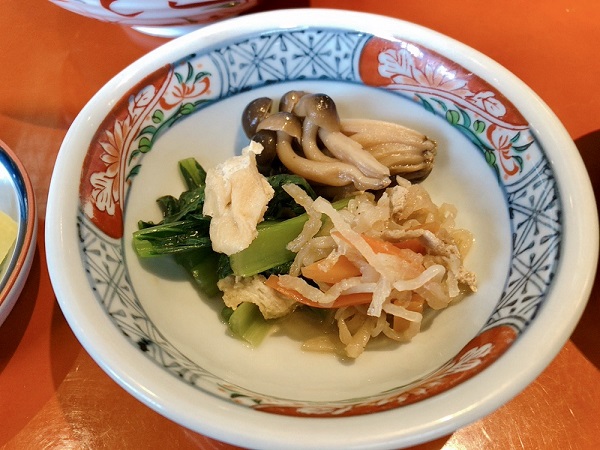 Whether it's lunch or dinner at Jinnosuke, you certainly aren't going to miss out on your daily vegetables!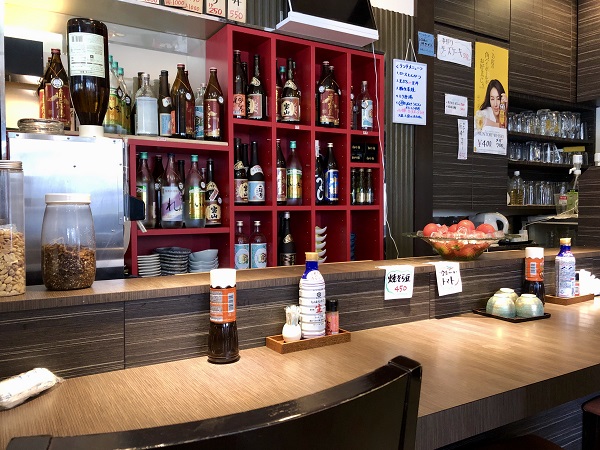 The drink menu features five or six kinds of regional sake which vary according to the season. Draft beer is Suntory. Jinnosuke maintains the great Japanese custom of "bottle keep" for its shochu, meaning customers have their own bottle kept behind the bar. Drink ten and you'll get the next one free. Cheers!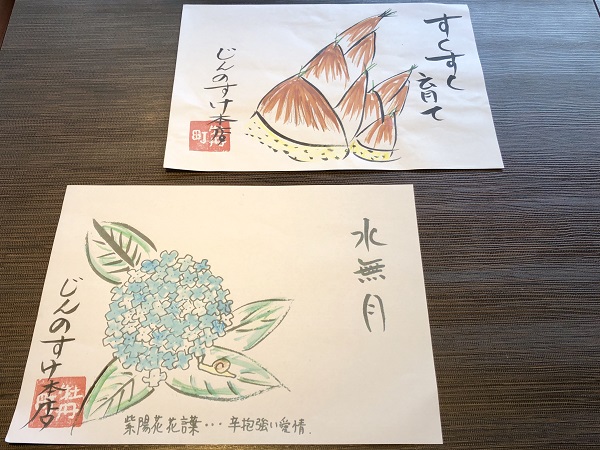 Among her many talents Ms. Hoshiba also has artistic tendencies. She somehow finds time to design and draws these beautiful place mats, which change with the seasons.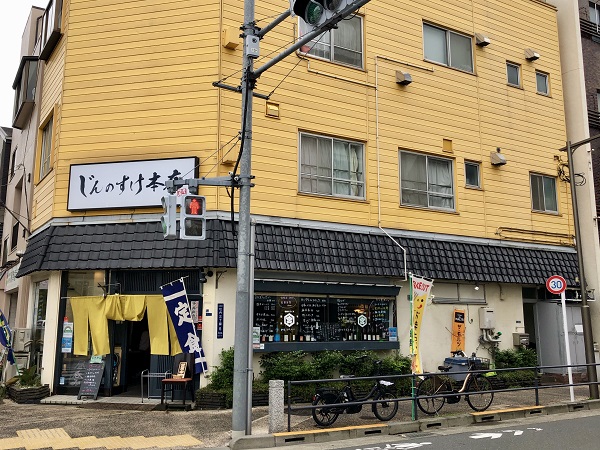 Delicious, hearty and healthy meals made from the freshest ingredients at reasonable prices; that's Jinnosuke. Add in the Olympic pace of Mr. Jinbo in the kitchen, Ms. Hoshiba's attention to detail and a light, airy atmosphere and you can see exactly why it's become so popular in such a short time. It's also easy to find. There aren't many bright yellow buildings in Botancho!
Story and photographs by Stephen Spencer